If you have seen or read anything nutrition related from me lately, you have heard me talking about this bowl.
Thanks to my consultant Tawnee Prazak, I have been introduced to this meal, and I am absolutely hooked.
Now, like you probably are right now, I was a bit grossed out by the idea of it…..firstly, is breakfast not meant to be a bowl of cereal or oatmeal? And is lunch not supposed to be a sandwich?
Not anymore!
I am going to share a lot more about my diet changes over the next few weeks, but I do not feel like now is the right time to preach it as I have not exactly been a model student over the past 2 weeks, BUT I am going to rein it back in now.
You know I am all about indulging and gaining weight post race, and those 1-2 weeks after your race, I believe you should be able to have those foods you enjoyed, especially if you stuck to a healthy plan for your build up. You only need to look at my Instagram to see that I have been doing what I said, and indulging is a bit of an understatement!
But, as I am now officially running again, it is time to bring it back together, not becoming obsessed with it, not making it 100% clean, but bringing it to a level that allows me to maximize performance without obsessing.
Over the course of the past few months, I have been working with Tawnee, which I have been since I did the podcast episode with her. Take a listen if you want to know more, as you can tell in this interview, her responses really struck a chord with me, and i realized I needed to make a change in my life.
So I did, and things have been going well. I will share more later, but one of the meals she told me too try was a Squash Avocado Bowl.
At first I was disgusted, what a weird combination of foods, but I tried it, and decided it was not that bad, and actually when combined with a serving of meat, was the perfect recovery meal.
Soon it became my favorite post workout meal, and I was having it 2-4 times per week. I made tweaks here and there, and now I have (in my eyes) perfected it.
Once again, I know this is a strange combination, but it works, and it is delicious.
If you really want to look after your body, and keep it full (this really works!) then give this a go, and let me know what you think!
Joining my friends Deborah and Sarah for the good old times for Meatless Monday today 🙂
Breakfast Recovery Bowl
Ingredients
Basic Kabocha Squash Avocado Bowl Recipe from Tawnee Prazak
2 cups squash
1 avocado
1 tbsp collagen powder
1 tbsp butter
1 tsp cinnamon
1 tsp vanilla
1/2 cup blueberries
My favorite variation
2 cups sweet potato
1 avocado
1/2 cup coconut flakes (unsweetened)
1 tsp cinnamon
1/2 scoop Generation UCAN Blueberry Pomegranate
1/2 tbsp cacao nibs
1 tbsp butter, melted
1/2 cup blueberries (when I have them)
Instructions
Mash the squash/sweet potato with a fork in a bowl. Mash the avocado in and stir well.
Stir in the remaining ingredients (I save the blueberries till after everything else is mixed so they do not get smushed). If you do not have Generation UCAN or collagen powder, you could either add protein powder or some sugar or honey to sweeten it up a little.
And it is as easy as that!
I absolutely LOVE this, and if you serve it with some protein on the side, it makes it the perfect post run recovery meal!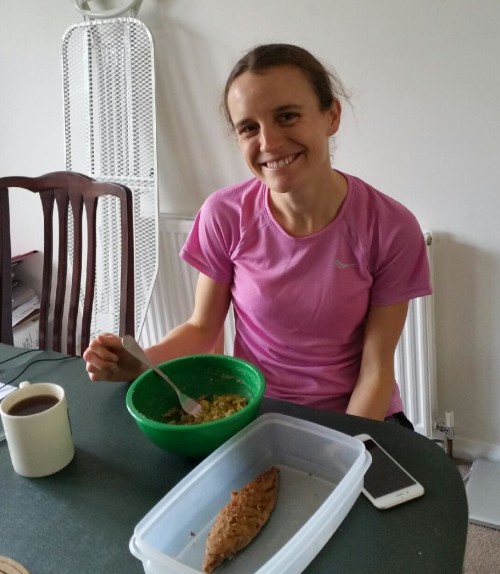 Not as beautiful as a stack of pancakes (did you see my GIANT stack from this weekend?), but it is better for you, and is one of my "secrets" to success these past few months! It is also slightly sweet because of the Generation UCAN, so you can satisfy that sweet tooth 🙂
As I embark on my next training segment (did my first run yesterday!), I am thinking about how I am going to get my nutrition back under control after a very enjoyable, but not very healthy 2 weeks since London Marathon.
I am very excited to announce that I have a new sponsor, and they are local, which I LOVE!
I am now working with Kentucky Kombucha, which is awesome as I LOVE Kombucha and it is SO wonderful for you, especially when it is made using quality ingredients, by genuine people who care about this world we live in.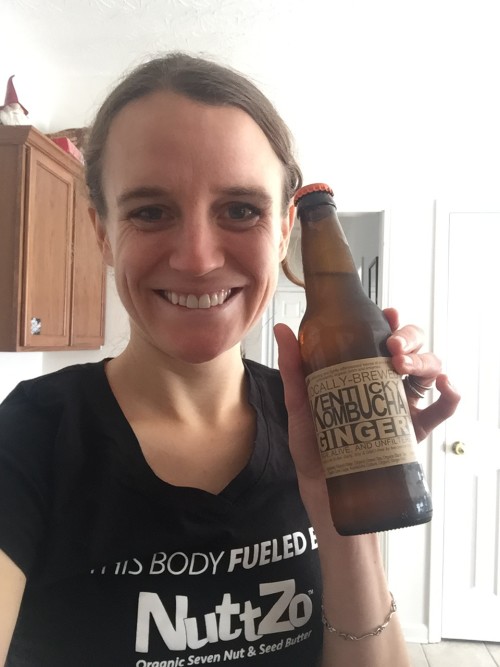 Paul and Ali were kind enough to deliver me a box of their Kombucha on Friday, and I absolutely LOVE it! I LOVE ginger, and this is absolutely delicious to drink.
If you do not know what Kombucha is (sorry, not sure it even really exists yet in England!), take a read of this by my good friend Lindsay on our friend Carla's blog. When this post went live, I wondered what the heck Kombucha was, and I was very skeptical…….fermented tea?!
You might be thinking (although I really hope not!):
That is TWO strange things in one post, but I now LOVE it, and it is a great way to get the fizz in a drink without the crap. Be open-minded, you never know what you could be missing out on if you won't try new things 🙂 It may be different, but if it makes you feel good, isn't that worth a try?
Anyway, back to the point. Kentucky Kombucha make it how it should be made; not the way the big box corporations do it where they cut corners, but with love and passion for our bodies like Ali and Paul do.
I am honored by this new partnership, and look forward to drinking lots of Kombucha this summer!
So I have opened your eyes to two new things today, and hopefully you will see that although I believe it is good for us to have those bad times of eating what we want, enjoying the moments and experiences that those bad for us foods can bring, overall, we need to be giving our body the fuel it needs to be happy and allow us to live a long life.
Today I intend to jump back on the bandwagon, and I know I will probably have a few days of struggle as my body craves those foods, I will get back to eating mostly healthy again, and I know my body will thank me 🙂
Join me?
What is your go to post run food?