Best food for running?
Eating good fuel foods did not matter at all to me at that point.
Obviously that is not ideal for health, and as my inside tracker showed, but it also meant that when we came back, Steve and I looked forward to eating better and getting on track.
I love to experiment with recipes, and although I love to food prep a lot of the same things each week, we do like to vary our dinner recipes up, so I thought I would share a few of my favorite things that we have made recently. A lot of these are not my recipes, and the other half are not really even recipes, just throwing things together based on what we have.
I have talked about this before, that one way where cooking is great when compared to baking, is that you do not have to be as precise, and substitutions usually end up working out okay, so many recipes you can use what you have leftover.
So that being said, here are some of our favorite recipes with food that gives you energy from my go-to cookbooks .
Run Fast Eat Slow Review
We have absolutely LOVED this cookbook, and have made quite a few things already, both meals and snacks. We love the superhero muffins and sweet potato breakfast cookies
When it comes to dinners, we have made the follow
High Altitude Meatballs
These were delicious! Best meatball recipe I have ever had. We had them with sweet potato noodles from our spiralizer, but they would work well with any noodles. The only thing I might change net time is to add a blob of mozzarella in the middle (Steve and I like to do that!)
Carrot and Ginger Soup
We had this last weekend, and I was a little unsure how Steve would handle it, as he is not a HUGE fan of Ginger, but it was fantastic. Perfect for a chilly winter day. It is thick and hearty, and full of flavor.
Don't Get Beet Hummus with Pita Chips
This hummus is so moreish! I couldn't help myself finding ways to enjoy it all day long as it makes a big batch. The roasted beets give it a little sweetness, but not too much. For a dip, this is as good as it gets.
We even used the last of this as a pizza sauce one day as a hodge podge pizza…….mmmmm delish!
Broccoli Chevre Soup
Who doesn't like broccoli and cheese soup? Is there anyone out there? Didn't think so, but this is a goooood one! We had it with homemade sourdough croutons, which was delicious 🙂
Salad with Lemon Miso Dressing
They have a salad recipe in there for the miso dressing, but we didn't have half the ingredients, so I used what we had, but definitely a good dressing that goes with a lot of things, I have also put it on rice, which was good too.
Eating Well Made Easy Review
My mum bought me this cookbook a last year, and I have tried quite a few of the recipes from it.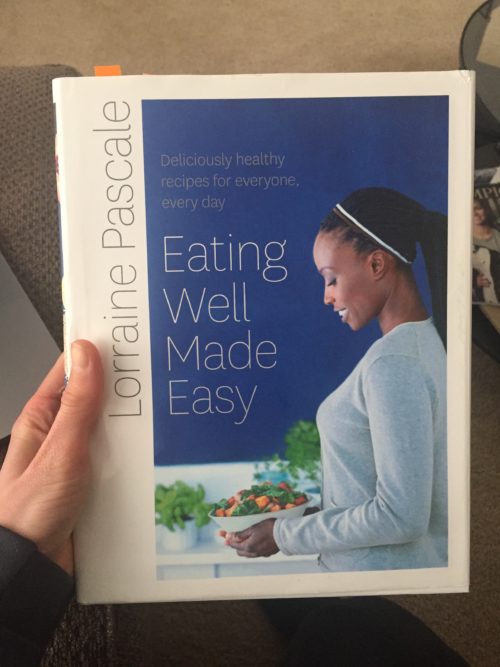 Full disclosure; a few I have not liked, but the ones we have liked, we have LOVED and made multiple times. I look forward to testing out more this year.
Sweet Potato Fish Pie with Haddock, Salmon, and Dill
Fish pies are one of those things that are often forgotten about, but are SO good, especially when you find a good recipe, and this is definitely that! Thankfully Sizzlefish makes it nice and easy to make as I get both haddock and salmon in my box, but you could use other fish if need be.
This is my favorite recipe in this cookbook by far, and its nice and nutritious!
Shaved Raw Brussel Sprout Salad with Hazlenuts, Pomegranate, and Pumpkin Seeds
I know, I know, Brussel sprouts are gross, right?
I always used to think so too, but my mind is changing now AND raw versions like this make it taste so different, you wouldn't be able to tell. I have made a few like this, and people LOVE it, even if they claim they don't like Brussel sprouts, so give it a try 🙂
We love to have these with homemade sausages from our local grocery store, but this would go well with burgers too.
Roast Butternut Squash Beet Tacos with Guacamole Lime Salsa
Actually, this is my favorite recipe in the book…….or is it the fish pie? hmmm its a close call, but this is one we have made over and over too, and is a healthy way to do taco Tuesday.
Thinking about it, I need to make this again very soon 🙂
Roast Courgette (Zucchini) Pizza Boats
These are supposed to be for kids, but we loved them as a side dish, and they are easy to adapt based on what you have. We like to have them with chicken wings from the grill, but they would go great with most things.
Chocolate Covered Katie
Cause a day is not complete without a dessert, right?
This cookbook was given to me for Christmas, and I have been working my way through it, loving the ones we have tried.
The Famous Cookie Dough Dip
I can see why it is her most popular recipe, it is hard to stop eating it once you start, and you can dip anything in it….which is also dangerous!
Although just a note, make sure if you make this, your husband does not use their fork from eating the fish pie mentioned above to stir it!!!!! Lets just say it changed the flavor of that batch!
Strawberry Shortcakes
Okay, so full disclosure, Steve and I did not keep this as healthy as it should have been, we may or may not have used real buttercream frosting instead of the healthy coconut whipped cream Katie suggested, but with or without the frosting, these were delicious, and I look forward to many more of these in marathon training!
Deep Dish Cookie Pie and Sugar Free Deep Dish Cookie Pie
Drop the mic. Seriously.
You would never guess this was a healthi-fied dessert with how it tastes, and on my girls night last Friday, I had my three girlfriends try this, and they LOVED it.
This is so good, that's all I need to say.
There are so many more recipes we have tried and loved lately, but these are the ones that come to mind.
What are your go to recipes? Share below, help a runner out 😉