We start off with vegetables. Either thinking about which vegetables we feel like or which ones are on sale. We purchase those foods, and base our meals around them. If we have something in particular we are craving, we will purchase what we need for that, but for the most part, the meals are just experiments thrown together. This is what a lot of our meatless monday meals end up being!
We actually didn't have our Sizzlefish this week, which was rare, we did have the chicken. Each week we will have either chicken or beef, and an additional meal of fish, the rest of the meals are usually meatless.
So, I am going to share last week's meals, to give you an idea of what we did. I start my days on Sundays, just like my training log….Okay, I don't really start my days on Sundays in my life, but that way you can get a full week.
Here was our meal plan for the week:
Sunday
Roast chicken with Bisto gravy and roasted sage butternut squash and carrots (cooked in the same way my butternut squash fries, but just bigger pieces so took a little longer)
For my American readers, it is a gravy that is 10000000 times better than American gravy! You would consider it "brown gravy", but its soooooo much better!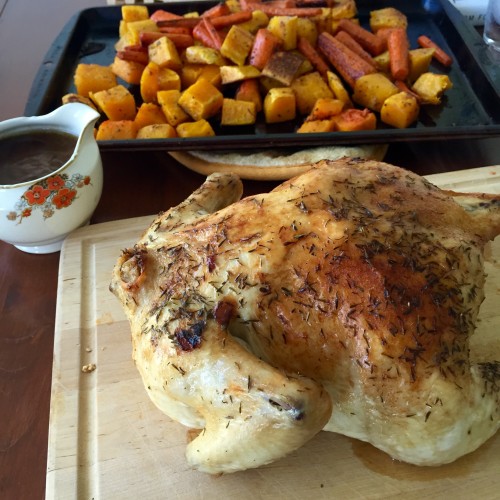 Dessert: 5 squares Trader Joes Dark chocolate (yes, I am aware there are only 3 squares in the pic, but that is considered a serving, so when I took the picture, that was how many I showed)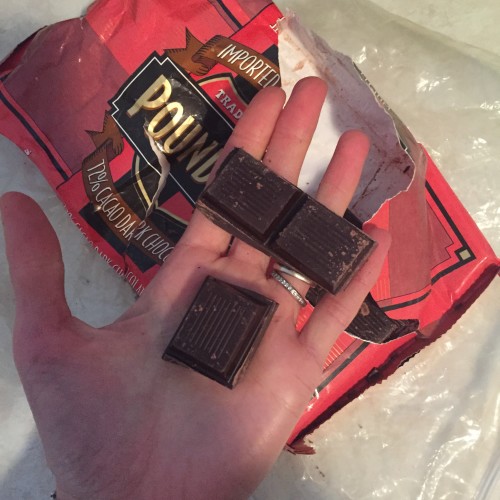 Monday
Loaded salad with spinach, tomatoes, carrots, celery, beets, sunflower seeds, almonds, cashews black beans, olives, pickles, avocado, gorgonzola cheese and Salad Cream.
Dessert: Dairy Queen Small Salted Caramel Blizzard
Tuesday
Homemade broccoli, cauliflower, and cheese soup- made with waaaayyy too much cheese as we only had skim milk, which did not make it very creamy or thick. First I tried pureeing some cauliflower to thicken it up a bit, which worked, but it definitely did not taste like broccoli and cheese soup…… so I added more and more cheese trying to make it cheesy…..it was actually kind of a fail….even after 1.5 blocks of cheese….oops!
Rather than a creamy, luscious broccoli and cheese soup like Panera makes (which I was going for), it ended up being a cauliflower and lumpy cheese soup. It tasted okay, but next time I will be sure to go buy the full fat milk and cream!
We had this with leftover whole wheat tortillas and crackers.
Dessert: small assortment of candies/chocolate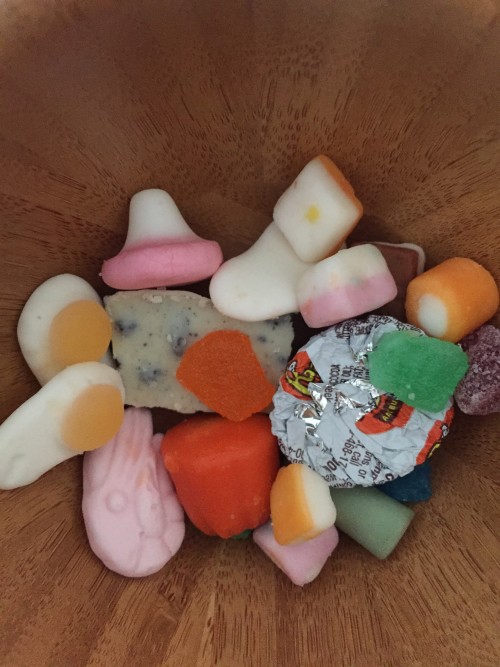 Wednesday
Leftover chicken, gravy and roasted butternut squash
Dessert: 3 squares dark chocolate and small assortment of candies (similar to above)
Thursday
Date night 🙂
I did not take any pictures of the food as I was determined to keep my phone hidden the whole time to truly enjoy this evening out with my husband, but we went to Pies and Pints (has been on our list for a while).
We split a Greek Salad to start, and had a 16″ speciality pizza with 1/2 Mushroom Garlic "Roasted mushrooms, feta, roasted & fresh garlic, caramelized onions, olive oil & fresh herbs" and 1/2 Chicken Gouda "Marinated grilled chicken, applewood smoked bacon, smoked Gouda, red onions, chipotle crema & scallions"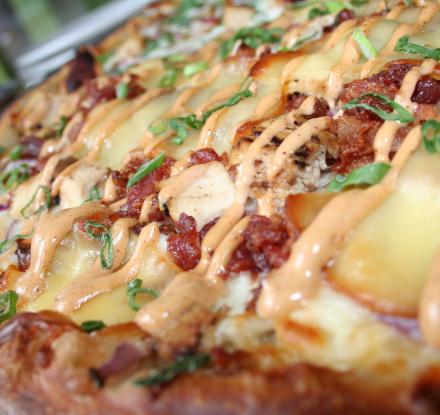 Dessert: We went to Crank and Boom, a homemade ice cream place in Lexington. You will have to check out my Instagram for my dessert, but I kind of wish I had got Steve's Peanut Butter Cup Sundae…..but then I loved the homemade waffle cone, and of course Steve gave me a few of his blondie chunks from the bottom 🙂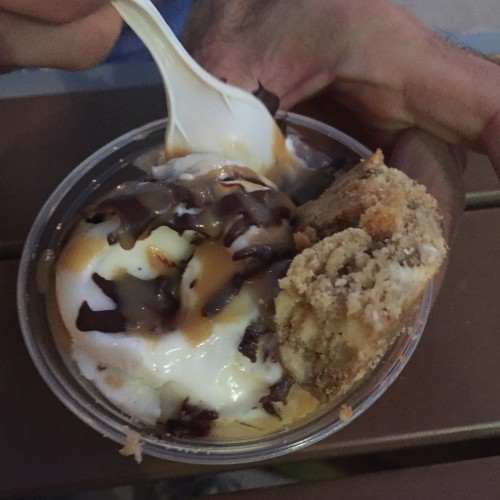 Friday
Leftover brocoli and cheddar soup with Food Should Taste Good Tortilla Chips (Steve also had a slice of pizza)
Dessert: assortment of candies similar to Tuesday (although in honesty it was probably double the amount :p)
Saturday
Steve was out of town, so went out for lunch at Vinaigrette with my friend Catherine, and had the rest of the leftover pizza (2 slices) for dinner.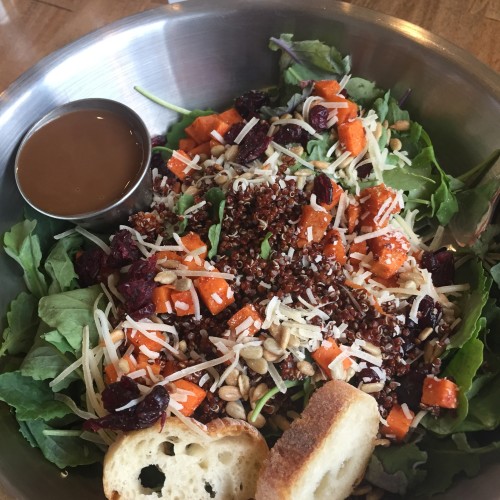 Dessert: 3 squares dark chocolate and some PB m&ms that Sarah sent me (that was a bad idea to open that package…all gone)!
And there you have it, a week of dinners (and of course desserts) for us! Now you can really see that there is nothing special in here, just pretty much what you would expect for a mostly healthy meal plan, but as you can see, I really do have sweets every day. Right now as Philly is just a few days away, I am just having smaller servings most days.
As you see, I did enjoy my date night with Steve. We did not go for the light option, nor did we hold back. I think that is so important, and although we ate to fuel most the week, when we did go out to eat together, we made sure it was what we truly wanted.
What does your weekly menu look like?