If you are not a runner, the chances are, you have asked me about what I think about during all those miles of running, or how I do not get bored. Running 70-90 miles a week, mostly alone, means a lot of thinking, and plenty of time for those negative thoughts to creep in, so what the heck do I think about to distract myself?
Earlier this year, during yet another discussion with my dad about why I struggle to sleep, dad suggested that maybe it was because my running time was when my mind processes all that is going on in my life. As much as I laughed at him at the time, I think it could be true! Especially because I enjoy doing most of my running by myself as it gives me time to think, and I do not have to worry about keeping pace with anyone else.
A lot of the time when I am running on my own, I honestly couldn't tell you what I think about. If you asked for a summary after the run, I could probably give you about 3 things I thought about. The rest of the time it is just processing and zoning out.
That being said, running is a great time to think, to process, and to think about what you want out of your future. Here are my 5 productive things to think about during runs.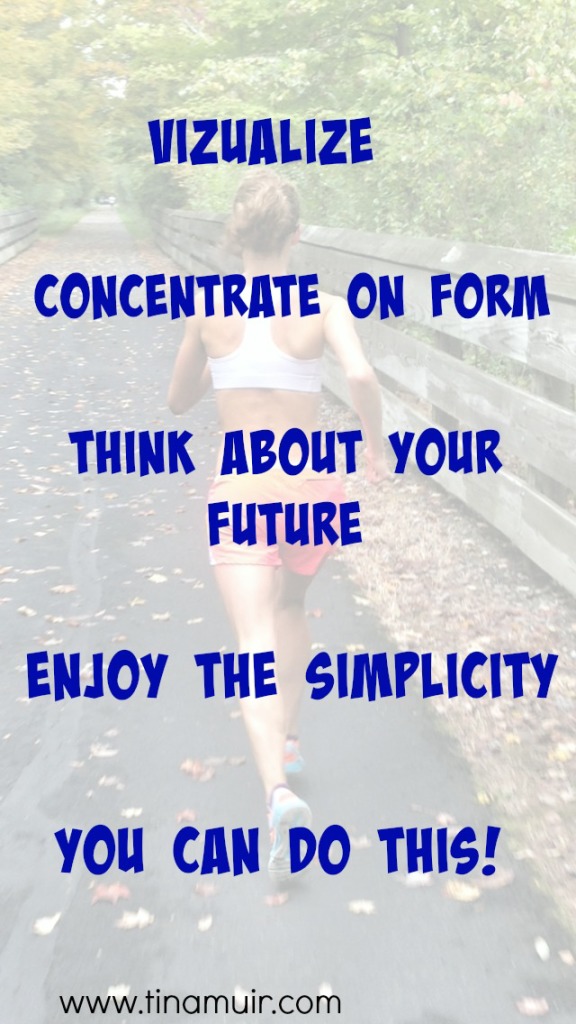 1. Visualize a goal race
What do I do?
In the 6 weeks prior to a big race, I will go through exactly how I want the race to plan out. This is very detailed, and needs to almost feel as if I am living it. I am sure people think I am crazy, especially when I get to the part when I visualize crossing the finish line, throwing my hands up into the air with satisfaction. I will go through this 2-3 times in a regular 9 mile run, each time taking around 10 minutes to "run it".
How
If you want to really achieve those goals, you really need to spend some time each day going through your race plan, not just imagining it, but feeling it. When it comes to that part of crossing the line, you need to actually throw your hands up, like really do it(!!). This means seeing every detail of that moment clearly in your mind.
This includes running into the arms of a loved one, what you will say, looking at the finish clock in shock, and all those little things that make you believe it is going to happen. If you feel silly doing it, that is okay, would you rather feel silly in front of a few strangers and achieve your goal, or worry about what they think, and risk not getting there? I know what I would choose 🙂
2. Concentrate on your running form
What do I do?
You read my post last week about what they found at the UVA Speed Clinic about my running form. Since Max showed me what to do, I have been concentrating incredibly hard on the changes he suggested. This requires full concentration, and means it can be difficult to hold a conversation if I really want to do it right. However, it is worth it! I noticed the improvements almost immediately.
How?
This is probably the least exciting one, but is incredibly important, especially if you have a certain inefficiency that is particularly bad by the end of a race. The UVA Speed Clinic had a phrase "practice makes permanent" and that is true. If you do it right, or do it wrong, you are making your body repeat that movement over and over. How can you expect your body to maintain form when you are hurting, if you cannot even complete the movement correctly when you are easy running. You need to work on making it automatic as much as possible, it will be worthwhile.
3. Think about your life
What do I do?
Whoa, that sounds intense, but it is not as deep as you think! I often spend at least a few minutes going through how I want my day to play out. I imagine myself going to bed with a smile saying "I had a very productive day. What a great day!" This is often the time I use to think about what is most important to me. What do I want out of my life right now?
How?
By thinking about it, consciously or unconsciously, you will start to put yourself on the path to get there. This is a great time to really come to terms with all that is happening in your life. You can process what is going on, and even solve problems (this goes back to what my dad was saying about this being like a form of REM Sleep). If you can organize your day during the run, you can get back to the house knowing what needs to be done, with a loose plan of how you will get there.
4. Enjoy the simplicity of running
What do I do?
I sometimes take my running for granted: Forgetting that running is a privilege, and one that should be cherished. It is only when I have an injury scare, or read an inspiring story that I really appreciate how lucky I am to be able to do it. Recently, I have been making a conscious effort to think about how wonderful the motion of running feels; the wind in your hair; the sound of your footsteps in the morning; the quiet calm; your rhythmic breathing. These do not even include the beauty of nature all around you!
How?
This means enjoying running for what it is; putting one foot in front of the other. Our sport is not like other sports, you do not have to use lots of equipment, you can simply take in the beauty that is all around you. Especially those runs that are done early in the morning with the sun rising, or late at night when your senses are alive and the adrenaline pumps through you. Those are the runs that should be most appreciated.
5. You can do this!
What do I do?
I talked about all the things to think about when things are (mostly) going well, but what about those days when you are struggling? I like everyone else go through those days (and I have had a lot of them recently) where I just want to be done, I just want to stop. These are the times when those positive thoughts have to fight their way through. I tend to go through each of the above thoughts, and then just finish it with "come on Tina, you can do this".
How?
Say it out loud if you need to. Remind yourself of how far you have come (either in that run, or in your running life overall). You will be even more proud of yourself at the end of a run/workout/race if you have struggled through it, yet you found a way to still get a lot out of it. Believe in all you can do, and do not be afraid to take your foot off the pedal, especially if you are supposed to be on an easy day (check out this post).
At the end of the day, running should be enjoyed, and turning those negative thoughts into positive is one way to get there. Think of your favorite inspirational quote, or focus on what is feeling good; If your legs hurt, focus on how your breathing is calm; If your fingers are numb, at least you will appreciate that nice cup of cocoa when you finish!
Hopefully this has helped. I know these thoughts help me, and they take up most of my running. As most runners already know, running is about slugging your way through most days, so that those good days can happen. At least this way, you can make sure your mind is thinking proactively! And if you are still having a hard time with those negative thoughts impacting your runs I have a WHOLE module in my Mile 20 Mental Training Course dedicated to distraction in much more detail just for you.
What do you think about while running? How do you turn your positive thoughts into negative?
Your Visualization Worksheet
Download this free worksheet to help you get all the details you need to visualize correctly