UPDATE: this blog post is a few years old, but I have links to all the products I am loving and have discount codes to pass along to you, click here to check that out.
Never thought I would be the kind of runner to do one of these gift guides, but I have had a few requests, so here goes. Before writing this post, I sat here scratching my head for a little while.
This is tougher than I thought! I wanted to make sure the things on here were running products that I use very often, and ones that I am proud to say help me towards my goals. That being said, I often talk about the simplicity of running, and how all you really need is a pair of running shoes to do it, and that is true……so then all I need to put on my list is a pair of running shoes right?
Well in theory, yes! In which case, I would HIGHLY recommend either the Saucony Triumph ISO 2
 or the Saucony Ride 8 . Both of those shoes are so comfortable, and they are the only part of my running life that are critical to me being able to do what I do. They run between $80-$150, but if you purchase ONE thing on this list for your new runner, it should be this!
However, that does not make to be a very fun post, so here are the rest of my recommendations. I am a pretty simple runner for the most part, I do not own a flip belt, I do not really run with music, and I do not have an apple watch, but from this elite runner to you, here is my 2015 gift guide for runners.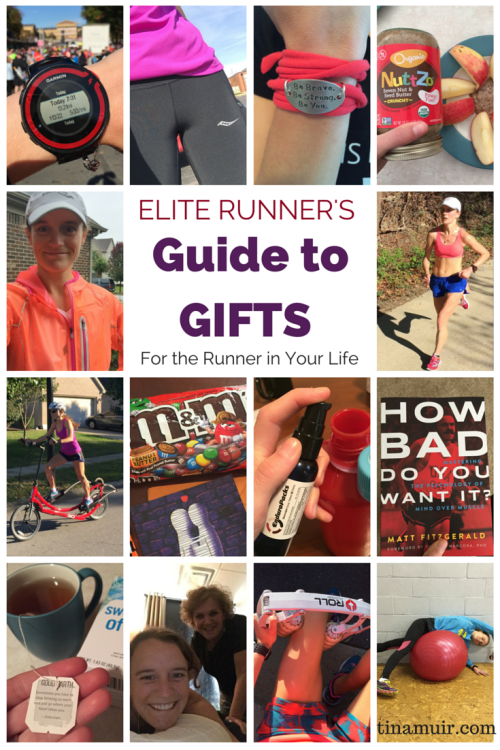 Garmin watch ($150-$350)
I have the Garmin Forerunner 220 , but if I could, I would LOVE the Garmin Forerunner 235
This one is dangerous. I know I am constantly telling you to stop staring at it and listen to your body instead, especially if you want to make sure you do not slow down in a race. It is VERY easy to become obsessed with your Garmin, and I honestly believe every runner will become obsessed with it at first, but hopefully you make it out the other side, when it can be a VERY useful tool. I LOVE my Garmin, not for during runs, but to keep track of everything, and for reflecting after a workout. It is my baby, and I have tried other brands, but the Garmin is just the best there is.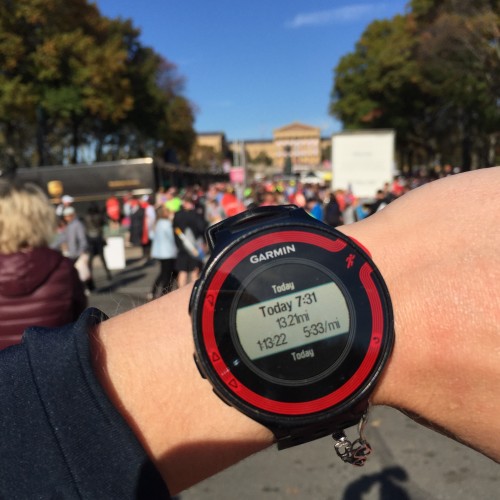 Saucony Bullet Tights/Shorts ($40-$75)
I have 3 pairs of Saucony Bullet Tights

1 pair of Saucony Bullet Capris
4 pairs of Saucony Bullet Tight Shorts
These should be familiar to you, as I have told you about these MANY times. I absolutely LOVE them. They are perfect for practicing marathon fueling, and they are just so darn comfortable. I am slowly building myself enough pairs that I can wear them all the time….run in a pair, take them off after my run, get into another pair….hahah someday!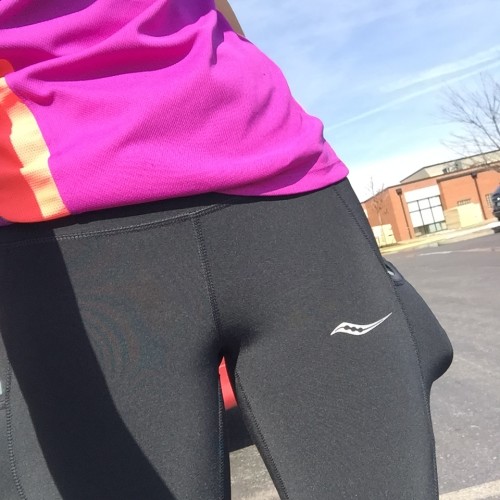 Momentum Motivate Wrap ($19)
Momentum wraps were an unexpected running product for me this year, especially as I am not an accessories kind of person. I wore it in both of my big races, and it really did help me stay positive in my race for longer. I talked about Momentum last week, and you can go back to that post for more information.  If you purchase one before 10th of December, you can use the code HEALTHYHOLIDAY15 for 15% off.
Nuttzo ($10-$18)
What kind of list would this be without some kind of runner fuel? I was introduced to Nuttzo a few years ago by my friends Lindsay, Katie and Morganne. At the time, I was happy making my own nut butter (and I still am), but Morganne was kind enough to let me know that Nuttzo were accepting applications for Ambassadors and I should apply, so I did….and I got it. I tried Nuttzo, and OH MY GOD, it was amazing.
I love my nut butters, but this is a whole new level! I eat spoonfuls and spoonfuls of this every single day, and the nutrition you are getting from all the different seeds, is going to help you feel better on your runs.
It is worth every penny, and if you use my discount code MUIR15, you can get 15% off. If the runner in your life LOVES nut butter, this is going to make them very happy, trust me!

Saucony Exo Jacket ($125-$140)
Yes, time for another Saucony recommendation. There are going to be quite a few of these on this list, as this is what I run in every single day, and what makes runners (especially female runners) happy? Lots of beautiful running clothes….you know I am a woman when I describe running clothes as beautiful.
This is one of my favorite new products of the year. This Saucony Exo Jacket
 is waterproof and windproof. With those winter nights well on their way, one of these is definitely worth the investment. It is amazing how much of a difference keeping the cold and wind out will make to your runs, trust me on this one. And if you need more motivation, Molly Huddle actually posted a picture last week of her wearing this jacket (speaking of which, you will be seeing more of Molly in the near future 😉 ).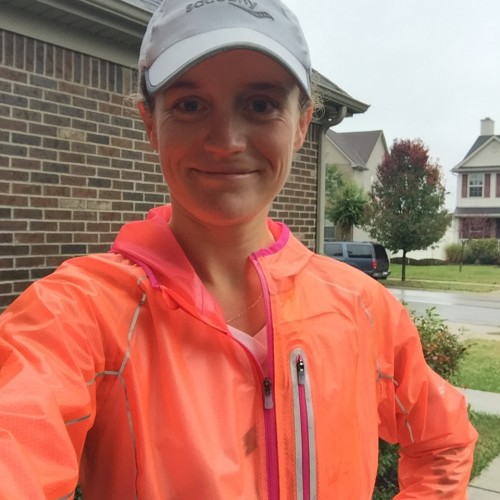 Oakley Half Jacket Sunglasses ($120-$200)
Yes, I am aware we are heading into winter, but I honestly believe this makes these even more important, especially on those days where the sun seems almost blinding. I wear my Oakley Sunglasses
on almost every run, and find that they keep me from screwing up my face, which especially in workouts and races can cause you to tense up and therefore divert energy away from your muscles.
You may have noticed I have been wearing a hat for all my races, and if I could recommend one of those to you, I would, but right now I cannot find any Saucony Caps to recommend (it is winter after all).
However, I do use these Oakleys every single day. At the time I purchased them, I could not believe I was spending $200 on a pair of sunglasses….to run in, but they were SO worth it, and I can't recommend these more.
Also, I would recommend getting the polarized ones, but if you are using them for everything, I would stick to non-polarized…it makes reading on your phone kind of tough 😉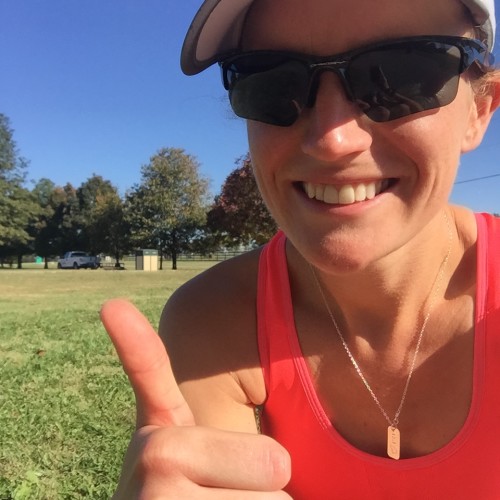 ElliptiGO ($2000-$4000)
Now for the big-gun. This one will probably be out of most price ranges, BUT I am here to tell you that this is seriously worth the investment. Steve and I were wondering the same thing when we went to buy one, but if you are an injury prone runner, or frustrated with your running situation, this is for you. I mean that.
I am not sponsored by them, I am not affiliated with them.
I just LOVE my ElliptiGO 8C . It feels like you are just out there for fun, this is something I would PAY for the experience (they should offer this by the beach on a lakefront bike trail!). If you can afford to purchase one of these, I would say that you will not regret it.
AND if it is really pushing the envelope in terms of money, if you think about it, if you pay $5-10 to use your gym membership every time, and you are in there every day for 3 months, that adds up to $500-$900, and you are already 1/3 of the way to paying for it AND it will last you for years!
I know its a heavy investment, but in my eyes, that money is already money well spent, and we have had ours under a year. You can read more about what I think about it in my ElliptiGO post.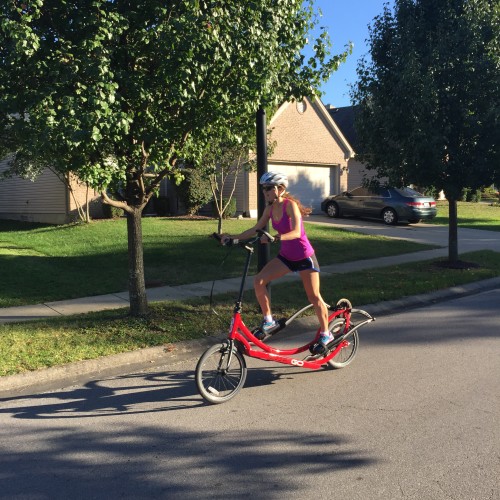 Peanut Butter Crack M&Ms ($2-$3)
Time for more food. And not of the healthy kind.
This is because I believe in a balanced lifestyle, and so far this post has been way too healthy. You know I love my sweets, and this one is the king of them all. So good in fact, that sometimes I have blackouts and will find myself eating them with no memory of walking over to the bag. I am absolutely addicted to these, and not even ashamed of it. Hence why I call them crack…..sorry Steve (he hates when I call it that).
If you have not tried them, do it. It will change your world.
P.S If someone wants to buy me this 50 oz bag
, I would love you forever 😉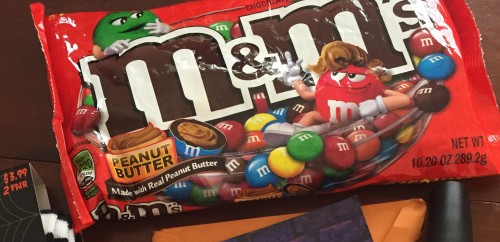 EnduroPacks ($70)
Now, I know what you are thinking. How is this a christmas gift? I have talked a lot about how important EnduroPacks are to my recovery, and here is my thinking behind this. What do runners want more than anything in the world?
To be able to run.
Now, if you had a way of giving yourself the ABSOLUTE best chance of staying healthy, would you take it?
You would right?
So this is where EnduroPacks come in. I honestly believe they are a HUGE part of the reason I am able to stay healthy, and I think they will work for you too. I have NEVER heard of anyone complain about them, and every person I have ever known to have tried it has noticed a difference in how they feel.
If you have been on the fence about it, try it. Give yourself the gift of staying healthy for Christmas. Oh, and if you use my coupon code TINAMUIR you get 15% off your first month, and 10% off your second 🙂
Running Books ($10-$30)
Here are just a small selection of the running books I have read (and loved) this year:
You can run pain free!
 by Brad Beer (Brad and I are like old friends)
My Year of Running Dangerously
 by Tom Foreman (released as a podcast on Dec 16)
Natural Born Heroes
 by Christopher McDougall (what an interview!)
What You Can When You Can
 by my friend Carla
The Ultra Mindset
by Travis Macy – not just for ultra runners, I LOVED it (Interview with Travis)
How Bad Do You Want It? by Matt Fitzgerald- I have not yet read this one, saving it for the flight to Australia, I KNOW it will be good! (interview with Matt)
Kettle and Teabags ($3-$60)
Okay, this may not appeal to most of you, but this is the Tina Muir gift guide, and when I think about things I use every day, I do have my Good Earth Wild Chaild Chai Tea every morning, and various other teas throughout the day.
We have the KRUPS Electric Kettle, which is a million times better than our old one that took 15 mins to heat up, but if you are a runner who struggles with going to the bathroom in the morning, a hot drink will work wonders 😉
Massage Gift Certificate ($25-$75)
This one is impossible for me to recommend where to go (unless you live in Lexington, KY), but a massage for your runner loved one will make a HUGE difference, especially if they are sore or tired. I pay $50 every single week for my massage with Karen, and it is 100% worth it. Another big piece of the puzzle with why I can stay healthy.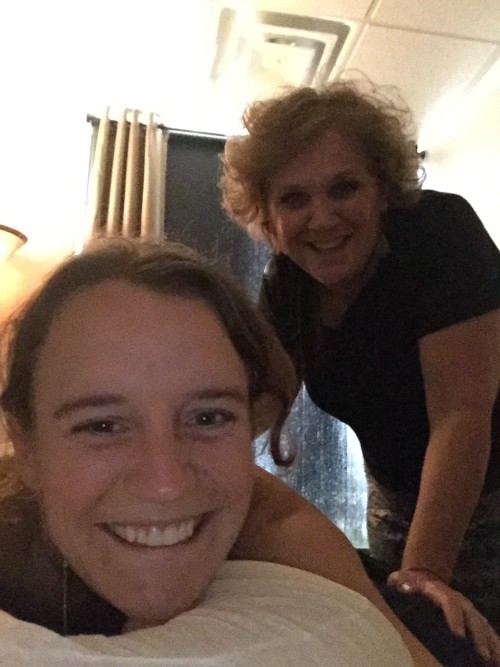 Saucony Nomad Gloves ($20-$30)
I have BAD circulation. My fingers get cold so easily, and these Saucony Nomad Glove
 have already saved me a few times. They are fitted and comfortable, definitely what you need for those chilly days or even colder for most runners.
However, I will say, if you do have bad circulation, during those runs under about 35 degrees F, these are not enough. I need mittens for the really cold days, but right now, these nomad gloves are perfect!
Believe Journal ($10-$20)
This is the only one on my list I cannot personally recommend, but I do actually want one for next year. I love the idea behind these, and my dear friend Sarah has told me about how good it is many times. I have seen so much positive feedback from runners using this, therefore I am confident enough to say that you should get one of these before I actually try it.
I want a Believe Training Journal….hint hint Steve 😉
Roll Recovery ($120-$190)
I am pretty bad at staying on top of stretching and rolling. I tend to go in waves where I am really good, and do it every day after every run, but then I go through other waves where I do nothing (Steve gets mad during those times!).
When I am in those lazy times, there is one thing that I can motivate myself to do when I can't be bothered, and that is use my Roll Recovery R8
. It is easy to use, and gets in all the little tight spots. We got one of these about 2 years ago now, and it has been a staple in my recovery plan from that moment on.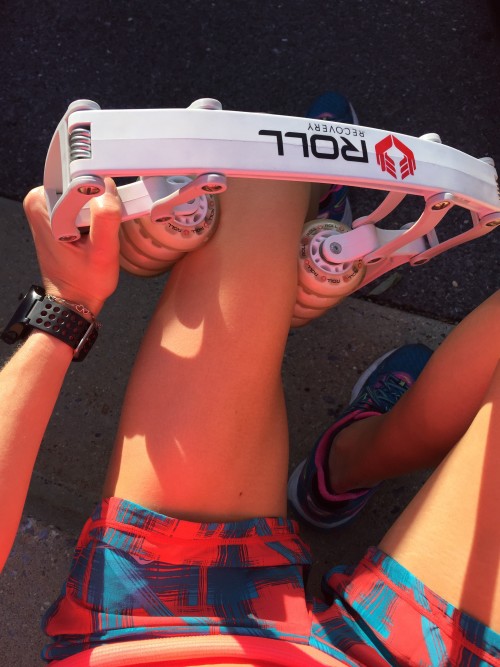 Saucony Fast Twitch/Breakthru
Almost forgot about my beloved shoes. At the very top of this post I told you that running shoes are the NUMBER ONE runner gift you must have, but I also believe having a pair of racing flats is important. I absolutely love both my Saucony Fastwitch 6 and Saucony Breakthru.
If you are racing under a 1/2 marathon, the Fast Twitch are for you, and my marathoner friends, the Saucony Breakthru are absolutely wonderful.
The heavier your shoes are, the more energy your body wastes on lifting those shoes up with every step, so although training in heavier shoes like the Saucony Triumph ISO 2
 or the Saucony Ride 8  are great, on race day you want those lighter shoes (but not so light you end up injured….thats why I stick with these two). I was actually very lucky to meet the designers of these shoes a few months ago, and I told them just how much i loved them!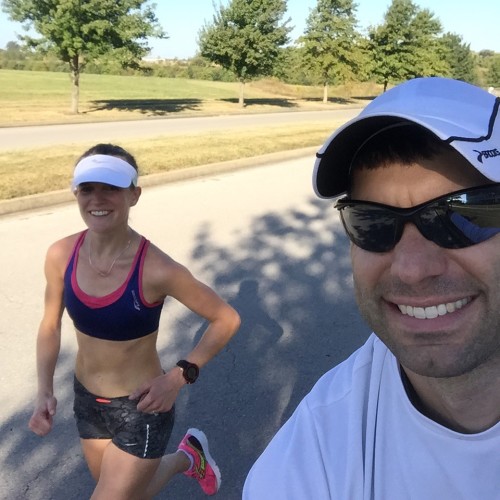 Running Coaching ($0-5000000)
Okay, last but certainly not least, and actually, I would argue this is second to a pair of running shoes. If you want to run to your potential, and stay injury free, having a running coach is HUGE. That outside opinion who is able to tell you when to slow down, what workouts to do, and how to peak yourself for a race is absolutely critical.
BUT
You need to find someone who knows what they are doing. There are a LOT of junky coaches out there. People who are runners themselves, but do not understand the sport. In all honesty, if I wanted to coach, that would be me. I would NOT be a good running coach.
Sure, I could throw together a training plan for you, and it may or may not work, but you really need a mind who truly understands how to peak you for your big race, how to understand what you as an individual needs, and where to put what workouts. Steve is an absolute genius at this, but unfortunately i cannot recommend him…..unless I want a divorce 😉 He has enough on his plate.
HOWEVER
I can honestly recommend the Runners Connect Coaching Community. It makes my heart swell every time I think about it. This group is so wonderfully supportive of on another, and Jeff is another genius when it comes to determining which coach will work for you. If you have been on the fence about running coaching, this really is the time to give it a try.
I am not saying this because I work for them, I do not get paid any more to sign up runners, I just believe in Jeff and the other coaches, and I believe that coaching is the most critical aspect of training there is. This Runners Connect Training Plan Gift Certificate would be the best gift for the runner in your life. After all, if you can't stay healthy, and you can't run……well….we all know what kind of person we end up being…. 😛
You might even find a coach who makes you do strange things like this sometimes….Thanks Drew 😉
Okay, this is a monster post, so I am going to end here, but hopefully this gift guide has shown you the aspects of running I believe to be most important (yes, PB m&ms are necessary to your sanity). As you see, there are few bells and whistles, just the things I genuinely believe help me to stay healthy and run to my potential that I believe would be great gifts.
Hopefully this helps make Christmas shopping a little easier for the runner in your life.
[bctt tweet="An Elite Runners Christmas Gift Guide- 17 running must haves"]
What would you add to the list that has helped you a lot with your running?