I know there has to be a happy medium to many things, but I feel time after a marathon is crucial time for you to rest your system as well as show a little appreciation for what you have been through. Here is how I felt while being an Elite, as well as right now.
—-
I have already told you that I believe in the importance of taking time off after a big race, especially after a marathon.
Today I wanted to talk a little about something that goes hand in hand with time off for runners. Something that strikes fear into us, and is the reason most runners are afraid to take time off; post marathon weight gain.
I believe it is GOOD to indulge, and I made the most of my time there…..even if it meant being at a weight that was not particularly good for running fast.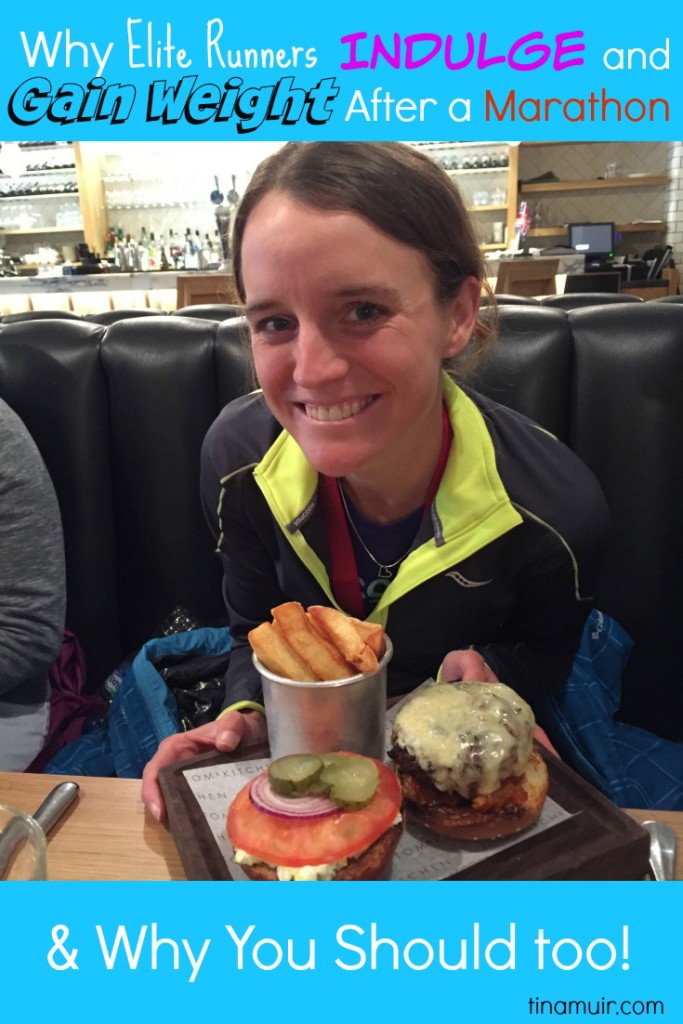 So today, I am here to tell you that it is good to gain a little weight after your marathon. Especially if you have leaned down a lot during the season, and had reached your race weight.
I know that when you have reached that race weight, it can be tempting to hold it there.
You feel strong, you know you look good, and that weight allowed you to accomplish your goal (or be as ready as you could), but please believe me when I say that it is not worth it to try hold it there.
When you take time off, your metabolism takes a few days to realize what is going on, and will still be churning away repairing the damage not just from the race itself, but the entire segment.
This means you need to consume more calories than you think you do for someone who is not running.
More importantly though, I honestly believe it is good for you to gain a little.
Then not only can you enjoy eating those reward foods, and indulge after your race without feeling major guilt, BUT you then have something to work off during your next training segment. You also have something to look forward to post season.
I have found I am more likely to commit to healthy eating in those last 6 weeks if I know there is a light at the end of the tunnel where I can enjoy the treats I want 🙂
Your body cannot hold its race weight year round.
It's not healthy. Life is full of ups and downs remember ☺. Even went I went through my goal of getting my period back and flat out quitting running for a good 3 months, read about that more here.
If you purposely hold your weight at a specific number…..which actually is completely unreliable, especially after a marathon, when your body is all over the place, confused with what just happened….you are toeing the line of spiraling that into an obsession.
I find that when I worry about gaining weight, that is when I start to feel miserable, think about it way more than I should, and make choices that put my physical and emotional health at risk.
All very well me preaching to you, but do I actually do this myself?
Yes.
You may have seen my many instagram photos of the sweet treats I indulged in the week after the race, and I am not kidding when I say I had sweets for breakfast, lunch, dinner, and snacks in between. I did….as well as my meals.
In my week off after the marathon, I put on around 7lbs. I was down to around 113lbs, and by the end of that week I was at 120lbs….and still there now.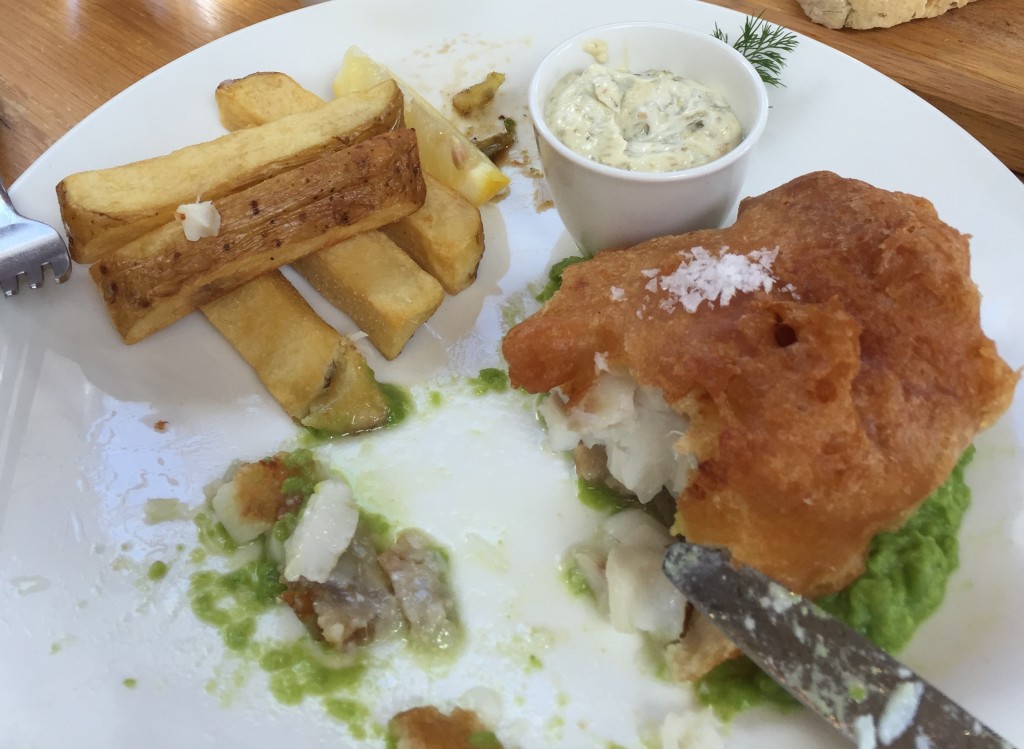 Does that bother me?
Honestly, yes.
BUT
When that little gremlin does show up in my ear, I am able to remind myself, I earned it!
I committed to my goal, ran a happy 2:41 in the marathon, and eat healthy most of the time.
THIS is the time to enjoy; no holds barred, and you are kidding yourself if you think people will notice those extra pounds.
I originally intended on putting a photo on here to show a comparison, to show the difference in the way I look right now compared to how I looked the day before the marathon, BUT I did not want to insult anyone.
To almost everyone out there, you would never notice the difference, especially as my gaining weight still only puts me at 120, which would be much lighter than a lot of people.
That may lead you to think that I am either a coward for not wanting to show it, or that I have not actually gained any weight, but let me tell you that the number on the scale has been consistent for a week now AND Steve even said that my belly came back shockingly quick…..another reason I thought a photo would not be a good idea.
Here's why:
Even though to Steve and I my belly is visibly bigger, I did not want to upset anyone as I know others would kill for my weight. Does that make sense?
By the way, before you think Steve is some nasty, downgrading, control freak about my weight, let me just say, as you should know, we have a very open communication channel (you would have to for this coach/athlete/love relationship to work), and I told him about it twice before he said anything himself…..in a very gentle way of course 🙂
Back to the point:
I can now reflect back on that indulging time, like a great vacation, happy memories, and I wish I could have gone on, but now I need to make smarter choices, and slowly ease my way back into doing what is best for my body.
I did the same thing when I was in Australia for my honeymoon. I knew it was a once in a lifetime trip, and I wanted to make the most of it. I gained 9lbs in a few weeks, but guess what, I ended up running a HUGE PR of 2:37 in the marathon just a few months later.
That way you appreciate it, but know the reality is more fulfilling in the long run.
I know the weight will drop off as I begin training harder, but if you try to force it, if you allow it to make you restrict yourself, that is when you obsess over it more, and are less likely to lose that weight as you can fall into the binging trap.
You don't have to just listen to me, 2014 Boston Marathon winner Meb Keflezighi gained 12lbs in his 10 days off, and he said that it is good to gain weight for recovery.
I think we can all agree that Meb knows what he is doing.
I am not sure if this post will be helpful to you, but I thought it would be good to see that YES elite runners do gain weight in their time off, YES we do binge on sugar, and YES that little voice is there tempting you to diet, BUT you are better than that. You will be happier if you let yourself just be YOU!
Do you allow yourself to indulge post race? What do you do to push that little voice out?
Need ideas?
Writing a list of things you enjoy to do seems easy, right? You are so much more than a runner! So why is it a lot harder than it seems to actually think of ideas? Let me help! Over 130 ideas to choose from