Hi friends!
Oh my god. I don't even know where to start. I am not sure I can start. I should be getting to bed right now, but I just wanted to write a little something. Just to share a few things about the day, and I will get a full recap up later this week.
Firstly, before I even begin, I want to thank you.
To each and every one of you who took the time to cheer me on in person, wish me luck, congratulate me after (or somewhere else along my journey). I would never have the balance and happiness I do in my life without you all making me feel special, so thank you.
I am so honored to be surrounded by such wonderful people!
Thank you to Saucony (did you see this tweet!? Life goal!!), EnduroPacks, Nuttzo, Sizzlefish, Inside Tracker, Body Health, Everyone Active and Beet Boost for their part in this too!
Okay, I need to go to bed, so here is what I know:
I ran 2:37:35 (clock time), so may take off a few seconds once the chip time comes through.
I was:
2nd woman in the Championship.
5th British female overall (elites and championship)
19th woman overall
214th finisher
annnnnnddd here are my splits: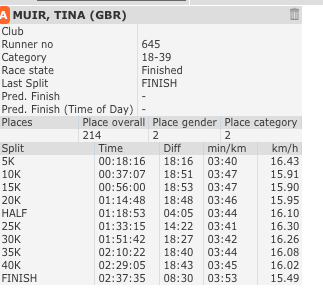 Other than struggling at the 2k to go mark (it hit me hard for a few minutes and had to slow waaaayyy down), you can call me Captain Consistent!
I have shaved 4 minutes off my marathon PR each time I have run it.
That is about all I know for now, more to come later!
Oh, I have been talking about Freakshakes for months, and I devoured mine AFTER a burger. As I have a feeling my recap might be kinda long on Wednesday, here are a few pics to show you that not only do I indulge after a marathon, but I LOVE EVERY DAMN SECOND OF IT!
Yep. I did polish it, and finish my mums.
You thought I was exaggerating when I said I had the worst sweet tooth of anyone you will ever meet.
I wasn't.
I am off to bed……where maybe, just maybe, I might fall asleep, although I never usually can after a race, and then tomorrow I begin my two weeks off all exercise…..yes, you DID read that right, TWO FULL WEEKS of no running, swimming, biking, ElliptiGO-ing or anything.
The only thing I may do is go for a hike with my husband as I am usually too scared to in fear of rolling an ankle.
But yes, time off after a marathon is SO important (as much emotionally as it is physically.)
As is gaining weight and indulging, which I have already started doing.
I have so much to share, but it will have to wait.
Thank you for all the love, it truly means the world to me.
If you want any more details for now, my Instagram will be your best bet!
Have a WONDERFUL Monday 🙂