Over the past few years I have traveled more than I ever could have expected.
Either way, traveling adds another complication when you are chasing down some big goals, as you want to do the best you can to eat foods that fuel your training.
Sure, when you travel, you might research places to run, and you may even stumble upon some more, but eating well requires a little more planning.
I have realized over the past few months that this is where I get a little too controlling. I hate going to a new place knowing that I have missed out on something that the area is famous for, or that I "wasted" a meal going somewhere that was….meh.
I love to eat, and I am a definite foodie, so every meal on a trip should be enjoyed.
Lets just say I am not one of those people who will end up in McDonalds because it is easy.
I spent a good amount of time researching the best restaurants before I go somewhere new, and 99% of the time this pays off.
Amsterdam was a little tough because many of the restaurants were so tiny and just unique that they were not online, and it was the kind of place that you can just walk along the road, and pretty much guarantee you will get somewhere good just by looking through the window at what they have prepared.
I still did my research though 😉
Steve and I found a lot of good ones, and I had a few grumpy moments where my controlling did not work in my favor….but I am working on relaxing when it comes to that 😉
Since I have changed my diet to add more fats and proteins, a more paleo style of eating if you will, it has made it more difficult to find somewhere that will suit my fueling needs.
Pasta was always an easy find, but I do not really have that, or want it, anymore.
Sure, you can just go with whatever, and don't get me wrong, I still love to indulge, but with the amount of traveling I have done this year, I had to be a little careful as I was moving away from indulging…..towards rarely eating the fuel my body needed, especially when some of the biggest races of my life were just around the corner.
One of the biggest lessons any runner will soon learn is that you never want to change things just before your big race. Stick with what you have practiced, and play it safe.
So if you have some travel coming up, and are unsure of how to find the kind of restaurant that will give you nutritious, yet delicious options, here is my little mini guide to how to do just that.
Let me first say that if you follow the traditional runner diet, this is much easier for you. There are almost unlimited options for pasta, sandwiches, burgers with fries and typical starchy foods.
But as you know, I have moved away from those stodgy carbs and more towards plant sources of carbs, along with lots of fats and high protein meals.
A little more difficult to maneuver around.
Although I want to remind you…..
When I was celebrating or felt like having something that was not on my typical foods list, I did not hold back! And this happened more than you probably realize!
But I have been attempting to make the meals as healthy as possible otherwise. I just don't believe in living a life of just salad and plain food.
If you are willing to do some research, here are some words I found especially helpful for finding healthy restaurants in a new city or country through Yelp, Trip Advisor, or even just through a simple google search:
• Organic
• Farm to table
• Farm to paddock
• Local
• Grass fed
• Free range
• Sustainable
• Vegetarian
• Paleo
• Homemade
You will find that most restaurants that come up when you use any combination of these words have some kind of moral compass and have a sustainability focus.
I chose these words over just "healthy" or "fresh" because I feel like a lot of restaurants now use that word just for the sake of it as they know it will falsely attract some people.
Once you find a list of restaurants, check out their website, and you will soon get a feel for the culture and attitude of the company.
Usually hole in the wall or quirky websites are run by hippy (hipster) people, who do put their heart and soul into making their business a place where people can get good, quality food, that is good for you too.
I know hipster kind of has a roll-your-eyes kind of association right now, but realistically, they have it right. They care for the world we live in, and they truly care for the customers they serve.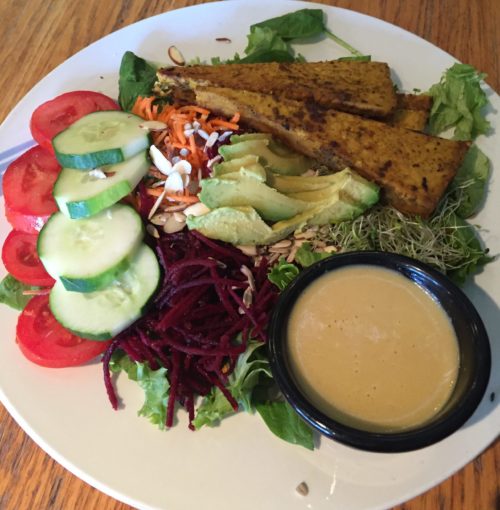 Steve and I have become pretty good at seeking out the "Tina Style" restaurants (Steve's words, not mine), and you will find that you will start knowing what to look for too.
If you are in a place that does not appear to have anything even remotely nutritious, then your best bet is probably to go for some kind of brewery or local favorite deli.
At least those are usually popular for a reason….although use your common sense.
If "Momma's fried chicken" is the number one rated restaurant, you shouldn't need me to tell you that it is probably not going to be your safest option!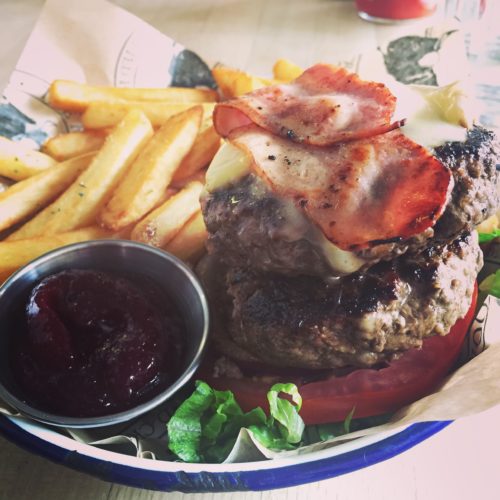 But you can find a happy medium. I often have burgers (a double burger in this case) without the bun, but notice I still had the fries, just prioritize your good and bad foods. For me, the bun is not worth it.
After lots of rich, indulging meals, sometimes all you want is something simple, and in that situation, a local grocery store will have some ready-made alternatives that are about the size that you would make at home. Add those in sometimes too, that way you don't feel so stuffed all the time!
Hopefully this has been helpful, and you can write down the list of words to use for your next trip away.
If you like to just go to a new place and see what appeals to you at the time, by all means go for it…..just the control freak in me has a hard time with that 😉
And besides, I would never have run as well as I have this year without taking this into account, so maybe it can help you too!
BUT finally, and most importantly, make sure you take some meals to enjoy!
Especially if you are going to a new place, or somewhere that means a lot to you with ones you love. It can change the whole vibe of a meet up with a loved one if you have to be the awkward one who cant find anything on the menu they like.
Life is for living, so make sure you live your life the way your heart wants to…..you can get back on the healthy eating train for good once you get home.
How do you seek out restaurants in a new place?