In the past I have talked about how important I think it is to run without looking at your GPS watch during a race or workout. I explained that more in my post about how you can make sure you do not slow down in a race.
But today is about taking that one step further, to a place I never thought I could be.
What if you went Garminless for over a month?
Nothing has been measured. Nothing has been exact. Nothing has been calculated.
Let me back up a second.
Like I said in my running isn't everything post my mindset shifted. During this time I was not an elite runner whose life was dictated by running.
Don't get me wrong, I still got my runs in each day, and did what I needed to do, but I was living my life, exploring what the world had to offer without worrying about my run the next day. I have even more thoughts about running by effort and not time if you need some more courage to take the full plunge.
I did not do anything crazy, in fact, we fell asleep by 10pm almost every night, but for once, I felt at peace with just letting my running happen.
On one of my runs, while looking at the Sydney Harbor Bridge, I thought about just how small we are, and how running should be just what it was that moment; joy, freedom, experiences, exploration.
Certainly not pressure, or something that should define who we are.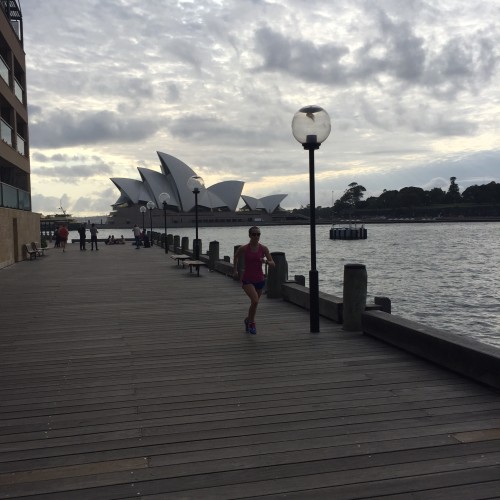 The other reason for this was the demise of my beloved Garmin.
I am not sure if it was that day, or if it was a few days later, but for one reason or another, my Garmin stopped working, and I was left with my trusty watch to tell me when to stop.
Either way, for some reason, I decided to embrace this. It did not bother me as much as it should have, and thankfully, my workouts were all based on minutes up until this week, which meant I was not actually losing anything, but for someone who has to hit 9.00 on the garmin on a recovery run before she stops, this was a definite change.
One of those days, Steve allowed me to "pick up the pace" a little, and I ended up running (we think) around 6 pace for 6 miles at 85 degrees and humid…..my first "workout", and not even planned.
Now THAT shows that sometimes running without those numbers, that pressure is off, and you are able to listen to the internal cues your body is giving you, so you can run to the best of your ability without your mind sabotaging you saying that the pace is "too fast" or "too slow".
You would think this would mean I would know what I ran while I was running? Surely, the temptation would have been too great to ignore?
Nope. It wasn't.
All I told Sarah to do was tell me after the first mile of my 3 mile tempo if I was too fast or slow, in which she did, and I slowed it down to EXACTLY THE PACE STEVE GAVE ME. I did not know this at the time, nor did I know what I ran the rest of the repeats in, until it was completely over.
It was refreshing. It was exhilarating. It was freedom.
And my friends, I would encourage you to do the same.
To just run those workouts, as your body tells you, what feels right that day.
Here are the four scenarios you could come across that day:
Feel horrible, too fast at the start
This is probably the most common one I would expect to see the first time you try it. You run too fast, and you pay for it later.
Well, you just learned a valuable lesson. You *should* have taken note of how that felt along the way, so next time, you know if you feel your body moving that fast, it IS going to come  back and get you, so you will ease into it more.
BUT now you know what too fast feels like at the start, and next time, you can readjust. That is step one of learning to feel your pace.
Feel horrible, too slow
This is the one that sucks. This is the one that is just bad timing, and will probably make you hate me.
But let me just say this, you had a bad day.
And that happens!
If you read my blog, you know that happens A LOT, to all of us!
No need to panic, maybe you were nervous about not looking at your watch, but hopefully you felt some form of freedom…..and of course the urge to look which bothered you (yep, still bothers me), but I ask you, if this is you, can you please give it another try?
Remember, those bad days, the ones where we end up hating the world, and feeling sorry for ourselves, THOSE are the days that make you run your potential on race day, without these days, you would NEVER reach your goals.
Felt strong, ran slow
You felt good! Isn't that the most important part of this! Yes, some silly number told you you "ran slow" but who know about the hundreds of conditions that could have affected what your fastest time would have been for that day; dew point, sunshine, worries about family/friends, fighting off sickness, period, and so many more.
If you felt strong, and you did the best you could for the day, that is all we really want from a workout. A workout is NOT where you show your fitness, a race is, and if you felt strong, you are getting ready to run fast, and you boosted your mind without those negative thoughts telling you that you were not running fast enough, or scaring you because you ran too fast.
You just ran what your body told you was right for that day, and that is ALL you can ask for.
Felt strong, ran fast
This is the one I would hope every runner would come across during this, but unfortunately, the first few times, you may not get there, especially if you are used to your GPS watch telling you every mile of every run.
However,
If you look at it after, and it was way off, then you must have been feeling good, and you probably ran faster than you would have if you looked. If you had looked, maybe it would have said you were running faster than you should be, so you slowed down, or maybe you would have seen it running fast, and like me, panicked, thinking it was only a matter of time before you blew up.
This is truly you making "moves" when your body tells you to make moves, based on the time it feels strongest. We all have weak and strong moments within every workout, but if you change paces during a weak moment, THAT is when we get into trouble…..
Listen to this:
This listen to your body thing is kinda like if you wake yourself up in the middle of a deep sleep, how horrible does that feel, but how good does it feel when you gradually wake, by yourself, at the end of a cycle?
Feels amazing right?
Now, give it a try, trust me (I am prepared for you to hate me for a while as your body adjusts), but give it a try a few times, and tell me what you think.
Oh, and I am NOT saying do not run without a Garmin, or the GPS watch. I am really trying to become a Garmin ambassador, and would love to represent them, so I WILL get one back in the near future.
All I am saying is to wear it, but just force yourself not to look at it DURING the repeats, or even better, DURING the workouts.
Give it a try, I would love to hear what you think.
[bctt tweet="Run your workouts without looking at a Garmin! Elite runner @tinamuir tells us why." via="no"]
Which situation do you come into most often?
How to Use the Effort Scale Cheatsheet
Get your printout to refer to as you begin effort based training