I am well into this segment of training, and that means recovery is so critical. If I am going to make it to the start (and finish) line healthy, I need to make recovery a priority, probably even more of a priority than the hard workouts themselves.
After all, it is better to go into a race slightly under peak fitness, but healthy, than go into a race at peak fitness, but unsure if you will finish if your injury takes a turn for the worse.
I thought it would be a good idea to talk about what that involves for me; What does "taking recovery seriously" mean for an elite runner?
I will make it into a little mini series, explaining each of the aspects in enough detail for you to know if it is something you want to incorporate into your training.
I am confident that you could, in theory, apply each of these to your training, but as my running is kind of like a career for me, I am prepared to pay for more expenses than most. You can use as few or as many of these as you like. However, I am not talking about resources that are thousands of dollars, or for elites only. Everything I talk about is realistic to everyone….well, I like to think so.
I am not guaranteeing this will keep you healthy. Running is a high risk sport, and no one is completely safe, but by taking these steps I am putting myself in the best position to get to that start line healthy, and hopefully you can too!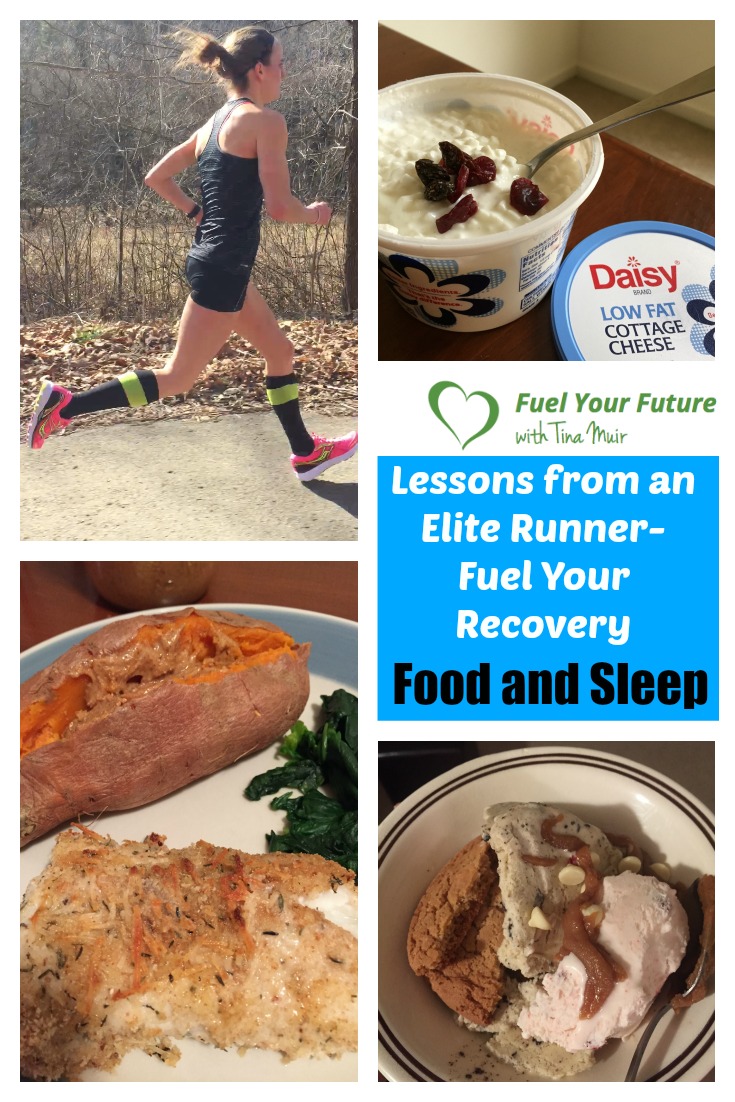 Today I am gonna focus on THE two most important aspects of training, what ensures my training is able to continue at all; fueling and sleep.
Fueling
By now most of you know that eating right is incredibly important to successful running. That means that you are eating the right foods, and eating them at the right time.
Some new runners make the mistake of eating "healthy" before runs, but that will only make you feel bad; salad, most fruits and vegetables are bad decisions in the hours leading up to your run as they take too long to digest. I make sure to stick to carbohydrate heavy, plain, white foods.
If you want to read about my pre race/workout fueling, you can read about it here. I can get away with eating most foods before regular runs, but I do make sure I eat within 3 hours of running, and I always have breakfast.
The second most important aspect of fueling….actually, it is probably the most important during training, is to get fuel in within 40 minutes of finishing your training. I wrote a post on recovery refueling here if you would like to learn more.
I will break fueling down into the various food categories to help you better understand how I eat during a serious training segment.
First, I just want to say that this is not as intense year round; I definitely have quite a few more sweets during my off season, and my eating is based on what I want, rather than what I need. That does not mean that during the peak training segment I restrict myself to steamed vegetables and plain chicken. I still make sure I enjoy what I eat, but just try to add in the foods in that I know will assist with recovery.
One of my best suggestions for eating well is to keep adding in good, nutrient dense foods, and they will eventually will crowd out the bad.
Breakfast
If you have been reading my blog for a while, you will know I love my cereal, but I have been trying to make better decisions in the mornings; chosing oatmeal or protein oatmeal smoothies. I love to have a small bowl of granola immediately upon waking up, but I try to make more nutritious choices for post run.
This is where the oatmeal or protein oatmeal smoothies come in. Here is my go to "recipe" (just blend it all together!)
Protein Smoothie
1/3 cup rolled oats
2/3 cup milk (I use soy or almond)
1/2 cup plain Greek Yogurt
1 tbsp almond butter
1 tbsp chia seeds
1 cup frozen fruit (raspberries, bananas, strawberries, blueberries, pineapple, peaches- whatever you like!)
optional: 1/2 scoop protein powder (I use this when I go right from my run to my workout with Drew, I have it after the workout)
When we have go out for breakfast, I have been choosing eggs with one pancake as a side, instead of a big stack of my beloved pancakes as I know eggs have more to offer for recovery.
Lunch and Snacks
As I run around 9am most days, I do not eat my bigger breakfast until around 11, so that means I
don't eat lunch at a typical time.
I am sorry to be boring, but my favorite lunch is simply my homemade bread with homemade almond butter and jelly. I will also often have a can of tuna with 1/2 an avocado for lunch. Steve and I love this combination, and its such a great runner meal! Especially as I definitely make sure I get enough carbs with my other meals!
As I work from home, I tend to graze a little more than I probably should, but as I have said many times, I would rather overeat, than under eat. Some of my favorite snacks during marathon training are:
Nuts, dried fruit and seeds (we make our own trail mix with a variety)
Daisy cottage cheese with pineapple/dried cherries  (I am not endorsed by Daisy, but I am telling you, it is SO much better than other brands!)
Greek yogurt
Carrots/celery with homemade hummus (check out my avocado hummus recipe!)
Homemade granola/protein bars……although I have not yet perfected a recipe that does not crumble….you will just have to wait as right now it is just clumpy granola….another favorite snack
Fruit (apples, bananas, pears, oranges, pineapple, or whatever is on sale that week)
I do not have a set amount, I just try to go by hunger…..although sometimes I question if I am actually hungry, or just enjoy eating so much that I want to. Either way, I do eat often and whenever I feel hungry.
Dinners
Steve and I have 1-2 meatless days per week, where I make sure to pack them full of other nutritious ingredients.
Some people think that you cannot get as much protein, but that is just not the case if you are smart about it. I make sure each of my meatless meals are well balanced, and full of everything a runner needs to refuel.
Despite my love for meatless meals, am not a vegetarian. I do get beef from Brookview Farms, which we have 1-2 nights a week, free-range chicken, and we have Sizzlefish once per week.
Most people have too much meat, and that is why I encourage at least a few vegetarian meals (lunch or dinner) per week. Meatless recipes make it easier to add in extra nutrition as a lot of the ingredients are so low in calories, that you can add more of them in. You can see my recipes HERE.
Just to show you an example of a few dinners for Steve and I, this week we had:
Sunday- Loaded vegetable, bean and potato soup with crackers
Monday- Sweet chili rice stuffed peppers (check back on Monday for the recipe!)
Tuesday- Parmesan breadcrumb Haddock, with sweet potato and almond butter, beans, and spinach
Wednesday- Homemade BBQ sauce slow cooker chicken, with roasted rutabaga, and carrots
Thursday- Brookview Beef Gorgonzola Burgers in homemade pretzel buns, with black bean quinoa chips and pineapple salsa (Trader Joes)
Friday- not sure yet, but probably baked potato with either leftover chicken or beef
If you want to see more about what I eat in an average day, you can read my Day in the Life of post, or my What I Ate Wednesday post last year.
My Beloved Sweets
At the beginning of the segment, Steve and I committed to having just one sweet a day. Not that I cant get away with eating more with the miles I have been running, but more because those calories are not providing and nutrition to my body, and it would be better to fill my body with better choices.
When I say one sweet, I do not mean literlaly one starburst, we still have a good bowl of ice cream, or a large cookie. This is enough to where I do not feel like I am depriving myself, so I crave it more, but something I can look forward to each day. If you wanna see my sweets, head to my Instagram, I often show them there 🙂
Full disclosure- last weekend was definitely not a one sweet a day……the days of the cake testing I definitely had 3-4 of my "servings" of sweets, but thats a once in a lifetime thing right? 🙂
Sleep
This is probably the second most important part of recovery. Some may argue it is THE most important.
As I have mentioned before, I am not very good at this. I do struggle to fall asleep at night, but I can honestly say I have been sleeping better in this segment than I have in previous. I think a lot of that is because I have stopped worrying about it as much; it is what it is!
When I anticipate not being able to sleep that night….if I have something I am worrying about, or doing the next day, I will take a benadryl or one of these Dream Waters to help me fall asleep. I find that benadryl works the best for me, but I do not take it every night as I do not want to rely on it.
Routine has also become a big part of this. I get up at 6:15 every day during the week, and make sure I am in bed by 10:15. On the weekends, I make sure I still get up by 6:45, and go to bed by 11. I never really believed in this before, but now I see just how much it can help.
This is enough of a post for now, but I will bring more insights into recovery in my next post.
Hopefully this post was not too much me, me, me, but I get a lot of requests for insights into my life, so I am trying to bring more of them in. I hope they can be applicable to you, and if it is too self absorbed, let me know 🙂
What fueling foods do you enjoy to fuel your recovery? Do you take supplements?
Fed up of bombing races?
Many runners (although skeptical at first) have tried my effort scale for racing, and have run HUGE PRs.
You can too with this guide of how to pace yourself...so you speed up, not slow down in the last few miles.