Hello! Surprised to see me?
Not sure I have ever done a Tuesday post, but today is a special occasion.
Many of you know I have been training very hard for the World Half Marathon Championships, and the selection decision was made on March 7th. I wanted to share the story with you right now as it happens. For those of you who get my posts as an email, the team was announced half an hour ago, but I wanted to get my side of things out in the open. I am a little frustrated and upset with the decision, but I know that my journey has taken this turn for a reason.
I wanted to share with you as to what I am doing. I finally have a plan for this season, and here it is……
On Sunday night I went to bed taking 2 Benadryl to make sure I actually slept or I knew I would be tossing and turning all night.
Somehow I slept well, and actually woke up on Monday morning feeling peace, butterflies in my stomach, but feeling at peace with whatever would happen.
When the phone rang I was so nervous I was shaking.
As luck would have it, the connection cut us off just after the manager said we would like to offer you…..
My heart pounded while I waited for the call back, and after what seemed like forever, it did.
She was able to continue, and I could tell by the tone in her voice what was coming.
You are first reserve for the Great Britain and Northern Island team.
We would like to offer you an England vest (jersey), and we are assuming you will take that. If someone would drop out between now and the race, you would be our first choice. Would you be able to make it over here with say, 4 days to go?
My heart broke in half. They take 5. How could I be number 6? Wasn't that almost worse than just a straight no?
I could not, I cannot take another 3 weeks of uncertainty. I HAD to utter the words…..NO, my heart can't take it.
Crying through the phone, telling her how much this meant to me, how this was what I had dreamed of my whole running life, and an England vest was just not that. I therefore would rather let it go and focus on running the London marathon again next month.
Telling her that I would like to turn down an England vest, something I have never had the opportunity to do before, and the best stepping stone there is to getting to the GB vest felt wrong. I asked her if any of the runners they did select were running both, and she said yes. I thanked her for letting me know and for considering me, apologized for crying and said goodbye.
As I hung up the phone, I felt sick to my stomach.
I cried for a while. Actually I did not just cry. I blubbered. I sat there feeling sorry for myself, throwing the biggest pity party I could for myself. I did not even want to talk to Steve.
Sarah came downstairs and consoled me. She threw an idea out there, to which I called Steve back and asked him. He said he was actually wondering the same thing.
Could we do both?
Could I run the World Half Marathon for England (maybe GB if someone drops out) and still do London? Continue with marathon training, making London the ultimate goal, but doing this race as a tune up and a chance to show that I am ready to go.
It seemed like it could make sense, but there were a few stipulations:
If I was going to pull this off, I HAD to commit to recovery. More than I ever have in my life. That means massage every week. That means stretching, rolling, resting every single day. That means eating all the right foods to encourage recovery. That means religiously taking my EnduroPacks (among other recovery products), cutting waaaayyyy back on the sugar, and so much more.
I will have to take recovery more serious than I ever have before to allow my body to bounce back in time, especially as I am someone who gives my all when I race.
The other stipulation was that coming back to Lexington just did not make sense, both financially or if I was to commit to looking after my body.
So I will be staying at home, in England, from the mid end of March all the way up to the last weekend in April. The good thing about being at home is that it will force me to keep balance in my life. Being at home will allow me to enjoy my running, focus on my training, but I will have friends and family around to keep me from getting obsessed, which I need.
Yes, that is going to be hard to be away from Steve that long, and the thing that scares me the most is being away from Drew and Dr. Mike for that long, BUT I am committing to making this worth it.
All those tears I have cried, all those hours I have spent dreaming about running in a world championship, all those times I have battled that voice in my mind that told me to slow down.
I AM going to run in my first world championship for my country, and I am going to make them proud in my England vest.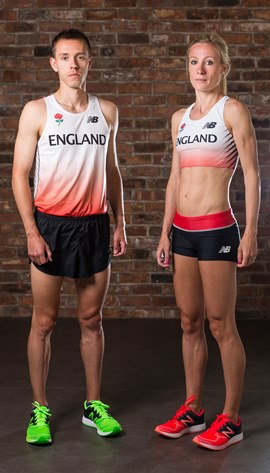 Then I will make recovery and rest my primary purpose as we fine tune that final month before London.
I am not going to throw this opportunity away. I am going to do my absolute best to be ready for London, and know that this is a stepping stone to my ultimate dream. It will add more fuel to my fire that one day I WILL run for Great Britain & Northern Island. I WILL get that jersey in my hands, and I WILL make them proud.
It still may happen this time. I would never want to wish the heartbreak of backing out on anyone, but that still may happen.
Now, one more thing before I go is that a lot of the Americans are probably incredibly confused as to why there are England AND Great Britain & Northern Island, and what does the difference even mean?
Well if you are looking for the difference between the words, this link explains it best (even with an analogy for Americans!)
When it comes to why there are both running the race, Great Britain & Northern Island selects their own team for every world event, and here is why there are also England vests/jerseys:
England Athletics value the importance of competitive road running opportunities for athletes in preparation for the 2018 Commonwealth Games Team long distance events, e.g. the 10,000m and Marathon. England Athletics therefore intend to select athletes for competitive opportunities who the Selection Panel believes have the potential to challenge for selection in the 2018 Commonwealth Games Team.
And that is my heart out on the keyboard.
This is my Wednesday post of the week, so I will likely not post again till next Monday. I hope you understand, but I have a lot to figure out, and my emotions have taken a bit of a beating these last 24 hours so I need to be smart 🙂
Thank you for all your kind words and support! I hope I do not sound like a brat, I promise I am proud and excited 🙂 Just has been a whirlwind of emotions…..and lack of sleep! 😉