Now, first let me say that this post was hard.
Steve and I put our heads together and tried to come up with these, but we both had the same idea; learn to listen to the rhythm of your body.
Unfortunately, I know to most people that does not make any sense, and is almost impossible to understand until one day it clicks and you just "get it". This is not really something that can be taught, so before we begin. I want to ask all of you to start approaching this with an open mind. You CAN do this, you just have to WANT to do it, and be committed to doing it.
I know the title of the post may be slightly deceiving as I am asking you to slow down (but the title says not to)…..but I am encouraging you to slow down at the beginning, rather than the end. You will lose less time that way and run a faster overall time.
Those of you who tried running without looking at your watch all had successful runs last week, and that was further evidence that a lot of it is intuition. You just have to try it, and trust yourself as much as you possibly can. That is still the single best way to learn to race correctly is to listen to your body, and yes, that is only possible if you cover up that watch*!!!!
That being said, if you tried the covering up your watch trick a few times, and gave the starting slower process a few honest tries, but still ended up going too fast and blowing up, then you are definitely starting to go too fast. Here is our best advice on how to start slower:
*other than tip 3 🙂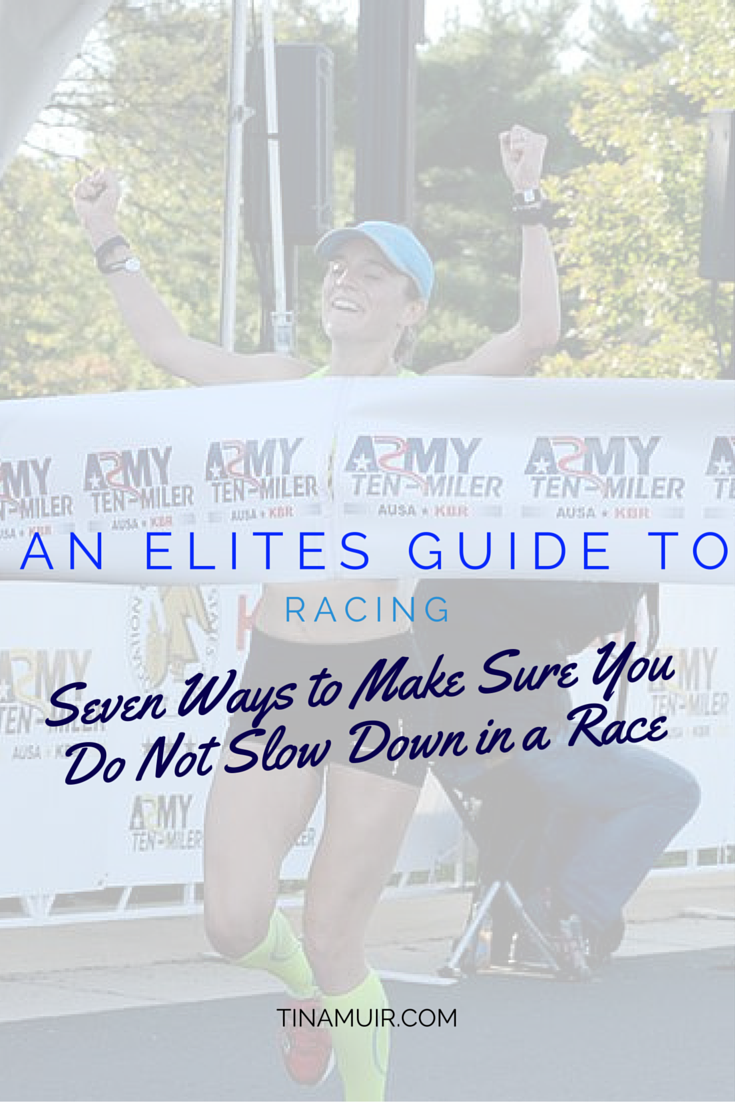 Practice your pacing in workouts
If you have a habit of going out too fast, but you know the consistent pace you need to run to reach your goal. Take some workouts as race simulators, and plan to run your race pace. Have a friend come help you, take off your watch, and run the repeats guessing what you think race pace is.
After each rep, have your friend tell you what time you ran for that repeat, and if you are too fast, slow it down on the next one.
Once you get it right, take a mental note of how it feels at that pace. How fast you are covering the ground, how your breathing sounds, how your arms are moving. Try to take in as many cues as you can, so you recognize that when you are in a race.
Prove to yourself that consistency works
This is a fantastic one from my wonderful coaching husband. If you are still not a believer in the power of running consistent pacing for a race, I want you to try something:
Take a day to run 2x 1 mile repeats. You will need to use your watch for this one (or get a loved one to help). Go to a track, or somewhere you can see 400m markers. Run the first mile "positive" by taking your race pace per mile, dividing it by 4, and then running the first 400m 15% faster than that number.
For example:
If your race pace is a 9:00 mile (540 seconds), that is 2:15 per 800 (135 seconds)
135 seconds x .85 (100%-15%) = 115 seconds
Therefore run the first 400 at 115 seconds for the first 400m, then 135 seconds for 2 laps (800m), and then the last 400m in 150 seconds. That gives you a 9:00 mile (540 seconds).
Note: This should be one continuous mile! No rest!
Now, run the second mile evenly, running 135 seconds per 400 (or whatever your pace is) for the entire mile.
Tell me which one you feel better in? No, really, if you try this, I want to hear in the comments 🙂 (And if you need help figuring out numbers for this, let me know).
Most people will come back saying they felt better in the second mile, because your body is able to get into a rhythm (and you understand how your race pace feels- bonus!).
Hopefully, that tip alone is enough to prove it to you, but if you need more suggestions here you go 🙂
Start slower than you think you need to
Give yourself the first 1-2 minutes, and then force yourself slow down. A lot. Slow down enough to where you think you are going too slow for a race.
Remember that on race day you have all this adrenaline rushing through your body, and everything seems easy for that reason.
If your race pace is 9:00 per mile, then 9:00 per mile is going to feel like jogging the first 5 miles of a marathon, so for the first few miles, put yourself in a position that you feel like you are jogging.
Like I said, it is better to start off too slow, feel strong at the halfway point, and pick it up towards the finish. You are likely going to be able to shave off more time (and feel better doing it) in the second half of the race, than you will gain if you use the time in the bank theory.
Change the settings on your GPS watch
PLEASE get rid of the current pace screen.
Firstly, it means nothing and is wildly inaccurate. Secondly, it is so easy to dictate your run by that number. When you race, on the screen, all you should have is the time and distance screen up.
I would also turn off the beeping, so you are not tempted to look at it, and as GPS watches are inaccurate, if you cannot resist the urge to look at it, chances are you are not going to see the pace of the last mile.
*Check your watch 1/2 mile in
Steve recommends looking at your watch at the 800m mark of a race.
If you are too fast by more than a few seconds, back off. Use that 800m as a gauge to see where you are at. If you have turned your beep and pace off like I recommended above, and you may need to use the mile marker, but I would use the clock.
If you are more than a few seconds too fast. Think about how you feel right at that moment, then slow it down. You will feel like that again in the last few miles as you pick it up, but for now, that is too fast, and you need to save your strength for later in the race.
Check in at random distances
Rather than looking at your watch or GPS, use the clocks out on the course to check in a few times during the race. I would say 2-4 times in a half or full marathon, and 1 more time at a race less than a 10k.
Chose a random distance like 2 miles in a 10k, or 7 miles in a marathon so you have nothing to compare it against. Have a time set up in your mind that you do not want to be any faster than, and if you are faster than that number, again, make sure you take note of how you feel at that speed, then slow it down.
That way you know how your body feels at that faster pace, so you will be able to recognize how it feels if you happen to creep it down again.
Listen to your breathing
This is the one I use the most myself in the first few miles of a race.
I listen to everyone around me, and they are usually huffing and puffing. If that is you, that little voice in your head has already started saying to you that you are going to fast, you are already breathing too hard, and that little seed of doubt in your mind will start to grow.
Now imagine if your breathing was calm and collected.
You hear everyone around you huffing and puffing, but you feel strong, smooth, and ready to go.
Would that not help your confidence?
Yes 🙂 It will, and if you make yourself run at a pace that you are able to breathe very comfortably for those first few miles, you will be able to kick it down better towards the end. I put that into practice at the Army 10 miler, and it paid off big time, hopefully I will be able to use it again this weekend 🙂
And my friends, that is my best advice I could give you. Like I have mentioned, it comes naturally to me, so we really had to put our heads together to come up with this advice, but hopefully it helps you. You can try 1-2 of these, and see if they are enough on their own, and if you still keep making the same mistake, try adding more of them in.
It really will pay off big time if you commit to this, and yes, there is always the situation where it is better to go out and hold on, especially if you are fighting for a finishing position within a race, but for most of us, most of the time, we are out there battling ourselves, and that is where this advice comes into play.
Give it a go, and tell me what you think. I really want to know 🙂
Are these helpful? How do you keep yourself slower at the start to finish faster?
Wonder why you get slower rather than faster?
I'll show you how to practice pacing to run faster (and feel better) in your next race.