I do most of my training solo.
One advantage of this is that it gives me a lot of time to think.
I often come up with blog post ideas during this time, and one day, I was thinking about running in winter and how difficult it can be to find the right winter running gear.
Sure, you can use one of those Runners World calculators that give you recommendations for winter running, but how about real advice for running in cold weather?
From a real person, who has run many miles in that temperature IN those clothes, not just stepped outside and thought, "Hmmm, well this feels like…."
It can be hard to know whether you should dress for the wind chill or the actual temperature.
I thought it would be helpful to note down what to wear for cold weather running at each temperature.
This is by no means telling you what to do, but just giving you recommendations on what I find to be the most comfortable at 5 degree differences, so first, you have to know how cold is it in your area.
Now:
I have bad circulation, so you may find you do not need quite as much on your extremities as I do, but hopefully, this helps. I don't really believe there is a too cold to run situation here, but below 10°F is probably getting pretty close. My biggest issue is how to keep feet warm during the really cold days, but I have found these Hot Hands Toe Warmers are lifesavers.
Most of the products I am wearing in the images are no longer available, so I have tried to find an alternative that I think is the closest. Overall, the links are just to give you ideas; the images and words describing the layers should be what you pay attention to, so you can match it to your own clothing choices that you already have available.
I have included men's links where possible; however, I am a female, so I may not be as good at picking these items out for you!
Now, first:
What to wear running if you are working out/running hard in winter
Select the clothing choice as if it were 5-10 degrees F warmer than the actual temperature I state below. You will be much warmer than you would if you were just easy/recovery running.
BUT:
You should try to wear clothes appropriate for the actual temperature it is for your warm-up. When you come to the actual workout, take the layers off, so you are dressed as if it is 5-10*F warmer than the actual temperature.
For example:
If it is 45 degrees outside, and you have a tempo run, you should warm up using the 45 degree F recommendations below, but when you start the hard part, you should dress as if it is 50-55 degrees F outside, as you will get hot otherwise!
What to wear when running in the wind in the winter
Consider dressing for a temperature that is 5-10 degrees lower than the actual temperature, as the wind will cut through your clothing, making you feel colder.
For example:
If it is 50 degrees outside, dress as if it is 40-45 degrees F outside.
Bonus Tip:
Try to run into the wind first, so that you get the hard part out of the way, and as you are dressed for colder weather, it will feel colder than it is.
That way, on the way back, not only will you have a nice run back with the wind, but you can take off a layer if you need to.
I also have a whole different post with tips on how to run in the wind.
What to wear running in the rain in the winter
Obviously, a waterproof jacket is ideal, but keep in mind they trap the sweat inside, so you may not end up completely dry as the sweat will build up inside your coat. However, a waterproof jacket is going to remove a lot of the discomfort associated with running in the rain.
You should definitely dress for a temperature of 5-10 degrees cooler than the actual temperature.  You will get cold much quicker with the rain soaking your clothing, especially if there is any kind of wind.
For example:
If you do not have a waterproof jacket and it is 40 degrees F, dress as if it is 30 degrees F.
If you do have a waterproof jacket, I would dress as if it is 35-40 degrees F.
I would also recommend wearing a hat (either with or without a headband/hat underneath) to keep the rain out of your eyes, so you can see clearly.
As I am a glass-half-full kinda girl, let's start with the warmest.
50 degrees F (10 degrees C)
45 degrees F (7 degrees C)

40 degrees F (4 degrees C)

35 degrees F (2 degrees C)
30 degrees F (-1 degrees C)

25 degrees F (-4 degrees C)

Below 20 degrees F (-7 degrees C)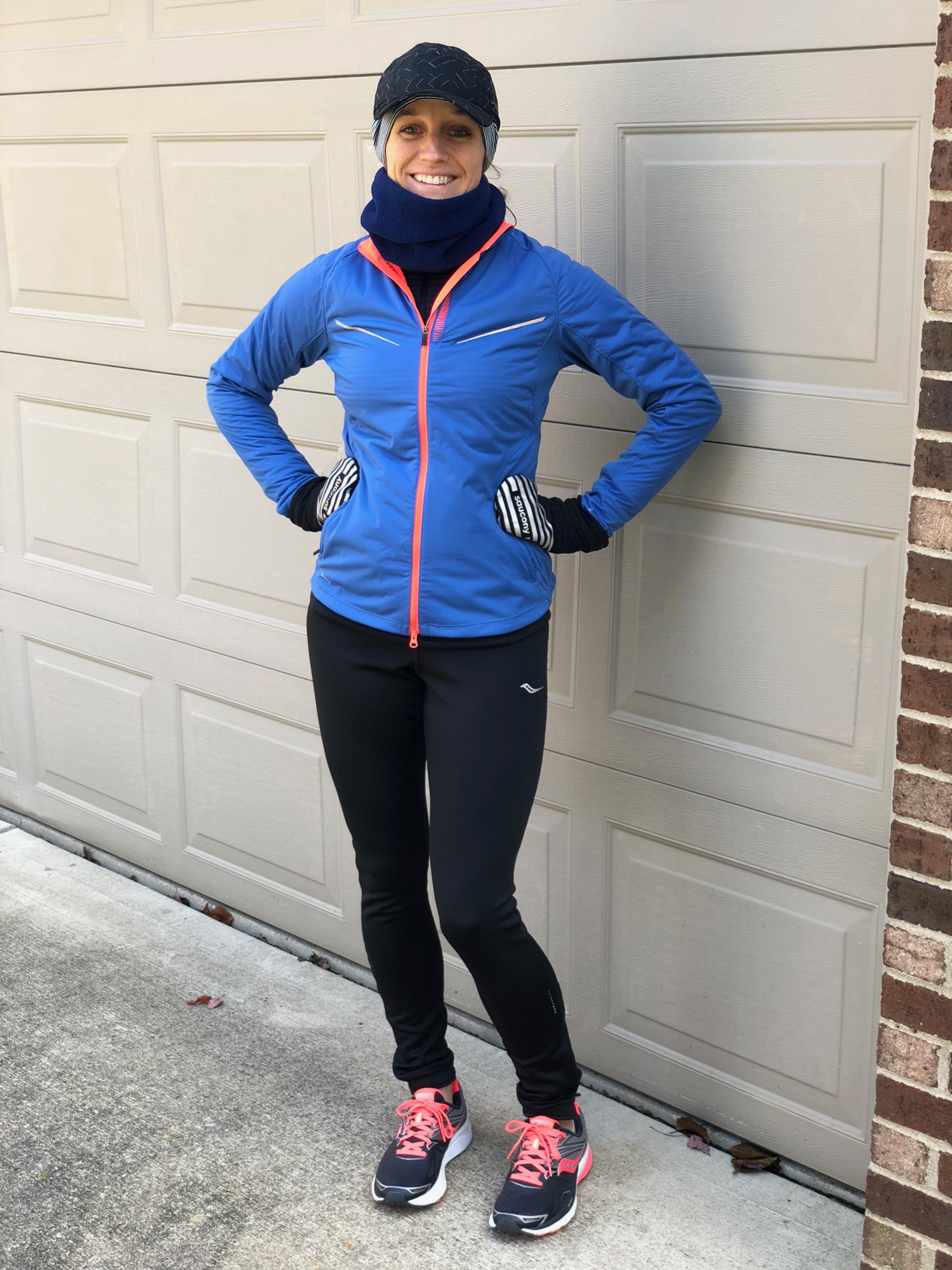 And there you have it! How to dress in every temperature by Tina Muir.
I also have some extra weather-related tips in my Secrets to Success section if any of these help:
10 Tips for Running in the Snow
10 Tips for Training in the Heat
Happy Winter Running!
Is it summer where you are?
I also have a What to Wear at Every Temperature in the Summer post if that is what you are looking for.
What is your favorite winter running clothing item? Do you dress cooler when you are doing a workout?