Happy Marvelous Monday, this weekend really was marvelous! Flew by in the blink of an eye, but I have some BIG NEWS……for those of you who do not already know…..I AM ENGAGED!! Steve proposed this weekend! Thank you so much to everyone who has congratulated us! I will do a post on Wednesday, Meatless Monday still is as important as ever, but for now here is a photo of my new sparkly ring! It is perfect, exactly what I had hoped for.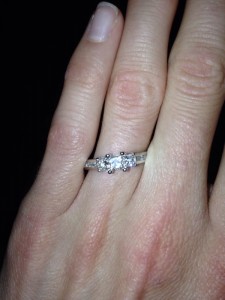 Thank you to everyone who linked up to Meatless Monday last week, we hope you will join again today!
In the transition time between us selling the house in Big Rapids (MI), and moving down here to Winchester (KY), Steve was staying in his parents motorhome in Morehead. It saved us a lot of money for accommodation, and meant that we did not have to rush into finding a place to live. I packed him enough good, wholesome food to last a week, but it was still another week before I made it down here. What did that mean? Lots of meals out! Does central Kentucky have lots of any healthy options for a male looking for a fast meal? I don't think I need to answer that question.
Towards the end of that time, he said something that shocked me, "I am looking forward to eating healthy". I could not believe it. It really is true what they say about how when your body gets used to having particular foods, it does miss it when they are gone. Thankfully, this meant that Steve missed healthy foods, rather than missing KFC and Long John Silvers…..or buffets, which seem to be the popular restaurant style around here.
As soon as we moved into our new home, I got to work bringing real food back into his life, and this was one of my creations one day we craved something healthy after too many white chocolate blondies.
Delicious, filling, and full of foods to help the body bounce back quicker after a hard workout. Happy Marvelous, Meatless, Monday!
Kale, Butternut Squash and Feta Salad
Preparation time: 10 minutes
Cooking Time: 25 minutes
Ingredients
5 cups kale
1 1/2 tbsp olive oil
1/2 tsp salt
1/4 tsp pepper
1 tsp seasoning of choice (I used smoked maple)
1/2 medium butternut squash, peeled and cut into small cubes
1/4 cup cherries
1/2 cup feta, crumbled
1/2 red bell pepper, diced
1/3 cup chickpeas
1/8 cup sunflower seeds
Instructions

Preheat the oven to 375 degreesIn a large bowl, add the oil and the kale. Massage the oil into the kale to make sure it is completely covered. Spread the kale out on a foil covered backing tray. Sprinkle with the salt and pepper.Cook for 3-5 minutes in the oven. Remove, and move the kale around the tray. Place back in the oven for another 3-5 minutes, or until kale is slightly softened, and browning slightly on some of the edges. Place back into the bowl and set aside.Place the butternut squash and chickpeas onto the same baking tray, sprinkle with the seasoning of choice, and place in the oven for 10 minutes. Flip the squash, and move the chickpeas around, and place back in the oven for 5 minutes.Move the kale into a large serving bowl, and mix in all the remaining ingredients. Once the squash and chickpeas have cooled slightly, add them to the bowl, and stir to distribute.
550 calories, 25g fat, 1066mg sodium, 63g carbohydrates, 13g fiber, 18g sugar, 58g cholesterol, 22g protein
Do you find you crave healthy foods after eating out a lot? Any tips for starting the overwhelming process of wedding planning?
Don't forget to check out Deborahs 'Squishe' 🙂