In an effort to fine tune my fueling in the past few months, I have been trying to make sure we have fish at least once per week. At first this was very difficult as I seemed to only remember this at random points during the week; a wednesday afternoon, while sleeping on a friday, during a run on a Tuesday. However, we forgot to add it to our shopping list each week, and did not even remember when we were in the store walking past the fish counter. I would be at home later that day, and realize there was no fish in the fridge, and we already have our meals. Damn. One of Steves favorite lunches is avocado and Tuna, so that would get us through one more week, but canned Tuna is definitely not the kind of fish we want to be eating.
Thankfully, Sizzlefish came to save the day. Delivering to my front door, a big frozen box of all kinds of fish: Trout, Catfish, Cod, and some, like Sablefish, I had only heard of through Lindsay! My imagination started to run wild with what I could do with these fish fillets, cut and wrapped into perfect portions, and easy to defrost.
When I saw Haddock, my mind jumped to Loch Fyne, a Seafood Restaurant I used to work at in England. One of their bestsellers was Haddock with mustard sauce. It was one of my favorites too, so I decided to try to replicate it based on what I remembered. When this was complete, I could not even remember if it tasted like their version, but we enjoyed it. I think this would work with other fish, but I definitely recommend it with Haddock.
If you have not seen Sizzlefish yet, it is time to check them out. They are making sure you get your Omega 3s in, without worrying about making a mess in your kitchen cutting them into portions, or knowing which ones to purchase at the store. Sizzlefish makes it easy for you to enjoy one of the best athlete foods out there, and the packages are delivered right to your door! You can even get $10 off your first order with the code TRISIZ. Sizzlefish is always on the lookout for new recipes, so sign up today, submit your recipe, and you could become the next Instagram Star!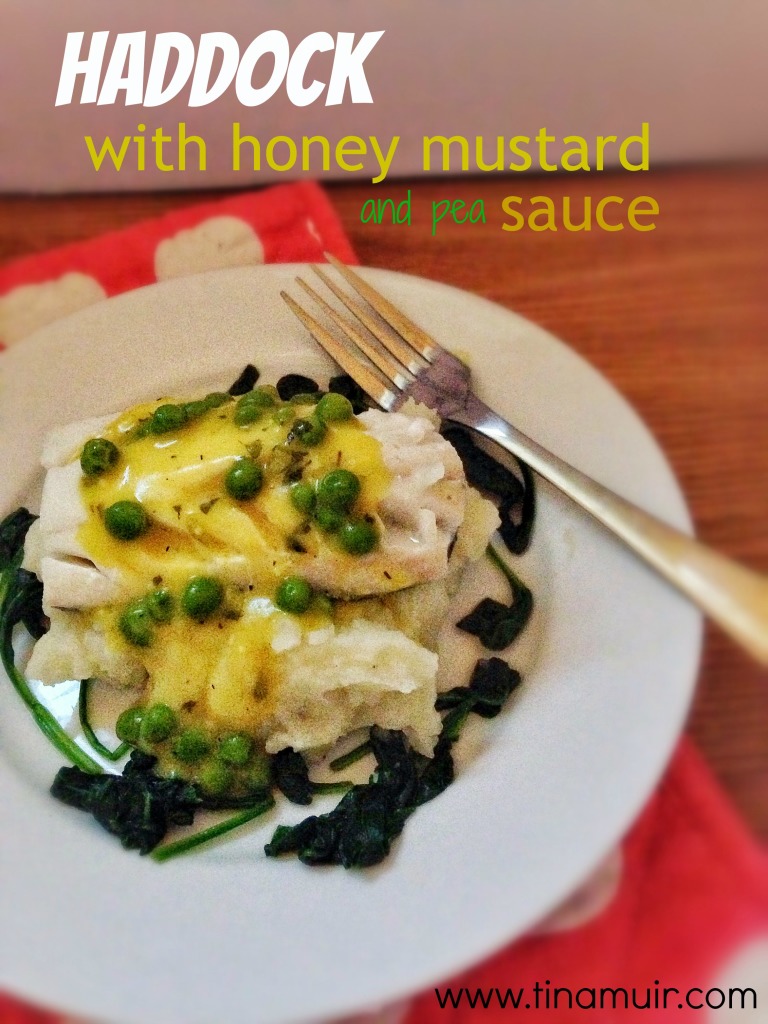 Haddock with Honey Mustard Sauce
Makes 4 servings
Preparation time: 10 minutes
Cooking time: 10 minutes
Ingredients
4 haddock fillets
1/3 cup milk
1/2 tsp garlic
1/2 cup milk
1 tbsp cornstarch
1 1/2 tbsp water
1 1/2 tsp mustard
1/2 tsp mustard powder
1 tbsp fresh parsley
1/2 tbsp honey
1/2 tsp cumin
1/2 tsp salt
1/2 tsp pepper
1/2 cup peas
Instructions
Heat up the 1/3 cup milk with 1/4 cup water in a sauté pan. There should be enough liquid to fully cover the base of the pan. You may need more milk, depending on the size of your pan.
Mix the cornstarch in the water in a small saucepan, and add the remaining ingredients. Whisk together until well combined. Set aside.
Once the milk and water is boiling, stirring regularly to prevent burning. Remove from the heat, and place the haddock fillets into the liquid and cover. Leave to cook for 3-4 minutes, before turning the burner back to a very low heat. The fish will mostly be cooked through the heat of the liquid.
Begin to heat the mustard sauce over a medium-high heat. Stirring continuously. Once the mixture starts to boil, add the peas, and turn the heat to low. Allow to simmer for a few minutes until the sauce thickens.
Remove haddock fillets from the pan when cooked, and pour the mustard sauce on top. Serve with spinach, and fluffy mashed potatoes; using the remaining mustard sauce to flavor the mashed potatoes if desired.
176 calories, 1g fat, 733mg sodium, 6g carbohydrates, 1g fiber, 0g sugar, 99mg cholesterol, 34g protein
How often do you eat fish? What is your favorite fish recipe?