Often when I meet people who find out I am an elite runner, they are shocked to find out that I have a full time job, and I train alone. This is not exactly ideal for someone who is trying to turn their body into the most efficient machine it can be.
Last week, I got to see a glimpse into how my life could have been, had I been an American citizen, by living at Zap fitness for 8 days. It was wonderful, but at the same time heartbreaking to see yet another example of how I was missing out as an international athlete.
Don't get me wrong, I LOVE Saucony, I honestly would not pick another brand if I had the choice, and I have so much wonderful support through my other sponsors; EnduroPacks, Twin Lab Clean Series, Sizzlefish, Primal Sport Mud, and Nuttzo, and I am incredibly thankful to everyone who has supported me on my post collegiate journey, especially Team Ice Cream.
However, I always knew there was a different world out there.
Being in the elite world, I had obviously heard a lot about Zap Fitness. It is one of the elite athlete groups that I actually wanted to join coming out of college. Unfortunately, I was told the same thing by the coaches at all of these groups, "sorry, would love to have you, but this is just for Americans". I completely understand. That is 100% fair, but just meant it was harder for me to leave on Sunday, as I knew I was going back to my life where I was just a Brit living in the US.
Driving into the Zap campus, I wondered where the heck I was going. I lost service long before reaching Zap, and when I say service, I mean none. Not the spotty kind you get sometimes where you drop calls, nothing. Not even one bar. I felt a little bit apprehensive about this, my phone is constantly in my hand, I am very passionate about keeping in touch with people, and I cannot remember the last time my phone said "No Service".
As you drive further and further into the mountains, the road getting narrower and more windy, I thought to myself that this was not the place for me. I hate camping. I am never going to like it here. When I drove up the driveway to the zap complex, standing there in the middle of an open field, surrounded by a dense forrest, I wondered what I was getting myself into.
Luckily, I saw Sarah running towards me. That familiar lovable face, I immediately felt a little relieved.
Sarah showed me around the Zap facility, and I met some of the other athletes, who were unsure what to think of me….was I a RunnersConnect camper who had arrived really early? Sarah showed me to my room, a simple, dorm style room where the bugs in the nearby forest were so loud, I could barely hear myself think. A wave of anxiousness hit me, I am not going to like it here. This is camping.
Sarah and I chatted the rest of the day, helping out with the Zap Fitness camp which was ending the next morning. I started to feel a little better, and the dinner in the evening was absolutely delicious. For someone who loves their food, this was enough to make me feel happier.
At Zap they have a chef named Michael who cooks for them most nights a week. I had the pleasure of getting to know him this week, I was constantly going in there to learn from him, and pick up little tricks of how to be a better cook. I loved every single thing he made, and the meals were the perfect balance of healthy and….well, happy…..as in I was a happy girl eating the food. They tasted great, but made it very easy for us to get in the food we needed to fuel our bodies correctly.
At around 9:30pm that night, I nervously announced I was going to bed. Usually when I make this comment, people respond with either a slight chuckle, and a look that tells me they think I am a child, or they go one step further and make a remark about being a baby. This night however, no one said anything. They did not give a look, just respected me getting my sleep in the best way I knew how.
That night I was out as soon as my head hit the pillow.
That NEVER happens. I slept well
Probably better than I have slept in years. When I woke up at 7:35 I could barely believe it. Some of you may be laughing at that (my friends at home always do), but I ALWAYS wake up by 6:00, or absolute latest 6:30 (and often not by choice). Steve was shocked when I texted him to say good morning. I felt rested and refreshed.
That morning Sarah and I had a workout. She had a 13.1 marathon paced run, and I had 2×5 miles (as I am in this speed segment, that was the compromise with Steve) with a 5-10 minute gap between.
Two of the other Zap athletes; Andrew Colley and Joe Stilin came with us. Colley drove alongside us, and picked me up after my first 5 mile and dropped me off 2 miles down the road. As I ran back towards Sarah, I thought about how good I felt on the first 5 mile. For being at 3500ft, I did not really feel the altitude, but I anticipated feeling sluggish after 5 minutes of no running, but no. I felt great.
For the first time in a very long time, I was thinking about someone else more than myself. That team mentally came back to me. I knew this workout was important to her, and I wanted her to succeed so bad. I ran alongside her, knowing she was working hard to maintain her pace (with 60 miles already in her legs from the last 3(!!!) days, I knew she was tired), I encouraged her. I blocked the wind for her. I did everything I could to make sure the 5 miles I was with her she stayed focused and thought of Chicago (she is trying to break 2:30).
Okay, that is not 100% accurate. I did this for 4 miles, and the last mile, I told her I was going to run ahead as I was feeling strong to see what I could do. I ran my last mile in 5:32, and other than picking up a little too much and paying for it, I felt strong. Sarah had a great workout, and showed she was so far ahead of where she was last year. I felt proud of her, I felt happy for her, and I was not even really thinking about what that workout showed about me (even when Sarah kept talking about how strong I looked).
Once we returned to the Zap community, we had lunch, and now was my time to call Steve. Usually when I call someone, I am doing other things while I talk to them. Doing something that does not take my attention away from what they are saying, but allows me to end the phone call feeling satisfied that I used that time for something productive while I talked. This time however, I climbed onto the hammock, and gave Steve 100% of my attention….okay, maybe like 95%….the other 5% was spent looking at the beauty all around me.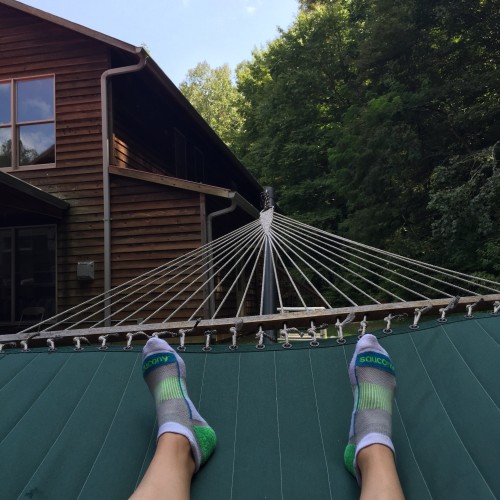 Steve and I discussed future races, and how the workout went, but the main thing I remember from that conversation was once I hung up the phone I realized something. I felt calm. Very calm.
I was at peace.
There was no need to jump up to get something done. There was no list of things to do buzzing through my head. Instead, I just enjoyed listening to the bugs, and took a few moments to just be.
I had always heard that those moments were so important to a persons life. Although I knew in my heart that was true. I could never quite bring myself to do it.
Yes, I was an elite athlete who needs to do all the little things I told you about in my post last week, but I am also trying to follow the other cultural push we get sucked into; make the most of life. It is hard to disconnect making the most of with trying to get as much done as possible.
I really struggle with this. I want to relax, I love the idea of sitting just being, but I could never bring myself to do it.
But at Zap, it just happens.
I loved it.
And believe it or not, I actually think I was more productive with my work while at Zap than I am at home. It is almost like when you were in college and trying to study for an exam. You are told that breaks are good for you. They will make you more productive. Yet most of us do not listen to that, and we allow that sense of urgency to trick us into thinking those precious 10 minutes would be better used studying…….when in fact you would be better off taking the break, and then getting back to it.
I even managed to take a nap one day, which I very very rarely do.
When you come to Zap. You are in the middle of nowhere. There is nothing to distract you
Everything about being here is focused on one thing; being a better runner.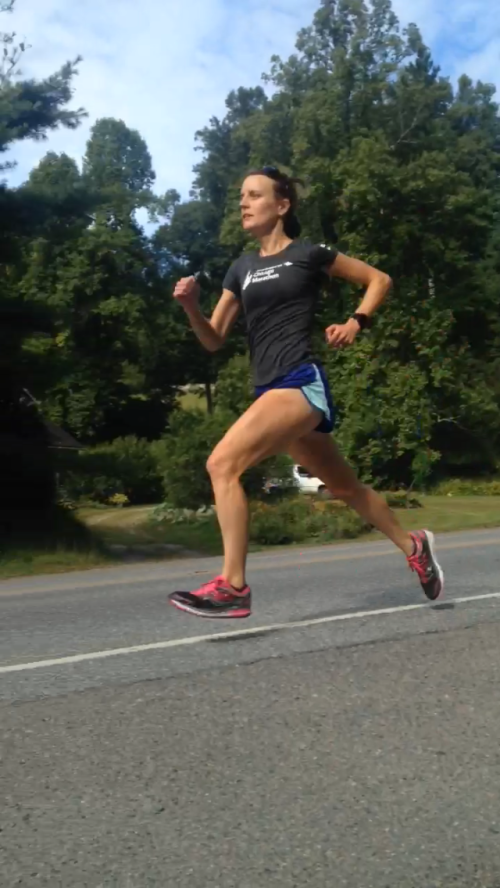 Running is simple. It is putting one foot in front of the other. It does not need all this fancy equipment, the oxygen tents, the lactate threshold testing. Yes, of course that stuff can help you, and if you have that, good for you, but at the end of the day, there is one thing that does not teach; grit.
Sarah and I talked about this a lot. Sarah mentioned that Zap is a very blue collar group. The athletes have chores, they have to help the chef set up dinner in the evening, clean the dishes, strip the beds. They earn their living, but at the same time, doing things that allow them to keep running as the number one priority, and I loved that about it here.
It kept everyone real.
You tell me often that you love reading my blog posts because I am real. I loved that about Zap.
Yes, they do have a chef. Yes, they do have an alter-g. Yes, they do get flown all over the world to compete, but at the end of the day, these runners are grateful. They realize what a gift they have, and how lucky they are to be given this opportunity to be the best they can be.
We ate leftovers for lunch. We took ice baths in the creek. We drank out of plastic cups. But you know what, I wouldn't have it any other way.
It allows you to dedicate yourself to your training, and keeps your feet on the ground.
As I got to know each of the athletes, the coaches, the chef, I fell more and more in love with Zap fitness. The jealousy inside me bubbling up, but at the same time, feeling a calm I had not felt in a long time.
I was shocked how little the altitude affected me as well. I felt strong, I enjoyed my runs, and I had a great week of training with Sarah…..although she did a LOT more miles than I did, but I still got the cross training in, even having a buddy in Colley one day at the pool. I had a great second workout at App State, and can tell my speed is almost there!
This week also reaffirmed to me the importance of running easy on your recovery days, as most of our runs were between 8:00 and 9:00 pace, and there is nothing that is wrong with that, even when our race pace is over 3 minutes per mile faster. Runners Connect has produced plenty of articles about that. I loved those runs with Sarah on the trails, we talked for hours and hours, never running out of things to talk about. It was so special, and has made running the last two days seem very lonely.
The rest of the week flew by. Sarah and I did not stop talking the entire time, and I felt very welcomed by the entire group of runners. Pete and Zika Rea made me feel so at home, and the Zap athletes are incredibly lucky to have such generous, caring, lovable coaches in their lives.
Sarah and I had a lot of discussions about how we are so similar, but at the same time so different, and we have found what works for us. Steve has found what coaching techniques work for me, and Pete has found what works for Sarah. Pete was happy for me to be there with her, and it was great to have someone to run with every day.
It was a strange feeling leaving on Sunday. I was excited to see my husband. I wanted to be back in our home in Lexington, but at the same time, I did not want to leave. I wanted to keep my simple life.
There are so many things I could tell you about my week at Zap, and I plan on talking about the Runners Connect camp to share with you what you could be a part of next week, but today, I just wanted to share some of my thoughts about what Zap Fitness means, and just how special of a place it is.
They host running camps in the summer, including two of the Runners Connect camps (sign up for free, and you will be alerted about next year!), and I could not recommend it more. Even if it is just for a few days, I don't see how you could not love it here, especially if you love running.
I just hope I can take this calm, and this focus on my training back to Lexington. I know my running will benefit, and I know my life will benefit even more.
Have you ever been to a running camp? How do you make sure you take time to just be?