Today I have an extra special blog post for you. Actually, this is probably my most special blog post I have ever shared. Not only is it an elite takeover, but it is by one of my bridesmaids, and one of my best friends in the world. 
I told you for these posts I let my friends take it how they wanted, share their story in a way they wanted to, and they each took it different directions. I know Frances well, but even I did not expect her to write this. This brought tears to my eyes, and made me love her more than I already did. I hope this provides a little glimmer into just how special this girl is. I asked her to share her story, but she is so selfless, that she still turned it into our story. 
Frances Koons is one of the best people in this world. I know you are going to love her (just not as much as I do :p)  I hope you enjoy this story of how Frances and I came to be.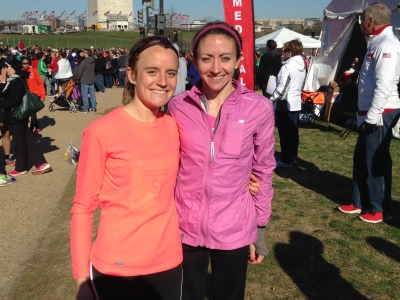 Tina asked me to tell my story, but I think it will be far more interesting to tell the story of our friendship and what it means to me. I should probably start off by explaining my connection to Tina.
Tina and I became friends, most appropriately, through our running together. It was just about two years ago that she had finished a local road race against a former teammate of mine, Marina. Always keen on new friendship and running connections, Tina made it a point to chat with my friend afterward about the possibility of training together in the Philadelphia area. Marina had just recently "hung up her spikes" after making the 2012 Olympic Team for Serbia in the 1500m and had her sights set on new career goals and motherhood. Luckily for the two of us, Marina saw the makings of a running partnership and new friendship for Tina and I.
Marina got us in touch and the plan was to meet up for a run. I am somewhat notorious for my long-winded-ness in general and this characteristic is not at all hindered by small phone keyboards. When Tina's responses read more like text(books) complete with gps coordinates and pictures of our meeting place, I knew we were truly kindred spirits.
The beauty of finding a training partner whose company you enjoy is how quickly your runs start to fly by. Neither of us is ever at a loss for what to say, and soon our running dates turned into socializing over one of her other major passions, food. This was a major perk for me, as I suddenly became the recipient of home cooked meals, or meticulously planned trips to some of the top featured restaurants in Philadelphia.
Tina approaches friendship much like she approaches everything else in her life- with great care, impressive planning, and unmatched perseverance in times of need, and I feel grateful to be on the receiving end of those characteristics.
Her care and charity shines through her passion for everything that you do. Your success is hers, no event or milestone goes unnoticed or uncelebrated. If you are near enough in proximity, you may even get to eat her delicious celebration of said event, in baked good form of course!
If you are a regular reader of her website, I don't think I need to provide further evidence of Tina's planning skills. Every minute of her day is scheduled to optimize utmost productivity. This skill shines through in her loyalty and devotion as a friend, with a penchant for remembering even the smallest mention of an important piece of your life, always followed up by a text, phone call, or card in the mail, scheduled with none less than impeccable timing.
If you have been lucky enough to watch this woman race or workout, perseverance does not quite do justice to the description of what allows her to push above and beyond her limits.
Again, the most beautiful manifestation of this characteristic is her ability to carry a heavy load in her relationships. Her empathy is so strong that if she could pick up your load and carry it herself, she certainly would. No matter what task is asked of her, or what level of support is called upon, she will be there for you no matter how often, or how strong a presence you're calling for.
No matter how hard you fall, if you are an athlete, a family member, a friend, or in any sort of relationship with Tina, she will fight for you again and again.
When I was meditating upon what I should focus on for this blog post, one adjective stood out to me. Gratefulness. I think that is because it perfectly describes my sentiments on how I feel towards Tina's friendship.
[bctt tweet="LOVED this story of @TinaMuir and elite runner Frances Koons!" via="no"]
I am the grateful one, for having someone like her in my life! By the way, she is a 4:13 (1500), 15:29 (5k), 33:17 (10k) runner! 
Unfortunately, if you want to keep up to date with Frances, you will just have to ask me, as she is definitely not a social media fiend like the rest of us, but probably for the best! Maybe we all should take a leaf out of her book.