I hope you are enjoying these elite takeovers so far. Today I wanted to share the story of a Zap athlete I got to know while spending a week there. He is such a hard worker, and such a genuine guy. I had no idea he had such impressive results as he was growing up, but it looks like it is going to be a bright future for him! He is also documenting his training on his personal blog, which you will enjoy if you love learning about elite runners. 
I know I can ramble too much, so before I start again, here's Griff!
Tina asked me to write my story.
I didn't really know where to start.
My story isn't the most inspirational out there, but there may be a few things people can take away from it. I experienced success early in running. It was not a story of failing to make the team, and then becoming the best. I was good young and then struggled for some years after a quick rise in the sport.
However, over the years, a realization has come to me… I love running for all that it is, and I'm not done yet!
Starting Young
My running days started when I was 5.
I didn't always love running. In those days, we lived in Florida and my dad would occasionally convince me to go on a 3 mile run down the street to the high school and back. Some days I would be crying halfway into it, because I wanted to stop. However, after completing my first 5k and beating all the kids who raced, I was hooked.
Finding the Fire
We moved out West and running was forgotten for a couple years.
I started swimming out West and when we moved back to Auburn from Montana, I continued to swim. We trained in Auburn University's aquatic center. Auburn was NCAA Champions in swimming multiple times while we were there. We were constantly surrounded by some of the best swimmers in the world!
Occasionally, we would get stroke tips from world record holders and Olympic medalists on the team. This is probably where my desire to be a great athlete was born! Here we were, surrounded by the best in the world at their sport, and it fed the fire big time!
I continued to swim competitively until my freshman year of high school. However, there was this other sport that started sneaking back into my life. I started to notice that I was one of the better runners during dry-land workouts for swimming and the mile during P.E.
We moved to Macon, GA when I was in 7th grade, and I ran on the middle school track team for the first time. I won the 1600 at the city meet in 5:02, and again running hooked me!
Early Success
I started asking my dad how fast he was at my age, and the competition began!
My dad was a 7-time All-American at Auburn in the early 80s. I started running with my dad regularly after that mile win.
We moved to Scottsboro, AL in the 8th grade, and I heard one of the other 8th graders on the team in Scottsboro ran a 4:58 1600 in the 7th grade! Scottsboro had already been state champions 20-something times before we moved there! Coach John Esslinger at Scottsboro had built a dynasty, and I couldn't wait to become a part of it! I ran with my dad in the morning Monday-Friday and went to practice in the afternoon.
Coach Esslinger's motivation he fed to us on a consistent basis helped feed the drive within me.
I went into my first XC season in Scottsboro knowing I was about to be a part of something special. My dad lit a fire under me, telling me I could be the best on the team, even as an 8th grader. Cody Hood, the kid who ran 4:58, became one of my good friends, and we both became the young kids in the state with a chip on our shoulders.
In XC, I ended up running 16:21 for 6th or 7th at the state meet and I was 3rd on our team. In track I ran 4:33 in the 1600 (Cody ran 4:31) and 9:47 for 3200 it was an exciting first year! We won state in XC, indoor and outdoor track. I was sold on this running thing.
However, the next year I had even bigger goals.
As a freshman at Scottsboro, my dad and I started training pretty hard. I not only wanted to be the best on the team and win state again, I wanted to be the best individual in the state.
I started running about 84-85 miles a week as a freshman. I did start to see results! I was devastated after finishing 2nd in 15:39 at the state meet to a senior.
However, I came back indoors and beat that senior in the 3200, winning my first individual title in 9:33. In outdoor, I ran 4:24 for 1600 and 9:24 for 3200.
I had found my sport, and I was determined to be the best! I found out after freshman year that we were moving again! I was extremely sad to leave my team and amazing coach in Alabama. However, we packed up that summer and drove to Abingdon, VA.
Even though I lost my team and a great motivator in Coach Esslinger, one thing I did not lose was the desire to be great.
As a sophomore in VA, I wanted to be the best over all classes. I had a great group of guys at Abingdon on the team, and all of them are great friends. However, most of them had other passions in life other than running.
Running was my passion.
My dad became my personal trainer and we got to work. He gave me great confidence in training and believed in me, so I believed I could do anything. At Abingdon, I trained for the most part by myself with dad coaching. I had a successful high school career, winning a few individual state titles and making Footlocker Nationals twice.
I competed in and out of state, and seeing some of the best competition in the nation, not just my area, made me hungry for more. I signed with Syracuse University and was excited for college running!
Losing Focus
I got to Syracuse as most good high school runners do, wide-eyed and ready to burn down anyone in the NCAA.
Also as many good high school runners learn when introduced to college running, I got destroyed!
Instead of competing for wins at college XC meets, I was finishing 150th, feeling like I was dying. That first season at Syracuse was a humbling experience, and Coach Fox and I went back to the drawing board before track. I adjusted to the college running lifestyle and had some success freshman year running 14:20 in the 5,000 and 3:48 in the 1500.
However, I wasn't where I wanted to be. Freshman year I wasn't quite as focused. As most kids with strict parents, I got to college and "let loose".
Towards the end of my freshman year I started dating Cassie.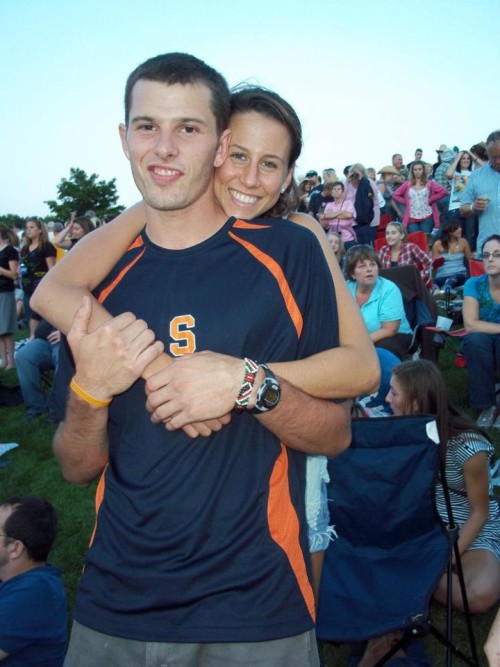 She was quite different than me. She was focused, driven and not easily distracted. She worked hard in school and running. She ate healthy and rarely drank. Not to mention, she was gorgeous (They are now married!)
Unbeknownst to me she started to slowly calm the wild child in me down. That summer, I gained my determination back. I still wasn't as focused as I should have been and was still eating like crap, but I was determined and training hard. That XC season I had some success running well at the beginning of the season when we won the first Wisconsin Invitational.
However, the season took a dive. I ran ok on the track, and then I started racing worse and worse towards outdoor. At the end of my sophomore year, I was exhausted and frustrated.
Getting Bad News
I started that summer training for XC of my junior year, but something wasn't right. My hip was in major pain and I couldn't run faster than 6 minute pace (most college guys at Griff's level need to be able to run 4:40 pace), some days I could barely run.
I got back to Syracuse that fall and tried to do workouts with the team, I couldn't even hang for a mile and a half. My left hamstring kept giving out on me and my hip was still in pain. This went on for a full year!
Finally, we got a contrast MRI, and it revealed I had a torn ligament, bone spur and torn labrum in my left hip. They went in and did surgery on my hip. I was out for another year trying to come back, and getting injured again in the process.
Faith and Love
At Syracuse between my sophomore and 5th year, I didn't race for two full years.
During this time, my life changed drastically. I hit some major lows, a lot of tears were shed and there were a few times that I thought I may never compete again. However, during this time a lot of good happened. I continued to be intrigued by this girl named Cassie. I got to see her focused lifestyle pay off, as she succeeded in running.
Finishing Top-10 as a team at NCAAs in XC and getting 4th in a stacked Big East steeple final. Her drive and dedication to the sport in all aspects of her life started to rub off on me. I started eating better, partying less and doing the little things, like she was, to be great!
I continued to fall more in love with her throughout these two years. After being saved when I was 13, I also became more active in my faith. I joined Fellowship of Christian Athletes at Syracuse, and the support from Cassie, the team, coaches and my friends in FCA drew me closer to God. I gained a greater understanding of the love that Jesus has for every single one of us.
This became evident to me every day in His love displayed in the people around me! There were months of terrible, but then God would give me a small victory to keep my faith alive! Whether it was biking for an hour without pain, or eventually working out with the girls, I believe God gave me these little victories to not lose hope. As a way of saying, "I'm not done with you yet!".
These mini triumphs and the support around me kept me going, strengthened my faith and helped me keep my love of running! I got a 5th year at Syracuse and a 6th XC season. It took some time, but during those seasons, we won two conference titles (Big East and ACC)! I finished 6th in the NCAA NE Regional, and 55th at NCAAs.
In my 6th XC season at Syracuse, we finally cracked the Top-10 at NCAAs!
I am so proud to say that I was a part of the development of Syracuse University distance running! (If you are looking for someone to cheer for this year at NCAAs, cheer for the CUSE, as they are ranked 2nd and will be competing for the NCAA title in Louisville!)
Zap Fitness and North Carolina
After Syracuse, Cassie and I moved to Blowing Rock, NC, are now married and I am running for ZAP Fitness/Reebok. Cassie, as always, is incredibly supportive and is training and running well herself. She is working at Appalachian State University, while running and pursuing some exciting things.
I am surrounded by a great coaching staff of Pete Rea and Ryan Warrenburg here, and have an amazing group of guys to train with. My first year at ZAP was pretty successful. I had some top finishes at some of the best road races in the US, and qualified for the US Olympic Marathon Trials in L.A. with a 63:27 Half.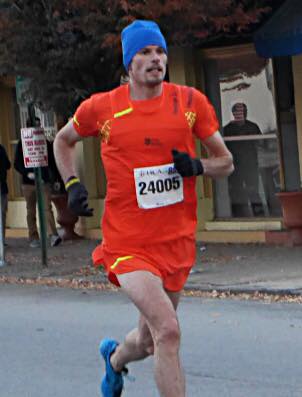 I am so thankful and blessed to have the opportunity to continue to pursue my dreams. I am currently focused on making the jump to the next level, competing with and beating the top guys at major races and championships. I am looking forward to being prepared to compete with the leaders at the Trials and have an amazing experience.
God has blessed me with this amazing sport and the experiences it brings. He continues to give me victories, spurning me on, telling me, "You're not done, yet!"
[bctt tweet="Another great elite takeover story on @tinamuir blog! Today learning about @GriffGraves" via="no"]
What would you like to ask Griff?