A few months ago, I told you about spending a week at Zap Fitness. I had such a wonderful time, and I loved getting to know the athletes that lived there. One person I clicked particularly well with had beautiful, blonde, flowing locks. No, not Sarah, but Andrew Colley. 
I had never heard of Colley before I went to Zap, but we went to the pool together one afternoon, and I was very impressed with his commitment to his cross training that afternoon. I was "too tired" after about 45 mins, but Colley was getting in about 3 hours a day while his plantar healed up (he tore it- ouch), and I admired that he was so determined. 
I am very excited for you to read his story, and I think a lot of you will be able to resonate with what he has to say. We have all been injured, and it sucks, but like he shares in this post, you have to find that love for running in your own way, and it's not anything anyone else can help you find. I know you are gonna like Colley as much as I do, and he is definitely a face (and lock of hair) to watch in the future 🙂
Hello guys and gals.
In lieu of the recent James Bond movie release, the name's Colley… Andrew Colley.
A little background info before we dive into it:
Currently, I am a professional runner residing in the picturesque mountains of North Carolina and I would not be able to do what I do without the support from Zap Fitness, Reebok, Soleus, and all those out there who believe in me.
Big thanks to Tina for hosting this piece while she is honeymooning!  She will hopefully be paralyzed in a state of relaxation and bliss with her husband Steve!  If you enjoy the blog post and want to see more of my posts, then feel free to check out my blog.
For the past 3 months I have been on the injured list, and I had been on the "should be on the injured list" list for about 3 months prior to that.  In other words, 6 months on the "am I breaking" list.
These months have been hard.  It's a difficult experience to deny yourself the ability to do what you love, while slowly watching your hard work and dedication fade away.
And the thing is, it is a situation most everyone will experience for some amount of time, and for some reason or another.  The key is getting through it!  I mention my recent hardship in hopes of being able to help runners strengthen their connection with running.
This is not going to be a post explaining step by step how to rise above your hard times or the adversity you face, but it is going to help you figure out the most vital aspect of your running, which I believe help you overcome any trials or obstacles you face.
I am talking about finding your Running Center.  I am talking about finding the very essence of your running that surpasses your running and becomes a part of you.
During the time when my planar has been torn, doubts and negative thoughts have plagued my mind.  For a long time I did not think I would be able to get out of the dismal mindset and return to the person who I truly was, which was embodied by running.
I tried to bury myself in my cross training, which was a temporary fix.  I tried distracting my mind by occupying every second of my time with some activity or another.  That attempt ended up being futile as well.   The only way I have been able to overcome this depressing mindset, which I felt had been enveloping me, was to embrace it.  And through its embrace, through being in one of the darkest places I have been in, in my life to this point, I was able to find my Running Center.
Now I am not saying that you have to go out there and put yourself through some sort of hellish personal turmoil to be able to reach your Running Center; it just happened to be the way I was able to find my own.
I was sitting alone in my house on a cold and rainy afternoon.  I had watched all the movies I owned 2-3 times through.  My friend and teammate Cameron Bean had just tragically left us, and I had and have been having a difficult time coping with it all.  No wifi, no cell service, just me and my thoughts.
Every time I had been questioning myself, asking why, questioning my abilities as a runner, and my hard work, I had with me a distraction or something to silence the voices in my head…. Not this time.
This time I had to face that voice in my head and answer him.  Why are you deserving of this life? Why are you a runner?  Are you wasting away your time chasing after this? Are all your friends who are moving on with their lives leaving you behind? Why running and not something else?  Why?
For the first time in my life it came together in a rush of memories and thoughts literally bringing tears to my eyes.
Freedom… Freedom. That was my center!
That was, no is, my Running Center.
And not just any freedom, the freedom to have endless possibilities.  At the center of my running was a wondrous freedom, an urge to explore the great, vast world and the ability to so in whichever way my heart desires.
My wise college coach at N.C. State, Coach Geiger, once told me, "Andrew, you run best when you run free," and he couldn't be more right.  To run freely in all facets of its meaning. To run freely outside in nature, while exploring the bounds of my imagination.  I have never felt freer than when I am running.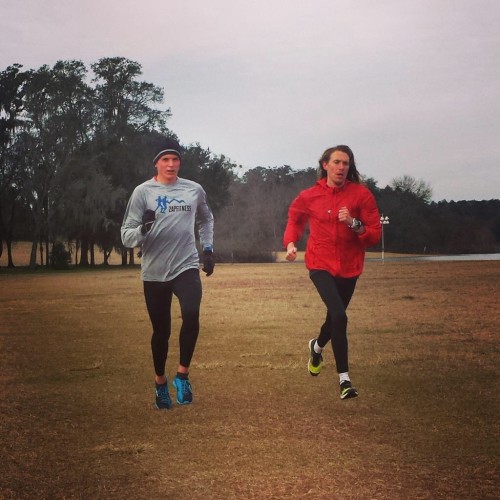 Finding my Running Center gave me validation for all I am going through.
The countless 3 hour cross training days, the hours of painful rehab, the sunny days spent indoors, the mental rollercoaster.
I am going through it all because I have never felt as free as when I am running, and I would go through it all a hundred times over, if it means getting to run.  And that's what it is about, finding the soul of your running, making it invaluable to you.  It can be anything from pride, control, self-worth, a connection to nature, adrenaline, etc. but whatever it may be, make sure it transcends your running and is truly a part of you, a part of your soul.
Your Running Center.  When you find it, hold onto it tight and don't let go because it will be your greatest and strongest element of your running that will help you get through anything.
[bctt tweet="I LOVE when elites share their ups and downs with us! Today @Andrew_Colley posts on @tinamuir blog" via="no"]
What would you like to ask Colley?