I have mentioned before, that I love to replicate restaurant meals at home. I try to make healthier versions of them, as they are usually calorie bombs, but when it comes to Chipotle, there is really not too much you can do to make it healthier. It is already pretty packed with nutritious foods….if you stick with the burrito bowls anyway. I definitely can eat an entire burrito in one go, but unless I am on a heavy training segment, that is probably not the best idea.
As Steve and I have been loving our Sizzlefish, we have looked for creative ways to make sure we enjoy fish once per week. Sizzlefish makes that so easy with the individual portions (did you see my Honey Mustard Haddock?), and as I had just cooked us up a batch of black beans, it made me think of Chipotle and their burrito bowls. These bowls can be made with any fish, or any meat (or not), and they would be just as filling of a meal. I even baked some pieces of leftover wraps we had to give an extra crunch. Instead of plain salsa, we used Trader Joes Pineapple Salsa, it was WONDERFUL, and a quick, easy, healthy meal for any day of the week!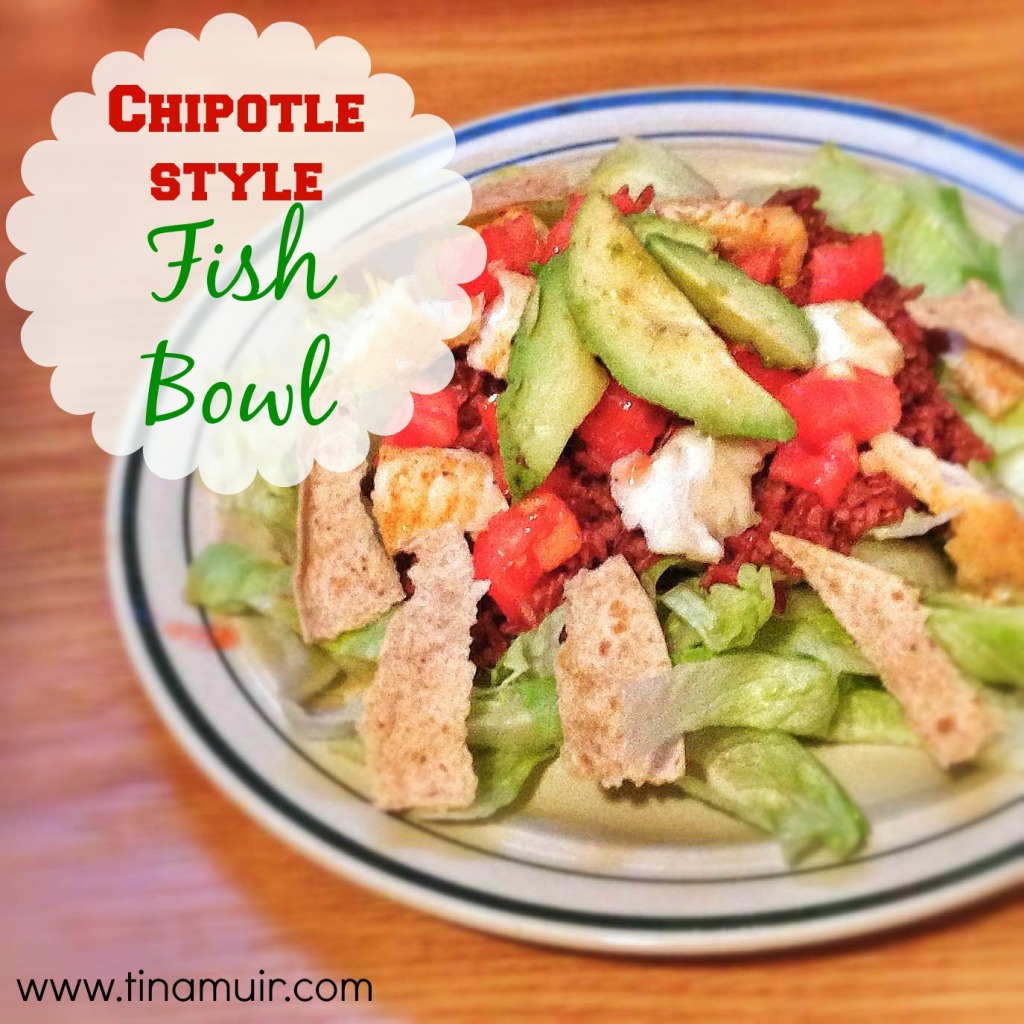 Chipotle Style Fish Bowls
Makes 4 servings as a side
Preparation time: 5 minutes
Cooking time:1 hour
Ingredients
4 fish fillets (I used Sizzlefish cod)
1/2 tbsp oil
1/2 cup flour
1 tsp chipotle seasoning
1/2 tsp salt
1/2 tsp pepper
3 cups iceberg lettuce, cut into thin slices
1 medium tomato, diced
1 1/2 cups salsa (I used Trader Joes Pineapple Salsa)
1 cup rice, uncooked (I used red rice)
2 cups vegetable broth
1 tbsp lime juice
1 tbsp chopped cilantro
1/2 cup black beans
1 avocado, sliced
1 tortilla wrap, ripped into thin pieces
Instructions
Cook the rice according to package directions in the vegetable broth with the cilantro. Stir in the lime juice once the rice has absorbed all the liquid. Set aside.
Mix the flour, chipotle seasoning, salt and pepper in a wide bowl
Dip the fish fillets into the flour mixture, set onto a plate while you heat the oil in a pan over a medium high heat
Place the fillets onto the pan, and cook for 3 minutes until golden brown. Carefully flip the fillets, and cook on the other side until golden brown. Turn the heat down to low, and cover for another 5 minutes, until cooked through.
Meanwhile, toast the tortilla strips in the oven at 300 degrees F until crispy, around 10 minutes.
Mix everything together in a bowl, and serve with the avocados and tortilla chips on top. Add grated cheese and greek yogurt on top if desired
525 calories, 10g fat, 1100mg sodium, 59g carbohydrates, 11g fiber, 8g sugar, 100mg cholesterol, 51g protein
Joining Jen for WIAW
Have you tried Sizzlefish? What is your favorite fish to get your omegas?