As my cooking skills improve and my confidence grows in the kitchen, I am becoming more adventurous with the meals I am creating. This week, I decided to tackle one of the foods I have always wanted to try; shrimp.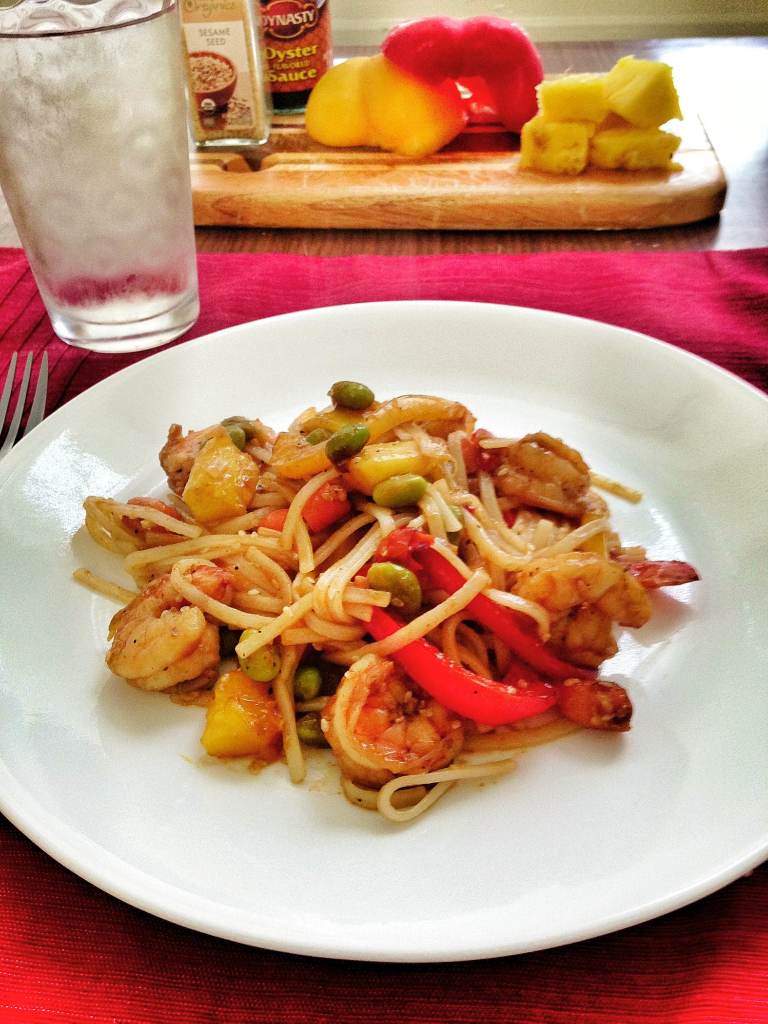 I considered making a creamy shrimp-y pasta at first, but decided I would make use of some of the fruit and vegetables in my kitchen by making a stir fry. I came across
this
recipe, omitted some of the ingredients, and added in some of my own to make it a new dish. It turned out great, something I could imagine enjoying on vacation abroad. I would highly recommend this dish if you are looking for some shellfish in your life.
The mango and pineapple was a bit of a risk, but the sweetness worked well in contrast of the heat in the cayenne pepper. Like stir fry? Check out my
Sweet Potato Stir Fry
.
Serves 2-3
Ingredients
¼ tsp ginger
¼ tsp cayenne pepper
½ tsp garlic, minced
1 tbsp + ½ tbsp sesame seeds, separated
¼ tsp pepper
2 tbsp + 2 tbsp stir fry sauce, split (I used oyster)
2 tbsp sesame oil
½ lb shrimp
½ red pepper, sliced
½ yellow pepper, sliced
1 carrot, chopped
½ cup edamame
¼ cup mango, chopped
½ cup pineapple, chopped
Rice noodles to serve on.
Instructions
Mix the ginger, cayenne, garlic, sesame seeds, pepper and 2 tbsp stir fry sauce together in a Ziploc bag.
After the shrimp have been deveined, add them to the bag and move around until the shrimp are coated.
Leave in the fridge to marinate for a few hours.
While the noodles are cooking, remove the shrimp from the fridge and allow to sit out for a few minutes.
Heat up the sesame oil in a sauté pan and add the peppers and carrots. Cook until tender and add the shrimp (including the marinade), edamame, pineapple and mango and stir to distribute the sauce throughout the vegetables.
Once the rice noodles are finished cooking, add them to the pan and stir.