Hello!
I can't believe so many of you said you wished you were in Lexington to be able to do the Lexington Running Clinic with my Strength Coach Drew, and I. It really makes me feel special to know that you would like to learn more from me about running, even after all my posts on here! I would really appreciate if you could share this news with any friends you have around the Lexington area, then you can live it through them  😉
In other news, this weekend I went to Bloomington, IN to visit family friends. Steve was in Tennessee at his conference championships (congrats to our Morehead Eagles!), and so I thought it was a great time to go visit! I had a lovely time with Gloria and Kathy, going out to eat and exploring Bloomington. You can check out my Instagram for more photos. I want to get on to Meatless Monday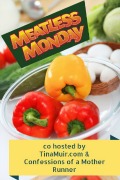 !
Now, let me first say that I am not a heat lover when it comes to food. For someone who loves curry as much as I do, I am actually a real wimp, and I am embarrassed to admit that my curry of choice is chicken Korma……all if I have any Indian readers, they have just left my blog. The Korma is the most un-curry like curry there is, but if only you knew how Spice Hut in St. Albans made it, you would love it too……the rest of my family just has no taste buds apparently 😉
Anyway, this dish is about the max spicy-ness I can handle, but buffalo chicken is one of those flavors I do love! This is inspired by those damn delicious lettuce wraps at PF Changs, but healthier, and well….completely different flavor! I hope you will join Confessions of a Mother Runner and I by adding your recipe to our linkup.
Buffalo Chickpea Lettuce Wraps
Makes: 8
Preparation Time: 5 minutes
Cooking Time:10 minutes
Ingredients
1 large head of romaine
3/4 cup chickpeas
1/2 serving buffalo sauce (slightly adapted)
1/3 cup hot sauce
1/4 cup butter
1 tbsp vinegar
1/2 tbsp worcestershire sauce
1/8 tsp garlic powder
1/2 tsp cornstarch
1/4 cup black beans
1 large tomato, diced
1 avocado, diced
1/4 cup blue cheese, crumbled
Instructions
Add the buffalo sauce ingredients to a small saucepan. Heat over a medium high heat. Once the butter has melted, stir in the chickpeas. Simmer for 10 minutes, stirring often.
Serve all the ingredients on top of the heads of romaine, and enjoy immediately.
How spicy do you like your food? Do you have a town/location you like to visit when you have free time?