*Note- Sorry this sent out yesterday, someone was not paying attention to when February started! Those of you who signed up for my newsletter got a sneak peak!
Okay, bear with me here. I know this sounds REALLY weird, and I am sure a heck of a lot of people are turning their noses up at this right now, BUT I promise you this is good, really good. Steve ate 3 slices, and then took the leftovers for his dinner this weekend….actually I was a little bummed as that meant I couldn't have it. It was so so good!
I also used a new pizza dough recipe, and this one was delicious, and using this new method, it was lovely and crispy! I am excited to see what you bring Confessions of a Mother Runner and I for Meatless Monday today! Not sure what I am talking about, you can check it out HERE.
I will get back to the pizza in a moment, but firstly, I just wanted to thank you for all your feedback on my post last Friday about where I am taking this blog. Sounds like I need to carry on as I am, which is a good thing, but I will definitely be including a lot more behind the scenes as an elite rambles.
I hope you had a Marvelous weekend, ??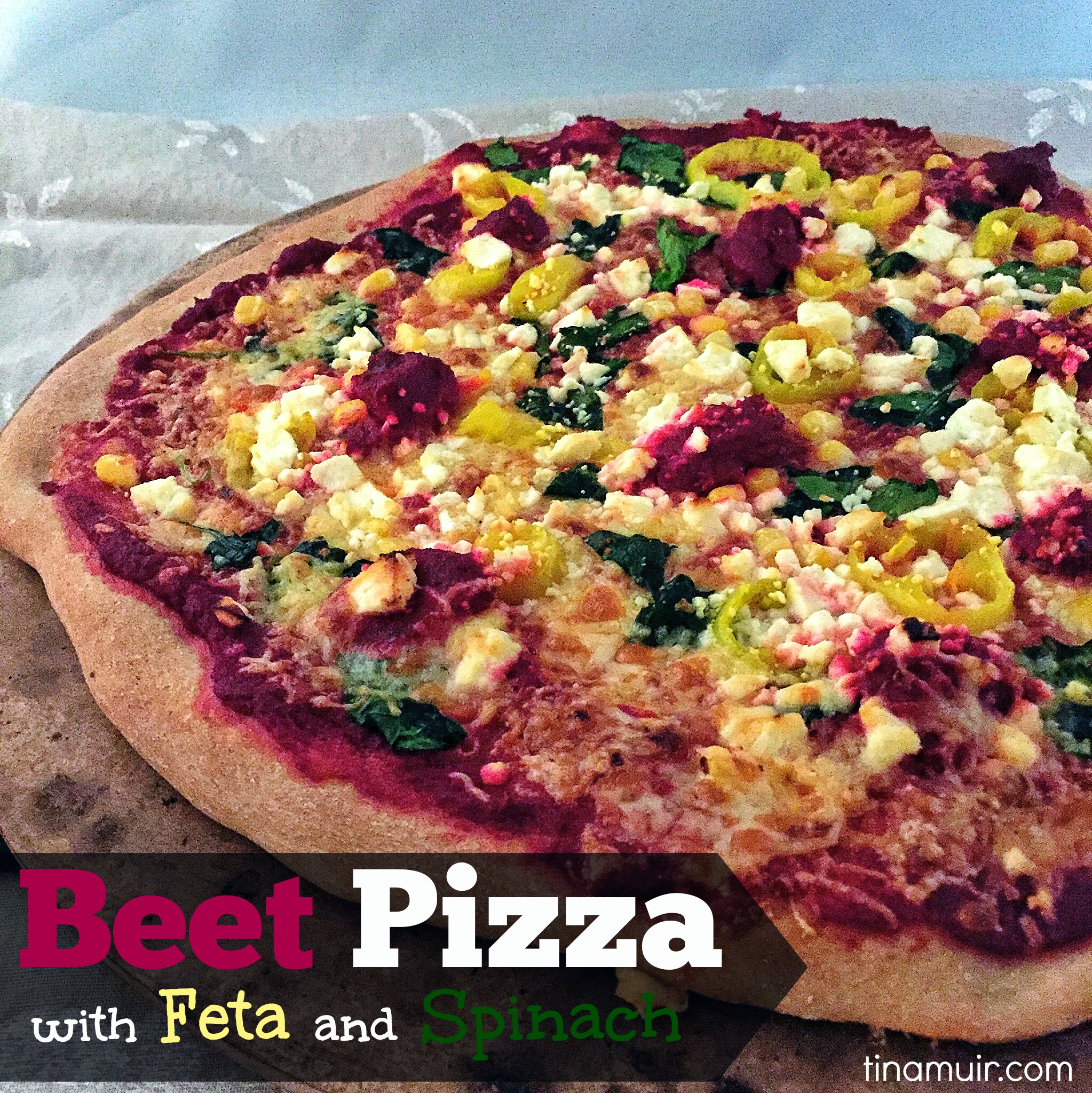 Beet Pizza with Feta and Spinach
Serves 3 (3 slices each)
Preparation time: 1hr 30 minutes
Cooking time: 15 minutes
Ingredients
1/2 batch of slightly modified Bobby Flay Pizza Dough (I made a full batch and put half in the freezer!)
2 cups bread flour (keeps it crispy)
2 cups whole wheat flour
1 teaspoon honey
1 envelope instant dry yeast (or 2 1/4 tsp)
2 teaspoons salt
1 1/2 cups water, 110 degrees F
2 tablespoons olive oil, plus 2 teaspoons
2 whole beets, peeled, and cooked (or one jar, drained)
1 tsp oil
1 tbsp vinegar
1 cup feta cheese
1/2 cup another cheese (I used cheddar)
1/4 cup banana peppers
1/2 cup spinach, ripped into small chunks
Instructions
Make the dough (slightly modified from Bobby Flay website)
Combine the flour, sugar, yeast and kosher salt in the bowl of a stand mixer and combine. While the mixer is running, add the water and 2 tablespoons of the oil and beat until the dough forms into a ball. If the dough is sticky, add additional flour, 1 tablespoon at a time, until the dough comes together in a solid ball. If the dough is too dry, add additional water, 1 tablespoon at a time. Turn the mixer up to a medium speed, and allow to knead for 3-5 minutes until elastic…..or follow Bobbys directions, and do it by hand 🙂
Grease a large bowl with the remaining 2 teaspoons olive oil, add the dough, cover the bowl with plastic wrap and put it in a warm area to let it double in size, about 1 hour.* Turn the dough out onto a lightly floured surface and divide it into 2 equal pieces. Cover one with a clean kitchen towel or plastic wrap and let it rest for 10 minutes, cover the other in cling wrap, and freeze.
Meanwhile, preheat the oven to 500 degrees with your pizza stone inside as it heats.
Puree the beets in a food processor, and add the vinegar and 1 tsp oil.
Roll out the dough onto parchment paper (this can be quite tricky!) to your desired base thickness, and transfer to the pizza stone carefully. Spread 2/3 of the beet paste on the dough like you would tomato paste. and cover with cheddar, and half the feta. Add the spinach and banana peppers,and then add the remaining feta. Drop the rest of the beet paste in blobs around the pizza.
Cook for 7 minutes, turn around, and cook for another 3-5 minutes, until the cheese is starting to turn golden brown.
Remove from the oven, and slice.
* I turn the oven on for 1-2 minutes, until warm enough that you would want to climb into it and sleep, turn off, and leave, covered in there.
Nutritional Information (3 slices- thats a pretty big serving!)
595 calories, 27g fat, 1490mg sodium, 45g carbohydrates, 6g fiber, 7g sugar 45mg cholesterol, 15g protein
This definitely falls under the #StrangeButGood Category!
What strange combination have you used in the kitchen that turned out to be a new favorite?