These race recaps are always so overwhelming to start.
Which is kind of funny if you think about it.
When else are you going to dive into so much detail over a few hours of your life?
Maybe I shouldn't go into detail, do you really care that much?
Probably not.
But
As I said to myself in my strava log, read my blog, so I have to write it, otherwise how else will I reflect when I am old and talking about the good old days?
Mind you, by then blogs probably won't exist and we will be having conversations through telepathy.
I guess I think I am younger than I am….
Back to the point Tina.
So, as you know, I raced the California International Marathon this weekend to finish in 5th place with a new PR of 2:36:39.
By the responses I got, it might have come across like I was being a bit of a brat about it. Many of you said to me something like "it's still a PR YOU LITTLE DIVA!!!!".
Okay, so you didn't say that at all, but I am sure you were thinking it. You are just too nice to me.
I was making up excuses, I was disappointed, and it was a bit of a reality check for me.
But I think overall that is a good thing right?
It means you want the best out of yourself, and you want to strive to achieve excellence.
I know I know. I say the same thing to you, appreciate each and every PR, as there is a day when those will stop coming, and you will wish you had celebrated more.
A PR is still a PR right?
I have improved in every marathon I have run, and although this time I didn't break my previous by 4 minutes, I still ran close to a minute, which is still a big chunk, especially as we all know the higher you go, the harder it gets.
I promise you that I am celebrating, and I am proud of myself. I said that I would be before, and I meant it, I really am.
But here's the thing:
I think for me though, the reason I was not happy initially was because I can now look back and say I was not prepared.
I pride myself on being someone who goes above and beyond to plan and be ready for a goal race.
I had practiced taking my UCAN probably 20 times, so that went down very smoothly, and for the record, I am very happy with using just UCAN, EnduroPacks Liquid Electrolytes and Run Gum as my only fuel in future marathons.
I had practiced my pre-race meal.
I had practiced my race day outfit and shoes (Saucony Fastwitch)
I had practiced as many of the little details as I possibly could.
We thought we had prepared with some downhill running in training, but it just wasnt enough.
Drew made me strong physically. Evie made me strong mentally. Steve made me strong as a runner.
But we just didn't take into account the course, and give it enough credit.
We knew it was a net elevation loss, but Steve and I wrongly assumed this meant that it was just one gradual downhill the entire way with a flat last 10k.
Wrong.
It was definitely going down most the first 15 miles, but there was a surprising amount of hills. It is what I would class as rolling hills, and those downhills were at times, aggressive.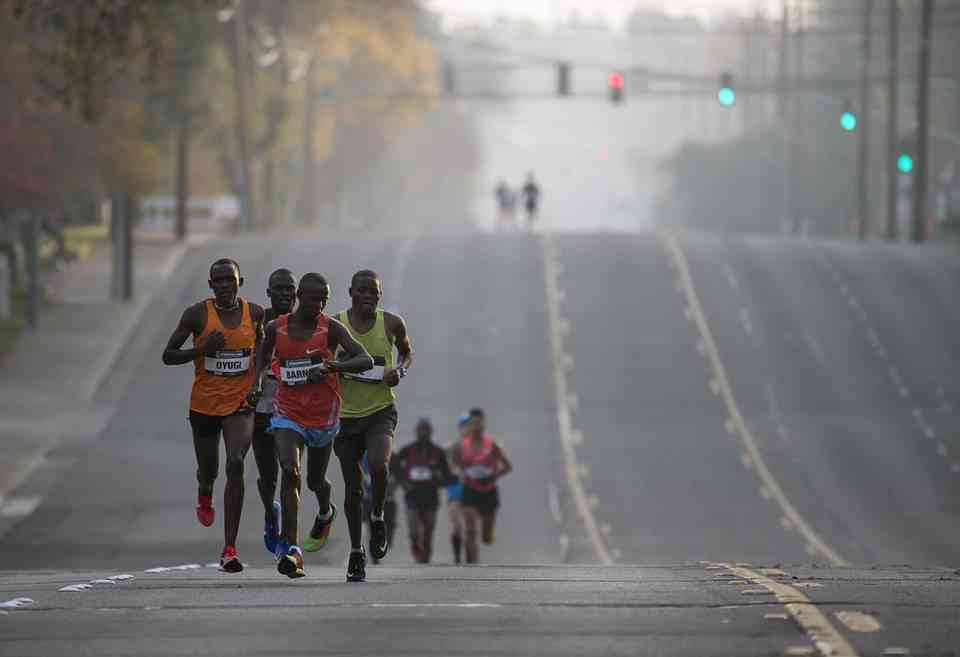 Nothing to make you lose control as you try not to fall over, but definitely steep enough to encourage you to fall forward.
I made my running form a real focus for as long as I possibly could, and I think that saved me, but at the end of the day, it meant I got to the 20 mile mark, and my quads were beat up in a way I hadn't experienced before.
I couldn't do my usual cut down, I couldn't pass people like I usually would, and although I maintained the same pace pretty much the whole way, it's a tough pill to swallow knowing that we could have done more to prepare.
We have lots of hills in Kentucky, and had we known, not only could I have done some workouts on them, but Drew could have added some more strength work to help my body prepare for it.
And that, is what bothers me the most.
We didn't ask others who had run it, and we assumed we knew what it looked like….actually, we did look at the course video, but it doesn't really do it justice.
Thankfully, once we arrived, we were told by a few people who said it was important to go see the course as the first half was so rolling, and if you weren't prepared, it would psychologically break you.
So we did, and I am SO glad we did, because honestly, I think I would have been telling a very different story had I not known those rolling hills were there.
I felt stronger mentally than I ever had, but for this control freak, I am almost certain it would have knocked me off my game.
Right, enough excuses, time to break it down a little more.
No pressure to read, but like I said at the beginning, this is partly for me too, while it is fresh in my mind, part of being prepared for the future is learning from your mistakes and strengthening the things that worked, so let's do it.
—
I plan to tell you about the rest of my CIM experience and the people I met next week, but today I would just like to share about the race itself, as that is the part that it is all about, right.
As CIM is a point to point course, we had to leave the hotel pretty early, and other than being absolutely DESPERATE to pee by the time we got there….you know, where you are tapping your foot, bouncing around….yeah, that kinda desperate, it was pretty smooth, and on the warm up I felt good.
Somehow, I ended up on the start line with Sara (Slattery) and Lauren (Jimison) on one side and Steph (Bruce) on my other side. Most of the other elite women were too timid to step up to the line, and as they had separated us from the men (which I loooooved, no offense guys!), it was nice and relaxed.
The first few miles were pretty aggressively downhill, and although I tried to settle into what felt like about the right pace, it was tough to judge, especially with lots of people surging all over the place, but eventually I settled in, and went through the 5k in about 18:30. Steve said I was to be no faster than 18:27, so I knew I was okay, but had to watch it.
I went through the 10k in just over 36:30, which was 30 seconds faster than he had told me was my "cap", but I felt calm and in control, so I didn't really panic.
And that was the last time I looked at my watch until after I crossed the finish line!
I could tell that from the start I was already working a little harder than I usually would. Not that I was straining or pushing by any means, but I think in the previous marathons, other than some mental freakouts, I had stayed very controlled.
I tried to find guys to run with, but most seemed to be unable to stay even, and there was also a marathon relay going on, which meant there were a lot of people who would surge past, especially before and after changeover points.
As you know, I am a biiiiiggggg run by feel person, so I just stuck to my own plan, and did what I needed to do.
I was aware of the hills, and I tried to really focus on good form on the downs, and just keeping my effort level consistent on the ups. Looking at the splits, I was able to do a pretty good job at that.
My fueling stations went by seamlessly.
That was by far the best I have done with all of my fueling, and I got all the bottles filled with UCAN I intended to, leaving the 23.5 bottle, but I knew if I needed that one I was in big trouble, so that one was an emergency bottle. I also took the Run Gum at mile 21, and EnduroPacks Liquid Electrolytes at 11 and around 18.
Most of the race I was just focused ahead.
Focused on keeping my form. focused on staying positive and reassuring myself, and focused on whoever I had dedicated those miles to.
I will explain more about that next week, but it really helped a lot, especially in those middle miles.
I felt strong, I felt smooth, and I felt confident.
In almost every way I felt very in control.
As I mentioned, I knew I was working harder than I had before, but I just focused on the mile I was in, and the miles seemed to tick along.
Dont get me wrong, it was still hard, and I still had moments where I thought about how long I had to go or that I feared I was going to blow up, but overall, I just felt a lot more even than I did in London (which is actually funny as London is more flat, and this would have been easier to go through waves!). Whenever I felt a physical freakout coming, I slightly backed off the pace, and whenever I felt a mental freakout coming, I reassured myself back to calm.
This was a good feeling, and along with some mantras like, "be your own hero", "Drew made me strong", and "just be your best", I was able to remain in control.
With every mile, I asked myself, "are you doing the best you can for this mile?", and almost always, the answer was yes.
Obviously the best you can means different things at different points in a marathon.
The first half may be all about doing the best you can to keep an even effort level and focusing on the moment you are in, and those final miles are all about not letting off the pedal and fighting.
But then I noticed once I approached the 20 mile mark, I wasnt feeling the way I had my last two marathons. I knew deep down that this wasnt feeling like a 20 mile long run and it was time to go like the past two London marathons had. I just needed to focus on maintaining, and getting to those last few miles, so maybe I could kick it in.
I know this sounds crazy, but one of the moments I actually felt the best was when we went up a hill on an overpass. At the bottom I thought, "oh no, is this going to put me over the edge?", but I just focused on the top of it, and using my arms to drive up the hill.
Which almost makes me think that I would prefer Boston to a flatter course, as I have always run hills well when I am tired.
Throughout the last 6 miles, my quads were just sore.
Matt Fitzgerald texted me yesterday to ask how I felt about the race, and he said he felt like his legs had been hit with a meat tenderizer, and actually, I would say that is the best way I could describe how I felt those final 6 miles.
My body felt good, my breathing was fine (for the most part), everyone I ran by kept telling me how strong I looked and I felt strong.
I just couldn't pick up my legs. My quads felt bruised and sore.
I wasnt passing anyone or being passed, and part of me knew that there was a good chance one of the girls from behind would be coming up on me. I know how it feels in those final miles as you blow by people, and I could tell on this day that was not me.
Around 25 miles, a man said to me that he couldn't see a woman anywhere behind me, so full disclosure, I kind of let that be too much of a reassurance, and I didn't keep fighting up ahead.
With about 800m to go, my roommate for the weekend, Sam, BLEW by me.
I tried to stay with her and her pacer, but my legs just couldn't respond.
As I turned the final (90 degree!!!) corner with 50m to go and saw 2:36, I did feel slight disappointment, but I asked myself, "did you do your best?", at the time, the answer was yes…..with a small but…. as I mentioned above.
However, as you have told me, and I knew in my heart, it was still a step forward, and still a PR.
I hobbled my way over to the VIP lounge they had set up for us, and eventually found Steve. He reassured me that he was happy and I should be too.
After being reunited with my friends Carlye and Nate (who we had been staying with), we (slowly) walked back to the hotel. I was able to shower, before being called back for awards.
I held up my flag with pride as they announced me to the crowd, and realized that this was a big accomplishment, this has been a huge year for me, and although we have had many ups and downs, we have taken a big step forward this year, and I essentially went from 2:41 in 2015 to 2:36 in 2016, which you cannot complain about!
California International Marathon put on a fantastic event, and I would recommend this marathon to anyone. It is well run, organized, and a lot of fun. I loved that it had more of the small town, homey feel, without lacking any of the crowds or appeal that the larger events have. A must for everyone at least once!
Before I end this post, I want to take a moment to thank all those people who gave up their time and expertise to help me get to this point. I will explain a little about this next week with the bottles, but there are also a lot of people who helped me behind the scenes who did not get a shoutout, and they truly deserve one.
Firstly, just one more big shoutout to my three coaches; Steve, Drew, and Evie.
Okay, so technically he is not behind the scenes, I am sure everyone is fully aware that he is the driving force behind my success, BUT I don't think I can even put into words just how much he actually does for me.
Here are just a few things he does for me OUTSIDE of writing my training:
Deals with my middle of the night freakouts about injuries
Doesn't have sweets when I don't, just so it's easier on me
Massages my legs when they are sore after a long day of work
Battles back with me when I am fighting him for more mileage
Cycles alongside me for up to 3 hours at a time
Puts my training in front of EVERYTHING else
Drives for hours after long weeks at work to take me to places for my running
Knows exactly what to say even when I don't say what is going on
Believes in me more than I believe in myself
I could go on for hours…..
And those are on top of the general husband duties, which he gets a A++ for by the way 😉
My strength coach, Drew Watts
Of course, the strength training aspect is the primary here. Drew is just SO good at what he does, which is why I believe is 90% of the reason I have stayed mostly healthy these past few years. The fact that I repeated to myself, "drew made me strong" over and over again shows how big his role was here. But, I don't think you know how much this guy does for me beyond being a strength coach who I see for two hours a week. He spends hours researching how to make me more efficient (and hours beating himself up trying to figure out how he could have anticipated the hills…..short answer, he couldn't! But goes to show how much he cares!). He understands me and supports me mentally when I am having a bad day, and is just a good friend.
My sports psychologist/mental coach, Evie Serventi
Running is a mental sport, right?
We all know that, and this weekend, my mind was stronger than it had ever been, and I believe that is because this woman has hanged my life. I introduced you to her after London, but since then, Evie and I have become even closer, and she has helped more than I can put into words. She makes me believe in myself, she is so thoughtful and kind and sweet. I just love her so very much! During the race, I heard her voice in my head, reassuring me and helping me to actually believe in myself, not just say the words. She is a true gem.
Wanna know whats even better? She is now starting to take clients, so you can start working with her too!
Okay, so those three are pretty much a given, but who else helped?
My sports therapist, Dr Kyle Bowling
I told you I have been dealing with peroneal pain pretty much from the first time I went to UVA, but we FINALLY got rid of it in the last few months, and after seeing about 10 different specialists, this guy was the one to finally help me kick it. I HATE dry needling. I would sweat and panic and want to cry (one day I nearly did when I cramped and bent the needles into J shapes), but there is no doubt about it that it worked for my peroneal, and this guy goes so far above just being a therapist, but he is a great friend too!
My training partner, Sarah Crouch
Sarah and I have been friends for over seven years now, but this year has been amazing having her to train with, talk to when I am worried about something running related, and just be around. I am so thankful to have her here in Kentucky with me, and it is so nice to have that running friend whose running you care about as much as your own. I have always wanted that, and her support throughout this segment has helped so much. She is actually going to interview me on the podcast for a special edition, so listen out for that soon 🙂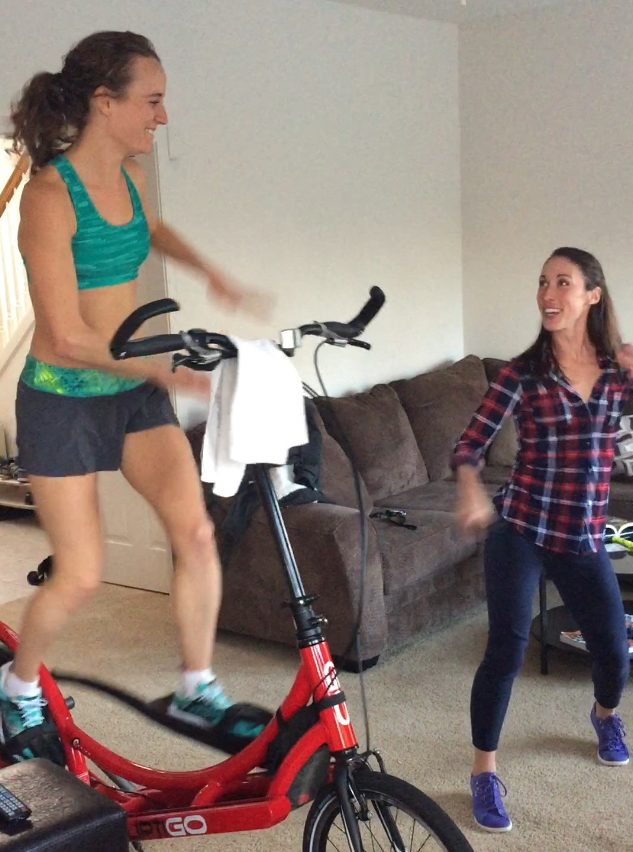 My massage therapist, Karen
I see Karen for an hour every week, and she is another reason my body was able to handle the training. Not only do my muscles melt as soon as she starts working, but she always does everything she can to help work with my training schedule.
My chiropractor/ART practitioner Dr Mike Sullivan
Mike has become one of my closest friends in Lexington, and not only is he incredibly knowledgeable at what he does, but he truly cares about me and will do whatever it takes to make me happy and confident. I trust him with my life, and any time I was dealing with an issue, Mike was my first call, and I don't see that changing anytime soon.
My podiatrist, Dr Steve Pribut
Remember when my toe decided to balloon into a marshmallow a few weeks ago? Steve was the first one I turned to. I knew I could trust him, and he was AMAZING help, not just emotionally to calm me down, but knowing what to do and what to say….and of course not complaining about me sending close up pictures of my toes. Not many people would deal with that, but he did. I only wish he lived closer!
My myofascial release expert, Mareisha Watters
Mareisha is the newest member of Team Ice Cream, but may be my secret weapon. I was a little skeptical about myofascial release, but I had heard from three different people in Lexington about just how magic Mareisha and her hands were. I know this might sound crazy, but each time I saw her for treatment, my breathing was noticeably different for the runs afterwards. You know by now that my breathing is my weakness, and she really helped, so welcome Peanut Butter Chocolate Chip to Team Ice Cream!
My life consultant, Tawnee Prazak
I have not worked as closely with Tawnee for this marathon specifically, but she has become a good friend who I talk to often, and I know that the work she put in before London is continuing to have an impact now, and even get more prominent in my running, and especially in my life. I even got to meet her this weekend, and we could have sat there ALL DAY just chatting away!
My acupuncturist, Ramon Careaga
This is something I intend to add in more in the future, but I went for regular acupuncture sessions with Ramon (yes, I still hate needles!), and they definitely made a huge difference to my ability to relax.
They say it takes a village, my village is gonna become a town at this rate 😉
I will write a reflection next week, but this post is mooooore than long enough, and gives you some details about the race itself and the people who helped get me there.
Thank you for reading 🙂