A few years ago, I was interviewed by Angie and Trevor Spencer about my story and life as an elite runner. One of the questions they had was what cross training I did to supplement my training. Now, you all know I do strength training, I have talked a lot about my work with Drew, but when they asked me this, I suddenly felt embarrassed……I don't cross train…..at all.
For me, cross training was always associated with injury.
If I was in the pool, I was injured. If I was out biking , I was injured. As for pool running, as good as I knew it was for you, there was no way I would be doing that unless I was not able to run.
I had have even lost touch with yoga. The one form of cross training I had been consistent with the past, I just have not found the right setup yet here in Kentucky. It makes me mad and disappointed in myself, but no matter how many inspirational posts I see (especially you, Christine!), or how many experts talked about it on my podcast, I just couldn't get myself to do it.
I told you that we figured out what was causing some injuries when we visited the UVA Speed Clinic years ago, which has finally allowed us to start correcting my movements to take the strain off the peroneal muscles and tendons.
I have been making the most of Team Ice Cream; talking to Pecan (Jeremy Stoker), who has been AMAZING helping all the way from Utah (check out my podcast episode with him), Graham Cracker (Dr Mike) has been working on it often (and it always feels so much better after), and the rest of the group has been talking to figure out the best plan moving forward. Now we have the answer from UVA, we have started to see big steps forward with it.
So what does this long winded story have to do with cross training?
Well, my injuries always go through a period where I was limited with the amount of running I could do.
For about 3 weeks, typically, we hovered around 40-45 miles, with 1-2 days off a week (when I should have been up to 65). I started doing exercises that Jeremy had prepared for me, and they made a big difference…….but
We did not want to lose my fitness, so we decided the best method was to add in swimming, pool running, and biking. During the last few weeks, I spent about an additional 5 hours a week doing these; usually in the afternoons if I ran in the morning, or 2 forms of cross training on a day off.
I thought this would be a chore, in fact, I was convinced it was going to be, but once the butt sores (yes, they are real!) went away, I actually found I started to enjoy it.
I could not believe it actually. I found myself looking forward to my afternoon swim or bike session!
All of these have been easy, and I think that is part of the reason as there is no pressure to keep the intensity up. The only thing that was hard during that time was a few pool running workouts while I let my injuries heal up. That gets my heart WAY up, and is good to keep the intensity there.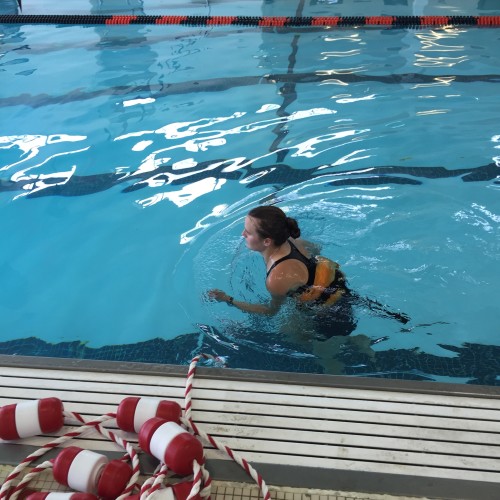 I have not been doing this long enough to see a difference in my training, but Nick Anderson (one of the best coaches in England) talked to me about cross training while I was home, and if he believes in it, then I do. I have my first rust-buster race this weekend, so this will be a good test!
I think I will be surprised when it does kick in. After all, running is mostly about consistency, and accumulated strength over time. Just take a listen to these many experts in my Marathon Podcast Series where they don't just give you the main tips and tricks but go in depth on finding the joy in your training.
I am now back up to 70-80 miles a week, and about 3 hours of cross training a week, which helps to build a strong aerobic base. That means each day I do about 2 hours of exercise (if you include the 2 hours of strength training with Drew each week). Yes, that is a lot of time, and please do not think you have to do quite this much, but even an hour or two will give you a benefit, without the stress of running on your body.
I am sure many of you also saw that we now have an Elliptigo, I am also using this for cross training, but have a whole post dedicated to it next week, today is about swimming, biking and pool running 🙂
As for my leg, it still has ups and downs, but it is overall better than a month ago. I am back to 2 land workouts a week, including a speed workout, and a long run.
I am sure many of you will have that same mindset I had before this segment about cross training; "I am a runner, I like running, I don't want to bike or swim", but seriously, give it a go. I can admit I was wrong, and I intend to keep this up. You may be able to do the same, AND it will give you an extra confidence that you are doing what you can to be successful.
You will probably find that it does not take as much out of you than you think, other than obviously taking away a little time from your schedule. It will make you stronger, and increase your aerobic capacity, which will help your running too!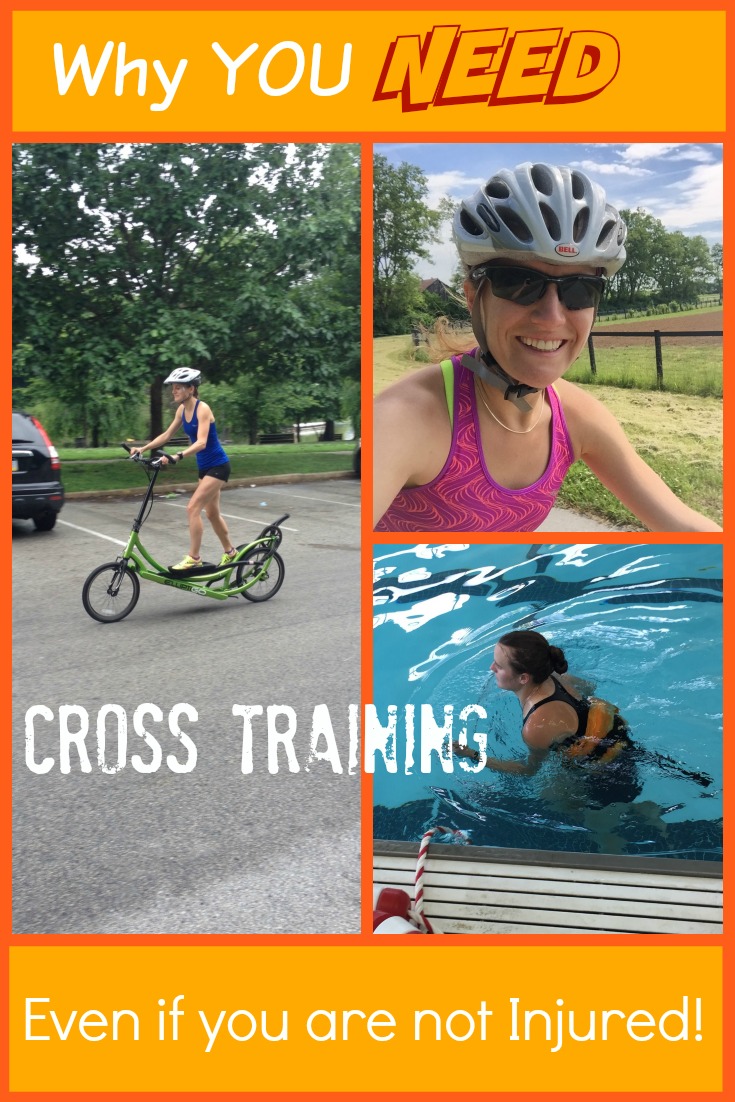 I know a lot of you are in awe of the miles I run, and say your body could never handle that many miles. That may be the case, but I am sure your body could handle a few hours of non-impact cross training a week. You never know where it may lead….worth a try right? 🙂
It doesn't have to be hard, but especially if you have some kind of niggling injury, backing off the running, and adding in cross training instead, you will let your body heal, without losing all hope of fitness 🙂
I know I made the right choice by doing this, and if I can do it, you can too!
[bctt tweet="Elite runner @tinamuir explains why YOU need Cross Training (even if you are not injured!)" via="no"]
Do you cross train? How much? What is your favorite form?