On Wednesday I covered part one of my return to the UVA Speed Clinic, and since then I have been able to get two workouts with Drew in to implement some of the new exercises, and have now had a week to do the ones I need to do up to 3x a day(!) at home. I have also had some time to reflect a little more, and I am still pretty happy with the experience.
Firstly, Max and Dr Todd have both been awesome this week. Max sent me a full report on my analysis; what had changed, what we still need to work on, and how to get there. He also gave me a jump drive with my analysis on it, and the exercises I need to do, making it as easy as possible….without actually doing it for me!
Dr Todd has checked in with me every few days (even while on vacation!!) to see how I am getting on, and he has been going back and forth with Dr Mike to make sure they are both on the same page. I am honored to have so many people so committed to my success. Steve and I realize how lucky we are to have this.
So, starting from where I left off on Wednesday…….
After we finished with the DNS exercises, I returned to the treadmill, and we did another gait analysis. They wanted to compare the before and after results after the adjustments and alterations.
Interestingly, they concluded that I did look better on the second attempt, my arm in particular was not bowing out as much as it usually does, and I looked a lot smoother. However, within a few minutes, my form had returned to how it was before, further proof I needed to work on strengthening those areas.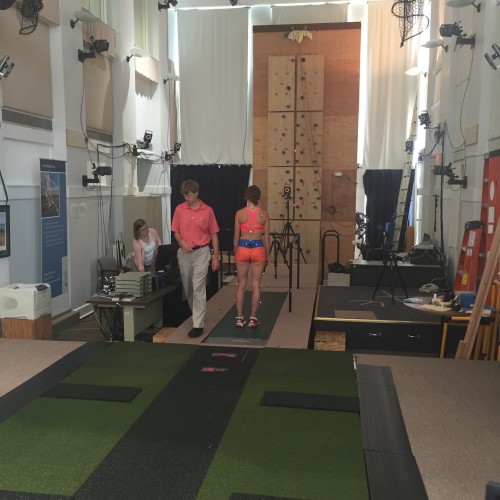 They picked up on many inefficiencies, and many more ways my body had learned to compensate from strengthening the previous weaknesses. It is amazing that our bodies will find new sneaky ways to get around doing what it is supposed to be doing. Steve and I had spent many years trying to "fix" my left arm, but at the end of the day, there really wasn't anything I could do to stop it going out if I still had those imbalances elsewhere; my arm was my counterbalance.
One of the biggest turning points for me was we actually figured what has been causing my stiffness and discomfort in my calf/peroneals. I wont bore you with the details of that now as I plan to explain a little more in a training update next week, but it is something that has been bothering me for about 6 months now, and the way it was reacting was just confusing everyone. I even had an MRI, and that didnt explain what was going on.
But….
When Max told me why it was occurring it made perfect sense; my peroneal muscles were taking on the extra work, rather than my foot doing what it was supposed to be doing. This also explained why this started to come up soon after I left the clinic; my body had found a new way to compensate.
After the analysis, we spent time going over the movements and exercises I needed to do to allow my body to take that next step. Drew was guided as to what I needed to do in my weight sessions with him, and Steve and I learned about the exercises I need to help my peroneal calm down, and get back to using the energy how I should be using it; to run faster.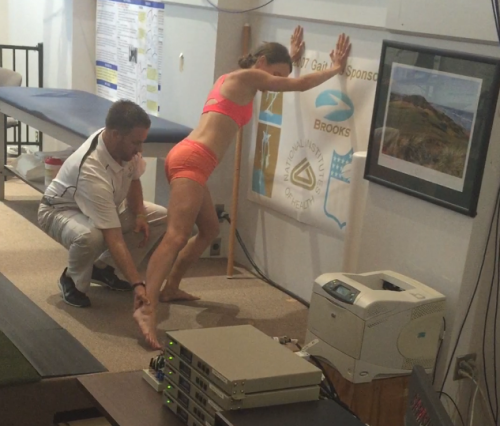 We then compared the 3D graph and analysis to my last visit. This was where I was rewarded the most. It was so clear the difference between the two visits. I looked so much better, and although I still have a long way to go, we now know what to do to make those changes to really take me to the next level.
We spent a good amount of time going over various questions, before it was time for us to head back to Lexington. I wish we could have had another hour there, but we had already been there 3.5 hours already! What was missed has mostly been answered by the emails this week; including a mass email to Team Ice Cream (you get to learn more about this next week!).
Steve and I spent some time going over the data yesterday, and it was pretty cool to see the difference. My stride rate has increased from 88 a minute to 94, which is a pretty big difference, and once I get some power behind my stride, it will be exciting to see how much more efficient I am. It was also amazing to watch the difference, to see it on the video, I do look completely different, but there is still a lot to work on.
Last time we visited the UVA speed clinic, we left with lots of exercises to strengthen my muscles, the large muscle groups that were essentially dormant…..not so good when you are a distance runner who is supposed to be using those muscles to do your sport. We have now awoken those muscles, and now we have to show my body how to use them correctly, and use those little muscles, the ones that make all the difference, to propel me towards my dreams.
Lots of this is going to take place in my strength training workouts with Drew. We were moving in the right direction, but now I really have to develop that power, almost like a sprinter to push off the ground better.
Speaking of Drew, you are probably wondering where we are going next. I asked him for a summary of what he thought, and this is what he said:
I never stepped foot in to a biomechanics lab before Friday and I was incredibly excited to soak in the whole day. Working with a running biomechanics expert and a chiropractor who utilizes a specialized treatment that helps people move at their most fundamental level was a dream come true for me.
While Tina made outstanding progress over the past five months, this meeting helped identify some areas to work on that will further improve her running and resiliency. For 4 months, we trained with the goal of the London Marathon. Now, our training is a little more open-ended and hopefully the existing strength base we've built can be bolstered by the new emphasis on speed and power development. This is going to be fun…for me.
Sounds evil right? Haha, not at all. Drew is awesome, and so far I have enjoyed the two workouts we have done. I am very lucky to have someone who is as passionate about learning as he is 🙂
I know I have talked about the UVA Speed Clinic clinic a lot, but I seriously cannot recommend them enough, and not just for elite runners, but for anyone. For $350 you get a true assessment of where you are; an honest assessment, and one that will help you fix things from the source, rather than just the symptoms. When you consider the rest of your running life, I would say that's worth it.
However:
Don't go to the speed clinic if you want a quick fix.
You wont get one.
I worked my butt off (literally :P) after I left last time (read my update one and two), and today it was apparent just how worth it that was (if my 2:41 at the London marathon wasn't enough.. I know I have a lot of hard work, time, and probably tears ahead of me, but I know we are doing the right thing, and I have every faith in what we are doing that it will all be worthwhile. I am going to work at this until I get it right, and if you truly care about getting the most out of your running, you really should consider going here if it is anywhere within a realistic distance to you.
We drove 12 hours for this, was it worth it?
100 times over!
What is something you have worked really hard at and actually seen a visible change?