If you follow me in any way, shape, or form, you know that last weekend I was at the Rise Run Retreat in Maine with a group of nine other friends. I had come to know these women through their blogs, and we cared about another like any other friend would care, but there was one difference…..I had never met any of them in person.
When Sarah and Jesica reached out to me about this retreat, I was honored to be asked, and had decided almost immediately that I was going to find a way to make this happen; I needed to meet them, and confirm that they were every bit as wonderful as I thought (and to prove to my "real life" friends and family that you really can be good friends with people before ever meeting them in person). And besides, I had always wanted to go to Maine, it was one of the states I had not yet been to, and it gave me the opportunity to visit some other friends I had been wanting to see (including the Saucony fairy :p).
So, just how good was my judge of character?
Impecable….if I may say so myself….actually, no. My judge of character was not as good as I thought; these women exceeded my expectations, and we got on even better than I thought we would. I loved getting to know them more, and I left feeling relaxed, happy, and confident in who I am.
The Rise Run Retreat had a lot of great sponsors, that gave us a lovely swag bag full of stuff. We each had a personalized bag from LL Bean with our twitter handles on them FULL of running related stuff! All very helpful, and all very appropriate for the group. One of my favorite things were the Garuka Bars, which I had never tried before, if you haven't either, you need to get your hands on some, they are SO delicious! I also loved the Spandits shorts, which I look forward to wearing!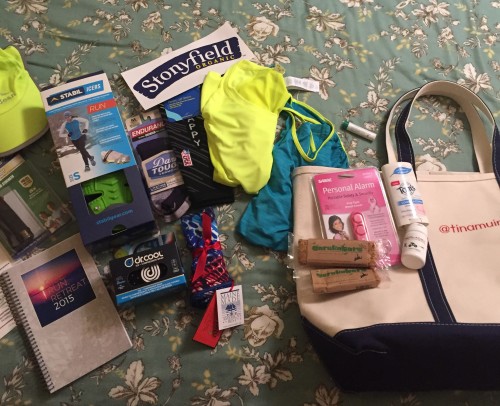 We also had an almost unlimited supply of foods from local companies. That is one of the things I loved the most, was that Sarah had made sure to use mostly local companies to sponsor the Retreat, and we were spoiled rotten by them all, especially Stonyfield, Lucy's Granola, and Pete & Gerry's Eggs, which gave us plenty of Breakfast options for the mornings, and you know I LOVE my breakfast food 🙂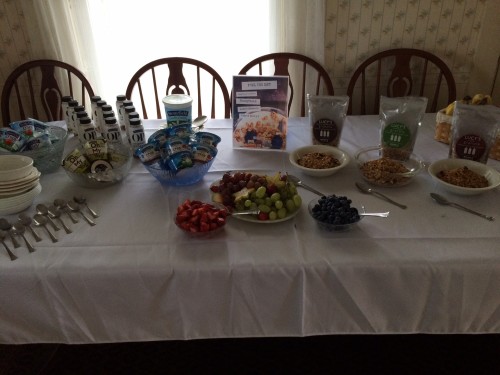 We stayed in a gorgeous three story house ON the ocean. I dont think I have ever stayed in a Beach house that was quite like this; when the tide came in, the waves would crash onto the balcony, and it was so nice to hear the waves all day long. This would be the most perfect summer house, and it just brought a sense of calm by just being here. I felt even more at peace as I had such a great roommate in Sandra.
We had a lovely catered meal the first night, along with some ice breaker games to get to know one another a little better. Some of the girls I had not had much time to interact with in the past, so it was nice to learn more about everyones stories.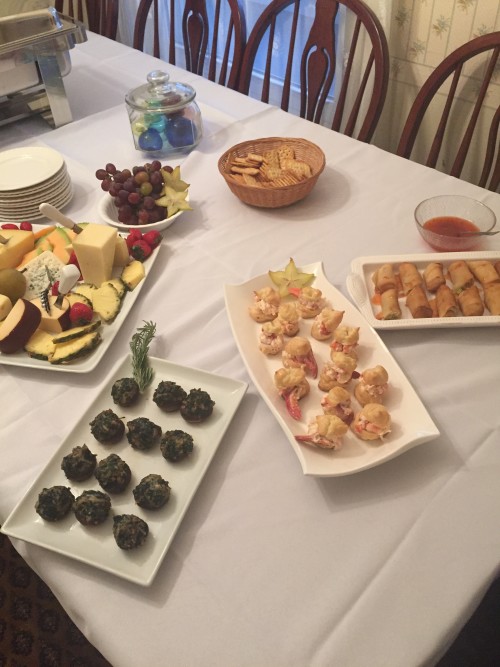 The next morning, we went for a sunrise run along the beach (and I finished mine on the coastal road). The girls wanted to learn my warm up, which made me feel like a little bit of a celebrity, but was fun. Although you may not be able to get a real life demonstration, this is exactly what I do.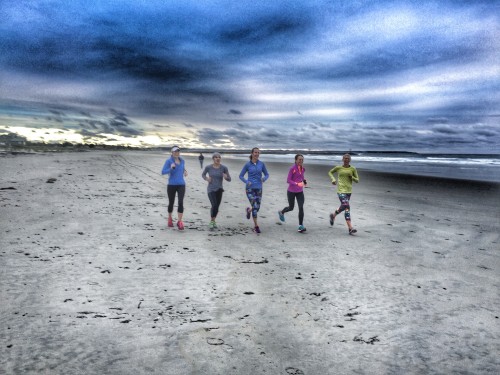 We then spent the rest of the day chatting and getting to know one another. It was nice for me to have some time to relax while they went to pick up their race numbers from the expo to prepare for the Maine Half Marathon in the morning. In the evening we went out for pizza at Cornerstone Pizza in Ogunquit, which was amazing. Christine and I shared a Mushroom type pizza and a Fig and Balsamic vinegar pizza. I love it when pizza places have unique flavors!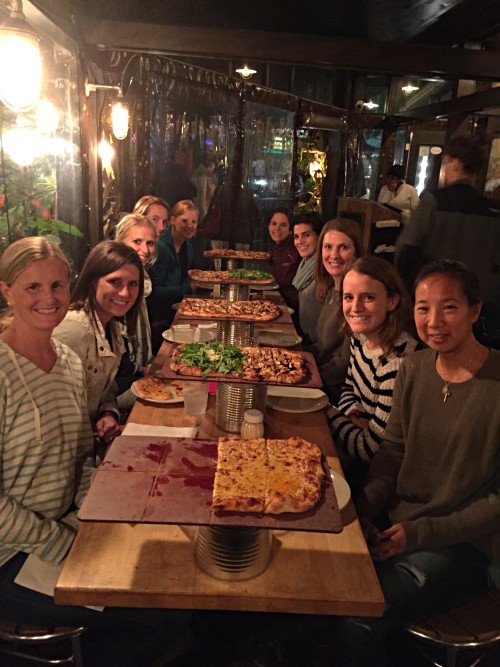 On the way to the restaurant, I was in the middle of a conversation with Angela, when I saw GIANT cookies in the window of a bakery. These were no ordinary cookies, but cookies the size of a dinner plate. I about tackled her into the window, and had to tear myself away on promise of returning on the way back to the car. We did go back to it, and picked up some desserts, I had the most delicious carrot cake! Thankfully as I was not racing in the morning, I could eat it without having to worry about it upsetting my stomach.
After an early night, we woke up Sunday morning ready for the Maine Half Marathon. A little part of me was excited to see what it was like running with a group, but at the same time I felt a bit of pressure knowing that I had told them all weekend how good of a metronome I was, and I had told Allie I would pace her. I hoped I would not mess this up.
We warmed up as a group, and got to the starting line. It was about 40 degrees, so I decided to wear tights, a long sleeve, and gloves (all Saucony of course!) as I was not going to be racing, and thought I would get cold….however, I did end up being too warm. Should have trusted my instincts, which are usually right on (did you read my winter running what to wear at every temperature post?)
Thankfully, I confirmed my ability to pace well, and was able to pace Allie to what she wanted. I encouraged her, telling her the things I wish I could hear when I am at certain points in the race, and listening to her breathing to know what to say. I had a lot of fun, and when I left her at 10 miles, I knew she was going to keep being strong and power on. She did run a great race by finishing 1st in her age group with a 1:32, and was so sweet after the race, thanking me over and over for helping. That made me smile as I really didnt feel like I was doing any great sacrifice, but just running with a friend and making her BELIEVE how strong she is!
Sarah had bought us the most beautiful 13.1 necklaces with a map of Maine on, it was nice to think that we had all earned them, and was a lovely touch. I wore mine throughout the race, but it was cool to see the other ladies put theirs on after.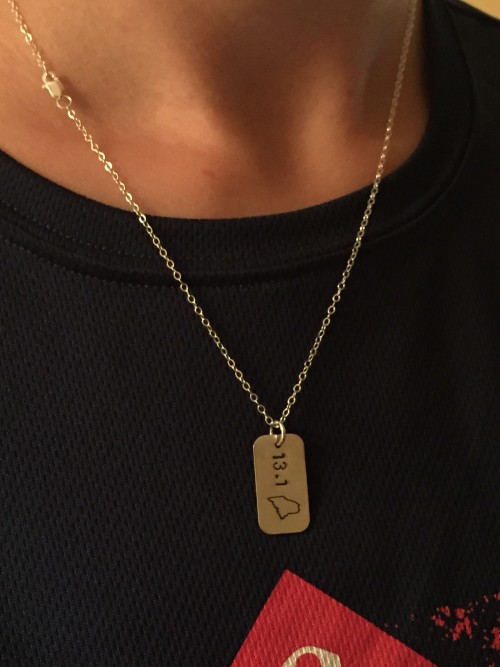 We also had some lovely new bracelets from Momentum Jewelery, and we each picked our own phrase. Coincidentally Allie and I both picked the same message; Believe in Yourself, I reminded her of this a lot during the race.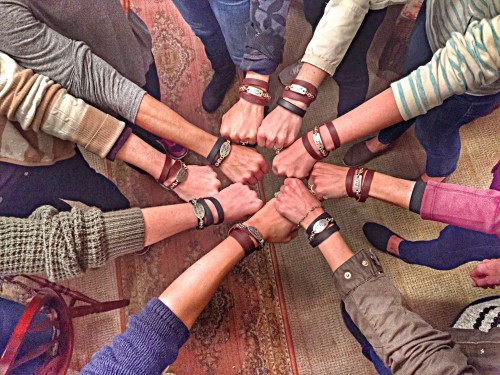 All the other ladies who raced also had great races, Jen was even able to run a PR, and Carrie ran her first ever half marathon which was cool to see. I hope someday to be there when my sister crosses the finish line in her first half.
I told them all to try to not look at their watches, to try to run by feel, and they did, and they all negative split the race! I am going to talk about this more on Friday, but it proved to me that it really is possible to run by feel, and fighting that urge to look at your watch is worthwhile.
I actually had 20 miles for the day, including a fartlek in the middle, so once I left Allie, I ran back and forth on the course completing the rest of my run. I got to cheer Laura on, and work on running fast when already having a good chunk of miles in my legs. I actually felt a lot better than I have on all my recent long runs. Steve thinks my body just likes that 6:50-7:20 pace the most, and I definitely agree, but its still good to make sure you take some days very easy, and I will continue to do so.
After the race, we came back to the beach house (after detouring to a donut shop :P), had lunch, and just spent the rest of the day chatting. Many of the girls had to head home, but Sarah, Jes and I spent the rest of the day having a very deep and meaningful chat. It brought a few thing to light, and we shared some things that we have not been able to share with anyone else to that point. I think I need to make some changes in my life, and this was a great wakeup call for me.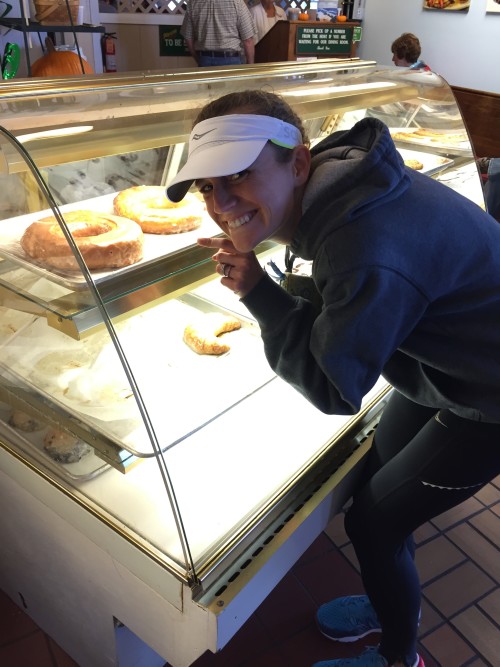 On Monday morning, I left for the Portland airport to return home with a big smile on my face.
I had lots of great food, I had lots of great running moments, and I got to spend a weekend by the ocean in beautiful Maine, but most of all I got to spend so much quality time with such genuine, wonderful people, who help to bring out the best in you. I knew in my heart these girls were special, and this weekend proved it even more. In Kentucky, Steve and I have not been able to make that many friends yet, but this was such a wonderful week of friends and happiness.

I feel refreshed, and between my few days with Mark and Tony, along with the Rise Run Retreat, my trip to New England was every bit as good as I had hoped it would be.
An extra thank you to Sarah for doing so much to make this the wonderful weekend it was for us, you are amazing!
If you ever get the chance to go on a running camp or retreat, DO IT! Runners Connect has two great ones in the summer, sign up for the newsletter to hear more.
Have you ever been on a retreat? Have you ever made friends without meeting in person first?