This was the part of the trip I was most excited about. This was the part I had dreamed of for many years, and the flight felt like it took FOREVER as I attempted to patiently waited for the plane to land in Cairns.
As our flight left at 7:30am, we decided we would run in Cairns, and we found Goombora. As soon as we got out the car, we were greeted by the most incredible noise. It literally sounded like those CDs you get of a rainforest, you know, the calming sounds you hear….well, they are not calming, but just all the birds and noises you hear. It was amazing!
I was like a little kid, eager to get running and explore this magical place.
Despite the 85 degree temperature, we had a lovely run, and saw all kinds of wildlife, it was one of my favorite runs of the year!
After the run, we found a wonderful lunch place called Ozmosis. We had our favorite chips (fries) of the trip (and we had A LOT to compare against).
If you are planning on going to Queensland, most people will stay in Cairns, but by more experienced travelers, we were recommended making the 1 hour drive to Port Douglas, and it was definitely the right choice.
The drive was stunning
and our accommodation was the nicest place I have ever stayed, and just paradise. That is the only way to describe this area.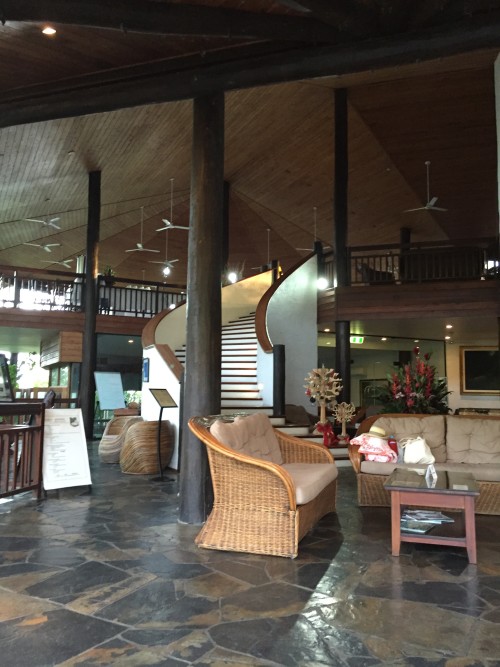 As it was our honeymoon, Thala Beach Resort gave us some special treatment by giving us one of the best bungalows available with the most incredible view you could imagine.
We splurged on the two nights we had here, and it was so worth it! This was our "bungalow" and we were the only one I could see from ours, you are completely private, we could have (if we wanted to) sat naked on the porch, and no one would be able to see! THAT is how private this is!
You see that ocean down there?
One day we walked down there (through our own private jungle), and it was the textbook definition of paradise, even down to the hammocks, crystal clear water, the whitest sand you could imagine, palm trees jutting out sideways, and coconuts everywhere (remind me sometime to tell you about our coconut dream that was ruined…..lets just say it's NOT like the movies!!!).
As I mentioned in the Sydney recap, I did not take my phone with me for a lot of the trip, so I have no photos, but I am sure you can imagine (and then it would be even better than what comes to mind). It was heaven.
Thala Beach was only 15 mins drive away from Port Douglas, a fantastic tourist (but not too busy) town with plenty of shops (some very unique and fun) and restaurants. We also did our runs right from Port Douglas, and found some nice trails to run on.
During our stay, we ate out at On the Inlet, another recommendation from a friend, and Watergate. Both had lovely food, and a fantastic view. We were particularly impressed with On the Inlet, and would recommend that to anyone visiting Port Douglas.
Oh, and before I forget, one of the things that I absolutely LOVED in Australia was the fresh mangos everywhere. I mean literally mango trees all over, mangos on the floor, their sweet aroma filling your nose. The mangos we had here were out of this world, I am not sure I can ever have a mango out of season again! Makes my mouth water even thinking about it!
Okay, so I have told you about a lot of cool things in Queensland, but there was one thing on our honeymoon that stands way ahead of everything else, was literally a dream come true for me, can you guess what?
Yep. The Great Barrier Reef.
We were fortunate enough to have a whole day out there, leaving at 8am and returning at 5:30pm. Thankfully, I had lots of friends and family with experience, who told us NOT to take the big boats (that take over 350 people!!!), and to make sure we go to 3 outer sites. At the time this meant nothing to me, but now I see why.
As much as I wanted to scuba dive, it requires hours of training, and was just not worth it for us, especially when we could see more than enough in our day of snorkeling.
We went with the smallest boat we could find that went straight to the outer reef (where the "sites" are more stunning). We can recommend Wavelength to anyone, they were fantastic!
It took around an hour to get out there, but was a pleasant ride. All the marine biologists and staff were basically drooling the whole time as they said they had not seen the water this "glassy" since last year. This made us even more excited, and we looked for dolphins most the way.
Once we arrived at the first site, I understood what they were talking about, the water was so calm, you could barely see where the sky ended and the water began! I can see why people would lose their minds if lost at sea!
Before we knew it, there we were, out there, in the middle of the ocean, looking at this whole world under the surface of the water, with fish in color combinations I could not even describe. We were given around 45 minutes to explore, and just marvel in the beauty of the Great Barrier Reef.
Steve and I stayed together the whole time, sharing the experience together, and making the most of this once in a lifetime opportunity. All of us wore stinger suits as it was jellyfish season. At first I was slightly annoyed at this, but while in the water I was glad, not only as it meant we did not get stung, but because then the fish just thought we were another one of them.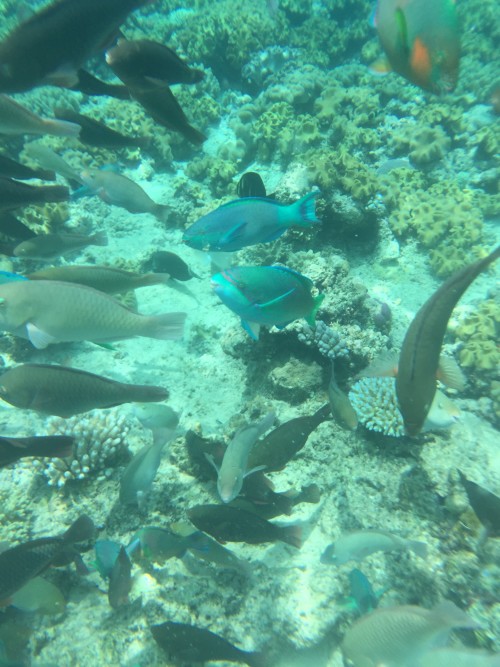 They swam all around you, schools of them, just surrounding you. It was one of the most incredible moments of my life.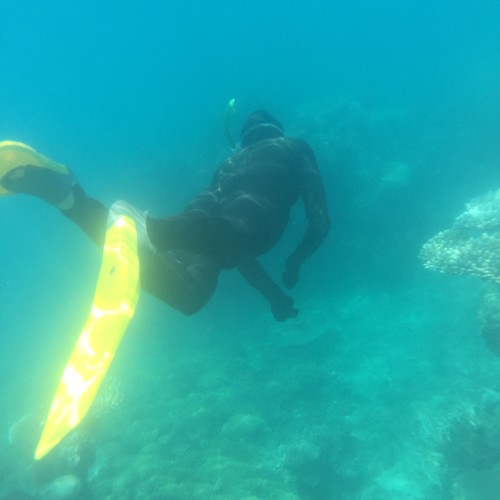 We saw sharks, parrot fish (as big as a person), and even clown fish coming out of purple anemones. We were a little disappointed to not see a sea turtle, but the fish we did see were fascinating.
Both Steve and I loved diving down into the reef, getting up close to it, and just marveling in its beauty. I truly will remember those moments for the rest of my life.
Wavelength took us to two other sites around the outer reef, and each one had its own beauty to offer. We were given a delicious deli lunch (snorkeling makes you surprisingly hungry!), and snacks in between each site.
Our photos do not even begin to do it justice, but that's what you get when you take an iPhone in a waterproof case into one of the worlds most stunning attractions. We got photos, but mostly, we just wanted to be in the moment, and that was okay.
This was by far our favorite day in Australia, and if you plan to do one thing on a vacation to Australia, it should be this.
After three 45 minute snorkels, and some time to relax on the boat, we got back on shore around 5:30pm, tired, but so high on life after such a wonderful day. We showered up and had dinner that night at the Thala Beach Osprey restaurant, which was absolutely wonderful, and had the most stunning view of the area. After stuffing ourselves with a delicious (well-earned) three course meal, we fell asleep, exhausted with happy smiles.
The other thing we had heard so many wonderful things about in Queensland was Mossman Gorge, and on our last day in Queensland, we decided to check it out. That morning was very sticky and humid, but what could be more appropriate for a day at the Rainforest!
The gorge was beautiful, and we had a wonderful hike through the rainforest. It took us well over an hour to hike around the path we chose, and we stopped often to take in the rainforest. It is exactly as you would imagine, just so green and spectacular. Some of the trees are so big and wide, that it makes you feel like a tiny ant on this planet.
It definitely brought out the environmentalist in me, someone who is already pretty environmentally friendly, this made me even more determined to do my part to keep these rainforests, and make sure they continue to grow, rather than be cut down for resources.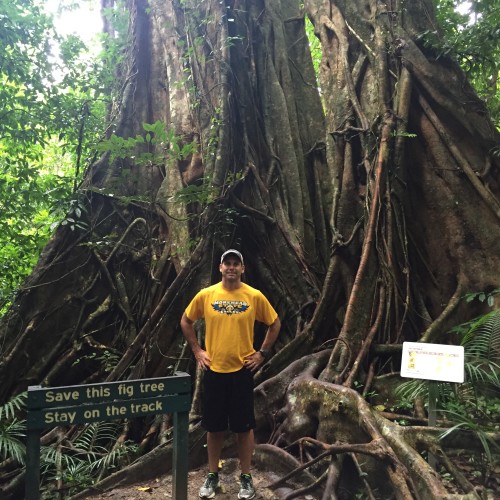 Well worth a visit, and really makes you appreciate nature.
Queensland was a stunning place to visit, and we wished we had more time there. If you ever get the chance to visit, take that opportunity, and soak in every second!
I could go on about this part of our trip for days, but it really is something you have to experience for yourself.
Oh, and one more thing we loved?
This nitro gelato in Cairns on our way out at Nitro Gelato! Mine was salted caramel! 🙂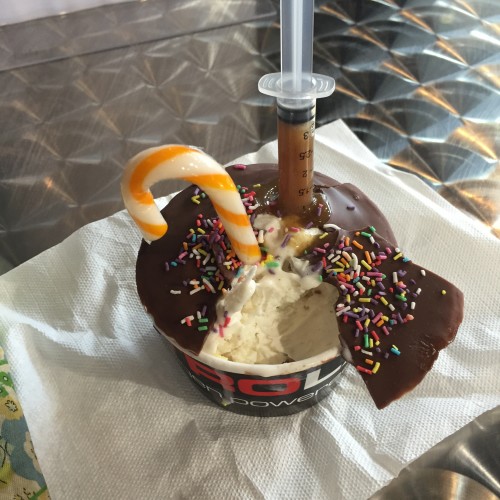 What was the most beautiful thing in nature you have ever seen?