I have talked many times before about how important I believe it is to run by feel, that you should try to avoid looking at your GPS watch during workouts (and easy runs), and you should try to just listen to what your body is telling you rather than looking for data, which can be modified by 10000 different variables on any one day.
As much as I preach this to you, I, like you, still struggle with it, and need that reminder over and over again.
Like I told you with my European Championships race, the more you focus on forcing a certain pace or time, the less likely it is to happen (for the most part, there are obviously some exceptions).
After the London marathon a few years back, I had got back into the mindset of forcing myself back into paces, looking at my watch, feeling a pressure to be in a certain fitness.
When really, all I should have been doing was doing the best I can. Running by effort, and allowing my body to tell me what it was ready for. Runners Connect CEO Jeff Gaudette talks about current fitness as opposed to goal fitness.
I am as guilty as anyone else of falling for this.
Our egos just get a little ahead of us sometimes, and we feel like all eyes are on us, that everyone is going to think we aren't that good, or be happy for us if we screw up.
But last weekend, with my 16:34 off absolutely no expectations (and a hard workout two days before) showed me that we really do run our best when we just go out there and do it.
Stop making it so complicated, and just run, the best we can.
Yeah, 16:34 was still almost 30 seconds away from my PR, but for the situation, I was very happy with it.
So what do you think happened?
Yep.
I had a great workout, and surprised myself (and Steve) with just how well I ran. Actually running faster than we would have set it in ideal conditions.
So as I prepare for future races, it will be easy to jump back into the mindset of have to run this or have to finish there, but you know what.
That is just not true.
We put this pressure on ourselves, convincing ourselves that we have to either prove a point to someone else or show that we are worthy, but at the end of the day, in the grand scheme of our lives, it matters so little.
Even to elite runners.
Yes sure, we have put all that time, energy, and heart into training to be ready for a race, and we want to make the most of the opportunity to run fast while we still can.
But at the end of the day, no matter what happens, you are still you, and those who love and truly care about you will love and truly care about you just as much.
They do not know or care the difference between a few seconds or places, to them, you are amazing for even just getting out there to do it, dedicating yourself to your training when you could be lazing around on your couch.
So, don't let your own expectations tell you that you are letting anyone else down. It is just our own egos playing tricks with us, and the more we realize that the journey is what matters.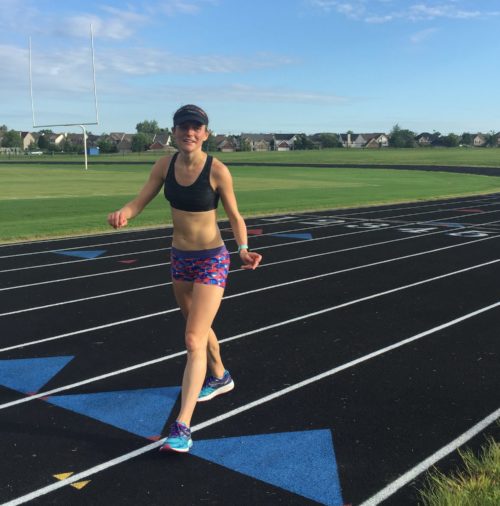 All those little ups and downs. All those little struggles we overcome day to day, all those accumulated workouts and runs are what we will remember, not the reward.
Even if you achieved your ultimate lifelong dream. The moment is fleeting.
Sure, we celebrate for a while, and it is an incredible feeling. I remember that well from past years when I accomplished my number one goal of running for Great Britain (twice!), but then soon that moment passes, and things go back to normal.
Suddenly, you are reminded that things are just the same as they were before.
Your family and friends do not love you any more. You do not have that ultimate fitness forever (in fact, at this point your fitness is probably down after some time off), and you are just you.
So be kind to yourself, and try to go into your next race with no expectations on yourself.
Remember that you need to be your own best supporter, your own best friend, like Evie always tells me.
All that you can do, is try your best, and if you do that, you should be proud of yourself. Your family and friends will be proud of you no matter what for being brave enough to try.
I understand this post is kind of repeat from a previous, but I needed the reminder, so I figured some of you probably do too.
Even if you are not a runner, I am sure some of the same principles apply to other areas of our lives, and we can all do better at loving who we are, rather than criticizing ourselves so easily.
So go on, Be Brave. Be Strong. Be You!
Will you vow to let go of expectations for your next race with me?