First….a little background
Most of you know that I work full time for Runners Connect (UPDATE: I stopped working for Runners Connect in March 2017.) That is a little different to a lot of runners at my level, as American elites are able to dedicate their a larger chunk of their time to chasing down those running dreams, or they may have a part time job. Depending on the level you are at, and how much you like to be at home.
Had I been an American citizen, I would have come out of college with my 16:08 and 33:24, and probably gone to one of the professional training groups to develop as a runner; Zap Fitness, Hanson Brooks, Team USA Minnesota, maybe even Mammoth. I was….am dedicated and determined, and I would have loved the opportunity to run for one of those groups to really see what I can do.
However, I am not an American citizen, and therefore these doors all closed on me. I completely understand why; it is not fair for these American development groups to allow an international runner to join them. If they let me in, then how would that be fair that they let someone else in who is from a different country? Before you know it, these American development groups would be full of international athletes.
Just because I have blonde hair and blue eyes, does not mean I should be given an exception. As frustrating as it was, it shows a lot about those groups that they stuck to their morals. I admire that.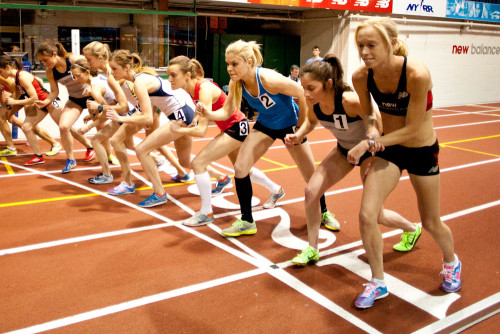 Either way, I was left without a sponsor, without a group, and I was not sure what to do with my running. All I knew was that I wanted to keep running. Quitting running was never an option. In England there is no drop off after University, everyone keeps running! If people drop off, it is usually that first year of University, where the party lifestyle seems just a little too tempting.
After a few months of running for myself. It was suggested to me that I should apply for the Saucony Hurricanes; a sub elite group sponsored by Saucony where I could at least get some shoes paid for. I jumped at the chance, and was accepted a few months later.
Although this was not the full time support I had hoped for, it helped me to know that I had at least some support paying for some of my running necessities, shoes being the most important expense of running! I am also able to enter most races free of charge, and I am given the elite benefits at the bigger races, such as Chicago Marathon and Cherry Blossom 10 Mile.
Two years later I was still a Hurricane, even when they cut the amount of athletes they were supporting down to only 70 (from 300 applicants).
I am so grateful for this opportunity. If I was in England, I would not have any support from sponsors or anyone really……other than obviously family and friends!
At home they are very selective about who they provide funding to, and realistically, I just would not be good enough. It has often frustrated me as I would love to have had the opportunity to run for Great Britain, and really see what I can do, but things are just run very differently there; athletes are often not selected based on a trial, but more based on experience.
So long story short, this means that yes, when I was an elite runner I did not have access to a lot of the resources that most elites do; I paid for my own Active Release Therapy/Massages, I paid for my own travel to most races, I did not have a special physical therapist who I could see if something was wrong to diagnose exactly what is wrong immediately. BUT in some ways I thought this is a good thing, it made me even more determined to reach that next level to where I could receive full sponsorship, where I could get that Great Britain jersey in my hand.
I am not sure I could handle the lifestyle of a true professional runner anyway, I do not do very well with not being productive and resting……hence my meltdowns this summer! It is very easy for professional runners to fall into the trap of becoming obsessed with running, as your life revolves around it. I have been there, and it was NOT good!
Don't get me wrong, they work INCREDIBLY hard, and know when they stand on that start line that they have given themselves every single opportunity to be the best they can be, which I cannot claim the same….especially as I am not very good at relaxing! But I am just not sure that lifestyle is for me. I would need to do something, at least with my mind, which is why I am enjoying working.
Whoops! Well I guess this is already a post in itself, so much for a day in the life of…..guess you will have to wait a little longer for that one 🙂 Now you know my background, and how I got to the point I am at today.
Have you ever allowed yourself to become obsessed with your hobby? Who are you most thankful for in your support network?