I have officially set my very determined eyes on the next prize….well two prizes actually
1. To run my first marathon this year in HOPEFULLY under 2:40
2. To set up my own business, providing a convenient, simple method for people to eat healthier meals
I have already started my training for the Philadelphia Marathon on November 17th (UPDATE-Check out my recap of what happened at the Philadelphia Marathon), and my mind is buzzing with ideas of how to get the business going.
If I am going to make healthy meals, it is very hypocritical of me to post and write about healthy meals when my blog is full of possibly some of the unhealthiest, sugary best tasting creations ever made.Whatever you call it; desserts, sweets, candy, baked goods, HEAVEN, it all means one thing; high in alot of the bad stuff we need to moderate for a health lifestyle.
Now I am the LAST person who would ever tell anyone to give that stuff up, after all I have the biggest sweet tooth of all, and I believe that everyone deserves a treat, but I think it is time that I began looking for ways to make some of these goodies a little healthier so we can have them a little more often.
I decided to attack the chocolate chip cookie by making some modifcations to make it a little healthier.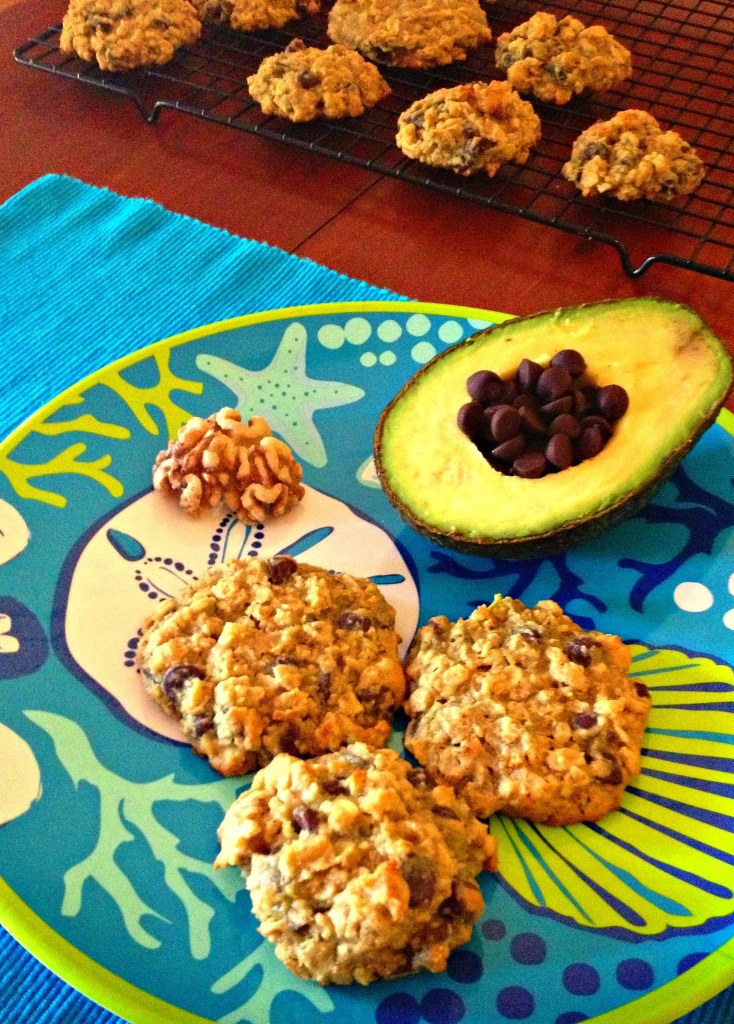 This then became a Oatmeal Chocolate Chip recipe. I added oats for fiber, dark chocolate chips  to bring antioxidants, and substituted half the butter with avocado for monounsaturated fats. Yes, you did read that right, Avocado. They are being used in everything, but they are just SO good for you, that I decided to take it to the next level and test it in my favorite foods!
I have used applesauce as a substitute before, but I found that it made the cookies too cakey. Don't get me wrong, I love cake, but not when I am after a chewy, dense, gooey cookie!
Other than the slight green tinge in the dough, which went away when they baked, you would never have guessed they contained avocado; it substituted the butter well.
These cookies were wonderful. I pulled them out when they were slightly underbaked, but I like my cookies gooey. A beautiful golden color, a delightful taste, and with three nutritious ingredients, these are cookies that you can at least feel a little good about enjoying.
Oatmeal Avocado Chocolate Chip Cookies
Makes 30 cookies
Ingredients
300g (1 ½ cups) packed brown sugar
110g (½ cup) butter, softened
110g (½  cup)  avocado, mashed
1 teaspoon vanilla
1 egg
187g (1 ½ cups) plain flour
180g (2 cups) porridge/rolled oats
1 teaspoon baking soda
¼ teaspoon salt
175g (1 cup) dark chocolate chips
120g (1 cup) chopped walnuts
Instructions
Cream the butter, avocado, and brown sugar in a large bowl until fully mixed. Add the egg and vanilla and stir until light and fluffy. Add in the flour, porridge/oats, baking soda and salt and stir until a dough forms. Stir in the chocolate chips and nuts until just combined. Cover and put in the fridge for 30mins-1hour to chill and rest.
Turn the oven to 175 degrees C (350 degrees F), and place rounded teaspoon sized balls of dough onto an ungreased baking tray/cookie sheet. Press down to flatten slightly.
Place in the oven for 10-12 minutes until the edges are slightly golden brown. Take out of the oven and allow to cool for 10 minutes on the tray before moving to a cooling rack.
Now I just have the challenge of what to do with the rest of my avocado! The possibilities are endless! Need other healthy recipes? Check out my other Fuel Your Future Recipes that I enjoy as an elite athlete.