Happy Monday!
Thank you to everyone who took the time to congratulate me on my Half Marathon this weekend! I have a race recap of the Rock 'n' Roll DC Half Marathon coming up this Wednesday, but if you did not know, I had a very positive race, in the pouring rain to finish 3rd woman (29th overall) out of over 15,000 runners! I felt strong, and I averaged 5:44 a mile, which gives me a lot more confidence that I will be ready for London next month.
While I was in DC, I was able to spend a whole day with one of my best friends, Frances, and we had a wonderful day together, and of course enjoyed pie for pie day! I also was able to meet up with my Meatless Monday co-host, Deborah Brooks from Confessions of a Mother Runner! We said that next time we meet up, we definitely need to cook together. We chatted away, and the time absolutely flew by!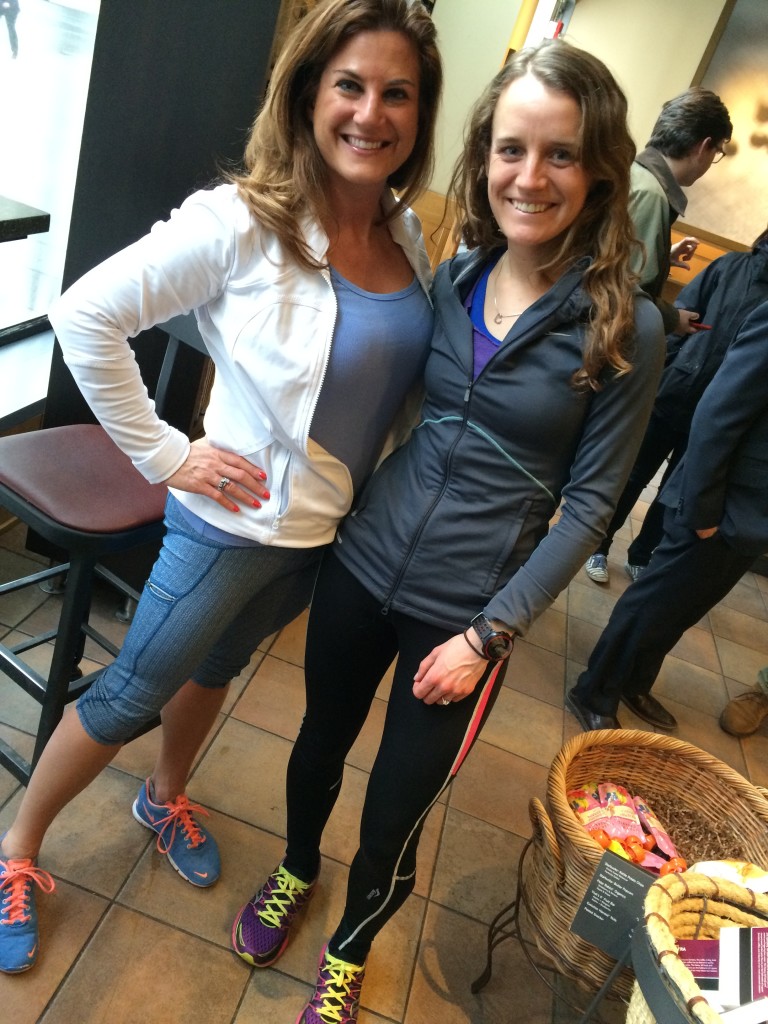 Speaking of Meatless Monday, it is already upon us again! Today I have a special treat for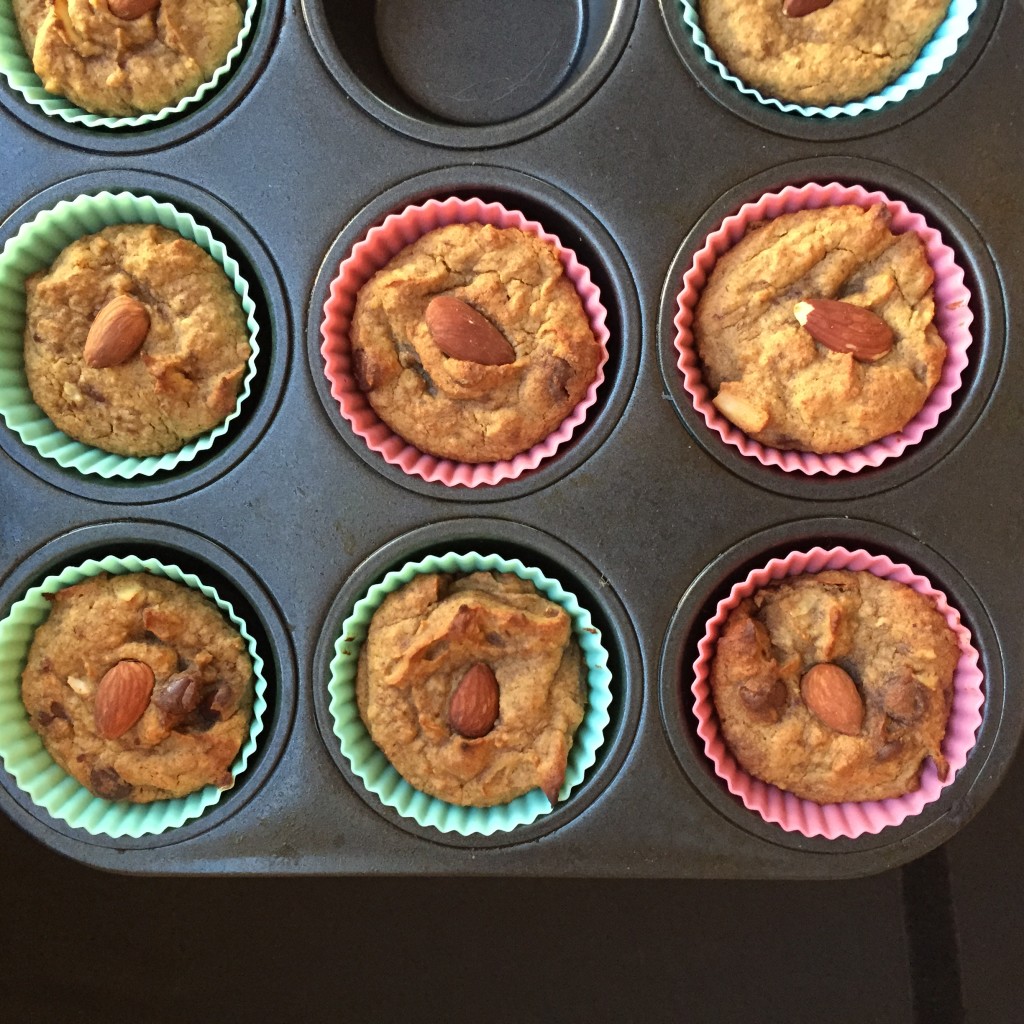 you; my first guest post in a long time, and my first Meatless Monday guest recipe! Today I am honored to share this Chickpea Blondie recipe with you from Running on Veggies! I have loved her blog for a long time, and I was so excited to give you a brand new recipe from Lottie, that she just created last week! If you do not follow her on Instagram yet, you need to! You will be drooling!
I made these blondies yesterday, and they are DELICIOUS…although not as pretty as Lotties! You know me and my sweet tooth, and these were exactly the kind of thing that can satisfy them to actually trick my sweet tooth, rather than just make it angry….my sweet tooth is very good at knowing when I am trying to pull the wool over its eyes 😉
Have a Marvelous Meatless Monday! What are you going to share with us today?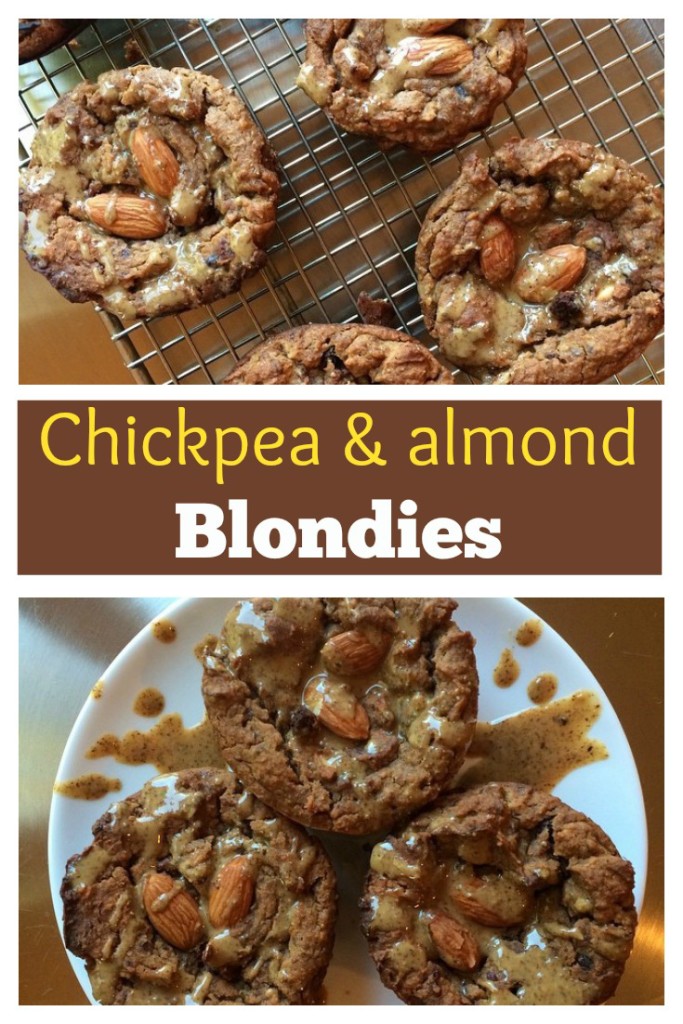 Running On Veggies Chickpea Blondies
Serves 16
Preparation time: 5 minutes
Cooking time: 40 minutes
Ingredients
1 can of organic chickpeas (rinsed very well) 15oz
2 cups of dates soaked in hot water
2 1/2 tablespoon of flaxseed with 6 tablespoons of warm water (set aside for 10 minutes)
3 tablespoons of apple sauce
1/4 cup almond butter
3/4-1 cup almond milk or water
1 tablespoon of vanilla extract
pinch of salt
1 1/2 teaspoon of baking powder
1/2 cup chopped raw almonds
1/2 cup vegan chocolate chips (stevia sweetened)
Instructions
Preheat the oven to 350 degrees F.
Combine all ingredients in a food processor, except the chopped raw almonds and chocolate chips. Blend until smooth, and there are no chunks.
Fold in the crushed almonds and chocolate chips.
Pour batter into 16 muffin pans.
Bake for 40 minutes.
Allow to cool for 1 hour before taking them out of the pan.
Nutritional information
220 calories, 8g fat, 50mg sodium, 33g carbohydrates, 6g fiber, 7g sugar, 0mg cholesterol, 7g protein
Did you race this weekend?  What sweet treat can you use to trick your sweet tooth? Don't tell me fruit….that doesn't work for me 😉