Over the past few years, there has been a great deal of media attention about our obsession with body image, and its effect on females, particularly young girls.
I have always been very sensitive to eating disorders, as I have a lot of close friends and family who have been battling it for many years.
It is something that has always bothered me in our sport, especially as many runners feel that you need to be "skinny" to be fast, which usually equates to the thought process of the skinnier the better.
It becomes a vicious cycle, and I hope it is one we as a society break soon.
A few years ago, my friend Esther Erb won the US Marathon Championships, booking her ticket to represent the USA in the world marathon championships in Beijing the following year.
Esther and I have spent many hours discussing the issue of weight while on long runs together, and we both have a very similar outlook on it.
Long term health, and knowing you have a future not only as a runner, but as a healthy human being is by far more important than looking like what our culture considers the "ideal runner image".
I have noticed a change over the past few months; the stick thin, vein popping, gaunt look is no longer at the front of every race, and Esther is at the forefront of this change.
Not only did she come from the back to WIN the US Marathon Championships to be the model of a strong runner, but she also shares many inspiring articles about this topic on social media.
I don't know about you, but I would rather weigh a few pounds more, but not be so fragile that one wrong move, and you are out for six months with a fracture.
Esther is the poster child for a strong marathon runner, just look at this picture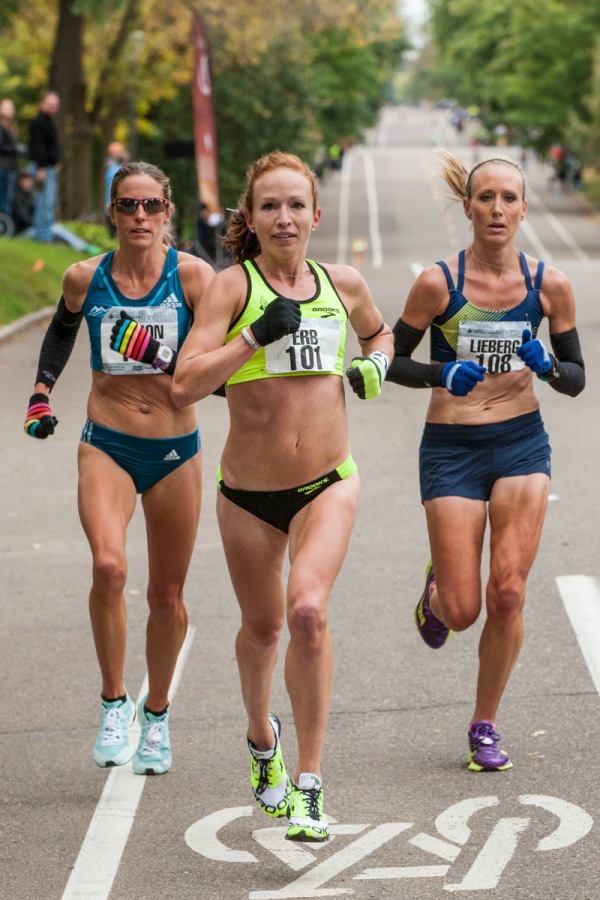 Photo from downthebackstretch.blogspot.com
I asked Esther for a quote about this topic, and here is what she said:
"Women are finally publicly navigating the space that is being an athlete (traditionally a male role) and being a woman. Those conflicting images tied heavily into how we perceived ourselves as athletes and dictated an unnaturally thin and lean ideal body image, especially for the younger runners. If you are a college student and you want to compare yourself to Shalane Flanagan, look at pictures of her in her UNC uniform, not as a veteran marathoner at 33.  We change as we get older and run longer, and it's something you can't rush. It has to happen in its own time and it has to happen naturally.  There are no quick fixes in our sport, and any steps you skip, you'll have to pay for later on. As a generation, feminists are embracing what it is to be a woman and we are moving toward no longer apologizing for who we are. Our role in that movement is wholeheartedly believing that the fastest runner you can be is the healthiest runner you can be."
Isn't she great?
You can follow Esther on her Journey through her Facebook Fan page HERE.
If anyone read my guest post on Run to the Finish, you will know that I talked about how greater participation rates from females are expected to close the gap between male and female performances.
What if the influx of strong, powerful runners is the beginning of this change?
After all, if you are not fueling your body correctly, it is never going to be able to make it to your true potential.
BUT, if we make strong, powerful women the prominent face of distance running, then we can encourage women to become stronger, keep performing at a higher level for longer, and keep pushing those boundaries.
Lauren Fleshman talked about this a little in her recent article, Do I Look Like a Man?
Lauren has always been one of my favorite runners to root for, she comes from behind, and is as tough as nails.
One of those people who gives EVERYTHING in her racing; something I have always prided myself on.
For the record Lauren, NO! You are a beautiful, strong woman, and this quote sums it up perfectly
"Our definition of femininity still has some expanding to do to catch up with the fact that women are athletes now, in lots of shapes and sizes. Women do sports. In droves. Fashion plays a huge role in defining femininity, so to the runway we must go." -Lauren Fleshman
The most recent issue of Running Times covered Buzunesh Deba who is the image of a strong woman, as is Kara Goucher, who recently ran very well for her first race back since her injuries.
If we can convince the running world that you do not have to starve yourself, or become obsessed with eating healthy to run fast.
Life is all about balance, and it is okay to have pizza, a giant cookie stuffed with frosting, or a glass of wine at night.
Whatever you enjoy, you should be able to have it, even during the hard periods of training, as long as you are making sure you get the good stuff in there too.
I have always prided myself on being strong, and not conforming to the pressures of being skinny. I know I may be toned, and I have a lot of muscle definition, but in the same way you compliment me for being real on my blog, I feel as though I am real as a person.
I eat too many servings of cookie dough ice cream, I binge late at night when I am not really hungry, and I enjoy a good old greasy burger when I go out to eat, and that is okay!
I can run even faster knowing that I am content with my life, and not starving myself for the "greater good".
I would rather be able to look back on my life knowing that I enjoyed it, and made the most of the time I could eat excess calories, than spend my life dreaming of when I can eat those foods…..but then be too scared of weight gain when I am no longer running as much.
I really want to make a difference in this world, and all I can do is show my strength through my blog and my running ability.
I love that Sauconys slogan is find your strong, I am working on finding mine, have you found yours?
Do you ever let worries about body image prevent you from fueling enough? Do you think the female runner image is changing?
Think we could be friends?
I am always this honest, real, raw. If this article speaks to you, I really believe we could be friends and I could help you with what you are working through. Drop your email below, and I will reach out to you