I have the perfect person to keep you entertained. Today I would like to share the story of Clara Santucci.
Clara and I met at Chicago Marathon. We were both representing Saucony, although she is one of the contracted sponsored runners, the big time Saucony athletes, and I was at first a little intimidated. Saucony took us all out to dinner one evening, and I ended up sitting near Clara and her coach Sean. Clara seemed very soft spoken and quiet, but I could tell she was the kind of person I would get on well with. 
We talked a little over the next few days, but it was after we left Chicago where I would say we really became friends. We have kept in touch, and check in with one another, reassuring one another from time to time, and although I have not seen her since, I look forward to getting to know her more over the years. She is such a lovely person, and I am sure you are going to love this story as much as I did.
Introducing: Clara!
Clara Santucci is an elite American distance runner sponsored by Saucony.  Making her debut on the World's biggest stage for marathon running at the 2011 Boston Marathon, Clara became the fastest American female debutant in the distance for age 25 and under, at barely 24 years old by running 2:29:54.
Clara is a consistent top performer on the international level in the marathon.  She has placed 7th at the 2012 U.S. Olympic Trials, 9th and 6th at the 2013 and 14 Chicago Marathon, respectively, and won the Pittsburgh Marathon in 2014 and 2015.
Ranked top 10 American marathoners by Track and Field News since 2011, she will be a contender for one of 3 spots on the 2016 US Olympic Marathon Team at the upcoming Olympic Trials Marathon in Los Angeles, CA on February 13th, 2016.  In her quest for an Olympic berth, Clara continues to train under the instruction of her collegiate coach, Sean Cleary.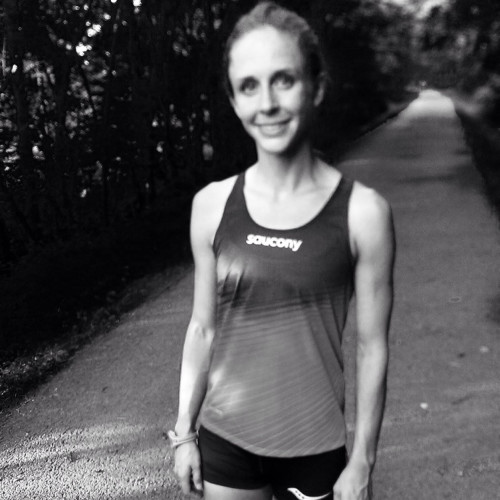 I truly love to run.
Some people's stories of how they became an elite runner start with… well, I really liked (insert sport or activity) but I started running with my friends and realized I was really good at it so I kept doing it!
Nothing wrong with that… but, my story and love for running begins well before I was or realized I could be quite good at it. I wasn't instantly good. It's taken years to find running, become the runner I am today, and I'm still chasing my dreams.
My family moved from my birthplace in Hinckley, Illinois to the backroads of West Virginia before I turned 2 years old to live near my grandparents. When my family expanded to my parents and six children (I was third), we moved to an old one room schoolhouse that needed a lot of work, not far from our first WV home. My dad was a carpenter who dreamed of what the school house could be and it became a constant work in progress.
The old schoolhouse was heated completely by woodstove, so my brother and I would help our dad stock firewood for the winter. We also had a large garden that we would work in together in the evenings, and chickens that we'd gather eggs from. During free time, I loved hiking the surrounding hills, swimming in the creek that ran through the hay field across the dirt road outside of our yard, and riding my bike up and down that barely traveled road. Our tv provided black and white VCR movies, and if you moved the bunny ears just right, you might get the nearest news channel. I read a lot since book provided a clearer picture and Little House on the Prairie was what I related to most.
Sometimes on clear summer nights, my dad and I would lie in the cool grass and look up at the stars, uninterrupted by city lights. He'd ask me what I wanted to be when I grew up, and we would dream of the things we could do… he'd build mansions, I'd be an astronaut.
Then, one day, I was at my grandparents' house and I watched the Olympics for the first time. I fell in love with the spirit of sport, competition, and overcoming struggle to rise to the top. I dreamed of being an Olympian and believed there was something I was exceptional at; I just had to find what it was. I was little but I knew I was strong, I knew I was tough…. and I just wouldn't give up.
My quest to become an Olympian began at the best place I knew to learn to do anything- the closest library. It was a small trailer next to the country store with a kind librarian wearing big glasses. It smelled of old books, maybe a little mildew, but it was one of my favorite places, where I got almost all of the books I read and learned from. I gathered books on tennis, gymnastics, and figure skating.
I was going to try everything and find what I was good at. I quickly realized, even though my body size might be the same as the athletes doing these sports, I was already far behind, and my family didn't have the resources or the money to fund lessons in these disciplines.
I hadn't quite realized it then, but my family was poor, at least financially. My dad worked hard, but there wasn't much work for a carpenter in the country, and my mom stayed at home, doing what she could by raising a garden, keep up the house, and teaching her children. Since there wasn't room for sports lessons, I decided I would just work hard and if it was meant to be, I'd find the thing I was exceptional at one day.
I went to public school in 5th grade after begging my mom to let me go. I was quiet, socially awkward, but wanted to know what else was in the world. I wanted friends, wanted to learn more, and wanted to be on school sports teams. I was a good student, had a few friends, but took a while to break out of my shell. I was most comfortable interacting with peers when I was moving, so gym class was my favorite.
In 6th grade I ran the mile and loved it. Just 21 laps around the gym, didn't need instruction on how to run hard, just the will to do it. My gym teacher told me I could be the best runner they've ever had at my school. I took that as encouragement, and I was back on the trail to finding my way to the Olympics!
I signed up for track my 7th grade year, immediately was put into the distance group, and found out I was not the best on the team.
That was okay though… I kept getting better.
Each meet, each practice, I saw myself improve, and I believed that if I kept improving, I'd eventually make it to the top. I ran over the summer on my own and I soon became the best on my team, and one of the best in the state.
I took it further to college, meeting my current coach, Sean Cleary, who believed I had what it took to be a much better athlete than I was. I became an All-American, won races, and broke school records.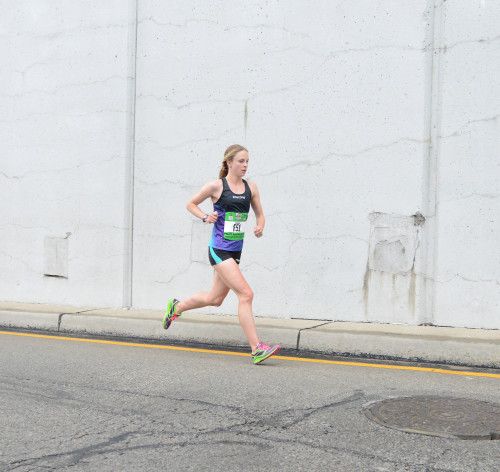 Then I took on the marathon. It's been a journey filled with ups and downs. It's been a struggle and a delight. It's enriched my life more than I could have imagined. I am still working on the Olympic dream, but I am a heck of a lot closer than I was when I started dreaming.
In 2012, I competed in my first Olympic Trials Marathon, and I placed 7th in the best field America has ever put together. Top 3 make the Olympics and have to honor of running for this amazing country where we are free to pursue our dreams.
On February 13, 2016, I get another opportunity to try again. I'll keep dreaming, working hard, and have hope that I can make that dream a reality.
[bctt tweet="I love reading the stories behind elite runner journeys on @tinamuir blog! Today @CMaeRun26″ via="no"]
Time for you to follow Clara. Check her out on twitter HERE.