One of the downsides of only posting Monday, Wednesday, Friday, is that I do not get to recap my weekends as well as I would like…..probably a good thing for your sake, as you do not have to listen to me ramble on about my weekend. Instead you can hear read my ramble today! It feels like it was a long time ago that I raced, I think traveling can do that to you; its hard to remember that you were in a completely different place just a short time ago!
Last weekend, I raced in the Rock 'n' Roll DC Half Marathon. I have always wanted to do a Rock 'n' Roll race, and this seemed like a good one to do, especially as DC is traditionally flat, and the flight was not that expensive for us to pay for. Thankfully Competitor Group were kind enough to pay for my hotel room close to the course; one huge perk of being an elite, which allowed me to go to the race, and relax a little.
I was not really sure what to expect going into this race. To be honest, the last few weeks had been very humbling. With some bad treadmill workouts, and just everything around race pace feeling like a sprint, I was not in a great place mentally.
It was not looking good…..
However, this actually meant that I finally was able to take the pressure off myself, especially with so many other races going on this weekend. I also got to the point where I just didn't care anymore. I felt like my dedication to my running was really being tested, and I had reached a snapping point where in the words of Elsa from Frozen, I "let it go".
I decided I was just going to have fun, and my breakthrough would happen when I was ready. It was time to stop forcing it, and asking for "my turn", but instead just go with it, and let my time come when I am
ready….I am only 26!!
Steve drove me to Louisville on Friday morning for my flight to DC, I checked into my hotel (The Donovan), and wandered down to the expo. I met the elite coordinator, and given my number (and VIP wristband).
Then I met Deborah (check out Monday's Chickpea Blondie post for that picture), and did my second easy run of the day (3 miles around the mall).
I relaxed for a little while, and then went to dinner at Posto. I have not gone to a fancy restaurant by myself, but I have to say, I actually enjoyed it, and the pasta was incredible; all homemade, with a fresh made sauce. I would recommend that restaurant to anyone in the DC area.
After a calm evening, I went to bed, and actually slept reasonably well….for a pre race nights sleep.
Race Day
I woke up just before my alarm, around 4am, and had my pre-race breakfast of Oatmeal with 1/2 milk, 1/2 water, and a banana. I talked to Hirut; my roommate from Ethopia for a little while before we jogged down to the hotel right next to the start to relax for a few minutes. During our warmup, Hirut told me about how much she missed her children, and what life is like in Ethopia. Even though she did not speak too much English, I really enjoyed talking to her.
After waiting in line to use the bathroom and changing shoes, we did not have much time, so we ran to the start line. I probably only stood on the start line for about 2 minutes….during which I met a really nice Georgetown grad; Rachel Schneider. We talked about possibly running together, but did not set a full plan.
It was already pouring with rain when we started, but I was thankful I chose to wear a cap, which kept the rain out of my eyes. Of course I have gotten used to feeling like I am sprinting whenever I try to run fast with my "new form", but I tried to stay calm, and just settle into what felt comfortable. I went through the mile in 6:01, feeling good. That was the last time I looked at my watch.
For the next few miles, I tried to stay positive, and start to pick people off who had gone too fast. I had heard there was a big hill around mile 6, but I kind of laughed at the idea….I live in Kentucky! Don't talk to me about hills, BUT it was a long steep hill, and it definitely slowed me down (that mile was my slowest at 6:12). There were a good amount of hills after that too. It was definitely not a pancake flat course, even if you remove the big hill.
I took my gel out of my pocket at 7 miles and had it with water from the station (as well as mile 3). This was a great opportunity to practice taking a drink and gel at speed, and especially as I choked on it (which happens 2/3 times), its good to practice getting your breath back.
After a while, I did not notice the rain anymore, it was still coming down hard, and I really had to watch the corners as it was slippery where the white lines were, but I wished I had worn capris, as I was having a hard time getting my legs to move any faster in the 40 degree (F) rain. I kept picking people off, and charging forward. I felt strong, and powerful. Gaining confidence as I went that I not only could complete the marathon, which believe it or not, I had wondered at times these past few weeks, but that I could hold a decent pace.
Oh, and I had spiderman behind me for probably 3-4 miles…..Michael Wardian, who was trying to break the world record (2:33 I think) for a marathon in a costume (so I heard afterwards), but he provided our group with some entertaining shout outs! He ended up running 2:45, which is still incredibly impressive!
I crossed the finish line in 1:17:12 in 3rd place, and 29th overall (M&W). I was pretty bummed initially, as that is almost 3 minutes off my PR, but when I looked at my Garmin and saw my average pace was 5:44, I felt a lot better about it. I am confident I could have run 30 seconds faster (overall, not per mile!!), even given the day, as I did not go to 100%, but definitely ran harder than I have been able to in quite a few weeks. I think my toughness is coming back! I also won $300….minor detail 😉
After spending a good 10 minutes trying to find the VIP tent to get my bags, Frances (Koons) and I (my dear bridesmaid who came to watch) cooled down back along the course to her car to go to my hotel and change out of our wet clothes. It was fun seeing the other runners making their way along, we cheered as much as we could.
This race was a huge step in the right direction, both physically, and mostly emotionally. One more month of training under my belt is enough time to get ready for the London Marathon, and maybe run a little faster than I expect. I learned for the 15th time that I run better when I just go out there and enjoy it, no pressure, no expectations, just running as best I can on the day.
I feel stronger, and I look stronger, now to just let my path unfold before me as it was always meant to.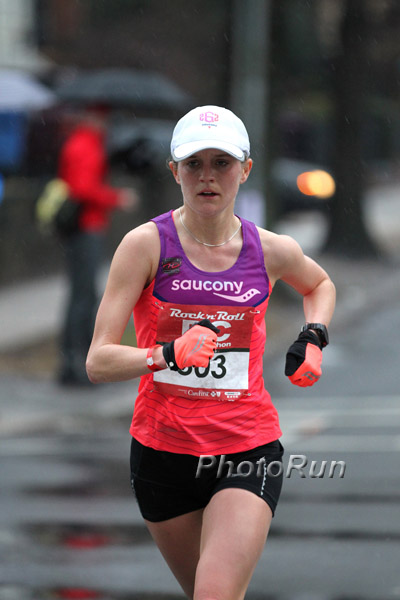 It is under one month till I fly back to England, and I am determined to enjoy it! The conditions at the RnR DC were a very real possibility for London, and it was a great practice race. A few more weeks at 85-90 miles per week, then its taper time!
Do you ever reach a point where you just let things happen? How would you have handled running in the rain?