17 seconds.
That's how far away I was from a PR in a race that I went to thinking that anything under 1:15 I would be happy with.
Turns out I was ready for a PR…..I just wasn't quite prepared to go absolutely eyeballs out enough to squeak under my 1:13:21.
Its funny thinking about it now. A week ago I had been thinking about running a PR, but after I felt so bad on that race week workout, it clicked into place what steve had been saying about not expecting anything, that anything under 1:15 we would be happy with.
I am sure he knew deep down that I was ready to run fast, but did not want to put me in a place where I was either obsessing over my watch (and Tuesdays workout proves that does not work for me) or if I did not feel good, where I ended up heartbroken and with a shattered confidence if I didn't run as fast as I had hoped.
Once again, my steve knew best, and I am so glad that although I might need a bit of a nudge sometimes, I truly trust what he says, and I know he is always doing what is best for me. He knows me better than anyone else in the world, and that gives him the confidence to know exactly how to treat me.
Especially when things go wrong….which they did last week.
After I shared my bad workout with you on Wednesday, I actually had a very stressful few days.
That workout had not just messed up my head a little, but the downhill running in that workout had messed up my body too.
Afterwards, one of my toenails was REALLY sore, and it just felt like this was no normal pressure. My entire toe was bright red and swollen (check my Instagram for a photo, I don't want to share it on here as it might gross people out!), and when I ran the next morning, it was very painful….one of those gut feeling moments where you know deep down in your core that this could be a turning point.
Freaking out, I called Dr Pribut (cotton candy) and sent him lots of nice close ups of my toe….bet you are jealous he got those pictures, huh 😉 He was not too concerned, but to be safe, he suggested I get in to see someone, so I called up the podiatrist.
Fully booked until next week.
Eff.
Enter panic mode.
I decided to be smart and not do my second run that day, but I started to look towards the weekend, I saw CIM disappear from my view as my toenail ripped away from the skin in the race…..then I got an infection in that toe, so they had to do some kind of surgery, and CIM was gone.
Isnt it crazy how our minds spin out of control like that?
I then made it worse by googling pictures of "red, swollen toes, runner"
I don't need to tell you the kind of things I saw.
Not good.
Anyway, so Steve was able to talk me off the ledge….."it's a toe, Tina, you will be okay".
The next day I called the podiatrist again to see if they had any cancellations, ended up crying on the phone, pretty much begging them for an appointment, to which they were kind enough to get me in.
Dr Freels said that I had two options;
pierce the blister under the toenail today, keep it clean, soak it twice a day, wrap it up, take antibiotics to calm it down, and hope that it did not make its way off this weekend
remove the toenail right there and then
Whether it came off in the race or through removal, running would be incredibly painful for 7-10 days.
I don't need to say which option I chose.
It ended up being the right choice.
Relieving the pressure from underneath provided a lot of relief, and it calmed down enough to where I could confidently run the day before without it hurting.
So yeah, a minor blip, but it was enough to throw me off and reaffirm that this weekend was just a practice run, to trust in my body, and see how I felt.
I am just once again thankful Steve was able to remind me that no matter what, we were in this together, and all that truly matters is our love for one another.
What a sweetie.
Okay, so 700 words later, I probably should get on to telling you about the race. But I just wanted to share what had happened, just to show you that things do go wrong for everyone, elites included, and we freak out too.
But it doesn't have to sabotage everything, and you will always bounce back.
Steve and I traveled up on Friday, and went to dinner with his parents who had driven down from Michigan to watch me race, it was nice to have them there with us.
The plan was always to make the race into a long run day, so I had 24 scheduled for the day. We decided I would do 4 warm up, the 13.1 of the race, and then 7 cool down. I knew it was going to be a big day, but I also liked that it was split up, like the 5k I did in the middle of the 24 miler.
Steve had instructed me to look at my watch at mile 1 only, to make sure I was no faster than 5:45, and then just to trust my body the rest of the way. He would tell me if I was too fast at the 3 or 6 mile mark.
I went through mile 1 with a pack of girls behind me. I wondered if they knew I was a human metronome and that was the plan all along, but I think most of them dropped away pretty quickly, so I am not sure, but I did end up spending most of the run with my fellow Saucony Hurricane Sarah Pease, which was pretty cool as we are the two girls in Trey's region, so it was nice to represent, and work together.
My first mile was a 5:49, and I have to admit, I couldn't help myself but pick it up a little….which ended up being quite a lot looking back, but then I settled into somewhat of a rhythm. For a while we had a little pack, and that was kind of nice, but no offence to my male readers, but most men around my level are just awful at pacing, so for the most part I just tried to stick with my own judgement to stop it changing speeds so much.
I couldn't resist looking at the 3 mile mark, which was 17:00, so I knew I was fast at this point, but I felt calm and confident, exactly the words Evie had told me that morning.
After this point, I just focused on getting to the 6 mile mark, as I knew that would be where Steve was, and we said if I felt good there, I could pick it up.
Once I got to 6, I started to pull ahead of the group, and move up, I did feel good, and it was time for me to start cranking like I love to do. Looking back at my splits I picked it up a little too much though.
I felt waves of feeling good, other moments where I would get that panicky my legs feel like they are gonna cramp feeling, but I reminded myself this was a half. It was nice to hear my name a few times, so thank you to anyone out there who cheered for me!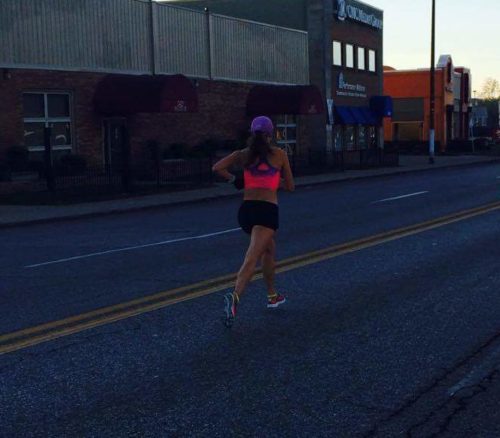 Around 10 miles I saw Steve for the final time, too my last UCAN , and a minute or two later, took the Run Gum.
At this point, myself, Sarah Pease, and Bridget Lyons were in a little bit of a battle, and when I did this, I fell back. Drinking took a lot out of me, and I struggled with my breathing, then I had to fumble with the run gum as I couldnt get it out of the package, and ended up putting the pack in my mouth and pulling them out with my teeth, like a gel!
This definitely cost me some energy, and combined with the chewing of the gum, even though I had it in my sports bra, it was quite a bit of work chewing it up.
Probably too much detail for you, but it's a lesson I learned during that stretch. 10 miles is a pretty critical part of the race, and when this happened, the girls got probably 20m on me, which I had to work back up to.
I am definitely still going to use Run Gum (code runnersconnect gives you 10% off!), I just might need to take it a bit earlier than I thought.
In the final few miles, I was pushing hard to catch back up, and then after passing Sarah, I had my eyes on Bridget, but I kind of slumped into a bit of a "well, this isn't my goal race" kind of thinking.
That bothers me a little, and I really I wish I had listened to my training partner Sarah (Crouch), who ran alongside me for a few seconds yelling "you are on PR PACE!!!!".
At the time, I could not believe that was even a possibility, but turns out, if I had run just a few seconds faster than I had been going, I would have PRd, only by a second or two, but still, impressive all the same…..and Steve had promised my Fogo De Chao for lunch if I somehow did PR (neither of us expected it to actually happen though).
My last mile was one of my slowest, which surprised both of us, as I am usually rolling at this point. It could have been the turns or it could have just been that I wasn't mentally up for it.
So yes, I ran a 1:13:38, which I am VERY happy with.
We are always going to have the what ifs.
We are always going to have parts we could have done better.
We are always going to be hard on ourselves.
But the reality is, you ran the best you could at that point in time, and you are never going to have the perfect race.
Something will always go wrong, and if you do not handle that part well, then you know next time you need to do better.
I have my improvements and adjustments I need to make, some before CIM, some more long-term, but overall, I am very happy with that time.
Like I mentioned last week, in my previous marathon buildups, I have run 1:18, 1:17, 1:15, and now 1:13, so that shows I am fit, I just have to make recovery a priority this week, and then do everything I can for the next few weeks to give myself the best shot.
I have my support network in Team Ice Cream around me, and this week, I interacted with almost all of them in one way or another. I am so lucky to have these people there to assist me with my dreams.
I also have fantastic sponsors who helped me run well on the day yesterday, but also get me ready in the weeks leading up to it, and they will continue to help me in the weeks to come. Saucony, EnduroPacks, Inside Tracker, Sizzlefish,  Body Health, Nuttzo, Kentucky Kombucha,  UCAN and Go Raw I am talking to you!
Finally, I have you.
If you are reading this blog, you care, and that means the world to me. Those who support my running dreams and goals are the people who help inspire and encourage me on those days I am doubting myself, so thanks to you.
CIM is less than a month away.
I have a lot of work to do, but I also have confidence that if I put my head down and do the work over the next few weeks (and yes, work can mean HARD recovery!), I will be able to run well on December 4th.
Thanks for all the love and support!
Race this weekend, how did it go? Run Gum users, any suggestions?