Well…..I did it.
I accomplished what I set out to do.
I did not have a time goal. I did not look at my watch. I did not worry about "making up time", but what I did do, was exactly what I intended to do; Enjoy it.
Running the London Marathon was the most incredible running experience of my life.
I absolutely loved it.
In fact, it is hard to believe just how much I enjoyed running a marathon. Honestly, I am not sure if I will ever enjoy a marathon that much again. Marathons HURT, but even at mile 24, at the point when my last 2 marathons flickered through my mind (what a contrast!), I was still loving it. I literally enjoyed the entire thing, and finished in 2:41:10 (official time).
Okay, so lets go back to the start………
I will do a second post when I am back in the US next week on the days leading up to it; the experience in the host hotel, surrounded by running legends and world record holders, but to prevent this post from being a book, I will just cover the race itself today starting with my warm up.
The warm up
After deciding we would eat the $1 a minute, I called Steve (at 3am!) for my final pre race pep talk, and headed out to get my 2 mile warmup in. Within a few minutes, Paula Radcliffe appeared behind me, when we turned a corner, she came level with me, and then was running alongside me. I kept waiting for her to pull ahead, but she didnt…..almost awkwardly as we were literally running together…..but not. Eventually, after about a minute, I bit the bullet and asked her about Alex (both of us were formally coached by him). We then talked for the rest of our warm-ups before splitting off to go in different directions. I could not believe the amount of people that would come up and run alongside her for a few seconds to take photos, honestly, I don't know how she does it! She asked me about what I was hoping for, and wished me luck when we parted. What a way to start the day!
I dropped off my bag, deciding to keep a long-sleeve on that my friend Tom had graciously given me (clothes thrown off on the course are donated to charity) and we crammed towards the start line..
The Start
This was a little more congested than I am used to. There were men pushing me, and we were packed in very tight. Standing just behind the start line, the announcers did a final shoutout to Paula; listing all her accomplishments, and everyone cheered so loud. It was so special, especially knowing that I had just warmed up with my idol!
Before I knew it, we were off, and I was terrified I was going to trip as people pushed and zipped around one another. I reminded myself to stay comfortable. This is critical to the rest of the race.
Miles 1-6
Steve and I had agreed that I would look at my watch 3 times during the race; miles 1, 3, and 10k. Confession. Steve does not even know this….sorry sweetie ;)…..I did look at my pace per mile at some point….I think around 16 miles, I just couldn't help myself.
I went through the mile at 6:04 on my garmin (6:09 on the clock, which displayed the elite men start). I vowed that I would settle into my pace from now. At mile 2, the course started to make a significant descent. If you were not aware of this, it would be SO easy to get carried away here, and easily take off 20 seconds….but pay for it later. Thankfully I had been warned about this, so kept my foot on the brake the entire time. I went through the 3 mile in 18:0?, another warning to be very careful, and I slowed down. People were flying past me in every direction, but I knew my plan, and I was determined to stick to it.
The first 6 miles absolutely flew by. I felt amazing; so relaxed, barely breathing, and just so comfortable. It was a great feeling, especially as in Chicago Marathon, I remember going past the 6 mile thinking "oh my god I still have 20 miles to go….I can't do this". 
I went through the 10k in 38:3?, which was on the border of the time Steve and I discussed that I needed to back way off. I tried to settle into a rhythm, and actually did perfectly.
Miles 6-12
This was amazing. There were so many people out on the streets, it was deafening at times, and I was smiling the whole way. Taking in the sights, thinking about how I was doing what I had watched on the TV so many times, and listening out for people cheering my name so I could do what I said I would. I actually didn't hear as many people as I thought I would, but overall, I probably had 30+ people who told me they yelled for me, and I only heard about 8. Thats how loud it was!!
Going past some of my best friends was definitely one of my favorite parts. They were in two groups just before halfway, and just LOVED it, it really brought it to reality that I was running the London Marathon. I could see the pride on their faces, and it was just so special. Anna and Helen confessed that they burst into tears when they saw me, which is pretty adorable 🙂
Miles 12-20
Tower Bridge.
How do I describe running across Tower Bridge in the London Marathon? I dont think I can. I will never forget those few minutes. It was the best running experience I have ever had. Deafeningly loud, running across one of the most iconic scenes in the world, feeling amazing. It was indescribable.
As I passed the halfway mark, I felt great. I forced myself not to look at the clock; not wanting to be lulled into the "making up time" mindset. We began to wind through the streets of London, and there were so many people around every corner. This was the toughest part for my ego, I wanted to start kicking it down, but I kept thinking back to my conversation with Tom the day before; I just wanted to get to the 20 mile mark feeling GOOD. I wanted to roll those last 6 miles, and honestly, I wanted to play it safe. I needed a good marathon experience, and I did not want to take the risk.
I held back, and I am very glad I did. Around 15 miles I went through my first major bad patch. It did not last long, maybe 1-2 minutes, but I suddenly felt the sensation of those final few miles, like you have sandbags strapped to your legs as they start to go numb. I backed off the pace, and reminded myself it was a patch. I started to feel good again, and enjoyed seeing my family.
At mile 19, I smiled at my final spectator…..I can't remember who it was (Mum and Jenny, or Dad and Jess maybe?), but I remember thinking that I did it; I smiled my way through the first 19 miles, and accomplished that goal. Now it was almost time to make that final 10k count, and I was ready.
Miles 20-26
Well here we were. I made it to the part I wanted feeling good. Finally feeling as though I could run hard, and I could not have felt more different to the last two marathons. In both Philly and Chicago, it was more a question of was I even going to finish? This was "alright, lets go". I kept Steve's voice in my head, reminding me to not make any sudden movements, but started to crank down the pace, but by feel, not by pace.
This, is my wheelhouse.
Even while I pushed forward, and kept chasing people down, I made sure I took in the sights; running down Embankment (the exact location I had watched Paula run by me, all those years ago), the London Eye, Big Ben, and of course, Buckingham Palace.
I was on a roll.
I honestly dont think anyone passed me from 21 miles on, and I think I probably passed 50 people in those last 6 miles, not one person passed me (other than the final straightaway- more proof I need to "get my speed back!"). My final 7 miles were: 5:55, 5:49, 5:58 (took my final gel), 5:56, 5:51, 5:47, 5:59, 6:08. I am not going to lie, that last 6:08 does bother me a little bit, but had a little warning sign of pushing too far (in both my previous marathons, my last .2 were around 9 minute pace) and I was scared.
I have talked about this with Steve and my parents, and they are working on convincing me that I made the right choice here. Yes, I could have pushed harder. Yes, I could have run faster, but was it worth the risk? Now I know I have more left, and will go into the next race with that confidence that I do not always blow up. Like Steve said, if I had gone, and I had blown up…..would I have ever wanted to do a marathon again? Probably not.
Mile 26.2
I accomplished my biggest goal. I turned that corner with a smile on my face, as I ran down the mall, I tried my hardest to take it in, and I even raised my arms up as I crossed the line, even though initially I was a little bit disappointed with the time. However, I finished in a completely different state to previous ones. This was what the marathon was meant to feel like; incredibly tired, but not to the point of risking serious damage to my health.
As I hobbled down the finishing area was very impressed with how quickly I was given my bag. Within 3 minutes of finishing, I had my finishers bag, and my belongings were brought over to me by one of the volunteers. This meant I could call Steve and talk to him for a few minutes. He was happy, and I did what he wanted.
After the race
I walked back towards the meet and greet. My dad stood at the earliest point of contact with spectators, gleaming at me. We hugged, and I soon saw my sister running towards me, such a proud smile on her face. Even though I warned her not to hug me, she came flying at me, and that was one of the highlights of the day (my sister is usual not too happy about how "huggy" I am!).
We started to walk, and I actual felt better as I walked, so I suggested we walked back to the hotel, but after about a mile, my energy began to flag, and I asked Jess how far we had to go…..she responded 1.8 miles, which seemed like forever away. We jumped on the tube, and braced the crowds.
I had time to shower at the hotel quickly before my mum and auntie knocked on my door, which was nice. I gave them both a big hug, and I loved seeing their proud faces.
Some of my best friends also came to the hotel to greet me, and it was amazing to see them down there.
We went for lunch, and I had my burger and "triple fried" chips. If you think elites don't treat themselves, hopefully this picture of what I ate proves once and for all that we do!! I devoured this, it was delicious, especially as I did not have the stomach rot that had prevented me from enjoying eating anything in the past.
Make sure you read my article about why I believe it is good to indulge and gain weight, and I think this is especially important after a marathon.
We got the train home, and at 5pm I finally was able to receive the overwhelming supportive messages from my friends and family as I had internet for the first time since 7am.
Thank you to each and every one of you who has texted, called, commented, or even liked my result. I am absolutely blown away by the amount of people who were genuinely so happy for me, and I cannot believe you all care about me so much. It truly means the world, and I haven't even had time to reply to everyone yet!
I will recap next week about what went right and what went wrong, but for now, I want to make the most of my time with my friends and family at home.
So now chip times have been officially released, do you mind if I just brag for a second please? 🙂
I am excited to say I am a 2:41:10 marathoner (would be Olympic Qualifier if I was American), finished in 7th place at the London Marathon (25th woman across the line, 10th British, 120th British Runner of All-Time ).
Most importantly, I can finally say I enjoy the marathon. I always knew I would end up there, but to have done it, it still doesn't seem real.
All those struggles, all those tears I cried, all those moments I gritted through even when I considered giving it all up, became worth it yesterday. THIS is what running is all about. Not that moment you cross the finish line, not the glory that is follows running fast, but the moment when you truly enjoy running for YOU. Not for anyone else. The motion of it, the joy of it, and the strength you get from it. THAT is why I run, and that is the reminder I needed.
I may not have given my all yesterday, but there is something very rewarding knowing that I have a lot more in there, waiting to be unleashed, and I had a race I truly enjoyed. The race that helped me find my love of running again. I know I will run faster in the future, but I am not sure I will ever enjoy a race as much again, but it will forever be in my mind as the most special day.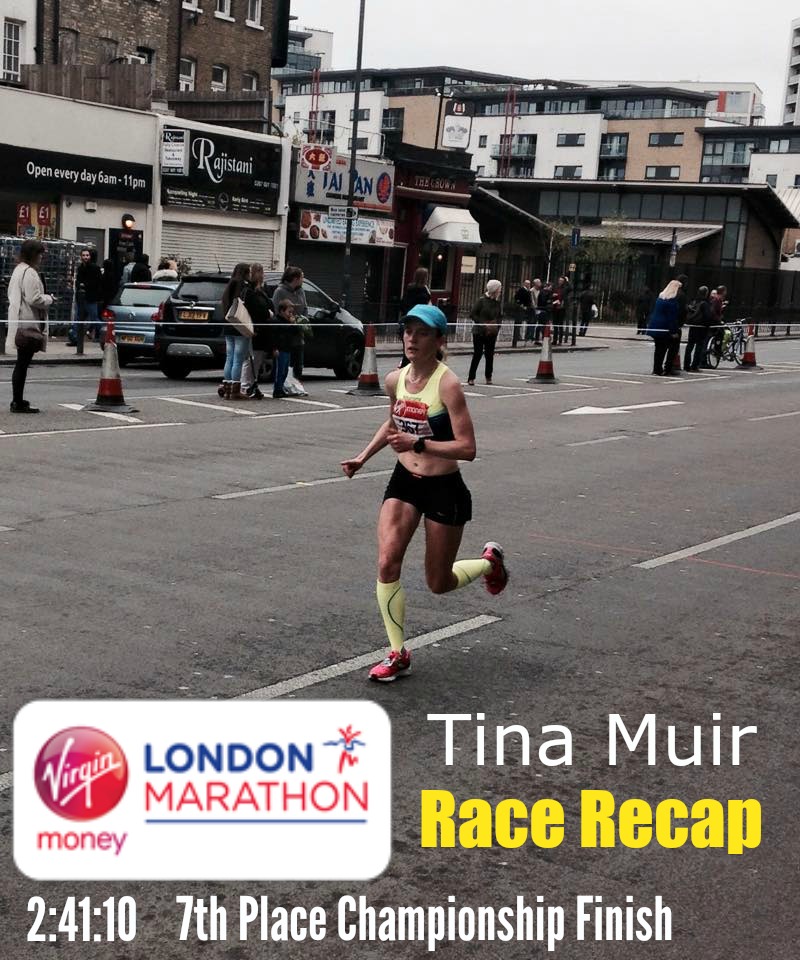 Thank you for reading this MARATHON post! Have a wonderful week! I will be back to normal next week 🙂
Oh, and in case you were wondering, I am taking 7-14 days completely off, yes, no exercise at all. Here is why I think that is so important. I am also binging on whatever the heck I want. Even elites have times to splurge, and if that means eating cupcakes, cheesecake, cookies, and endless amounts of chocolate for a week, well, I earned it!
Oh and one more thing….I finally have my finish line photo 🙂
If you want to read about the elite experience at London marathon or the London marathon reflection, I wrote about those too 🙂
[Tweet "Tina Muir recaps her 2:41 PR & 7th place in the @LondonMarathon! #fuelyourfuture"]
Have you ever run a marathon where your focus was just to enjoy it? What was your best running experience?