I think I have officially redeemed myself for the 5k in Indianapolis! I knew I was in good shape, I just didnt have the results to prove it, but this weekend I was able to, and it is such a relief.
I had been saying to friends recently that I had never actually broken tape, and I always wondered how good that would feel to burst through it (and was it as easy as it looked?). As I ran towards it, I thought to myself "oh my god I am gonna do it!!", and to be 100% honest, a quick thought even went through wondering what the heck I did with my arms; do I raise them straight up, half up, do I flex? Haha, the mind of Tina Muir.
Turns out I chose an awkward-not-really-anything pose, but hey, it wasn't about that, I was enjoying it, and THAT was what mattered!
Lets backtrack a little, and I will share how the race played out.
Well firstly, I would like to thank a few people who are the primary reasons I was able to do this. I think you can guess who number one is? Yep. My wonderful husband. I don't know how he puts up with me sometimes, and we get a lot of questions about how we handle the coach athlete and husband wife relationship at the same time, but somehow it works. Either way, he was the reason I was able to run so well on Sunday, and I literally, cannot thank him enough.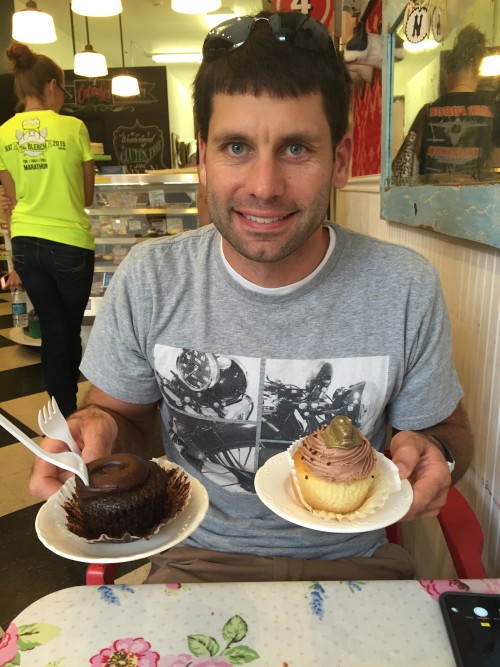 My strength coach Drew Watts. He has made me stronger, and continued to look for ways for me to improve my form. He is not just a strength coach, but a friend too, and I am so thankful to have him.

Dr Mike Sullivan and Karen, for keeping me healthy through your treatments, Jeremy Stoker for your physical therapy from afar, and my dear friend Sarah for insisting I find a good race as she knew how good shape I was in.
There are so many other people involved, including of course my family and friends who are there for me no matter what with their love and support, but I don't want to offend anyone by leaving them out, so I am just gonna leave it at that. And of course my sponsors Saucony, EnduroPacks, Sizzlefish, Nuttzo, Primal Sport Mud, and Twin Lab for helping me get there strong.
Okay, enough of a awards acceptance speech (clearly I am one of those people who would leave everyone yawning, looking around the room as they take so long). Side Note; Steve is always teasing me that everywhere I go I have to be best friends with everyone, and that I can't just go and do anything and leave, I have to really get to know and care about each person. Funny, but true.
Steve and I decided upon the Army 10 miler while I was at Zap, we talked to my mentor Larry Rosenblatt about it, and he agreed, and began working on getting me into the race. I looked into flights for the race, but it was almost $400 for the flights alone, and with lots of expenses over the last 6 months, we agreed I could drive the 8 hours, on one condition; I had to drive Friday.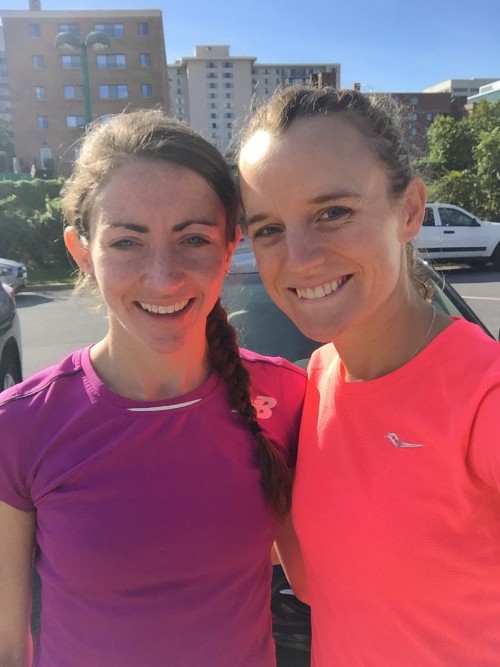 That was fine by me, it meant I got to hang out with one of my best friends; Frances Koons for the weekend. We had a great time, and I could never tire of spending time with her. I also got to meet Amanda (Miss Zippy) in person for lunch, which was great to chat 🙂
The night before the race, I landed in a sketchy looking hotel motel I found on Hotwire (the first time they have disappointed me with their choice), and although I was a little scared, I managed to sleep pretty well.
The morning rolled around, and after my tea, bagel and banana, I headed to the race.
I had never seen the Pentagon before, and I had to admit, it was pretty cool to see. I waited for the elite athlete desk to open, and talked to Steve about the race plan.
As always, he would not give me much instruction. He told me to go through the mile in around 5:40, and then just trust my instincts. I hate when he says that, but I ended up going through the mile in exactly that, and it always is the right thing to do.
I warmed up within the contained area (lots of security to go through to get in), and put on my Saucony Fast Twitch. It was a good half mile to the start line. I did some strides, and had to push my way through a lot of unimpressed male runners, but I got myself to about 4 rows back, which I decided was good enough to lessen my risk of being trampled, but far up enough to get a good start.
The gun went off, and for some reason I was more scared of tripping than I usually am. I did not worry about tangents, and instead worried about staying out of trouble. I think that added a little to my overall distance, but at that time it was what I felt like I needed to stay calm.
Within 1.5 miles I was in the front, and I had a feeling that my gap would continue to grow. I felt strong, and I know myself; I like to progress as I go.
Usually it bothers me when guys try to race me when I get level with them, but this time I actually appreciated it…..well, kind of. It still annoyed me, the principal, but I used it as motivation. Each time they would sprint off, I would work to catch them, until eventually they gave up sprinting ahead and let me pass them. I used this to keep my eyes focused in front, and to keep the intensity on.
The course was not quite as easy as Cherry Blossom 10 Mile, there were a few more hills, and some sharp turns, but it was still a great course for me to keep picking up the pace. I enjoyed running by the monuments, and I tried to take in the fact that I was feeling very strong. My mental state was a lot better than it has been in a while, and I wore my momentum bracelet to remind me to believe in myself during moments of doubt.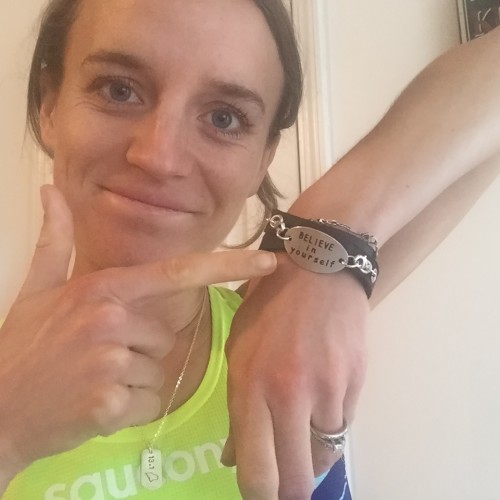 I do feel like I had some left in the tank, as Steve told me to really go for it with 3 to go, which I just could not bring myself to do. I was working very hard, don't get me wrong, but I would only say I really "went for it" with a mile to go. That last mile I was breathing very hard, and I am sure anyone I ran by during that time knew I was going as fast as I could.
Once I turned the corner into the finish, I tried to soak in the moment as best I possibly could. This was a moment I had wanted for a long time, and I was finally going to break the tape! I threw my hands into the air, and smiled as I went through. Photographers were everywhere. I experienced what it is like for the best in the world (well….on a smaller scale), but everyone was cheering, and people were putting microphones in my face asking how I felt. It was a great moment. I only wish Steve was there to hug (haha how soppy!).
After asking about 100 people where the media tent was (and no one knew), I found the media tent, and did some interviews with the press. That was a surreal moment, and brought home to me what this race was really about; the military, and all they do for the US. That moment made me realize just how incredible that was to be running amongst wounded warriors and others who had given their lives to keep the rest of us safe. At the end of the day, all the hours of training I had put in to get to this point meant nothing compared to the sacrifice they had made. It really brought it home for me, and for a moment I felt very selfish about thinking about myself and the win.
That was what really mattered about the Army Ten Miler, and that was what made it such a fantastic event!
I cooled down with a very proud Frances, and we waited for the awards.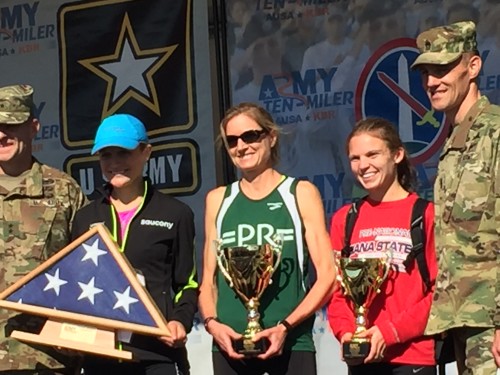 I was presented with a flag that had been flown over the Pentagon on September 11th, and $500. For the first time, I was more impressed with the award than the money. That was definitely the best race award I have ever won, and I will be keeping this out on display in our house.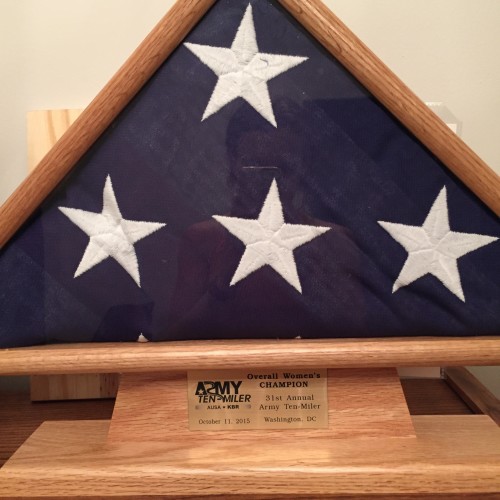 So just some stats for those interested. There were about 30,000 runners, 12,000 were women. My overall time was 55:19, which works out to be 5:32 per mile (although my Garmin says 5:27 :P). Either way, that is a significant improvement on my previous 10 mile race at Cherry Blossom where I ran 56:37. I ran a significant portion of the race in the low 5:20s, and it gives me confidence that I can race a big PR in my half marathon at the end of the month. Oh, and I won by about 2 minutes 🙂
As hard as it is not to get carried away, this is a time I need to keep my feet on the ground, and as Steve said, approach my half in the same way I approached this one; no expectations, just wanting to have a good race, and feel strong.
I know I am stronger than I ever have been thanks to Drew, and this once again shows how good of a coach Steve is for knowing exactly what I needed in my training.
Thank you so much to everyone who has congratulated me over the past few days. I really appreciate each one, and it makes my heart swell to think I am surrounded by such wonderful people.
I will keep chasing my goals and striving to be better. I hope you will join me and do the same with yours 🙂
One more breaking tape photo? Oh, if you insist 😉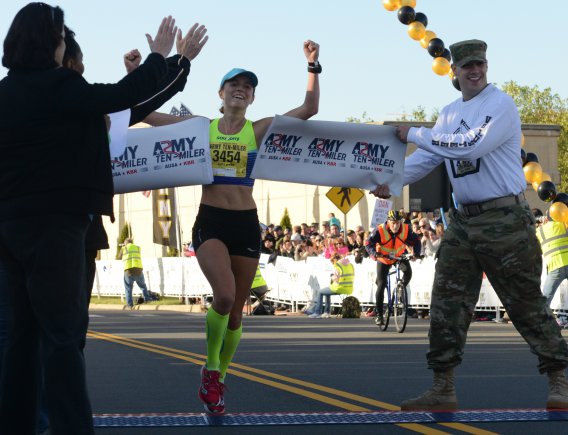 [bctt tweet="LOVED reading this recap from @tinamuir about WINNING the #ArmyTenMile!" via="no"]
What was your most recent step forward?