Wedding Wednesday!
Before I begin this post today, I just want to say a big thank you. To every friend, every family member, every person who has taken the time to congratulate us, support us, or say something kind to us about our wedding day. We are surrounded by so much love, and we are so thankful for it. You really fill my heart with so much happiness 🙂
Okay, so back to our wedding story. I have filled you in on the bachelorette party (aka dessert crawl), rehearsal day (and birthday), and today we begin the wedding day festivities. All of the photos I shared today are from my photographer Matt Yeoman and his assistant Leah. If you need a wedding photographer, Matt lives on the East Coast (NY), and he is SO good at what he does…..thats pretty evident from these photos 🙂
I mentioned that the morning of the wedding I ran with two of my bridesmaids Liz and Frances, and upon my return from that, I began my day how you should on your wedding day, with a cupcake from a good friend Tim. Kelli was kind enough to share this photo with the world, and just in case you needed further evidence that I do enjoy my sweets, it is on Kelli's instagram
After I devoured this, I showered, and Jess, Kelli and I headed to the Uptown Center.
One of the many great things you are going to hear about that the Uptown Center had was the bridal suite. Three rooms upstairs for getting ready, including a makeup and hair studio area. Our wonderful hairdressers (stylists) Tashia and Amber started working on hair by 8:30am, and were amazing. Every single girl loved their hair, and said it was worth it.
As they started on the hair, and once Maria arrived to start the makeup, it truly started to sink in that this was really happening. I snuck a few moments away to go stand in the venue myself to just think for a moment, and reflect on what was about to happen.
My girls looked absolutely beautiful, and it made me so happy to see them all chatting away together, and coming out of the hair styling/makeup room looking absolutely stunning (as if they were not already beautiful enough).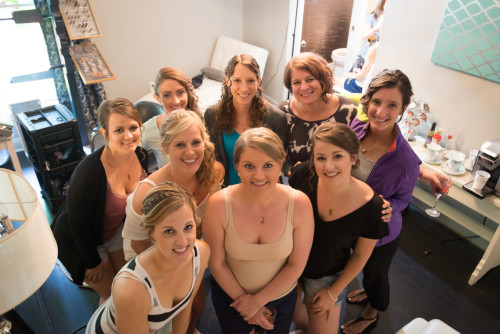 Joy set up a mimosa bar for the girls, and we snacked, chatted, and soaked in the excitement of what was to come. I even had the chance to FaceTime and send videos to a few friends who were not able to make it….trying not to smudge my makeup when I started cryin of course!
I also ate a LOT of sugar. Eaing all the sweets and chocolate I could get my hands on throughout the day. Not ideal food, and you would never guess I was an elite runner on that day, but I didn't care. You only get married once, and this was my day to do what makes me happy. That meant eating 90% sugar, but I followed my heart.
Before I knew it, it was time for my hair and makeup to be done. Tashia had finished all the other girls in record time, and because I saw her on Monday, we knew what we wanted to do, which made me relax a little, especially after seeing how good the other girl's hair looked.
After a lot of tweaking, we managed to get the hair exactly how we wanted it to look, and I was SO happy with it! Tashia was amazing, and I loved everything about her; so easy to talk to, happy to do whatever you wanted, but not afraid to make suggestions. She was also a perfectionist, and kept fixing it until she had it perfect, which was important to me too.
I then moved on to Maria, who had just finished making my mum look absolutely stunning. I was excited to put the final touches on to make me look the best I could. As someone who doesn't wear makeup most days, not even mascara, I wanted it to be natural looking, but pretty. Maria managed to get it just right!
I knew Maria was good, but I did not know how good, she made me feel like a celebrity; flawless skin, and even more impressive, got rid of my sports bra tan lines!! That in itself was a feat!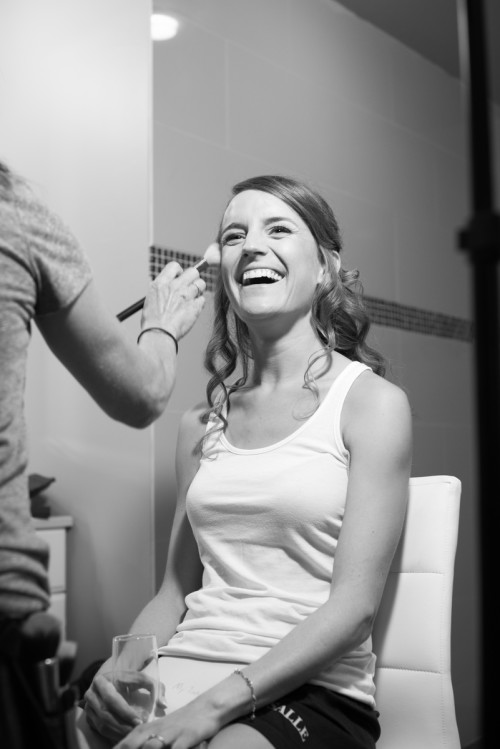 When I had my makeup trial, Maria had finished with the makeup, and I had told her I wanted more, I wanted to look more impressive, and so she built it up more, but when I first saw Steve, his reaction, as well as the reactions from my family and friends showed me that I had gone too far, and no longer looked like me.
I think that's the fine line you have to walk on your wedding day, especially if you do not wear makeup, if you go have too much "WOW factor in your hair or makeup, you lose who you are. That shows just how talented both Maria and Tashia are at their crafts, and I was SO happy I chose them for the most important day of my life!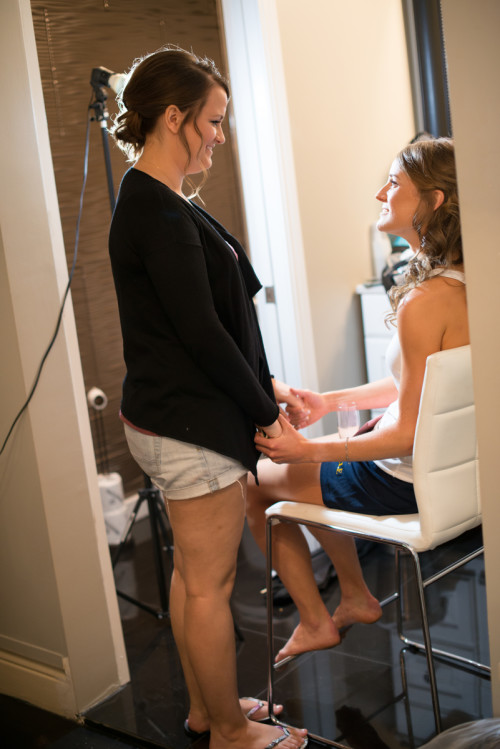 While Tashia touched up the other girl's hair, when it was almost time to put on the dress, I looked at myself hard in the mirror. I was happy with it, and even though it feels silly to admit (which I know it should not), I felt beautiful.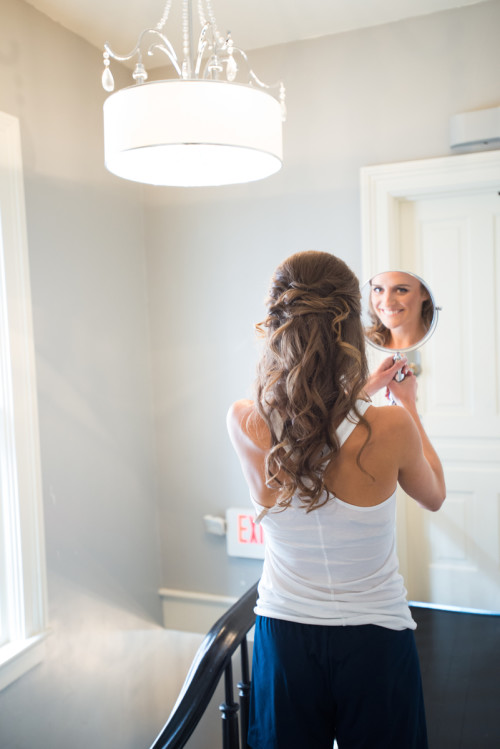 My girls changed into their dresses, and it brought tears to my eyes to see them all standing there in bridesmaid dresses.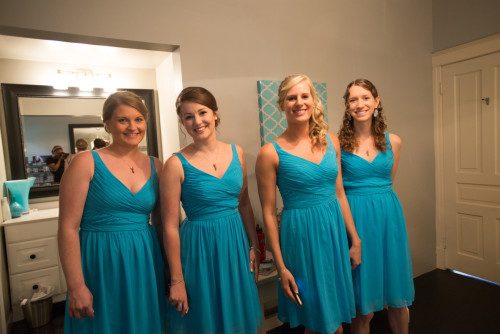 With 9 bridesmaids, the process of putting on a dress should not have been that tough, and thankfully I did not have to lift it over my head to get it on, but we had a little confusion with the corset ribbon at the back (maybe I should have paid better attention when I tried it on in the past!!), but the dress was everything I had hoped for once it was ready.
Full disclosure, I had been a little hesitant before the wedding when I had tried it on.
I heard about how excited other women were to wear their dress, but I wondered if I should have gone for something different. When I went to the fittings I smiled, I liked it, but I did not think it was the most beautiful dress I had ever seen.
However, for those brides to be out there who may have those doubts, when your hair and makeup is done, along with the excitement for what is about to happen showing on your face, you WILL love it. I was so happy with my choice! I did feel a little self-absorbed as I kept looking in the mirror, barely able to believe this day was here.
My beautiful dress was from Twirl in Lexington, an adorable little boutique. I did go to David's Bridal, but I wasn't a fan, and this was the first dress I tried on in Twirl and I LOVED it!
After going home to get ready, my mum came back looking absolutely beautiful. She is another person who never wears make up, and during the day she had so many compliments of just how stunning she looked. I am so glad she got both the hair and makeup done, it just made her glow. Thanks Maria and Amber 🙂
Steve's mum Mary also came in looking beautiful, and put my necklace on (something blue) that she had bought me, and the belt for my dress that she had altered for me. We realized after I was ready that I also needed to put my garter on from my cousin Nikki, who lives in Australia (I was her bridesmaid). I knew it was killing her not to be there, so I made sure she was with me 🙂
Suddenly, everyone was ready, and it was time to take pictures. I had the girls look online at some cool poses that they had seen, and we did some of those in the room, and then went to the main hall for some more (and saved the others for after).
Meanwhile, Steve was getting ready and taking photos with his guys…..I do not really have any idea what else they did……maybe someday he will post his version 😉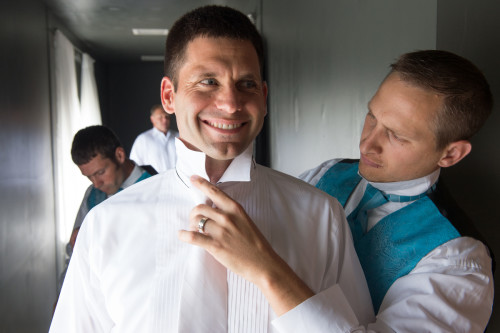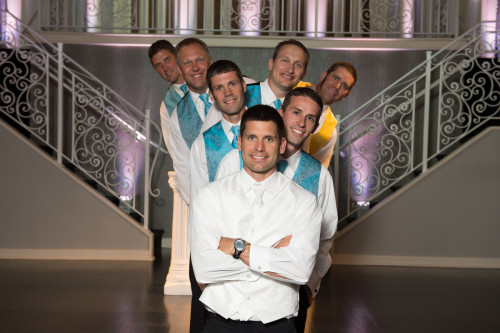 By the way, did you notice my flowers?
Not long after Steve proposed, I was contacted by a company called My Eco Flower who created sustainable flowers made of "recycled materials". You should know by now that I am pretty eco-friendly. This kept my interest enough to read the email, and I really liked the personal touch of the guy from the company (his name is Alex and we have been in touch a lot over the past few months!). I checked out the website, and absolutely LOVED them.
A few people were a little skeptical, not of my eco flower, but about not having traditional flowers, but I despised the idea of paying $2000 for something that I would throw away at the end of the day. This meant my bridesmaids had a little memento, and they could be custom made to whatever I wanted, AND MUCH cheaper.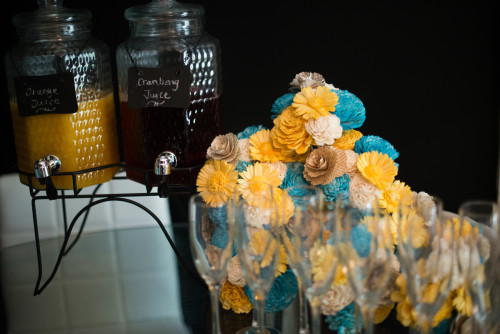 I fell in love with my Eco Flower, and I think they were absolutely wonderful. I could not have been happier with my choice, and each of my girls took theirs home. Sofia (my flower girl) took mine home, and I hope she keeps it for a long time 🙂
Before I knew it, it was time for my bridesmaids to leave, and Joy came to get them, while my dad came into the bridal suite with me. I said my goodbyes, and gave lots of hugs, and soaked in every moment of them being with me.
This was the biggest moment of realization.
My dad standing there staring at me, looking very handsome, and I began to tear up. I wished my grandmas were able to be there. I wore my nanny Jolly's bracelet, which she gave to me a few months ago, and I made sure my uncle had some pictures of me wearing it to show her (at 98, she was not really willing to travel to America: P). I also wore my nanny Muir wedding ring on my opposite hand, she passed away a few years ago, and I was determined to make her a part of the day, as she would have been there no matter what had she been alive.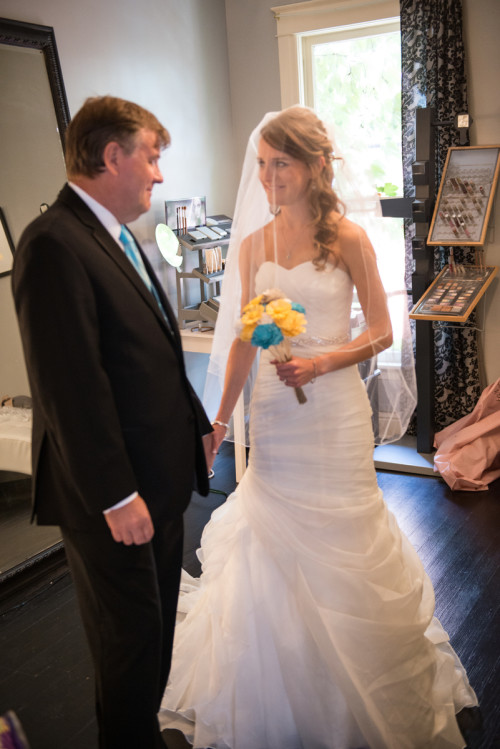 Joy came to get dad and I, and we waited in the lobby, double doors closed as my bridesmaids walked through.
All the suggestions people had made me over the past year were spinning through my mind. I was shaking like a leaf.
Not because I was nervous about getting married to Steve, I never had a single doubt about that, but because the moment I had been waiting for my entire life was here, and I had to get up those steps in my wedding dress!!
And on that note of suspense, I am going to cut this post off here 😉
On Friday I will share the rest of the wedding. Hope you enjoyed…..probably more than usual as it was more pictures, less reading 🙂
Happy Wednesday!