Here we are! The day of the wedding, the moment I had waited for since being a little girl playing with a barbie doll. This was my moment, and I was going to take it in as much as possibly could.
If you have not read the previous posts, STOP right NOW! Read about the morning of our wedding post before you read this one 🙂
Okay, so when I left off, dad and I were standing behind the closed doors, I was shaking like a leaf……so here we go!
It was here. The moment I had been waiting for was here. I heard "Say Say Say" by John Mayer begin to play, a song whose words spoke to me one day when I was thinking about telling Steve how I felt about him. The double doors opened, and tears began to roll down my face.
I scanned the guests as we walked, taking in as many beautiful smiles on people's faces as I possibly could. That was one of the suggestions by you guys, and I actually didn't even end up looking at Steve until I was two rows out! By this time, tears were streaming down my face (oops), and the smiling faces of those I loved were beaming with pride.
My dad "handed me over" to Steve, and we carefully maneuvered our way up the stairs, treading on my dress, but thankfully able to hold it together enough for people hopefully not to notice….I think! And it was time for the vows.
Pastor Mike has been a good friend of both Steve and I for years, and is one of the nicest people in the world. I truly mean that. He did a wonderful ceremony, and Steve and I just stared in one another's eyes, smiling, but just trying to soak it all in.
After Steve's nephew gave us the rings, we moved down to the lower level to do the sand ceremony. I successfully completed trip number two down the stairs, even walking past the guys still on the steps! That was definitely a breathe out moment.
We chose a frame with a section in the middle for pouring sand, and we chose our wedding colors for the sand. During this time, "From This Moment" (take a listen, she has the most beautiful voice!!) was playing in the background, sung by my bridesmaid Kat, who was not able to make it over from England.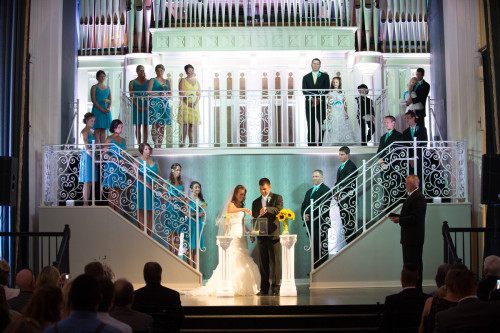 I teared up again in that moment thinking she was not there with me, and how much it was killing her not to be at the ceremony, but I was glad I could include her in the day regardless. By the way, if you have not heard me talk about her before, you should check out her iTunes, she is INCREDIBLE!
We were pronounced husband and wife, and Steve was asked to kiss his bride. We walked back down the aisle to "On Top Of The World" by Imagine Dragons, and it was amazing to take in that moment. Towards the end of the aisle, Steve's team of Morehead guys all stood up and yelled, which gave us an extra laugh as we walked out the door.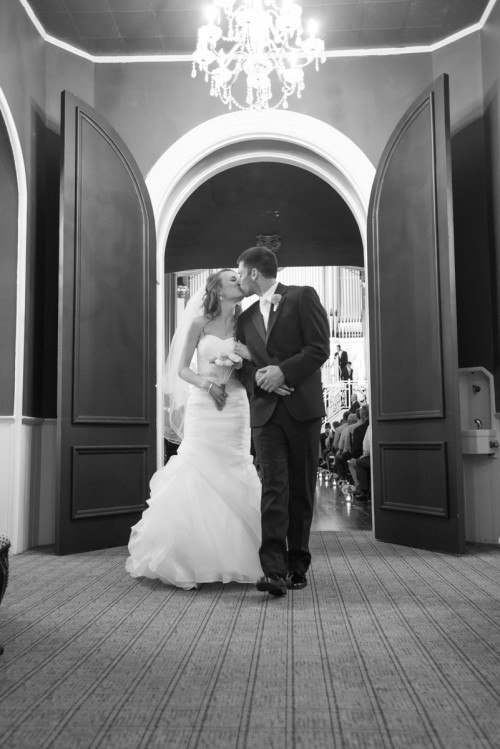 After lots of hugs and tears, it was time for photos, and thankfully the Uptown Center has a secret entrance back into the hall. While our miracle worker….I mean photographer, Matt Yeoman began to direct us all for photos, the Uptown Center staff were on a mission to "flip" the room into our venue, and did so while we took family photos.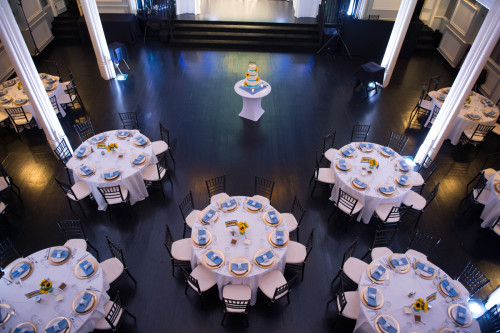 It was fascinating watching them, and once again reminded us why we chose this venue. This was also the time that Val set up our cake, which was EXACTLY what we wanted. It made it very easy to smile for the photos!! Everything looked amazing, and the Uptown Center did such a good job with the set up. Our centerpieces were simple; my favorite flower, sunflowers from Wrights flowers in a mason jar.
Speaking of our photographer, it is a bit of a funny story behind how he ended up as our photographer…..He actually took this photo of me when I was in college….
….and I told him while at another wedding that year, that I was going to have him as my photographer no matter what He said he would be there, and when I called him a year ago, he said YES! He drove to Indiana for the rehearsal, and then after the wedding drove through the night to get home to New York for another wedding after mine! His response was "life of a photographer", but I prefer, life of a good person!
After the family pictures, the bridal party went outside and around the venue to take pictures. This was so much fun, and so many of them turned out amazing, it was hard to pick which ones to share with you!
Time was beginning to go by quicker, as it was soon time for the entrance to the reception.
My girls bustled my dress (which means using the ties under the dress to tuck the train underneath, so you can move around easier during the wedding- I didn't know this until a few weeks ago!!), and they entered with their partners for the day.
We entered the reception to Uptown Funk because….well, we just had to, right? I know that's the song everyone is using right now, but we were at the Uptown Center! It would have been a crime not to 😉
We walked straight up to the cake, which looked absolutely stunning, especially with the cake topper my dear friend Randa made me, and we did the famous cut the cake slice.
Did I nicely give Steve a slice of cake, or did I stuff it in his face? What do you think I did?
Both actually.
I gave him a nice piece of cake, but I had decided before I even met Steve that I was going to make a mess with my future husband. I gave Steve his piece, and then took some frosting and put it on his nose, which he preceded to kiss me and smear on my face!
As soon as the 17 person (!!) bridal party sat down at the giant head ELITE table on the stage, it was time for speeches, unknown to my sister, who was my maid of honor.
Jess and I have had a very up and down relationship. We were the absolute best of friends as children, but we got lost along the way, and were not very close for most of our teenage years. These last few years we have gone back to best friends, and since April, we talk multiple times a day, most days.
Jess is not soppy. Jess rolls her eyes at my soppiness, and I knew just how far this speech was pushing Jess far out of her comfort zone, especially as in England the maid of honor and best man do not speak, the father of the bride and groom do instead.
I was not sure what to expect, but she nailed it. Not only did she nail it, but she did a better speech than I would have ever dreamed of. It was funny, kind, loving, and most of all, representative of us. That was one of my favorite moments of the wedding, and there is not one person who I have talked to since the wedding who has not mentioned how great she did. It was perfect, although she was shaking for the next 10 minutes after, I held her hand and cherished that I had such a great baby sister in my life. Steve's brother Michael, also made a lovely speech, saying such nice things about both of us, which was wonderful to hear!
Before I go on, I mentioned that we sat at the ELITE table.
What did I mean by this? Well, those of you who are on Instagram and checked out our hashtag (#Run2Me2015), may have seen that we had bib numbers as our table numbers.
Athlete Race Numbers are a small company, who create race bibs for events, and we had my dear friend Dom, design race bibs for "The Picucci Classic", and each guest had one with their name on, and a "HEAT" (AKA their table number).
We were SO happy with how these turned out, and Athlete Race Numbers were an amazing company to work with! If you are thinking of setting up any kind of event where you could use bibs, check them out; they are AWESOME, and have very reasonable prices!
Steve and I chose family style for our meals, which meant they bring big bowls of each of the foods out to each table for people to help themselves. We chose honey mustard chicken, beef stroganoff, fiesta rice, and roasted vegetables. It was delicious, and we did not hear any complaints about it!
You hear that most brides do not each much the day of their wedding, that they barely touch their dinner, and they are too nervous to eat before.
I kind of knew I would be the exception to this, but I did not know how much. I already told you that I mostly ate pure sugar during the day, but I also ate my dinner when we sat down for it, and I made sure I had both cake and ice cream during the night. I even ate an Oreo on the way to the ceremony- they were sitting on the counter staring at me, how could I not!
As soon as we finished, we jumped up and began moving our way around the tables. One problem with this is that once the guests see you moving, lots of people jump out of their seats to say hello. It can be quite tough to maneuver around everyone without offending anyone, especially when what felt like 5 minutes later, Matt told Steve and I it was time for pictures.
There were so many beautiful spots around the venue that made it really easy to get great photos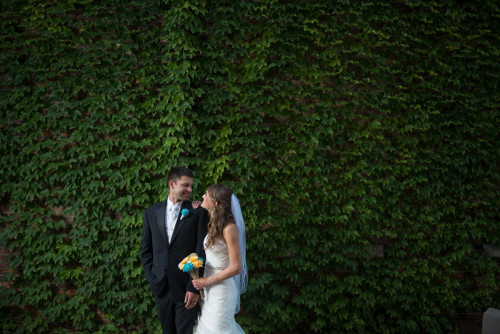 One of the things I have always dreamed about on my wedding day was a sunset picture on the beach. Even though I loved the idea of a beach wedding, there are just too many things that could go wrong, and besides, we had already fallen in love with the Uptown Center.
The sky was blowing up with color as the sun went down, and we jumped in the back of Matt's car to get there. I was so excited to find out someone else loved sunsets as much as I did, most of the next 10 minutes Matt and I spent talking about sunsets.
However, as we sped towards the beach, we came to a standstill when we reached the bridge to get to the beach, which was up to let a boat through. We spun the car around and frantically drove the other way around, knowing in our hearts we were not going to make it in time for the best of the sunset colors.
We parked the car, and sprinted to the beach; all four of us. People were yelling congratulations the whole way as we ran to the shore. We went to a variety of locations along the shore, running to each one. I was holding my dress off the ground as best I could, and the two non-runners of the group were running as fast as they could (deserving major kudos for how fast they were going!).
As much as Steve looks like he is posing here, this was NOT staged. This was us legitimately running to the next location…..see that pier in the background….yep, we ran there!
We still got some beautiful photos, and spent about 30 minutes in various spots along the beach before heading back to the venue. They say that on your wedding day you remember some random things that you would have never imagined. This was definitely it for us. How ironic that we had to run up and down the beach to get our pictures! It was SO worth it though!
It was soon time for our first dance, and we took the dance floor to "Perfect Moment" sung by my friend Kat who I talked about earlier in the post. This was her first personalized song, and she nailed it. It was so special having her there for such an important part of the day. She sung it beautifully, and it was a perfect moment.
I also cherished my daddy daughter dance with my extremely shy dad, and even though he complained the whole way through that he could not wait for it to be over, I knew that he was enjoying it, and this was my moment to smile knowing this was a moment I had been looking forward to.
Steve had his dance with his mum, and then the bridal party had a song too.
The dance floor was then open, and it stayed full all the way to the end. The DJ picked a good selection from the list of songs I gave him, and everyone seemed to be having a great time.
I know Bill had a good time 😉 And my soon to be brother-in-law, Josh made sure Steve danced a little more 🙂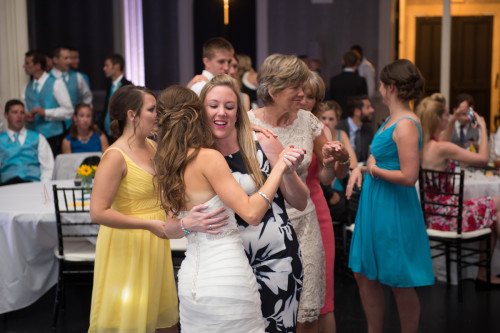 Steve and I then did our best to work our way around our guests, thanking them for coming, and making sure we showed how grateful we were that they were a part of our day.
Honestly, I think we did VERY well at getting around. We got to almost everyone, and made sure to check back with some of the people who needed it. I was proud of us for making everyone feel welcome.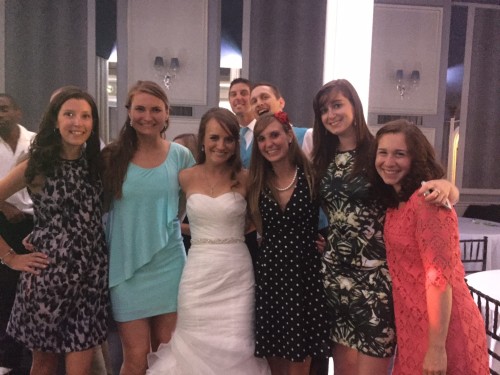 One of my favorite moments of the evening was Steve and I going to the ice cream sundae bar, filling our cups with Cabo's Ice Cream and toppings, and going to sit on the balcony upstairs.
We sat above our wedding, and looked down at our guests interacting and having fun. It was such a special moment for us seeing our loved ones having fun with other important people in our lives. I especially loved seeing my sister in the middle of my group of bridesmaids, all smiling and enjoying themselves.
The ice cream from Cabo's was delicious, and it was a HUGE hit with the guests! I only wish we could have brought the leftovers back to Kentucky with us!!
If you are in Michigan City for the outlets (or maybe to get married after reading this!!), make sure you check out Cabo's. The ice cream is unlike almost any other, and they have some amazing flavors.
We had 4 flavors; Vanilla, Chocolate, Strawberry Butter, and Mexican Caramel, and Cabo's were even kind enough to give us some extra chocolate dipped strawberries, and mini pops, all homemade at their location just a few blocks from the venue. We had butterscotch chips, mini m&ms, reeses cups, crushed oreos, honey roasted peanuts, and chocolate sauce for guests to use as toppings. Many people commented to us how much they loved it, and Steve got his one request for the wedding 🙂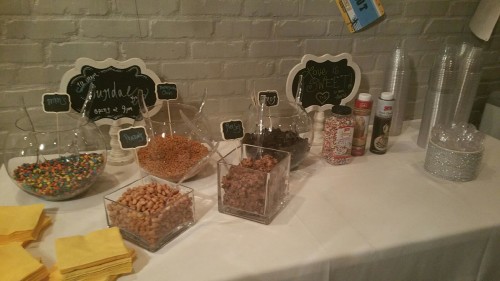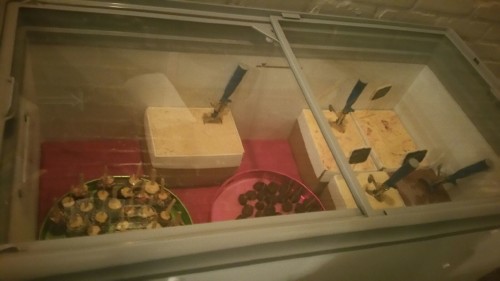 The rest of the evening went by in one wonderful blur. I spent a good amount of time on the dance floor, talking to loved ones, messing around in the photo booth, and reflecting with my husband. I did not need any alcohol, as I was drunk on happiness. I don't think I have ever been so happy in my life, and it made me so happy to see Steve that happy too.
Oh! One more thing I almost forgot, we had a Photo Booth, which was SO much fun! We had our guests stick their photo strips into a guest book with a message. I think I have already been through it about 6 times 🙂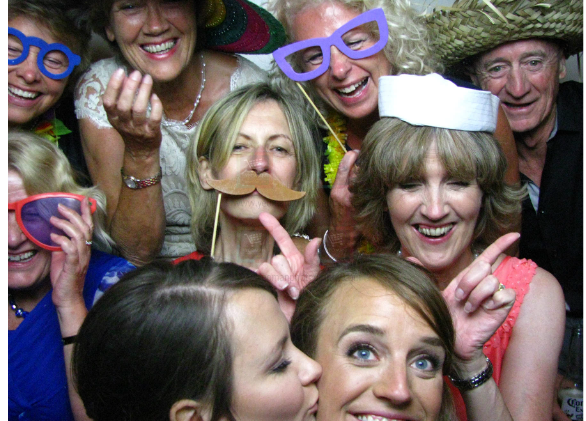 After a few deep reflections with our guests towards the end of the night, I realized just how well it had gone. Everyone had a great time, and many people described it as the best wedding they had ever been to.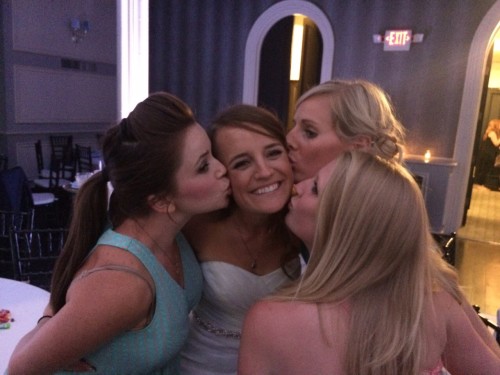 We were so happy, and anyone reading this who was involved in the process, or attended the wedding, we would like to send a HUGE thank you! We could not have asked for a better day, and it was yet another confirmation that we really have surrounded ourselves with the best, most genuine people.
And finally thank you to everyone who has wished us well, or said congratulations. It means so much, and we are excited to begin our lives together.
For anyone with wedding planning in their future. Is it worth spending all that money in one day?
100% yes!
What is your favorite part of a wedding? How did you make it unique for you?