Happy Monday! For Steve and I, it is HONEYMOON WEEK! How is that even possible!? We are SO excited about it, although frantically running around trying to get things ready. I have a fantastic lineup of guest posts for you coming in the month of December, but today I am giving you a little teaser. 
By the way, if anyone has any recommendations for places to go (or eat) in Sydney or Cairns (Port Douglas), please leave me a comment!
I have already told you that I LOVE Sarah. When we had our week at Zap fitness, I realized just how similar we are, and I have some big news….well, its her big news, but she and her husband Michael are MOVING TO LEXINGTON!!!! Michael is going to be working with Steve as the Assistant Cross Country and Track Coach (although I know Steve, and it won't be assistant as you think, almost every decision will be made between them, equal partners.)
Anyway, I want you to get to know Sarah a little better, as you are going to be seeing a whoooolllleeee lot more of her, and we have lots of fun things planned for the future. She loves to cook as much as I do, and I thought it would be nice to share one of her recipes today. We are actually going to Tallahassee in January-February with the Zap Fitness group, and I am VERY excited to be staying in the warm for a month. There will be lots of cooking going down there I am sure!
Hope you enjoy, I can't wait to try this one out! Make sure you check out the rest of the recipes in the linkup, especially my cohost Confessions of a Mother Runner!
Here's Sarah!
I don't care if I sound 80 years old, I love my crock pot.
I also love cats and knitting and bingo on Wednesdays, so I think I should just own it at this point. I'm an old soul.
The reason I love the crock pot is because never in the history of humanity have so many people been able to cook so well by doing so little.
Crock pots are E.A.S.Y. Throw a few handfuls of ingredients into a pot at noon and pull it out at six with a smile on your face. In fact, since you have so much free time, don an apron, throw some flour on your face and tell your man to do the dishes since you've been slaving all day in the kitchen. He doesn't need to know.
This Creamy Tomato Basil Soup can be our little secret.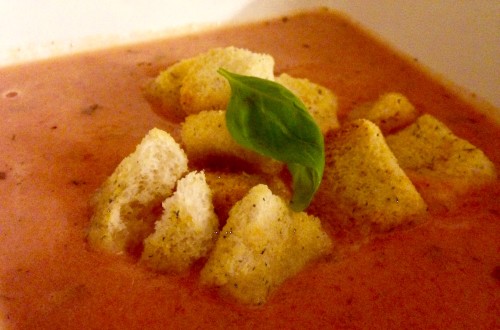 Creamy Tomato Basil Soup
Instructions
2 cans (28oz each) diced tomatoes
1 small onion
2 cloves garlic
a pinch of sugar
2 tsp salt
1tsp pepper
2 cups chicken (vegetable) broth
2 cups heavy cream (let's use half and half for a more "runner-friendly" version)
1/4 cup fresh Basil cut very finely
1/8 cup fresh Oregano cut very finely
Instructions
6 hours before dinner, whip out the crock pot and set it on low.
Mince up the garlic and onions and throw in the bottom of the pot.
Put the basil, oregano, salt and pepper and sugar in the pot on top of the onions and garlic.
Open both cans of tomatoes and add those, followed by the 2 cups of chicken broth.
Give everything a good stir and let it cook for 6 hours on low or 4 hours on high.
A few minutes before dinner time turn off the crock pot and use an emersion blender or a regular blender to smooth out the soup into a perfect, thick consistency, placing it in a large stove-top pot on very low heat to keep it warm.
Take a cup or two of the hot soup and place in a separate bowl.
Very slowly, whisk the 2 cups of half and half into the smaller bowl of soup (this is called tempering and prevents the cream from curdling!).
Slowly whisk the creamy soup into the larger pot and serve warm with croutons or grilled cheese!
This recipe is great for busy days. We all have those sometimes, though most days I'm super put together and able to whip out a 5-Star dinner.
Fine, very rarely.
Okay, never.
Enjoy!
Crockpot? Love it, or always forget about it? Any recommendations for Sydney, Cairns or Perth?
PS. If you have trouble pacing yourself, make sure you check out this article on Runners Connect. Sarah explains it a little better than I was able to in my article about pacing.