Thank you so much for all the positive feedback on my post on about the race. I was hesitant to put it up as it was SO long, and thought it may get boring, but it seemed like everyone enjoyed reading my raw, emotional response to the race. The feedback was so wonderful, and makes me want to keep going for that dream, no matter how long it takes. Thank you for that.
However, I think this is the post the runners out there are really interested in. How the elites are treated at the Chicago Marathon. I am pretty sure whatever you can imagine, it was even better. It was an incredible experience, and once I hope to replicate in the future.
Lets start with the very beginning. It is all thanks to Larry Rosenblatt.
Larry is the parent of an athlete I coached while at La Salle, who put in a good word for me with the Chicago Marathon race director, Carey Pinkowski. Carey was willing to give me the opportunity to run Chicago as an elite; all the perks, all the support, and the opportunity very few athletes have. I was one of a select group of 108 total; both gender runners and wheelchair athletes. That is really not very many!
For a few months, the elite athlete coordinator, Bridget Montgomery, one of the sweetest people I have ever met, sent us information about the race. She had us fill out paperwork, and just check everything was running smoothly. I was so thankful I got to know Bridget over this time, and loved her even more once I met her in person.
Steve and I drove to Chicago on the Friday. We decided to drive as O'Hare airport is notorious for delays, and it was only 6 hours….besides, that gave us the opportunity to check out wedding venues on the way home!
I have decided it would be easier to cover the rest of the weekend as a timeline, highlighting the events that involved the elite athlete experiences!
2pm- Arrived at the Downtown Chicago Hilton, and checked into my room….on the 25th floor
Tried to close my dropping jaw as I realized just how close we were to the course. Immediately I was concerned with how much this beautiful hotel would cost for a room during this busy weekend. Definitely a luxury I could never afford!
2:45pm Used my executive hotel room key to access the T1 Floor, checked in the elite athlete registration
Filled out paperwork for tax purposes
Received multiple "perks" of being an elite

Per diem for food and travel expense costs
Chicago marathon hoodie and t-shirt
Chicago marathon bottles for filling with our elite fuel. I actually did not need these as Enduropacks were kind enough to send me some to use. I did take some for souvenir purposes though 🙂
All-access passes for Steve and I
3:15pm Checked out the elite athlete lounge
This room is heaven. This is the view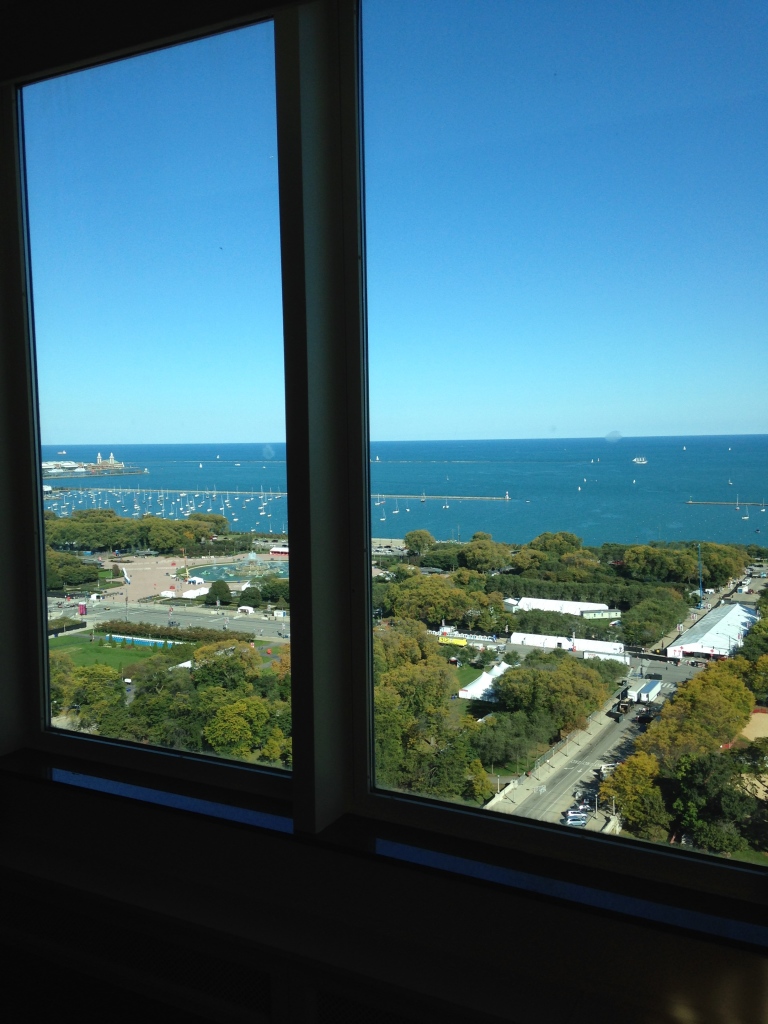 There are bowls of candy, pretzels, trail mix all around the room, and unlimited supplies of bananas, coffee, tea, granola bars, gatorade for us.  I caught up with some friends, Melissa White and Her Husband Chad, and Alexi Pappas, who was my roommate for the weekend.
Alexi informed me that someone had been calling the room all day trying to get ahold of me; I had been randomly selected for drug testing.
3:30pm Cluster Interviews in one of the Conference Rooms
Each of the elite athletes are given a designated time where they need to be in the conference room, for photographers and media personnell to ask them questions. By the time my group was in the media center, there were not many reporters left in there, so I just chatted with some of the other athletes, including Sarah Crouch (who I have known for many years through racing in College), Melissa, and Lauren Jimison. We had a fun time talking, and going over drug testing experiences.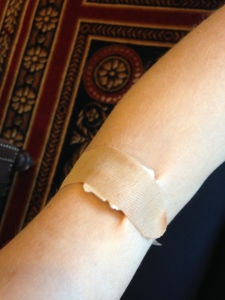 4pm To the drug testing room
I hate needles. HATE them. To the point where I almost pass out every time, and steve had to hold my hand while I gave blood. Yes, that is pathetic! It was a shockingly detailed process involving selecting a tube from a random pile, and then selecting a bag to seal it into. I had to check the numbers matched up with multiple different pieces of paper, and remove all the caps myself. Lets just say the doping agency makes sure there can be absolutely no claims about mix ups! It was pretty intense, and funny that some people actually care whether they select bag number 65839628 over bag 2749538. Regardless, I survived!
5pm Hung o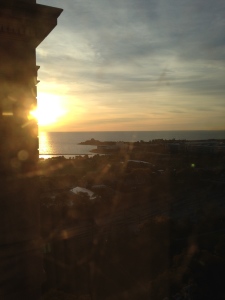 ut with Alexi in our room, staring at the view from our window
6pm Took the train to Rosebud on Rush for dinner with the Saucony athletes
Saucony took us out to dinner at a local italian restaurant that makes all its pasta, sauces, everything, fresh! I loved that! We were treated to a very lavish meal, and as much as I stuffed myself so full that I could not even manage ANYTHING for dessert (that NEVER happens), I did not even get halfway through the biggest, thickest bowl of pasta I have ever seen.
It was great to meet the other Saucony athletes, and talk to the Global Marketing Directors at Saucony. It was lovely to meet Clara Santucci (who ended up 2nd American, running 2:32!). One of the other Hurricane Guys; Phil, gave Steve and I some great advice about the race.
9pm Back into the room
Alexi and I sat chatting for a while, but we wanted an early night, as we can never sleep the night before races. Alexi was the pacer for the Olympic Trials A Standard this weekend, so had a very important job and also needed to rest up.
Saturday October 13th, 6:00am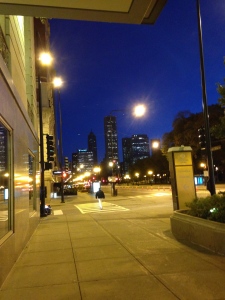 I woke up, and headed down to the lobby so I did not wake Alexi. Walked around to get my legs moving a little, and enjoyed the quiet morning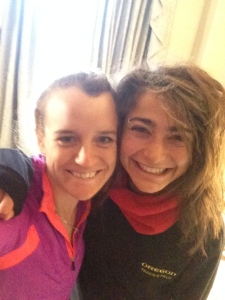 7:30am Met down in the lobby, waited for a few more people before our shakeout run
Deena Kastor and Lauren Jimison come to talk to us for a few minutes. They informed us they were going to do a Runners World Group shakeout, we watch them drive off in a taxi (and a few minutes later run by them!). I also talked to Dathan Ritzenheim for a few minutes about what to do if your bottle is knocked off the table. He gives me some very good advice, and convinced me to carry a gel with me for emergencies.
7:45am Pre-race run and stretch
Alexi, her coach Ian Dobson, and a few other athletes, went for a very easy 6 miles around Shed Aquarium
9:30am Meet SUZ in the hotel lobby!
We walked to Corner Bakery Cafe, and I enjoy my beloved Swiss Oatmeal. As much as I wanted to go for something more exciting, I had to be safe with my stomach. Non stop chatter for about an hour, before we have to head back to the hotel.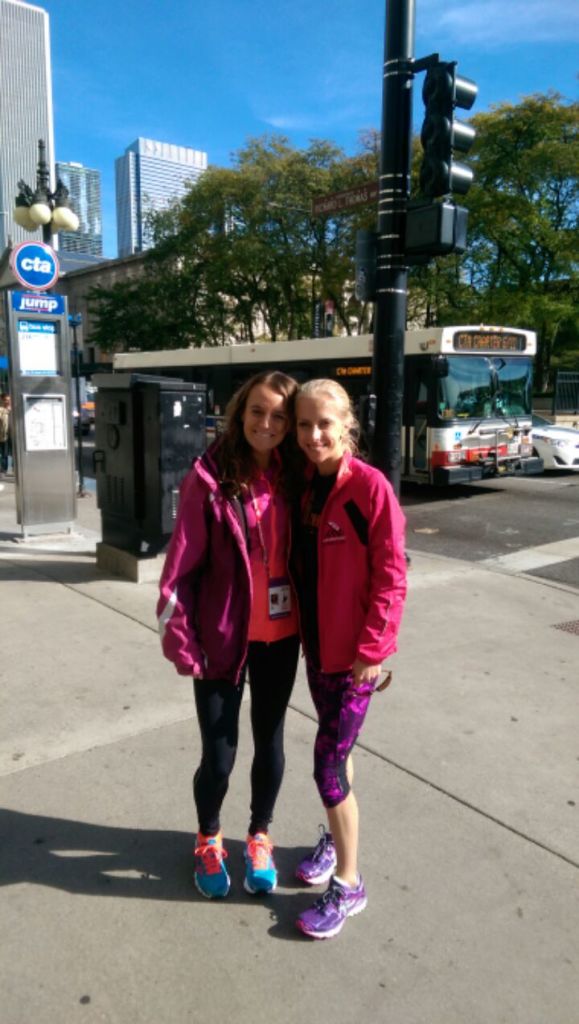 11am Uniform check
My Saucony logo is WAY too big for the tiny box that is legal for this race based on IAAF standards. A certain brand with a deep wallet makes it pretty difficult for the other brands to promote themselves at events like this. I am told I either need to race in something different, or cover my logo with tape on my jersey and shorts. PANIC!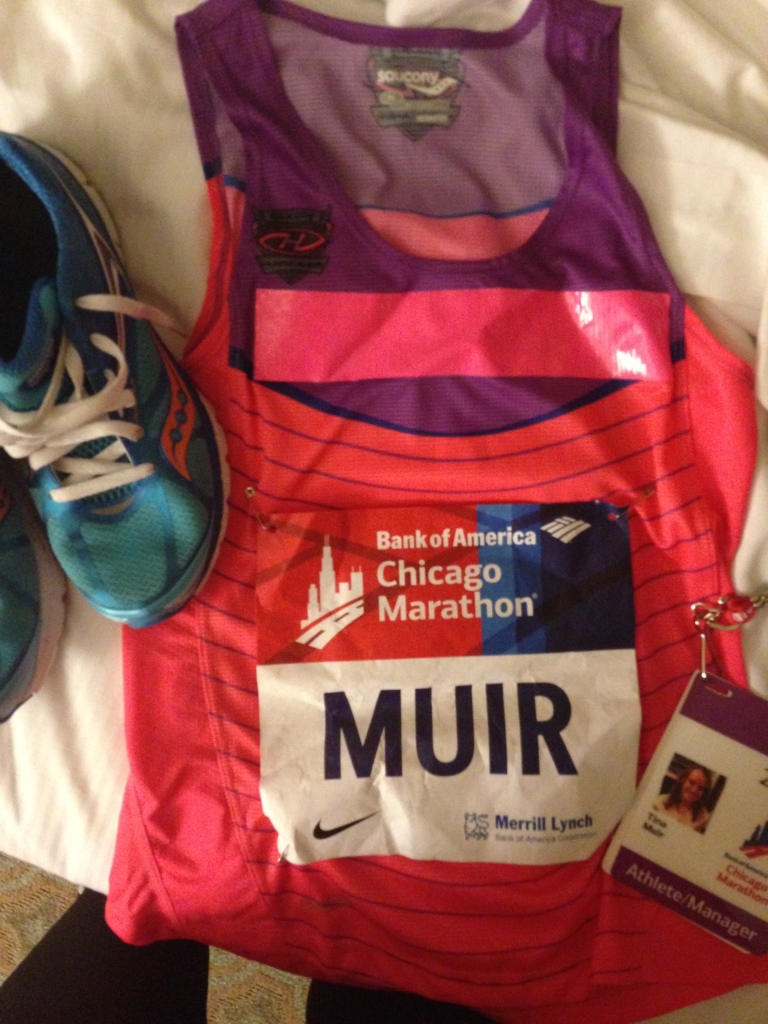 11:10am Call Brian Mahoney (Saucony Rep)
Brian tells me to come to the Expo, and he will see what he can do.
11:30am Take the shuttle to the Expo, tapping my foot the entire way as I am DESPARATE to pee, but at least I know I am hydrated!
11:50am Find the Saucony tent at the expo.
Brian is kind enough to let me take a few things I want from their selection, and a second option for a racing outfit if I do not want to tape my jersey.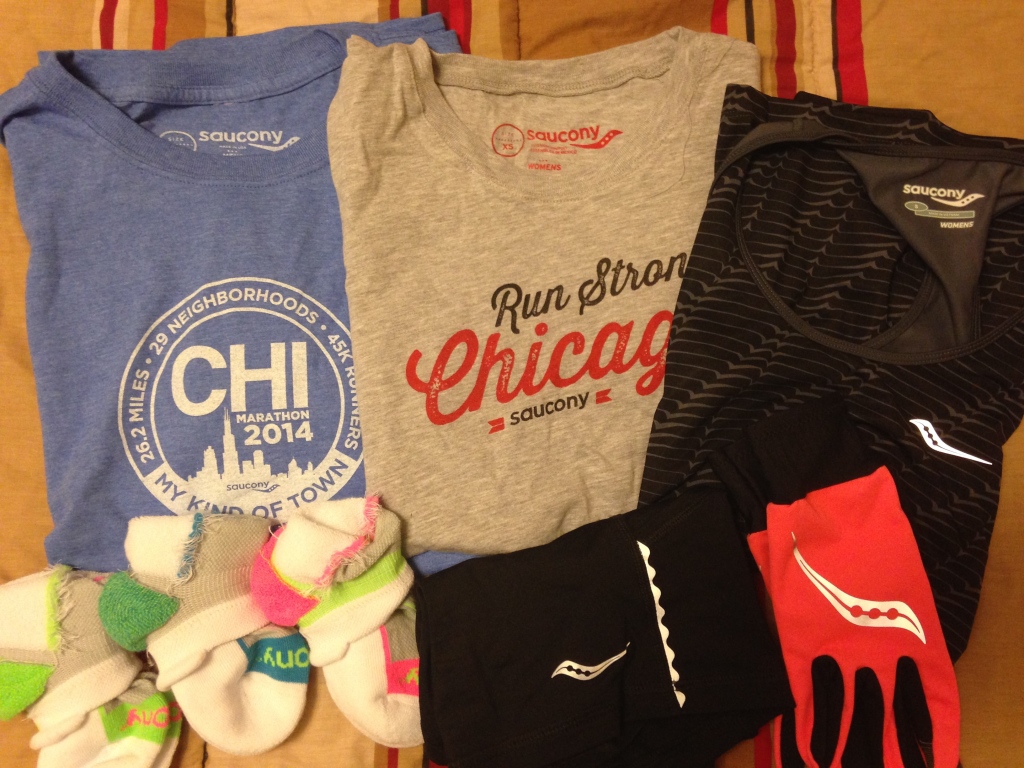 1:00pm Take the bus back to the hotel
Too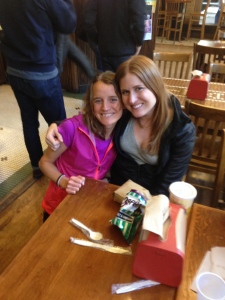 k a train to meet my Ferris State teammate Mikinzie, and joined later by another old teammate, Travis
2:00pm Fill elite fluid bottles with Genucan in the elite athlete lounge, and deliver to the drop off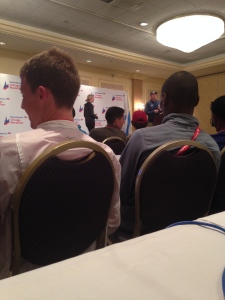 I wish I took a picture of my bottles, they were decorated with a union jack flag, yellow ribbons, my name, and an inspiring quote (which I did not pay attention to in the race).
3:30pm Elite athlete meeting
We are given details about the next 24 hours; what to expect before, during and after the race. We were also told what the Kenyan athletes had decided they wanted the pacemakers to go at. The men chose 61 minutes for the first half, and the women 69 minutes!
4:30pm Buffet dinner
This was the perfect pre race meal. I loaded my plate with marinara pasta, baked potatoes, rice, bread, and a toffee chip cookie. How is that for carb-loading!
After dinner, my table sat around talking for quite a while. It was so much fun, and we did not stop laughing. I had a good group including Alex, Ian, Steve, Patrick Rizzo, Christo Landry, Craig Leon, and Dan (I don't know his last name). It was great to relax, and just talk about things other than running. We decided that our table was a mis-fit family, each with our roles.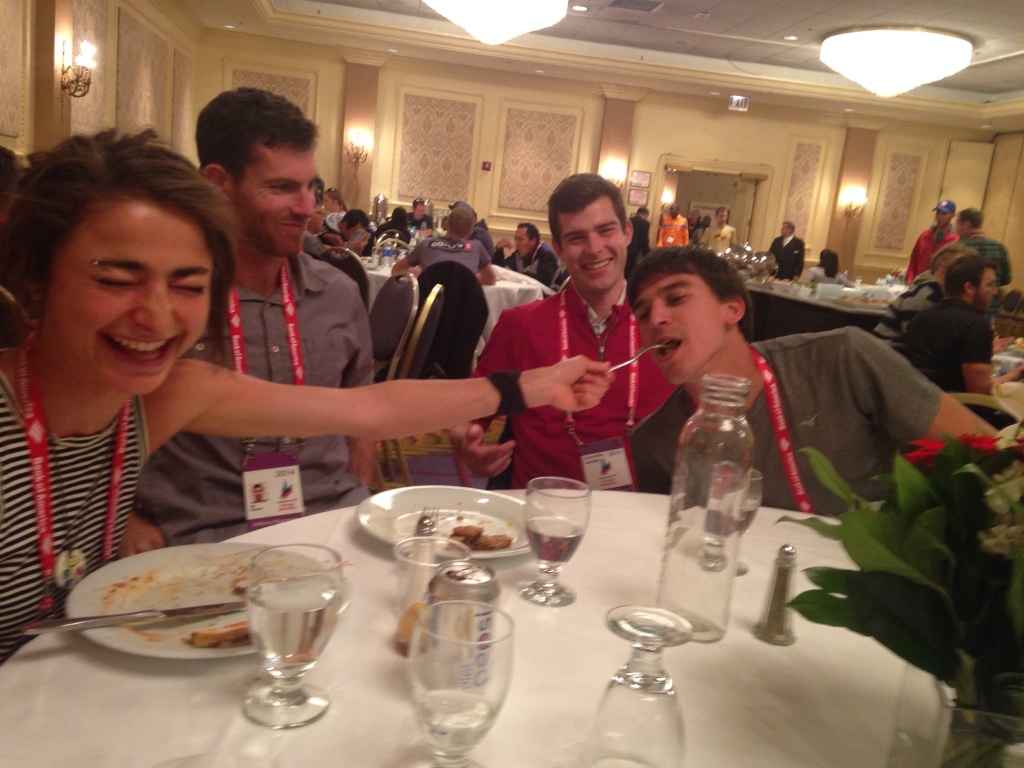 6:30pm Back to the room to relax
Alexi and I talked for a few hours, and just chilled out. This girl is amazing, seriously. If you do not know her, you need to follow her. She is currently working on a movie called Tracktown, with her boyfriend Jeremy. She is the writer, director, and starring actor for the movie! She is insanely talented in so many areas (including running of course), and just a wonderful person!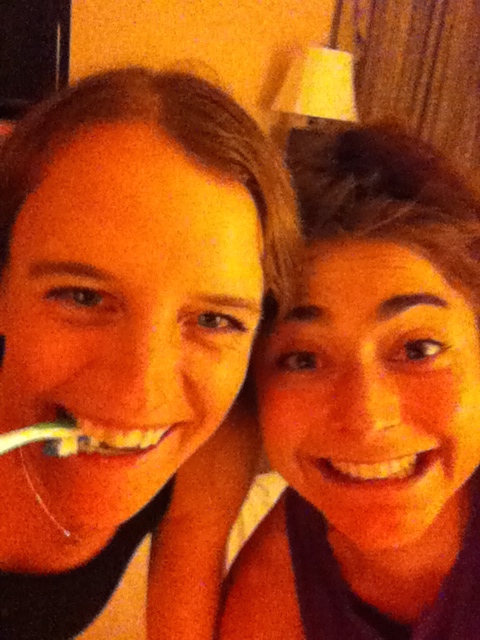 8:30pm Lights out for these racers
4:15am Alarm goes off 
Alexi and I head downstairs to the elite breakfast they have for us. I drink a hot chai tea with stevia, 1 1/2 bowls oatmeal, and a banana. We head back to the room, and get ready to leave
5:00am Wake up call for all athletes, but we are already up!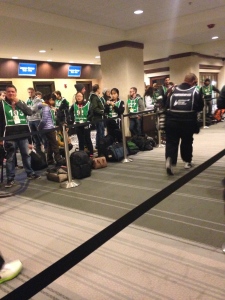 5:15am Meet in the lobby 
Our bags are sniffed by dogs, bibs are scanned, there are photographers everywhere, and all the while, we are trying to stay calm!
5:30am Leave for the course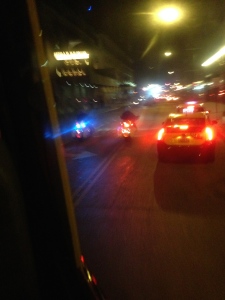 We board the school buses that will transport us to the course. I sit next to Melissa, and we talk about Michigan to distract ourselves.
Police escorts help the buses make their way through the busy streets of Chicago. All cars have to move out the way for us, and sitting near the front, we got to see all the drama. It was actually really exciting; you feel like a celebrity being escorted around. They moved barriers for us, pulled cars over for us, and dropped us off right at the elite tent (less than 50m from the start line!). Between trips to the bathroom, we sit around together in the heated tent, staring at our watches until it is time to go.
6:40am Warm up with Melissa in the warm up area they have set aside.
While we jog laps of the warm up area, I notice the Kenyans are absolutely flying around! Probably running faster than my race pace!
7:00am Use the port-a-potty for the 150th time
"okay, last time Tina" (for the 3rd time)
7:10am Called to the course
We are taken to a small area to jog around, do final drills and strides. I am very aware that Bekele is right next to me stretching!
I remove my final layers, and try to enjoy the moment, while my heart pounds out of my chest.
7:25am The American Development corral gate opens
The men push towards the front, making it rather crowded at the start! With the other female elites, I am pushed towards the side. I noticed someone had peed on the floor. After wondering if I could do the same, I decide to ignore it and look at the skyline instead.
7:30am Horn echoes all around, and we are off!
Read my recap of the race HERE
10:30am Finally see the elite athlete tent, after walking around like a zombie for the last 15 minutes
Steve runs towards me, I start crying in his arms.
When we get to the tent, I spend about 1 minute trying to decide whether to sit or not; whether the pain of getting back up is worth the few seconds of rest sitting will give me. I decided to go for it. Steve helps me put some of my warm up clothes back on, I talk to Sarah Crouch for a moment, before going back to the hotel.
10:40am Shuttled back to the hotel on a golf cart with Lisa Uhl 
We talk about our experiences in the race, while we try to ignore the throbbing that is now starting to build in our legs.
10:45am Steves parents, and my friends Sam and Bill, are waiting for me outside the hotel. 
I talk to them for a little while, before I remember that I was meant to check in with the media center, Steve and I slowly walk down to the media center, and talk to a few of the other athletes about their races. The general consensus is that today was not a good day for most. I feel a little better about my performance, and then I see Alexi. Alexi gives me the biggest hug, and best pep talk. I felt much better after that!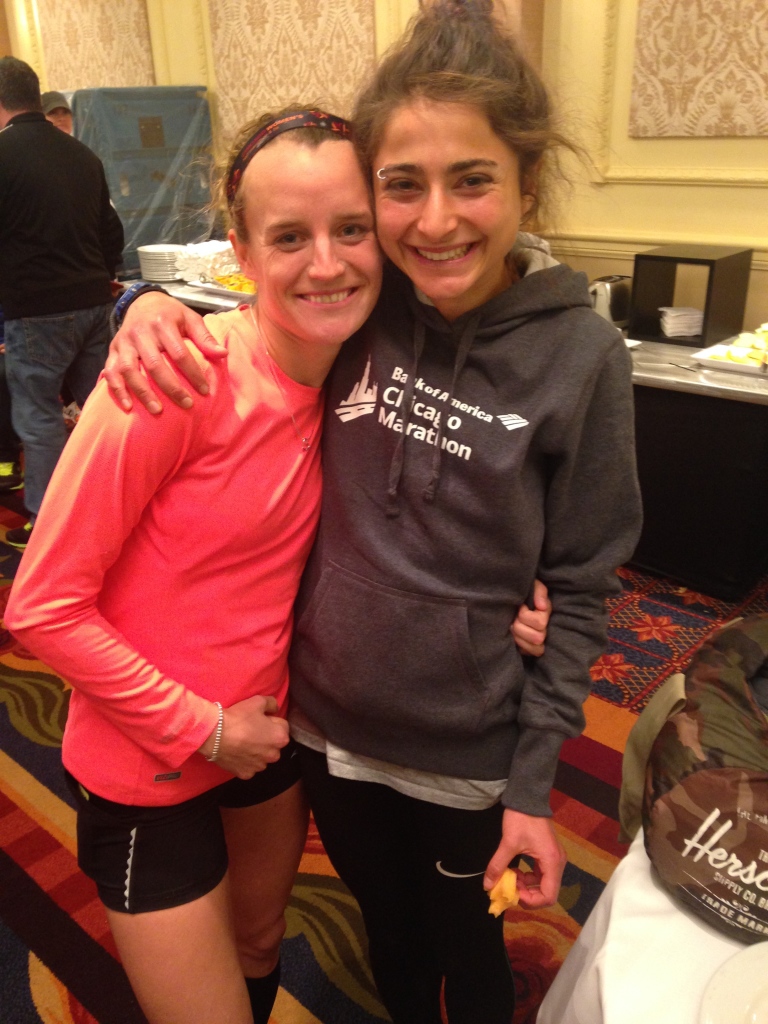 11:00am Breakfast/Lunch in the media room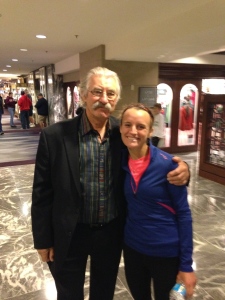 After a few minutes of arguing with myself about fueling, I decide that the idea of eating a wrap makes me feel like I want to throw up. I opt for a protein bar and banana instead, and force that down. I talk to a few of the officals (including legend Dave Bedford) about the possibility of racing in the London Marathon next April.
11:30am Shower, and pack up my bags
12:00pm check out of the hotel, and thank Bridget one last time for a wonderful experience
From there, Steve and I met my bridesmaid Kelli, who was kind enough to bring me my favorite cupcakes. We got back in the car and went on to visit the two locations we are considering for our wedding along Lake Michigan!
And that was my weekend! Apologies if it was a little too long, but I really thought it would be best to show a real inside look into the perks of being an elite, but also to show that there is not a lot you can control over this weekend. You have to be prepared to do whatever they ask, and there are a lot of events you have to attend. I had a wonderful time, and I am so honored I was given this opportunity. I am hoping this is not my last major elite experience, but I think my next marathon may be an event where I do not feel so much pressure (from myself) to perform. Maybe one of the smaller marathons? We will see!
What do you think? Is this what you expected?