First and foremost, I want to take a moment to thank you.
To each and every one of you who took the time to wish me good luck, cheer for me as I ran, or send me a message after the race.
It means so much, and I know everyone has been through some kind of struggle that allows you to understand what I was feeling, and I know that it can be so easy to look the other way, but you didn't, you took the time to make me feel better, so thank you.
The race recap I thought I would be writing is drastically different to what I am going to share with you today…..yet in some ways, is exactly what I put in motion and said out loud to you all a few weeks ago.
I said that I wanted to cross that finish line knowing I had given my best. That I did not want to be smiling coming in this time, I wanted to be pushing so hard that I didn't have the energy to smile.
Your wish is my command.
That is exactly what I got…..if only I realized that by saying that, it would include feeling that way the rest of the race!
I knew I wanted to go all out. I knew I wanted to leave it all out there.
I just didn't envision the time 4 minutes slower than my personal best next to my name or the number 59. I had a goal of top 30, and 59th wasn't even close.
As I stopped my watch, and bent over, hands on knees, I wondered what the heck was wrong with me.
I very rarely put my hands on my knees anymore. In the marathon there is no need, it is not your breathing that is the problem, and in shorter races, I usually can keep walking around.
For me, that was always the way I knew that I had gone "balls to the wall", as the only times I have needed to bend over in the past was those few times a year I had given it everything I had.
Once I stood up, I began to cry.
How could this have happened?
How embarrassing.
My country brought me over here to represent them, and I ran 4 minutes slower than my PR.
I have ruined all chances of every being selected again.
Money in the bank. I am not money in the bank. I can never say that again.
Yet as I walked, as much as I wanted to cry. Wanted to blubber and feel sorry for myself, I couldn't.
What more could I have done?
I gave it my very all, and fought every step of the way.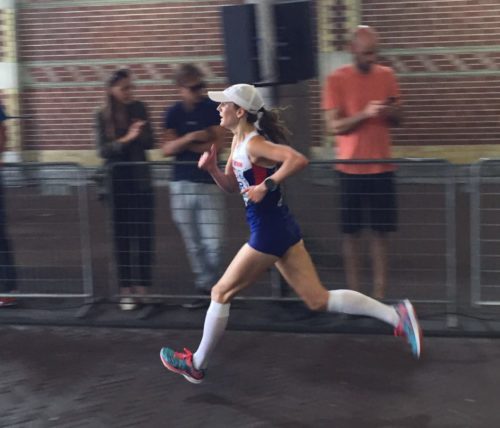 I always say to myself (and everyone else), all you can do, is your best.
And that is what I gave.
I think that is why I couldn't find the pity party.
I sat down by my bags, still crying, but starting to realize that not only were other members of the GB team upset, but everyone struggled.
Everyone felt like they had a bad day.
Varying degrees of it, but everyone had a rough race out there.
I cooled down with Aly and Gemma, and we talked some more. I started to feel better as I realized that everyone on the team had run at least 2 minutes slower than their PR, most runners of the day had run 3-5 minutes slower, and the winner only ran 71 minutes, when the fastest PRs in the field were 66 minutes!
So what was wrong?
How could an entire field struggle on a flat course?
Well, firstly it was a lot warmer than expected. The race started at 9:30, and the temperature had soared.
On the starting line this gave me confidence.
I have trained in so much worse. I have not run in humidity and heat over the last month to allow this to affect me.
I have an advantage.
Yet even I had not expected the sun to be cooking us like fried eggs, nor did I account for the additional heat that gathers in a city.
Then there were the turns.
Lexington isn't exactly a runner city, so Steve and I have been very creative when it comes to getting in the longer repeats for my workouts. I run lots of turns, I practice getting my rhythm back after changing direction, but I did not account for just how many turns there were in this course.
The race started, and immediately (like 20m away) we turned 90 degrees left. Another 40m later we turned 90 degrees right, another 100m away we turned 90 degrees left again.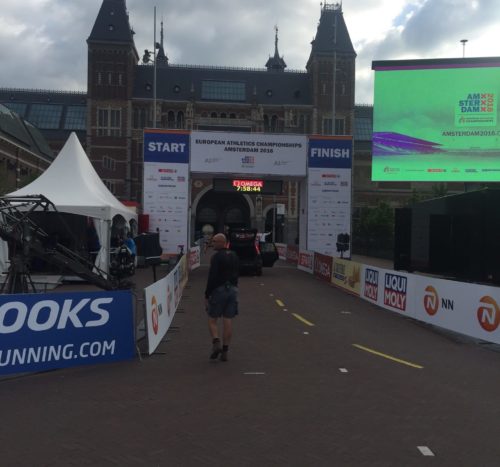 And that was just the start.
We crossed roads, up and down curbs. We turned corners, and crossed the canals over and over again. We had a 180 degree turn around a pole.
And that was just the first lap.
This was a two lap course of 10k each time. You can imagine just how much those hurt the second time around.
But surely, it should be fast, it was a flat course?
You would think so, right? 😉
I you look at the elevation profile of the course. Compared to the rolling hills of Kentucky it is pancake flat, a PR course I was determined to make the most of.
But again, what I did not account for, was the rolling hills that make you lose all your rhythm (especially when combined with turns).
As you may or may not know, Amsterdam is known for its canals.
Beautiful to look at, fun to go on a tour, but each of them create a mini hill in the road that requires a few steps of pumping your arms and driving your legs, followed by a lean forward and controlled falling on the other side.
Each of those take a little out of you, and beat you up a little more.
So excuses aside, what am I thinking about this race?
My first thought is that it was never going to be the 1:12 dream race I thought I was ready for.
I was not ready to run a big PR, no matter how perfect the conditions or how much I wanted it. Better conditions and a less aggressive course, we think I could have run a PR, but not by much.
I was not prepared for that.
But it wasn't even really about the time itself. I associated that time with being competitive in the field. I knew if I could run fast, I would be able to finish high up in the field, and then Great Britain would be proud of me.
We just didn't have enough time after the London marathon (and the 2 weeks off afterwards) to get me ready for it. Steve and I agree that I was ready for a good race. We were just a few weeks too short, and I knew it. I should have readjusted my expectations, but I just couldn't.
I kind of knew it, deep in my heart, but I refused to believe it. Steve tried to keep me in the real world, telling me I just needed to focus on racing as that is when I perform best, but I just couldn't let go that the other girls were so much faster than me.
I just did not want to let the team down. I knew that 3/5 of us ran in the London marathon, so they would be in the same boat, and they would have struggled just the same to get ready on time. The other two girls were 10k girls, so they would be struggling to do long enough workouts to be ready for this long of a race.
But I just couldn't accept that. I felt like I was the only one struggling. I was the only one who found it hard to get ready.
I think that is part of the problem with me being so honest in my life. Most people do not want to say their vulnerabilities out loud, admit they are scared as it might cause them to doubt, but just because they don't say it, doesn't mean they aren't feeling it.
It meant that I went into the race on a mission. Feeling the same way I used to when I was in college, determined to go after a time goal.
It didn't matter how much Steve would plea, or how much my intuition was screaming at me to listen, I ignored it.
That is what happened in this race.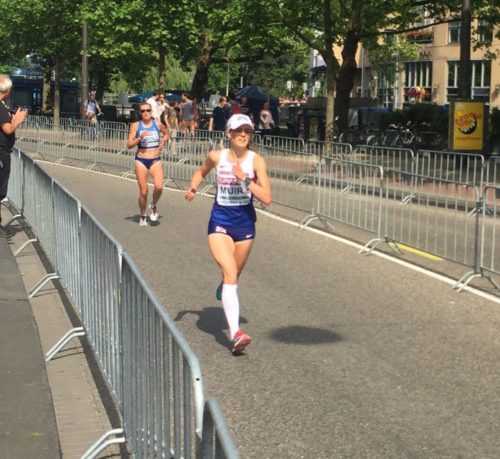 As you can see, my form went out the window…
The conditions I mentioned above set the limits. Just like I tell you to lose the GPS in workouts, to run by effort, trust your body to give you the signals.
As much as I give that advice to everyone else, and I usually listen to it myself, I couldn't even listen to my own advice.
I knew what pace I would need to run to put me in the mix with everyone else, and it didn't matter what the conditions were, I was gonna do it, one way or another.
But as most of us know, there are too many variables in running to be able to run what you want, no matter what.
We rarely get a perfect day, we always have to make changes during the race, as races rarely go to plan, but usually, if you listen to the signs your body is giving, you can refocus, and get back on your game……just like I talked about with the mental and physical freakouts.
Listen to your body, ride out the tough patches, and enjoy the good patches, but trust in your intuition.
Except I didn't.
To be continued…….
As I mentioned last week, we are off to Nashville today for our vacation. We booked this long before this came up, and we decided we should still go. I will be MIA for the rest of the week…..unless I feel super productive on the rest of the plane journey and get another post ready 😉
I will share the rest on Monday. If you need me, I will be on Instagram 🙂
Have you ever tried to force your body into a place it wasnt ready for? What happened?