Tired.
If I were to use one word to describe how I feel right now, that would be it.
When Great Britain and Northern Ireland asked me if I wanted to represent them in the European Championships Steve and I were over the moon.
It is funny how the world works.
Earlier in the year, I was devastated not to be selected to the Great Britain team for the World Half Marathon championships.
But, I still had a gut feeling (and you guys know how I feel about intuition!!) that I would be running it for them, despite things looking bleak.
And I was right.
I was called up with 3 days to go, upgraded from the England team to the Great Britain team, and I finished 49th, soaking in every second of my first time representing my country.
It was my lifelong running dream come true, but it still did not quite feel complete.
I always said I wanted to earn it myself.
Of course I had, with the hundreds, no, thousands of hours I put into my running over the last 12 years, but it did not quite right as it was another runners misfortune that led to me being selected to the team at the last-minute.
So I put it on the back burner.
If I never got the opportunity to represent GB&NI again, I had technically accomplished my goal, so I would not be sad reflecting on my running career, but it was always going to be a thorn in my side that I had not earned it.
Are we splitting hairs?
Probably.
But you know me, I am honest, and this is honestly what I was thinking.
So I left it to fate, let's see what happens, and expected it to be a few years until I had the opportunity to strive for the team.
But here I was, just a few months later, being offered the opportunity to run in the European Championships in the Half Marathon.
And even more exciting, I had earned this.
By finishing 3rd British runner in the Championships, I had earned my spot on this team.
Should I take it?
Was that even a question!?
No.
We did not hesitate in our response.
But there was one problem.
I was coming to the end of my two weeks completely off all exercise after the London Marathon.
And Steve is NOT a fan of jumping back into training.
It is SO important to build your training back up slowly, to give it time to adjust to the training load again to prevent injury, AND it is even part of the recovery process.
Just like those easy runs have the purpose of RECOVERY. To bring in fresh oxygenated blood to those sore muscles to help them feel better.
Those easy runs help get rid of all the junk from your race.
Yes, sure, the time off exercise allows your body to heal, but it is still in recovery much more than 2 weeks, especially if you do not even take that much time off!
So that left us with a dilemma.
The European Championships were July 10th. I started running again on the 6th of May.
Usually, Steve and I would have 4-5 weeks of easy, slow mileage with light workouts before we begin any high intensity workouts.
But that would mean not starting the race specific workouts until June 6th at the earliest (and that does not even include the few weeks of "transition"!).
I am sure even non runners know that 34 days is not enough to get ready for a European Championships to represent your country!
That meant we had to speed things up a little, but being careful not to push my body too far.
We moved everything forward a few weeks, transitioned into the high intensity workouts, and increased my mileage and long run quicker than we usually would.
Rather than taking a down week every 4 weeks (which we definitely recommend, no matter what level you are at), this segment literally did not have time.
That meant those accumulated miles continued to add up in my legs, but I still had to get 8-9 miles worth of workout volume in as well as some speed workouts twice a week…..especially after I found out from my 3rd visit to UVA that this is the key to the next level for me.
This did not even take into account the 2 hours of easy cardio cross training per week and the 2 hours of strength training/heavy lifting with Drew.
And then I threw one more kink in there.
I was not confident about going into the Championships with it being the first race since the London Marathon.
With our visit to UVA/West Virginia and the trip back to Michigan, we were left with one weekend to find a race, but there were not many options.
We had the choice of the Hyde Park Blast, a very hilly 4 mile race in one of the suburbs of Cincinnati or  Madeira Criterium 5k, which consisted of three 180 degree turns.
We chose the first option, and hoped for the best.
But on Friday morning, after struggling with tiredness all week, it was clear that I was not rested enough for this race. When I went to my strength training workout with Drew, for the second time that week, I told him I felt exhausted.
We have raced tired before, but never to this extreme.
Interestingly, it did not seem to be so much physically for me this time, but emotionally.
We agreed that I would keep the intensity at a 5-6 (out of 10) for the first 2 miles because of the significant hills. There were two hills in particular that were over 1000m long each and many more that were shorter and sharp.
Here is a look at the elevation profile of the race:
But the hills were not the problem.
My head was.
I just could not push like I usually would.
I pride myself on being one of those people who "brings it" when I race. I go as hard as I can, and really go for it, no matter how bad I feel.
Yet I just felt numb.
Like I had no motivation to push beyond workout intensity. I was just going through the motions
The hills did push me to that next level, but I would say I worked to a 7-8 intensity by the end, but I felt like I worked harder on my workout this past Wednesday.
Not exactly the way around you want it.
Steve said I looked like I was having a bad day on a tempo run, and that is a pretty accurate way of how I felt.
Nothing was wrong, I was just exhausted!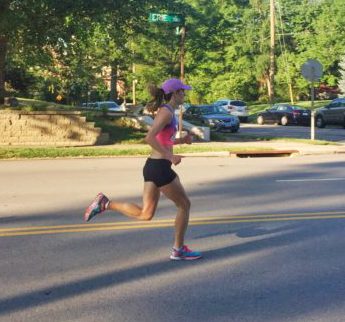 So I finished 2nd woman, and ran 5:43 per mile average, around 10 seconds per mile slower than I would ideally run for the Half in less than 2 weeks!
That is hard for the ego to take.
Of course that sends my brain off into panic mode, wondering how the heck I am going to manage it.
BUT
Just like I told you in my taper crazies post a few weeks ago, you have to trust.
You have to look beyond the single runs, races, workouts, or whatever it is that you are zoning in on.
Instead, look back on the cycle as a whole, all the work you have put in, all the good days combined together, and all those struggles you pushed through.
It is now time for me to start backing off the training, getting ready for the race, and seeing how all this hard work comes into play on race day.
I did everything I could have during this segment, and other than being tired (which is completely expected), my body has handled it well, and I will go into this race with confidence.
So this tired girl needs to rest up, and have a little faith that things will come together on the day that matters.
But no matter what happens, we learned a lot about me and my body in this segment, this was different to anything we have ever done before, and I can look back with pride.
[bctt tweet="Even elites have races they struggle to stay focused. Read @tinamuir recap!" via="no"]
Ever raced going through the motions?