For the last six months, I have been trying to eat real. That means trying to make as much from scratch as I possibly can, and trying to remove processed foods from my diet. Making your own pizza, for example, has various commitment levels to how homemade you want to go. You can buy it from a restaurant, you can buy it frozen, where it is full of preservatives, but you are technically cooking it, you can make it at home, using ingredients from cans, packages, and maybe throw on some fresh vegetables, or you can make it from scratch.
I have been making pizza dough from scratch since I got my beautiful Kitchen Aid. Although I love eating out, and definitely enjoy pizzas out,  my budget cannot afford it, and pizzas are one of the best things you really enjoy when you know you have made it yourself. Have you seen my Whole Wheat Goats Cheese and Vegetable Pizza? Or how about my Pulled Pork and Roasted Sweet Potato Pizza?
Recently, I was standing in my kitchen, staring at the vegetable bowl, wondering about how to make tomato puree from tomatoes, when there is so much liquid! The butternut squash caught my eye. Butternut squash makes a great puree, I thought…… my mind started to work. What about putting the butternut squash as the sauce?! I went about this experiment, cooking the squash and spreading it onto my (cooked) homemade wheat crust, topping with heavenly goats cheese, and vegetable of the year; kale. I put it in the oven and hoped for the best.
It came out looking like a superstar, but how would it taste? Luckily, I had a friend coming to dinner to reduce the bias. As we both took a bite of the unconventional pizza, we looked at one another and smiled…..the verdict: Delicious!!
It makes such a wonderful change to regular pizza, and adds in some extra vegetables! The goats cheese works perfectly with the butternut squash, as well as adding two of my favorite things together!
#FuelYourFuture
Butternut squash is high in fiber to regulate digestion, as well as a number of vitamins to keep your body systems running well, and prevent a number of health related diseases

Kale is abundant in a number of antioxidants, as well as pumping your body full of calcium (it almost has as much as milk), making your bones stronger

Red onions help reduce your LDL (bad cholesterol) while increasing your HDL (good cholesterol) to prevent heart related diseases

Goats cheese adds more calcium, and protein to the dish, to make sure that even though this is a vegetarian dish, it is balanced, and helps you recover faster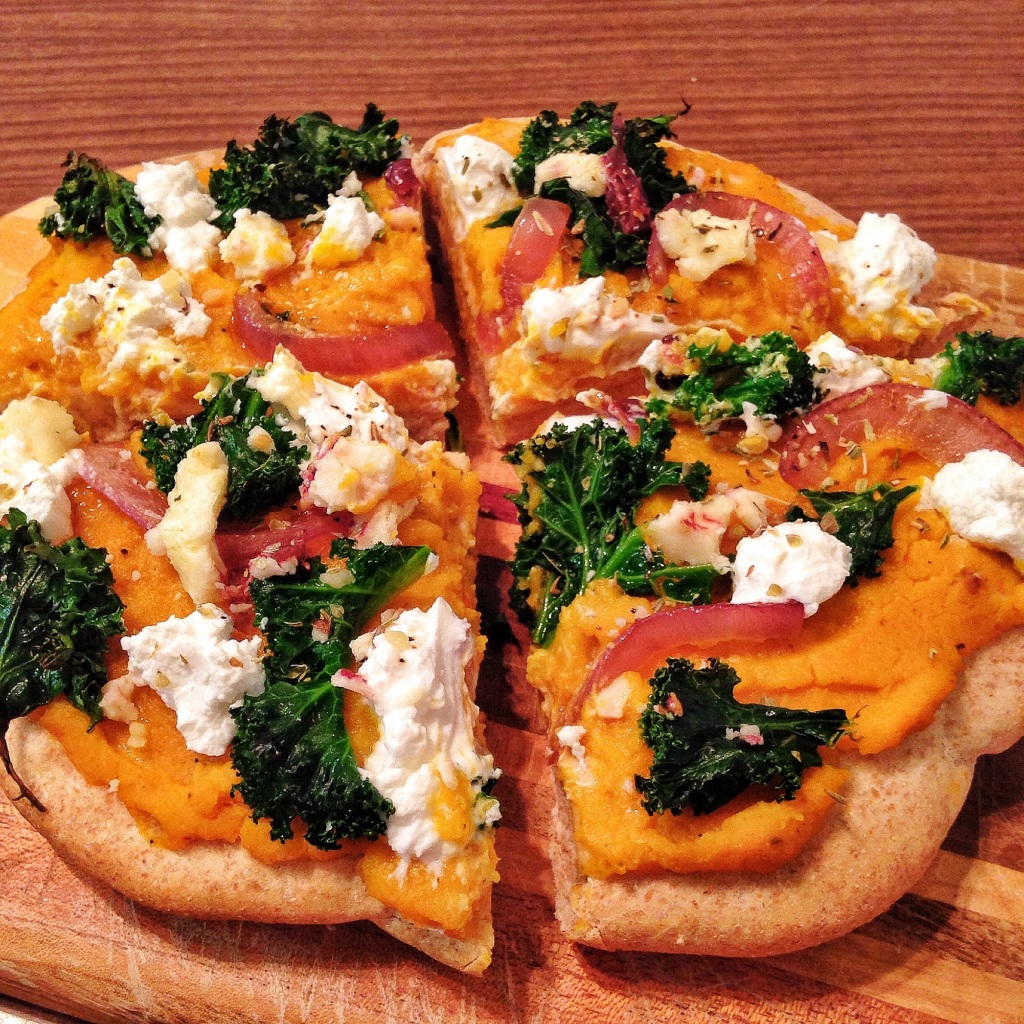 Butternut Squash and Goats Cheese Pizza
Makes 2 individual 6"pizzas
Preparation time: 10 minutes
1 medium butternut squash (3 cups), peeled and cut into small chunks
2 tsp seasoning of choice
½ recipe of honey wheat crust (I used this recipe and put the other ½ in the freezer)
¼ cup (75g) goat's cheese
3 cups (185g) kale, in small pieces
1 tsp dried oregano (or 1 tbsp fresh)
Preheat the oven to 375 degrees F (190C).
Cover the butternut squash in 2 tbsp oil, desired seasoning, ½ salt and ½ pepper. Place on a baking tray, and roast until tender (around 30 minutes). Remove from the oven, and baking tray to cool.
Heat the ½ tbsp oil in a sauté pan. Add the onions and cook over a medium high heat until soft, brown and caramelized. Remove from the pan. Using the same pan, cook the kale, along with ¼ cup water. The kale will become bright, dark green as it wilts. Drain out the remaining liquid, and put aside.
Heat the oven to 450 degrees F (230C)
Break the dough in half, and roll out into two round circles of your desired thickness for a pizza base (I like mine a little thicker, around ¼ inch). Place the pizzas on pizza stones (or the back of a baking tray) and cook until the edges are lightly browned. Around 8-10 minutes.
Turn the heat back down to 350 degrees (180F).
Meanwhile, put the roasted squash into a blender until it makes a smooth, creamy paste. Put aside
While still warm, spread the pureed squash onto the cooked pizza base. Cover with clumps of goats cheese, kale and onion. Sprinkle with oregano. 
Place in the oven for another 8-10 minutes until the edges of the pizza are golden brown, and the cheese is melted.  Note goats cheese does not spread like other cheeses; it will just be soft and gooey.
Remove from the oven, cut into slices, and enjoy!
Nutritional Information per serving
386 calories, 17g fat, 799mg sodium, 25g Carbohydrates, 7g Fiber, 34g Protein
What ways have you cooked outside the box? How did it turn out?