I have had an ultimate bucket list for about ten years now. In college, a good friend had purchased a journal for me, which I used as therapy during hard times or injury. I have talked many times about how important I believe journaling is, especially when you are struggling with something in your life that you have little control over.
That book became my place to share my private thoughts and it ended up being the place where I stored my ultimate bucket list, you know, the things you want to do before you leave this world. I have accomplished a good chunk of them, but I still have a lot to go.
One of the items on the list was to be the cover model of a magazine. And I knew I was going to do it. Somehow, someday, just like my running goals, I knew it would happen, I just wasn't putting a time frame on it.
I would have been willing to bet it was while I was in my best running shape, at the peak of my career as a runner, fit as I had ever been.
If you would have told me it would be when I was 15-20lbs heavier than that, seven months postpartum, running about half what I did as an elite, with no goals or races on the plan, a baby joining me in a stroller, I am not sure I would have believed you.
I am absolutely honored to say that I can now check this off my list, as this month, the October issue of Womens Running UK, Bailey and I are the cover models, and I could not be more proud.
The only downside?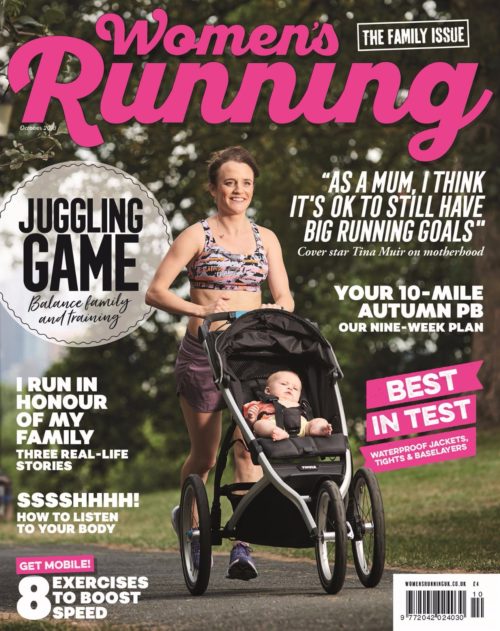 Although it is stocked in the US in certain retailers, I cannot find it anywhere in any of the Lexington stores, meaning I will not get to go up to the shelf with my face looking back at me. In fact, as I write this, I still have not yet seen a physical copy to hold in my hands, all I have seen are photos. (Some are in the mail on the way to me as we speak).
I thought I would share the experience, and what it is like to be a cover star, as I know I would always wonder what it would be like to be a model for a day, so here is my experience.
I knew I was going to be on the cover of Women's Running since April as they had decided they were going to do a family issue. I was very excited for the shoot, because that is something everyone dreams of experiencing at some point in their life; being treated like a celebrity, made to look your very best. It was hard to keep it quiet, as it is something you want to shout from the rooftops, that someone thinks you are special and inspiring enough to have a full-page feature plus photo on the front.
We set up the shoot for July 23rd at Primrose Hill in London, a beautiful park with an absolutely stunning view from the top. We would be visiting family during that time, and this worked perfectly well.
I have been working with Lululemon locally, and have really been enjoying their running clothes. I know they are expensive, but they are absolutely wonderful quality, and so worth the money. I have talked about my Lululemon Enlite Bras many many times, and yes, they do cost almost $100, but it has been worth every cent. Lululemon were kind enough to supply me with some clothes to wear for the shoot, especially as I was told to bring something I was comfortable with. Right now? Lululemon really is my favorite running clothing brand.
Yep, I mean that.
I also was sent some HOKA ONE ONE shoes to my parents house, as I have been enjoying the HOKA ONE ONE Clifton 5s (use code running4real for free expedited shipping in the US), but mine were pretty worn (a good sign, right?) and the one time you do want new shoes is for a shoot!
This photo was going to be Bailey and I with the running stroller (or running buggy as we say in the UK). There was one problem though. My Chicco TRE stroller does not meet the regulations for running buggies in the UK. The laws are very different, and you will notice that so too are all the buggies/strollers. Thankfully, Wendy from running buggies stepped in and sent a Thule Urban Glide to my parents house to use for the shoot. We did get to test it out in the week before, and there were some things I liked better, some I liked less. It was notificably different in the way that it handled, I am assuming because of the difference in running surface in the US compared to the UK.
I had my outfit, shoes, and running buggy, and I was ready to go.
That morning, Steve, Bailey and I headed into London. We met up with lovely Evie, my sports psych and good friend before the shoot, catching up on missed events, while nervously anticipating the shoot.
By the time we got to the pub we were meeting at, it was sunny and already almost 30 degrees C (85F), and I was unsure how I would be able to run without looking like a sweaty mess. That would be the last thing I would want….although ironically, that is usually what we look like running, right? That would have been the ultimate running for real.
However, sweaty messes do not grace covers…at least not in that moment, so I had my hair and makeup done by Bea Burton, who works with all kinds of clients from Glamour to Fitness First to Reebok. She was very efficient, and professional, and it did feel nice to be left in the hands of someone who knew exactly what they were doing to make you look good. I did have to breastfeed Bailey while she was doing it though, which was multitasking at its finest!
While I was in the pub, I debated over my outfit (I had brought three options with me) with Tina Chantrey, the editor of Women's Running, met the photographer, Joe Branston, and talked to the other cover model who will be gracing the cover in October.
I decided to go with the Vibrant Lululemon Energy Bra (they don't have that pattern anymore) and Lululemon Tracker Shorts. Part of me was tempted to wear a tank top or long sleeve over the top, but I really wanted to prove a point, I wanted to show that I had the "perfect" runner body, the chiseled, lean, fit physique, but here I was, 6 months postpartum, still holding on to some baby weight, nowhere close to being in shape, and just running when I could…but I could still feel confident in a sports bra.
I hoped that if I could, other mamas could do the same.
We headed over to the park, and Joe began to scout the area for a good place to take a photo. We made sure Bailey was feeling good, although I could tell she wasnt going to be too far off taking a nap. I just hoped she wouldn't cry her way through it.
Joe picked a path with a spot in the shade for me to run towards and set up. Steve had his job of holding up the light box, and my job was to run back and forth, looking as happy, but relaxed as possible.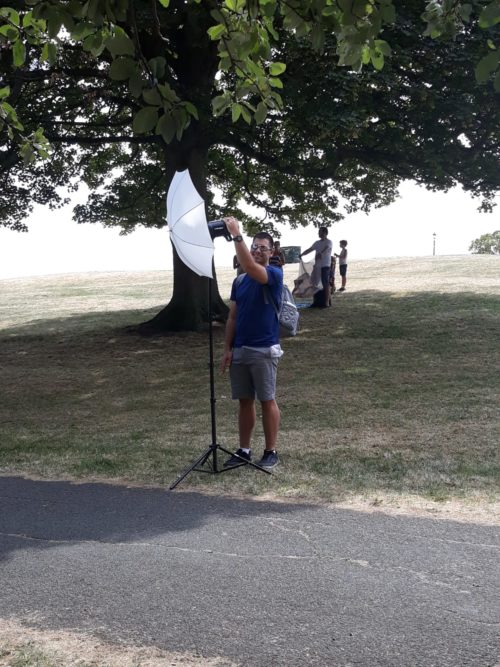 I was happy, truly. This was a dream come true, but I was also nervous. I am not exactly a natural at modeling, I know that from previous photoshoots with photographers, I do sometimes look awkward, and I was well aware that I was focusing on what I "should" look like, rather than running as I usually would.
They told me to smile, BIG, and that was easy, I was doing something incredible! How could I not be smiling! But I also felt like I was putting on an over the top exaggerated smile, one that no one would actually do running unless you could see the finish line of a race and you were about to SMASH your PR…although actually, now I think about it, in that moment I would probably be crying!
I ran back and forth across the same stretch of path probably 25 times, which as far as I could tell is pretty normal. We had to "powder" my face once when the sweat beats started to show up, but otherwise, I was just going back and forth, trying to change little things they suggested each time. The majority of the time, Bailey was just looking around, observing, like she usually doesn't, but towards the end, she started to fall asleep, which is where one of the other images in the feature came in; I was jumping up and down trying to get her to wake up and smile. We did a few photos with me on my own as extras to use.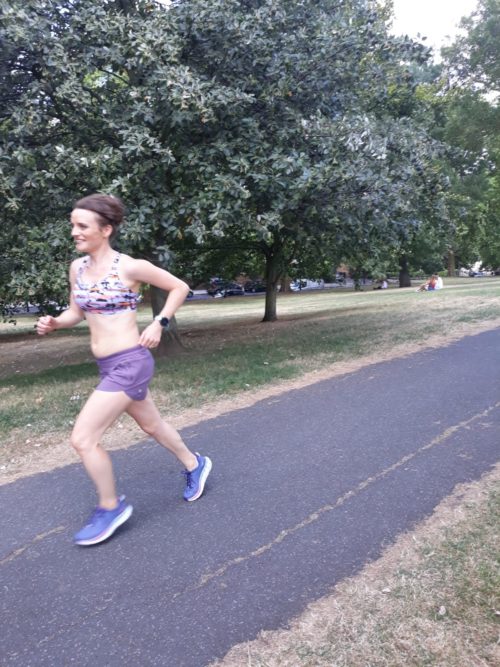 After Joe was happy with the options we had for the main photo, we walked over to a different spot for some photos of just me and some of me running with the stroller up a hill with many of the sights of London in the background. It was a breathtaking view, but it was also quite uneven, so I was just focused on running up the hill (two handed) for these ones!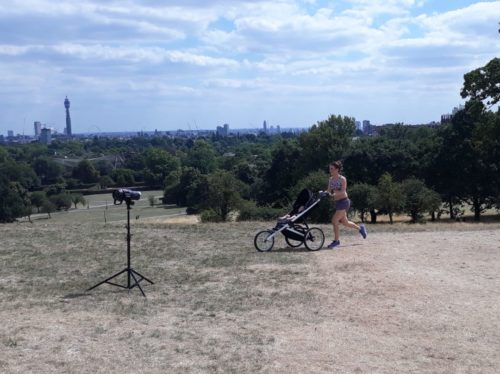 After we were happy with the photos, and we took a family shot of the three of us, I hung out with the other cover star for a few minutes, and then Steve and I thanked everyone, and headed on our way home. I had to breastfeed Bailey in St Pancras Station….one of the busiest stations in London, but thankfully, in the UK no one really cares (from what I know) where you do it.
We had to keep the details of the shoot a secret, which was very hard as I wanted to tell everyone how amazing this experience was, and share that this was coming.
Now I look back, I am glad I didn't say anything, it made it even more special when it did come out. We had done the interview section of the feature weeks before, the lovely Claire called me one afternoon to talk. I hope I did mother runners out there justice with my words.
As I reflect back on this experience, one of the craziest, most memorable experiences I have had to date, I think about what I feel it means to accomplish this. Not just to cross it off on a list, but hopefully what it represents.
For the full body images they used on the contents page, I was sure to remind myself of something.
Rather than sucking my stomach in, focusing on the perfect smile, and "posing", I thought about my body and how proud I was of it. It has been thought so much in the past year, and it has handled it graciously. I wanted to show women that you do not need to look lean or ripped to be proud of your body, just like we say with our running, think about what your body has done, all it has achieved and accomplished, rather than what it looks like on the outside.
We know we, the people inside these shells are what matters, and the outside doesn't define who we are. I was in this position to be on a cover because of what I have done. The relationships I have built and maintained, being brave enough to speak out about amenorrhea, and trying my best to lead by example, not because of how my body looks.
I hope that if you are reading this, you can look at your body, right now, look at it with pride. Think about what that body has helped you to do in your life, how it has treated you well, healed as quickly as it could when it was damaged, and been the best version of itself it could, for you, to make sure you survive and thrive.
If I can do it, you can too, really.