July already. Maaaann time just flies by.
That means we are already in the month of the European Championships, and in just over a weeks time I will get the opportunity to represent my country for the second time this year in a Championship.
Only this time it is bigger, and better!
Okay, so technically the World is bigger than Europe , but this one is a full on championships, and Great Britain and Northern Ireland are taking 98 athletes to this Championship for a 5 day event. This is the event I had always dreamed of participating in, and I am very excited to leave on Tuesday to head to Amsterdam.
After all that happened in the UK this week……what with us exiting Europe twice in one week an all, we need some good to happen, and I am sure that there will be a lot of eyes on our team, looking for some good news.
For my American readers, England was also knocked out of the European Championships in football (soccer), which is like your favorite team being knocked out of the Super Bowl. This is a BIG deal.
I just wanted to take a moment to thank the brands that have helped me reach this moment. Over the last few years, I have worked with lots of wonderful companies, but there are a few in particular who have stood by my side through thick and thin.
I am very lucky to have such a wonderful support network of companies who sponsor and support me, and they have helped me to realize my dream with their backing and products, so I wanted to take a few minutes to let you know who they are, so maybe you can check them out and use them to fuel your own dreams…..or fuel your future I should say 🙂
Saucony
I think if you were to name one of my sponsors, this would be the first one to come to mind, and rightly so. This brand allows me to do what I do. They provide me with the shoes I need to run……kinda important, right?
They provide me with the clothes for year round training, and the flats to race in when it matters. They help pay for some of my travel, and give me a racing to feel confident in on race day.
But most of all, Saucony believed in me. As I am not a US citizen, most of the other brands were very hesitant to work with me, but Saucony gave me a chance, and not only that, but they have supported me along the way and given me the name to use when negotiating with race events.
I love that they truly care about runners.
Last, but certainly not least, through Saucony, I have met some wonderful friends, who I cherish and look forward to keeping in touch with for the rest of my life.
Thank you Saucony
#FindYourStrong
How do I use them?
Every day for every run!
Nuff said 😉
EnduroPacks
You have been with me from the very beginning of my professional career. I remember speaking with Jason on the phone, promising him that I would make him proud, that I was ready for a big leap in my running career, and I just hoped he would give me the opportunity to allow it to happen naturally….ratehr than forcing it (we all know what forcing it does!).
He did not even hesitate, and reassured me that we would support one another.
3 years later, I am still sponsored by EnduroPacks, and I could not say any more positive about the brand. The guys behind it, the support they give not just to me, but to the rest of the community, and most of all, the product.
It works.
Trust me.
Thank you EnduroPacks (remember you can use my code tinamuir for 15% off)
#EnduroPacks
How do I use them?
1 multivitamin per day, 1 amino acid patch, 2 L Glutamine tablets, numerous electrolyte sprays in my drinks
Nuttzo
Another fueling one.
When you run 80-90 miles a week, you need to eat….a LOT, so its not surprising I have a few nutritional companies behind me. This one has been there for years, and I remember being OVER THE MOON when they accepted me!
Now I have more protein and fat in my diet, I enjoy my Nuttzo more than ever to help my body repair….while of course making me smile ear to ear with every bite.
Nuttzo, I love you (oh, and thank you!) Remember to use my coupon code muir-20 for 20% off.
#EatNuttzo
How do I use them?
By means of a spoon and a jar, daily.
Sizzlefish
What would a runner be without the right kind of fueling?
We all know how good fish is for us, but it can be easy to forget to put in the shopping cart, or to know which types to buy.
Thankfully, I have a wonderful brand behind me, who not only ships it in individual containers right to my front door, but their fish is sustainably raised, and I can be confident that I am getting all the nutrients possible from the different varieties of fish….although of course Steve and I still love our Salmon.
Sizzlefish is supportive, kind, and genuine.
The kind of company all of us love to work with.
#PoweredbyFish
How do I use them?
1-2 times per week, I enjoy fish for protein and health.
BodyHealth
When I started working with Tawnee, and we made the diet changes along with the lifestyle changes, I was a little overwhelmed. There was so much to consider, and so many new things I needed to add to my daily routine.
One of the companies she recommended I look at was Body Health.
I was nervous about approaching them, especially as I had never even heard of half the products they offered.
But they were wonderful. Fun, friendly, and immediately jumped to my side to help me on my journey.
A few months later, Perfect Amino is a daily part of my life, and I am adding some of their other products to my routine (I will be reporting back to you once I have enough time with them).
Perfect Amino helps my body to recover, and helps it to handle the tough training, especially when I have pushed it as hard as I have this time around.
I look forward to many more years with them (as long as they will have me)!
Thank you Body Health.
How do I use them?
5-10 tablets daily. 5 first thing in the morning, plus possibly another 5 later before my second workout.
Inside Tracker
Since I was about 15 years old, around the time I started driving an hour to work with Paula Radcliffes coach, I learned the importance of keeping track of your blood work.
When you train hard, your body gets worn down, and if you do not fuel it correctly, and combine that with the right supplementation, you can easily fall into overtraining, and that will eventually take over your life, let alone your running.
I used to get mine done occasionally, mostly to keep an eye on my iron, but certainly not enough to maximize my training, in fact, I was probably missing out on a lot of performance benefits by other levels being low……until I was introduced to Inside Tracker that is.
Jonathan and the Inside Tracker team are on a mission to get us all to take better care of ourselves. I have told you that I am putting my health as my number one focus in my life, and they made it really easy to do.
Giving me recommendations on how to fuel better, encouraging me, and looking after my future, that is what I needed, and that is what I got!
Thank you Inside Tracker (remember to use my coupon code tinamuir for 10% off)
#BloodDontLie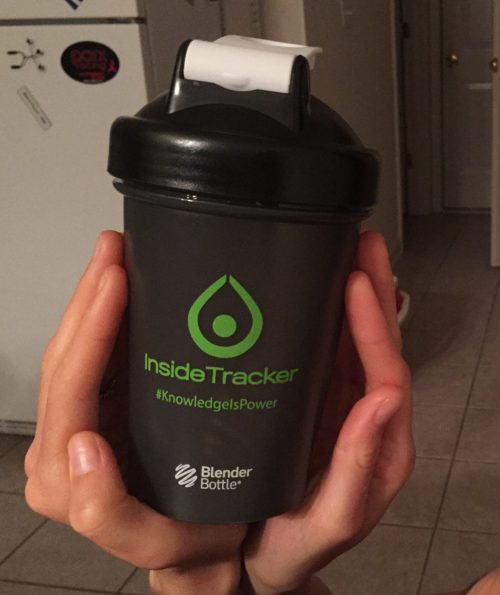 How do I use them?
Getting my bloodwork taken every few months.
Kentucky Kombucha
Last, but certainly not least. My favorite local sponsor, Kentucky Kombucha.
Working with genuine, forward thinking, and hard working companies makes me very happy, and this brand with their delicious Kombucha makes my gut happy too, so it can handle the stress that hard training brings, especially when it has ginger too, which helps with inflammation.
I am lucky to be connected to such a great, local company, and I look forward to watching them grow!
Thank you Kentucky Kombucha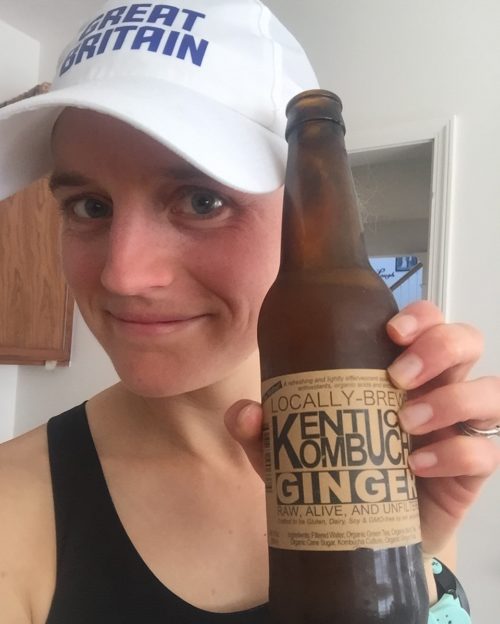 How do I use them?
After runs as a thirst quenching drink, or as a treat in the early afternoon.
I am in talks with a few other brands right now, and look forward to hopefully adding them to my army, but if not, I feel so very lucky to have these by my side.
If you want to learn more about these ones, head over to my support network page, where I have full reviews of them all.
What are your favorite companies to fuel your future?