I told you a few weeks ago that I got lost in the Indy Women's 5k. Both Steve and I were incredibly frustrated, as we knew we had the perfect opportunity right there. I felt good, I was ready to go, and we had a great course to do it on. However, as you already know, that did not happen.
We spent most of the drive home looking for races for me to do the following weekend. Lexington is not exactly running central, so we knew our chances were slim, but with both Cincinnati (still have to check the spelling of that every time!) and Louisville within 1.5 hours of us, that gave us a bit of hope.
We looked at so many websites, desperately trying to figure out if any of these races would fit the criteria we needed:
-Flat
-As few turns as possible
-Organized (bigger the better)
-USATF certified
-(Bonus) Fast results from previous years
Each race seemed to have its own pros and cons, although we knew deep down that none of these were going to be ideal. We had our ideal opportunity, and that had not worked out. This was a risk, we knew that, but we thought it was worth a try. I HAD to get some kind of real evidence that I was running well.
We decided upon the Run for the Generations 5k, and we planned out the week from there. The race was on Sunday, so I would long run (19) Monday, work out Thursday, and race Sunday. It looked good, and it also meant we could get a good week of training in.
However, we could not get through to the race director no matter how hard we tried. There was no course online, and we had no idea whether this was going to be a course I could realistically run fast on. On Wednesday, I finally got through to the race director. He said that there was a different race going on in Cinci that weekend that was a faster course, and encouraged me to run the Seth Mitchell 5k instead. We took his advice, and decided it was worth a try as it was on the Miami Trail, which we have done workouts on before. The other race location was in a cemetery, and it looked as though there were not only lots of turns, but some hills too.
This led to a problem. We could not go a week without a hard workout, so we had to work out on Thursday, even if that meant backing off a little. So that is what we did, we changed the plan, and I did a lighter workout on Thursday. But my problem is that I do not do light workouts very well. I blew the times Steve recommended out of the water, even finishing my last 400 in a 72. I felt strong, but I worried I had taken some out of the race, especially on Friday when I felt really tired.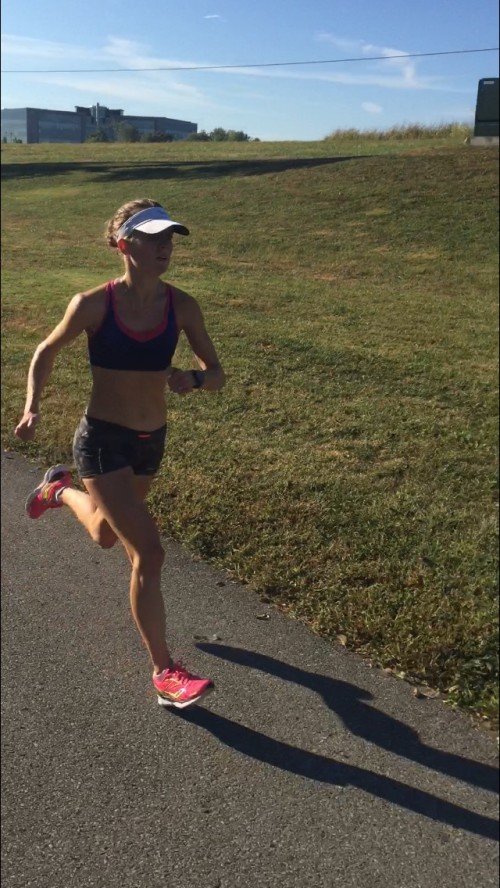 Steve was away with his Morehead State runners in Virginia, so at 7am on Saturday I left for Loveland. Thankfully the race was at 11am, so I did not have to leave too early. I arrived in about 1hr 35 mins, and let the race officials know that I was planning on running, and hoping to run fast. I ran the course on my warmup, so I knew exactly where I was going (never gonna let that happen again!!), and got to the startling.
What was apparent was that the purpose of this race was not for world record times. Not that there is anything wrong with that, in fact, I thought it was very touching and almost beautiful how passionate this town were about celebrating the life of a fallen soldier. It seemed like it was a very special day for the town, and I enjoyed being a part of it.
The gun went off, and I out sprinted some kids to the first corner (as you do :P). There were two high school boys in front of me, but I had a feeling I was going to end up in the lead. The first 1 mile had ten 90 degree turns, not exactly ideal, but I knew the rest of the way was an out and back on an old railroad, so I could make up time. I ended up going through the mile in 5:15 (I know this by looking AFTER, during, I ran by feel). Looking back, that was probably a bit too fast for the amount of turns. Steve said that was more like a fartlek than getting into a rhythm, which as you know, is my strong suit.
By 1.25 miles in, I was in the lead, and powering ahead, but it was not long before I started to feel sorry for myself. I have not felt like this for a while, but I felt tired, and I was breathing a lot harder than i was last week. I think the Russian girl being ahead of me last week gave me something to focus on, I was distracted, but this time, all I had was myself and pushing myself hard. I could tell I backed off the pace, but I was still breathing very hard.
Another aspect I had not accounted for was how much the 180 degree turn around a cone was going to hurt. Steve had tried to warn me about this, but I had not listened. I knew how a turn around a cone feels. Turns out a cone turnaround in a half or full marathon is a whole lot different to a turn in a 5k!
The final .1 of the race had three 90 degree turns, one of which I almost ran into a walker who was not looking. As I turned the final corner I felt incredibly disappointed to see the time. I know I shouldn't be, 16:53 is a fast time, but I know I am better than that right now, and it just made me upset again about losing out on last week.
Overall, the Seth Mitchell 5k was a great community event. I had a lot of fun, and they were very helpful to make sure I had everything I needed. I also won a $25 gift card to the local running store which was nice. Unfortunately I missed the awards ceremony as I had another 8 miles including 10×1 minute hard before I could be done for the day to round out an 88 mile week. Those were a struggle, which gave me some comfort that I had at least worked hard enough for the day, but of course they were mostly just painful 😛
I know I did not get the result I wanted, and those of you who saw my Instagram post after the race will maybe understand the struggle. Sometimes you feel like you never get the result you "deserve", but that is what running is all about; persevering when most get ready to give up. Like a documentary I once watched said, most people give up just as the seed is about to break the surface to grow into a beautiful flower, so the root goes back down, and you have to start again.
This is another one of those moments, but at least we know we won't have to wonder what if, we tried.
[bctt tweet="Read how elite runner @tinamuir handles a disappointing race, great lessons to learn from" via="no"]
What is a race you have completed where you were disappointed?
Ps. I apologize for the lack of pictures in this post, as I went on my own, I did not get a single picture (once again shows you how small this race was….there were no race photos!!) But in case you want more photos, here is what I ate after the run. If you are in Cincinnati anytime soon, GO to the Bon Bonerie, it is AMAZING!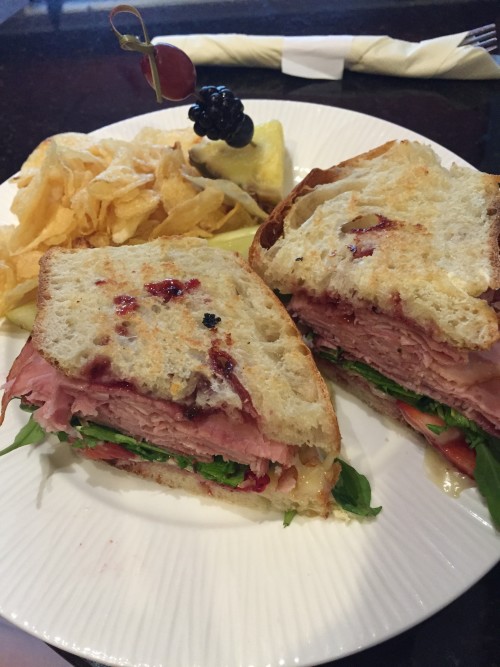 Brie and Ham Panini with Habenero Jam, I devoured it!
One of the best slices of cake I have ever had! The Opera Cream Cake.
Just cause really, thats all you are interested in about this post….well, I know thats all I really care about 😉 Just kidding….kinda 🙂