The new year is here and we are almost halfway through the month of January, but I think this is still a valuable exercise, and like my good friend Josh Trent said when I interviewed him, we should be focusing on habit change, not just New Years Resolutions.
For that reason, you can do this any time, but in the New Year is a good time that most of us are thinking about how we can make our lives better.
This is the fourth year I have made a vision board, and I have shown you in the past what mine looked like, but this time, I thought I could share how to do it, in case you would like to give it a try.
Here were my 2015 and 2016 (unfortunately, I threw 2014 away…stupid Tina!)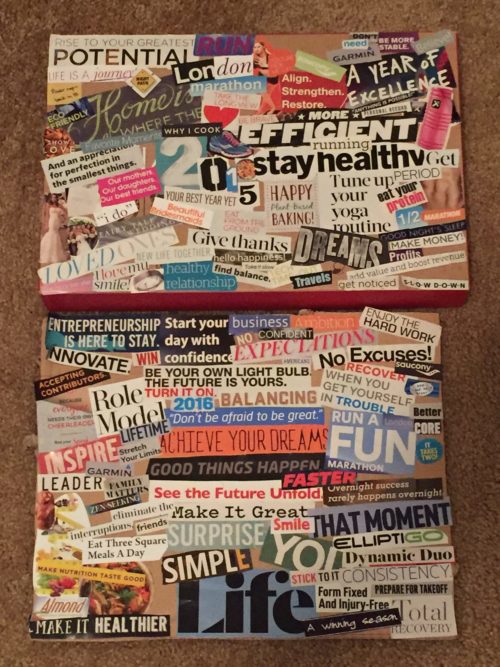 Now, this is the ultimate way you can follow your heart. I have told you I am an intuitive person, so this comes pretty naturally to me, but if you struggle to listen to that inner voice of reason, you might find this quite tough.
It is pretty self explanatory for the most part, but here is my best advice
You will need:
3-5 Magazines (preferably of varying topics)
Scissors
A piece of cardboard between 15 inches and 25 inches wide (I like mine to be a rectangle, but you can make it whatever you like
Glue
An open heart and mind
How to make a vision board
Sit in a quiet place, away from distractions, and go through the magazines. Any word, image, or anything that jumps out to you from headings, tag lines, advertisements, cut it out.
It doesn't matter if it doesn't make sense, or if it is one word out of an entire giant heading, just cut it out.
Build yourself a nice big pile of words and phrases that you like.
Now go through a second time, looking for any words that you may have missed, and this time, collect up the numbers to make the year, using a different clipping for each of the numbers.
Look for a 2, a 0, a 1, and a 7 (or 8, 9 if you are reading this after 2017!).
Once you have your words, arrange them all on the floor (or table).
Put the 2017 in the very center (I am still looking for a good 7 on mine!!), and start to place the words on the board, I like to start with the bigger words or pictures first, as they are easy to allow layering with the smaller words.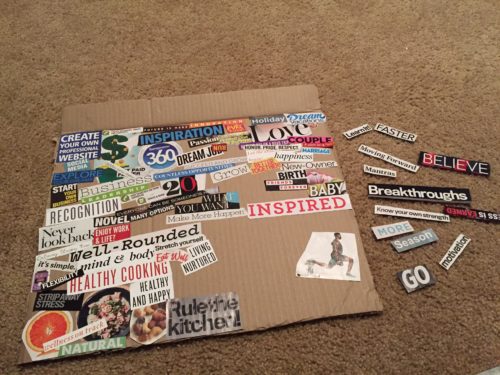 I find that I naturally start to cluster them into sections.
For example, mine ended up with a work/career section, a love/family section, a running/workout section, and a life/health section.
Put them in different directions, and on top of one another slightly, although you obviously want it to remain readable.
Listen to your heart, and see what it says about these words.
If you have a few leftover at the end that don't make sense or fit into any of the areas, you can put those in after.
Once you have laid them out on the board, if you are happy with the arrangement (probably will have some gaps at this point), use the glue to carefully lift them up one at a time to stick them down.
It will look slightly different to the first time, and you will probably find there are more gaps after you have stuck them down.
Now go through the magazines a third time, and look for words that help to complete your leftover words, or for words that match with the various categories you have found.
For example, last year, I had the word marathon on my board, but I wanted it to say London marathon, so I went through my magazines, and made the word London by cutting up two other words to make it.
These are the things that are important to you on the surface, the other things you placed on the board may be more subconscious.
Once you are happy with your vision board, place it somewhere you will see it every day, like in your office, your bedroom, or even by the front door.
I find that when I go back and reflect on these at the end of the year, that I have accomplished almost all of what I put on there.
By putting it out into the world, and taking it out of your head, you are committing to yourself that this is something you want to work on, and it holds you more accountable.
I have almost finished mine, and I will be sharing once I do….but we need to decide which marathon I am doing before I can finalize my year, especially as there is 3-4 months between the marathons I am considering!
More on this on Wednesday!
I have loved doing this, and I hope you do too! If you do make one, share it with me! Tag me in it on Instagram, Tweet it at me, add it to my Facebook page wall, or email it to me. I really would love to see!
Vision boards. Have you ever made one?
Oh, and I am sure a lot of you will notice the baby picture….just remember, my sister is pregnant 🙂 I have a few things left to accomplish first 😉
Fed up of feeling crappy?
Journaling helped me cope with my running injuries, amenorrhea, and journey to get pregnant to feel more confident than ever.
I explain how to use journals to not feel so alone, and share a page of my actual journal with you!