You loved Sarah the first few times I had her post (read her elite takeover story, Gardening– trust me, its SO good!), so I thought she had to be there for another Meatless Monday. Check her previous recipe for creamy tomato and basil soup, and you will also learn about our exciting news….speaking of which, Sarah and Michael are actually in my house RIGHT NOW!!!! Eeeeek!
Here she is! My dear friend!
Ah, the holidays.
There always seems to be one dish on the table that nobody likes. This dish is usually brought by an obscure relative and a few obligatory spoonfuls end up on my plate because as the middle child/ people pleaser that I am, I feel the need to be the one to make a dent in the crab Jell-o mold and deflect a dent on my aunt's ego.
Don't be that relative. Don't bring that dish.
Instead, bring this:
Honey-Sautéed Brussel Sprouts and Carrots
Okay, hear me out. I know Brussel sprouts get a bad rap, and for good reason. When prepared incorrectly they are nothing but a mushy bowl of green stank.
BUT, when prepared correctly, Brussel sprouts are perfect little savory bundles of flavor, crispy on the outside and delicious on the inside!
Let's throw a visual up there:
(Pic of pan)
That's not so scary, right?
AND, this decadent veggie combo adds a flavorful, healthy alternative to the boring store-bought veggie platters that somehow believe cubed inches of Velveeta cheese qualify as vegetables.
Alright, let's break it down.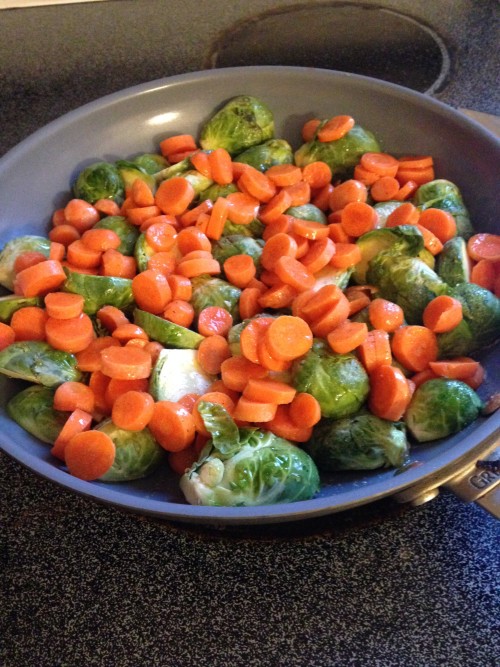 Honey-Sautéed Brussel Sprouts and Carrots 
For a dinner of six (editors note- so Sarah, this is 2 servings for you? 😛 hahahahahahah Sarah is a woman after my own heart with food- we LOVE big portions…okay, let Sarah get on with her post, Tina!)  you will need:
Ingredients
2lbs Brussel Sprouts
6 Carrots
3 Tbsp Olive Oil
Salt/Pepper
2 Tbsp honey
Instructions
Remove the longer "stem" portion of the Brussel Sprouts for those with excessive stems and slice all Brussel Sprouts in half from top to bottom.
Slice carrots into "coins" about a quarter of an inch wide.
Coat one large frying pan (or two smaller pans) with a tablespoon of olive oil and place over medium-low heat.
Place Brussel sprouts and carrots in pan and coat with oil, salt and pepper to taste.
Cover with lid and allow to cook for 20-25 minutes, until carrots and Brussel sprouts are tender, flipping with spatula about every 5 minutes.
Once the sprouts and carrots are tender, crank the heat to high for a few minutes for a good dark-brown sear on both sides of the Brussel sprouts, nice and crispy!
Remove from heat, drizzle with honey and toss to lightly coat.
Taste! If more seasonings are required, add salt/pepper/honey to taste.
Are you that relative? Brussel sprouts? Love or hate….until this recipe of course 🙂